The 15 Best Pimple Patches For Clear, Spot-Free Skin – 2023
A great Korean beauty solution to get rid of pimples scars, and marks overnight. Pimple patches are a great innovation from K-beauty. They minimize the appearance of pimples and get rid of them overnight. The best pimple patches are hydrocolloid dressings that remove the hidden fluid from the pimple. Initially, the pimple patch clears out pimple fluid, then becomes flat, and finally makes it disappear. These acne treatment patches can also vanish surface acne along with healing the pimples.
Dr. Burak Erso, a Reconstructive and Esthetic Surgeon, warns, "Pimple popping is all the craze online, but it isn't always good for your skin. Squeezing, popping, and picking the pimple can cause scars and must be avoided. This piece suggests a more appropriate way, that won't lead to scaring." Instead, you can use spot treatment patches to get the desired results. Take a look at the sifted list of the 15 best pimple patches that make your skin spotless. Check them out below!
15 Best Pimple Patches That Really Work
The clinically tested Le Gushe Acne Pimple Master Patch contains 72 reusable pimple patches. They contain hydrocolloid that cleans and absorbs pus and fluids from the zits. The bandage protects the skin from dirt, bacteria, and infections. It helps in reducing redness and inflammation showing fast results overnight. This natural acne spot treatment is suitable for all skin types and ages. The results-driven patch is hypoallergenic and thick but invisible. You can even wear it under makeup.
Pros
Suitable for all skin types and ages
Hypoallergenic
Invisible
Can be worn under makeup
72 reusable pimple patches
Affordable
Cons
Price at the time of publication: $11.97
The Mighty Patch Original is an award-winning acne pimple hydrocolloid patch that offers visible results in 6 to 8 hours. It has 50% more gunk and pus-absorbing power. This pure medical-grade hydrocolloid soaks the pus from inflamed sebaceous glands and whiteheads. It speeds up the healing of surface acne and pimples. The sticker is ultra-thin with a matte finish and does not budge from its place. These patches also protects the pimple from dirt and pollution and visibly flattens the pimples overnight. Reviews on e-commerce platforms have praised the pimple patch set for being non-toxic, UV sterilized, skin-safe, and comfortable. Each pack has 36 patches that are flexible, easy-to-use and peel off.
Pros
50% more gunk and pus-absorbing power
Ultra-thin
Non-toxic
Clinically-tested
UV sterilized
Skin-safe
Comfortable
Easy to peel off
Reasonably priced
Cons
May not work for sensitive skin.
Price at the time of publication: $22.0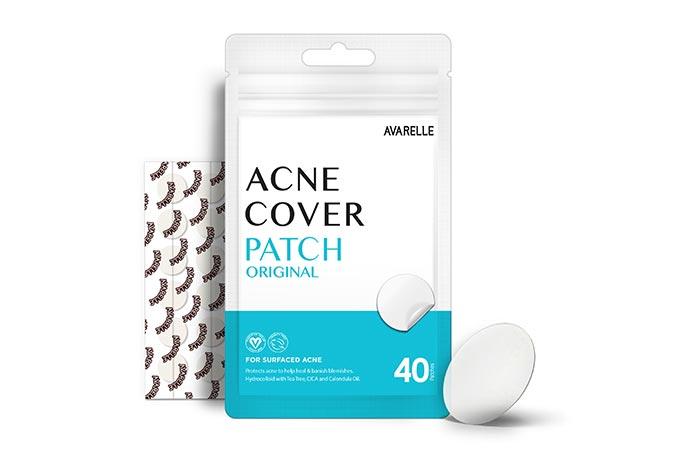 The clinically-tested Avarelle Acne Absorbing Cover Patch is an easy-peel acne patch or acne dot. It contains hydrocolloid dressing with tea tree oil, calendula oil, and Cica. The results-driven ingredients gently soak up the pus and gunk from the pimple and aid faster healing. The antioxidants from Cica make this patch usable for sensitive skin.
The bandages blend with all skin tones and work on all skin types. They are available in four sizes. The largest square patch can adequately cover a bigger area on your skin. The easy-peel design prevents irritating the skin while peeling off the patch. It visibly flattens the zit and prevents unwanted pimples, blemishes, and scars.
Pros
Suitable for sensitive skin
Blends with all skin tones
Work on all skin types
Easy-peel design
Affordable
Cons
Does not work on cystic acne.
Price at the time of publication: $8.49
The COSRX Acne Pimple Master Patch is the most popular pimple patch available right now. It clings to the pimple – no matter wherever you go and whatever you do, you do not have to about the hydrocolloid patch falling off. It is available in three different sizes. It speeds up healing while maintaining the hydration of the affected area.
Pros
FDA-approved
Dermatologist-tested
Approved by the Korean Ministry of Food and Drug Safety
Waterproof
Reduces risk of scarring
Cons
None
Price at the time of publication: $10.06
The Rael Acne pimple band-aids/acne healing patches are made with medical-grade hydrocolloid. They are adhering to the skin and extract the pus and impurities from the pimple. This helps in faster healing and also prevents blemishes. A pack contains 24 pimple patches that soak up the sebum and pus to flatten the pimple overnight. This patch is not tested on animals to determine its efficacy, making it an ideal cruelty-free option.
Pros
Peels easily
Available in two sizes
Strong adhesive
Transparent
Cons
Does not blend seamlessly with the skin.
Price at the time of publication: $16.99
The SWISSÖKOLAB Acne Pimple Patch is made with high-grade hydrocolloid. It adheres to the skin and extracts all the pus and impurities from the pimple or surface acne. It works even when the annoying pimples have not yet surfaced. This effective healing patch flattens the pimple, soothes the skin, and calms the inflammation and are hygienic. It is available in two sizes – small and large – and is made of easy-peel special absorbent sheets. A pack contains 108 transparent pimple patches that are hypoallergenic. This surface acne patch is all-natural, drug-free, and non-irritating.
Pros
Works on unsurfaced pimples
Available in 2 sizes
Easy to peel
Available in a pack of 96
Transparent
Hypoallergenic
All-natural
Drug-free
Non-irritating
Suitable for all skin types and ages
Affordable
Cons
Does not work on cystic acne.
Adhesive is not strong.
Price at the time of publication: $7.74
The Mighty Patch Invisible+ is an incredibly thin pimple patch with a matte finish. It is made with medical-grade hydrocolloid that gently pulls out all the gunk trapped in the pores. It is an all-natural, non-irritating, and skin-safe pimple patch that easily blends with your skin and camouflages blemishes. It extracts all the impurities from the acne and helps in faster healing. This lightweight pimple patch has 50% more gunk-absorbing power and reduces the appearance of zits. It shields acne and pimples from dirt and impurities and prevents popping, picking, and squeezing them to avoid scarring and infection. The stronger adhesive makes it budge-proof. A pack contains 39 patches, and they are available in two sizes.
Pros
Very thin
All-natural
Non-irritating
Skin-safe
Blends easily
Lightweight
50% more gunk-absorbing power
Budge-proof
Cruelty-free
Vegan
Drug-free
No harsh chemicals
Cons
None
Price at the time of publication: $17.99
The Medical Miracles Advanced Healing Acne Patches are made of hydrocolloid and tea tree oil. These anti-inflammatory strips help unblock clogged pores, reduce inflammation, swelling, irritation, and redness, and prevent scarring. The ultra-thin, invisible, breathable, and waterproof patches gently absorb pus, excess oil, and fluids from zits. They protect the pimples and blemishes from dirt and impurities and prevent picking and squeezing. They also keep the affected area clean. These facial band-aids leave the skin looking smooth, clear, and natural. Each pack contains 72 patches.
Pros
Ultra-thin
Invisible
Breathable
Waterproof
Tested for safety
Contains 72 patches
Affordable
Cons
None
Price at the time of publication: $9.97
The Alba Botanica Acnedote Pimple Patches help reduce inflammation. They are made of hydrocolloid, tea tree leaf oil, witch hazel, entil fruit extract, parsley extract, and salicylic acid. These clearing pimple patches absorb the pus and gunk from the pimples, reduce inflammation, allow faster healing, and reduce the risk of scarring. They have a non-drying formula that forms an effective barrier from environmental pollutants and bacteria and prevents picking and popping the zits. Each pack contains 40 patches – 20 small and 20 large. They are free of rubber latex.
Pros
Non-drying formula
Contains 40 patches
Dermatologist-tested
No rubber latex
Paraben-free
Phthalate-free
No synthetic fragrances
Cons
None
Price at the time of publication: $7.97
The Clearasil Ultra Overnight Spot Patches are perfect for stubborn acne. The patented hydrocolloid technology promotes faster healing of breakouts by oil-absorbing, reducing inflammation, and decreasing the chances of scarring. Along with reducing pimple bumps, these patches also minimize blocked pores, excess oil, and acne marks. They also provide a barrier against dirt and bacteria. They are non-drying acne patches that are clinically tested against microbes.
Pros
Clinically tested
Non-drying
Suitable for daily use
Cons
None
Price at the time of publication: $13.89
The DERMAKR Discreet Pimple Patch is waterproof and invisible and treats zits overnight. It completely removes the pimples without a trace. The company also claims that the patch can dry up cystic acne. It prevents scarring due to popping and squeezing the pimple. It also provides a barrier against environmental pollutants, dirt, and germs.
Pros
May dry up cystic acne
Prevents scarring
Waterproof
Invisible
Affordable
Cons
Price at the time of publication: $5.5
Voglily Acne Pimple Healing Patch includes 72 sterile pimple patches. It is effective in calming, flattening, and soothing the skin. The Hydrocolloid principle protects your pimples from dirt, keeps them clean, absorbs pus and fluids for faster healing. This fast-acting, healing patch reduces inflammation, reduces the risk of scarring, absorbs spot secretion, seals out bacteria, and eliminates acne & pimples. The acne patch is suitable for all ages and skin types.
Pros
Drug-free
Non-drying
Suitable for all skin types
Cons
Might have adhesive issues
Price at the time of publication: $59
These acne patches contain 0.5% salicylic acid that treats acne and prevents further breakouts. They also contain hyaluronic acid that keeps the area moist and hydrated, tea tree oil that exhibits antimicrobial effects, and volcanic ash that is a natural absorbent. The patches are extremely thin and almost invisible to the eyes. They help reduce the pimple bumps and make them vanish in 8 hours. It comes in two sizes, and a pack contains 12 patches.
Pros
Ultra-thin
Comes in 2 sizes
Non-irritating
Non-drying
Cons
None
Price at the time of publication: $32
If you have deep-rooted or cystic acne, this acne sticker may help. The Microneedle Technology delivers acne-fighting ingredients below the skin's surface. It contains tea tree oil and salicylic acid that fight acne and hyaluronic acid that prevents skin dryness. The high-grade hydrocolloid absorbs the pus and heals damaged skin. It stays on throughout the day and night, thereby providing a protective environment to heal the pimple faster. It is transparent and blends with your skin. The size is large and suitable for large zits and pimples. A pack contains 9 patches.
Pros
Microneedle technology
Transparent
Heals large zits and pimples
No harmful chemicals
Cons
None
Price at the time of publication: $11.99
The Acropass Trouble Cure Instant Acne Pimple Patch kit contains six acne patches and six cleansing pads. You have to wipe the area with the cleansing pads after washing your face. Once the area is dry, apply the patch. This also works with the microneedling technology that helps absorb all the dirt and pus and reduce inflammation. It is an award-winning pimple patch that contains hyaluronic acid to prevent drying of the skin and is gentle on the skin.
Pros
Microneedling technology
Award-winning pimple patch
Contains hyaluronic acid
Cons
None
Price at the time of publication: $15.29
These are the 15 best pimple patches you can use to get rid of pimples overnight. Let's now find out how these pimple patches work to get rid of zits and pimples easily and quickly. Scroll down.
How Do Pimple Patches Work?
Pimple patches are usually made of hydrocolloid dressings. They are a type of wound bandage that helps to draw out moisture from the zit without affecting or drying out the surrounding skin.
They help absorb the pus, dirt, and impurities that are stuck into the skin pores. This ultimately calms the pimple and allows it to heal.
Moreover, acne patches also cover the zit. This prevents one from touching or popping them, which may cause infection and blemishes. Patches work best on pustules and cystic lesions (raised pimples that have open pores).
If you haven't tried these products yet, get your pack today. Pimple patches or acne stickers are the best way to deal with breakouts. However, if you have acne and want to use pimple patches, here's what you must know.
How To Use A Pimple Patch
A pimple patch is an effective emergency remedy to shrink zits or pimples. But not using it the right way may not yield any results. Follow these steps to know how to use a pimple patch correctly.
Wash your face with a gentle formulation cleanser.
Pat it dry.
Apply a toner and a moisturizer.
Use a tweezer to lift off a pimple patch.
Place it gently and carefully on the pimple.
Press it gently onto your skin.
You may apply makeup on top of it if you are going out.
You may also check out at least one video of a tester's experience of applying a pimple patch to get a clearer idea.
What Is The Best Time To Use A Pimple Patch?
You may use a pimple patch at any convenient time. However, it is best to use it while sleeping. While you are awake, there are chances that you would want to touch the patch, check it if it is working, or you may unknowingly remove it. Hence, it is best to let it work while you sleep. Make sure that the pimple patch has a strong adhesive.
Can A Pimple Patch Do Anything For Acne?
No. Pimple patches are hydrocolloid patches that take care of zits and probably surface acne. However, cystic acne requires topical application of azelaic acid without a bandage. Using a bandage on top of azelaic acid can irritate the skin. Hence, a pimple patch is not a reliable treatment for cystic acne.
If you have pimples, you can go ahead and apply a pimple patch. Here are a few tips for choosing a good pimple patch.
Which Types of Acne Are Pimple Patches Effective On?
Pimple patches are ideal spot treatments for sebaceous bumps that are not cystic. They may look red but are mostly painless. Pimple patches also work for whiteheads.
However, it is a myth that pimple patches work on cystic acne as well. Pimple patches do not contain the treatments required to get rid of acne. The hydrocolloid in them soaks the excess sebum and flattens it. It does not treat bacterial infections or hormonal acne.
Tips To Choose The Right Pimple Patch
Choose a high-quality or medical-grade hydrocolloid pimple patch.
The material of the patch should be perforated and transparent.
The patch should be lightweight and thin.
It should suit all skin tones.
The patch should be hypoallergenic. It is best to do a test before buying.
It should not contain skin irritants.
The patch should have a strong adhesive.
Why Trust Stylecraze?
Oyendrila Kanjilal holds expertise in writing about skin care products. She brings you the best skin care solutions backed by positive reviews from experts from the industry. In this post, she has presented a list of the best pimple patches for pimple-free skin. She has kept all safety measures in mind before suggesting these products for you. These pimple patches are trustworthy and helpful to retain smooth and flawless skin.
Frequently Asked Questions
Do pimple patches really work?
Yes, pimple patches work to flatten pimples and reduce redness. They also help heal the pimple faster, preventing scarring.
When should I remove a pimple patch?
Remove the pimple patch after 6-8 hours.
What is the white stuff on pimple patches?
It is the hydrocolloid that helps soak the gunk and pus from the pimple.
Do pimple patches work on cystic acne, blackheads, and blind pimples?
Pimple patches do not work on cystic acne and blackheads. They may work on blind pimples.
Do pimple patches work on unpopped pimples?
Yes, professional-grade pimple patches work on unpopped pimples and also ensure that you do not pick at the pimples by covering them up.
Can children use an acne pimple patch?
Yes, but children must use natural, skin-friendly products suitable for their skin type and age.
Do pimple patches leave dark spots?
No, pimple patches do not leave dark spots. Instead, those spots are naturally caused by your body producing extra melanin to replace the damaged skin after a pimple is popped.
Can I use a pimple patch every day?
Yes, you may wear pimple patches daily for effective results.
Recommended Articles