10 Best Pimple Popping Tools To Check Out In 2023
Pop those pesky pimples with appropriate tools without leaving scars or acne marks.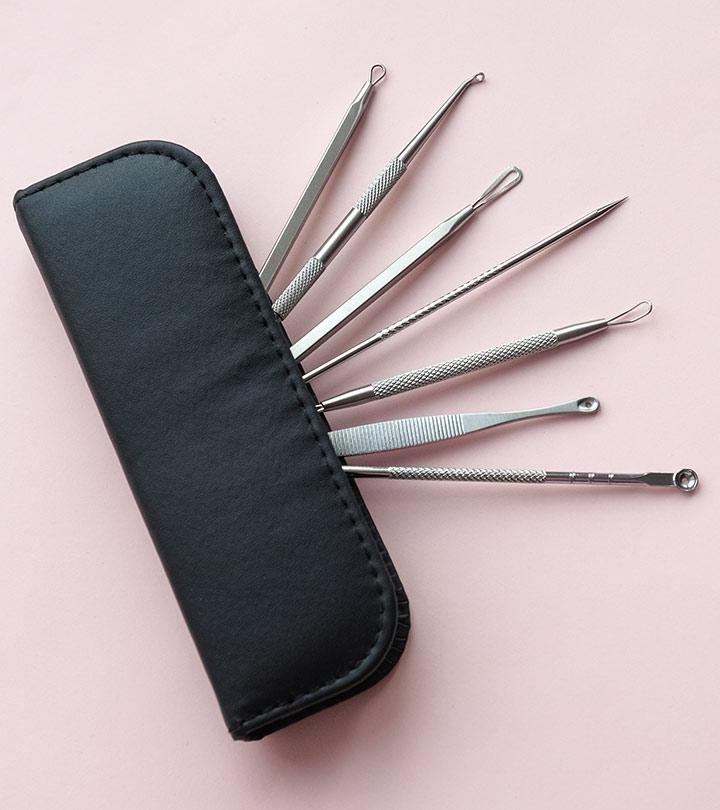 Unfortunately, we are not born with D. Pimple Popper's talent, and hence we need the best pimple popping tools whenever necessary. Popping a zit is a gnarly thing to do. And one cannot guarantee that those pesky pimples will not come back after they are popped. On the contrary, they might reoccur with double the power!
That is why pimples should be popped only with the appropriate tools. They make the job easier and ensure that your skin does not get scars or marks. In addition, these tools are ergonomically designed and easy to use. Our article features the top-rated pimple popping tools available on the market. Swipe up to grab them!
Best Pimple Popping Tools To Buy In 2023
This tool kit is equipped with over 10 different styles of blackhead and pimple extractors that will ensure you have blemish-free skin. The tools are made from 420 stainless steel and environmentally friendly coating. They are safe to use on the skin without causing skin irritation. Not only do the extractors come with an ergonomic design with an anti-slip handle for convenient and safe use, but the set also features various angled loops that help reach and extract acne and blackheads from hard-to-reach areas. Besides, the rhombic texture also allows you to apply pressure as per your unique extraction requirements.
Pros
Anti-slip handles
Ergonomic design
Sturdy
Comes with various angled loops
Eco-friendly
Cons
Some blades are not sharp enough
This product is made from premium-quality stainless steel, so it minimizes the risk of infection. It is easy to use and quite handy. The four tools include a large spoon tip for extracting bigger zits, a sharp needle tip for piercing whiteheads, multifunctional tweezers for extracting stubborn zits, and smaller tips for small zits.
Pros
360 days money-back guarantee
Comes with an instruction manual
No-slip design
Cons
None
Price at the time of publication: $4.99
The best thing about this pimple popping tool kit is that it has an anti-allergic design. In other words, it has electroplated needles with a stainless steel coating. Therefore, it is safe for all skin types. The ergonomic handles make these tools a breeze to use.
Pros
Comes with an instruction manual with easy to understand descriptive diagrams
Comes with a storage case
Multifunctional
Cons
None
Price at the time of publication: $10.19
The tools in this kit are incredibly functional and can be used to remove any zits, acne, and blemishes. They are made with high-quality stainless steel, and the anti-slip handles give you total control over the tools.
Pros
Comes with a leather storage case
Contains 6 extracting tools
Cons
None
Price at the time of publication: $7.99
Remove blackheads and acne with the Aooeou Professional Pimple Popper Kit. The kit includes various tools designed to eliminate blackheads, whiteheads, fat granules, acne, pimples, and comedone. In addition, it keeps your face clean, smooth, and scar-free. These tools are premium quality stainless steel, and the anti-slip coating ensures better grip during pressure. In addition, the different shaped fronts serve different purposes.
Pros
Non-slip handle
Storage box
Travel-friendly
Anti-rust
Anti-corison
Anti-bacterial
Lightweight
Compact size
Cons
Price at the time of publication: $12.99
This is a two-in-one whitehead and pimple extractor and pus removal tool. This tool has a sharp needle at one end and a circular loop at the other end. The needle can be used to poke a hole in the zit, and the loop is to extract the pus out of it.
Pros
Dermatologist-grade surgical steel
Comes with a synthetic leather pouch
Easy to use
Cons
None
Price at the time of publication: $13.95
The Tomata Professional Facial Care Tools kit includes six pieces that help to remove all types of comedones. These tools are made of high-quality stainless steel material and are ergonomically designed with a bent angle. The bent tip of the tool allows easy removal of the acne by applying a slight pressure. Moreover, the anti-slip handle prevents damage to the skin. Ensure to clean the tools before and after using to keep your skin safe.
Pros
Non-slip grip
Storage pouch
Ergonomic handle design
Travel-friendly
Cons
None
Price at the time of publication: $9.99
The FEIQIO Professional Pimple and Blackhead Removal Toolset include 15 different tools that help to remove blackheads, whiteheads, and pimples. These tools are made with stainless steel and electroplated needle to ensure maximum hygiene standards. The kit has different angled-tools and 3 different tweezers to remove comedones and fat granules easily. The 0.1mm needles, 125-degree hook clip, and two-sized steel rings conveniently remove large and small-sized pimples and acne to give you a clean and smooth skin. Moreover, the kt comes in a durable and attractive metal storage box.
Pros
Suitable for all skin types
Compact and portable
Anti-slip design
Cons
None
Price at the time of publication: $15.99
Menoly Professional Facial Care Tools are made of stainless steel material. The different tools help remove blackheads, acne, pimples, whiteheads, comedones, and fat granules. It is suitable for all skin types. The anti-slip handles for the needles provide better grip.The leather case aids in convenient storage.
Pros
Travel-friendly
Multipurpose
Easy storage
Sturdy
Easy to clean
Cons
Price at the time of publication: $9.99
This tool is made with 100% stainless steel and is tarnish-resistant. You can disinfect it easily as it is extremely durable. It has a double-ended circular loop design that is appropriate for extracting blackheads and pimples without damaging your skin.
Pros
Cons
Loops are a bit thick for smaller blackheads.
Price at the time of publication: $4.99
Pimple popping is a challenging task. Even if you have the most popular tools on your list, finding out which would fulfill your needs can take time and effort. Well, here's a quick guide to find out the best features to prioritize before buying a pimple-popping tool that gives you smooth pimple extraction without damaging your skin and giving you wounds.
Things To Consider Before Buying The Right Pimple Popping Tool
To safely and efficiently complete a pimple-extracting procedure, you will need an ergonomic design tool. Look for tools with an anti-slip handle that provides a sturdy grip and an angled loop to apply the right amount of pressure to pop the pimple.
It would be a plus point if you'd invest in a popping tool that not only extracts pimples but can also eliminate unwanted blackheads, whiteheads, and dead skin effortlessly.
Choose a pimple-popping tool that has a travel-friendly build or is easy to store. It would be best to invest in popping tools that come with a storage case with them.
Although stainless steel is a lightweight material, the popping tool might get heavy due to the handle it comes with. So, invest in a lightweight pimple-popping tool, as it would make it easier to hold comfortably while extracting the pimples.
You wouldn't want your popping tool's head to get dirty and develop bacteria after use. So, to avoid such instances, invest in easy-to-clean popping tools. You can also buy an anti-bacterial tool that effectively prevents skin infection.
Before you use these tools, preparing your skin for the extraction process is essential. It makes your work a lot easier. Here's a step-by-step guide on how to prep your skin and use a pimple popping tool.
How To Use A Pimple Popping Tool
Step 1: Wash your face properly using a mild cleanser and lukewarm water. Avoid scrubbing your face. Pat it dry.
Step 2: Place a hot, wet towel on your face for a few minutes to open the skin pores. You may also take steam treatment.
Step 3: Clean your hands using a disinfectant. This prevents infection.
Step 4: Sterilize the pimple(s) on your face using cotton pads and rubbing alcohol. Also, sterilize the pimple popping tools with rubbing alcohol.
Step 5: Select the right tool for the type of pimple you are going to extract. Follow the instructions provided by the manufacturer to identify which tool to use.
Step 6: You may remove whiteheads, blackheads, and pimples using a circular loop tool. Center the loop on the pimple or blackhead. Apply slight pressure and move it side to side. You will see pus oozing from the pimple. Do not put excess pressure as it can cause scarring.
Step 7: Use gauze to clean the pimple if it starts bleeding.
Step 8: Disinfect the treated area again with a cotton pad and rubbing alcohol.
Using the tools correctly can be a bit tricky. If you know how to use them properly, extracting pimples and stubborn blackheads will be easy for you. However, if you do not know the right way to use it, you may end up getting a scar or a wound.
Why Trust StyleCraze?
The author, Shiboli Chakraborti, is a certified skin care coach who loves trying out different beauty products. For this article, she has researched pimple popper tools before curating the list. Shiboli has browsed through hundreds of online reviews and listed products that are easy to use and absolutely budget-friendly. She believes these pimple poppers are a must-have if you have blackheads, whiteheads, pimples, acne, and fat granules. Most of the poppers mentioned are quite handy and painless if used well.
Frequently Asked Questions
Are pimple popping tools good?
Yes, pimple popping tools are good but using them the wrong way can damage your skin.
Do blackhead removal tools really work?
Yes, blackhead removal tools clear pore congestion without bruising. Use them gently on extremely sensitive or rosacea-prone skin.
How often should you use a pimple popping tool?
You can use a pimple popping tool once a day to remove blockages. Some beauty enthusiasts with acne-prone skin use the tool twice or thrice daily.
Are pore extraction tools bad for the skin?
No. Pore extraction tools are not bad for the skin if used gently. They remove dirt and debris from the pores without enlarging them.
Should you clean your blackhead remover tool?
Yes. Clean your blackhead remover tool daily with alcohol or hot water to prevent contamination.
What are the risks of using an at-home extractor?
If not used the right way, at-home extractors can cause infections and scar your face permanently. They may push dirt and debris down further, making your acne worse than ever.
Recommended Articles