15 Best Pink Eye Shadows Of 2023 – A Buyer's Guide
Boss the new look of pink eyeshadows with these handpicked cosmetics.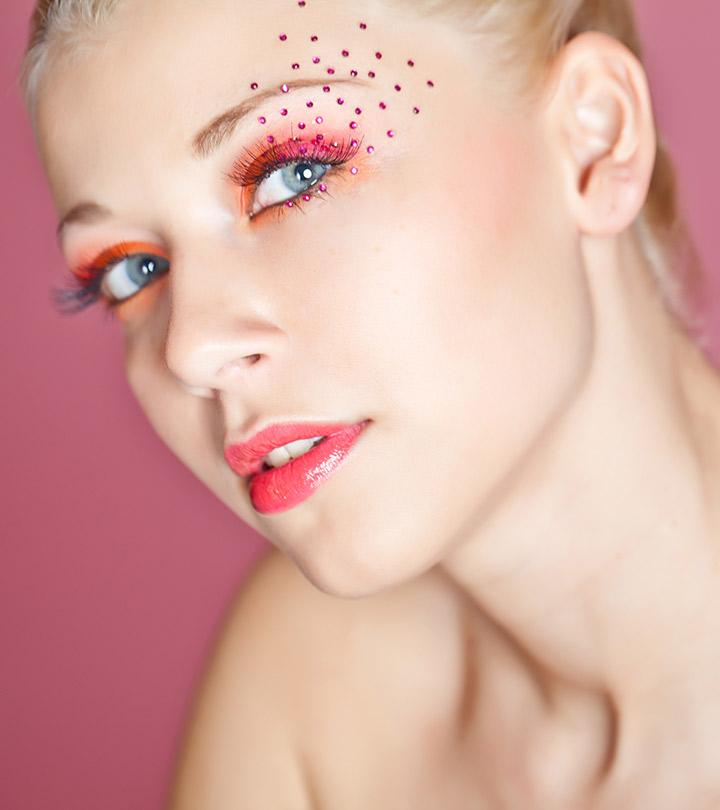 Are we not guilty of always searching for the best pink eyeshadows in the market? After all, in most red carpets and social media presence, makeup enthusiasts, celebrities play around the most with pink eyeshadows. While it can look romantic, joyful, and happy, it can also create a warm, fuzzy look to brighten up a not-so-great day.
While pinks have various shades, each speaks of a different feeling and creates versatile looks, whether it's for an office day or for a date night. Having pink eyeshadows on makes you worth walking multiple runways and red carpets. That's why we have listed the 15 best pink eyeshadow palettes for you. Check them out below!
Top 15 Pink Eye Shadows To Try Now
The Maybelline The Blushed Nudes Eyeshadow Makeup Palette is a 12-shade palette containing eyeshadows with which you can create more than 13 eyeshadow looks. This warm pink eyeshadow palette is infused with rose gold pigments which add a little extra pinkness to you look every time you apply the eyeshadow. This drugstore pink eyeshadow palette has been curated so you can create unlimited sensuous looks that reflect blush pink, dark plus and rosy shade as well. With this single palette you can create sultry and romantic looks without needing shades from any other palette, which makes it sufficient to carry when you are leaving for a vacation or a destination wedding. Click this video to learn more about the product.
Pros
Buildable coverage
Includes colors for daily office wear as well as for parties
Apart from neutral pink shades, the palette also includes bold beiges, brazen bronzes and sultry sands.
Cons
The eyeshadow palette may not be suitable for people with sensitive eyes.
Price at the time of publication: $9.3
The L'Oreal Paris Infallible 24HR Shadow is an intense eyeshadow that can last all day long up to 24 hours. The eyeshadow is deep, easy to glide on and offers maximized color in a powder-cream formula that is luxurious. This pink eyeshadow is suitable for brown eyes, blue eyes and green eyes and offers a shimmery and glittery finish. The revolutionary formula used in this pink eyeshadow fuses ease of powder eyeshadows along with the velvety caress that only cream eyeshadows can provide. Hence, a unique hybrid is created that glides on in an ultra effortless way. The final result is enhanced eyes with magnified and pure pigment. Learn more about the product in this video.
Pros
Fade-proof, waterproof
Crease-resistant, velvety finish
Suitable for people with sensitive skin
Cons
The lid on the box may be a little loose and the eyeshadow may spill if you don't keep it upright at all times.
Price at the time of publication: $9.49
The Revlon Colorstay Creme Eye Shadow in cherry blossom is one of the best pink eyeshadows offered by the #1 long-wear brand. This light pink eyeshadow is a luxurious and blendable crème eyeshadow that comes with a pro-inspired built-in brush as well for a mess-free application. This Revlon eyeshadow offers luxurious color with a single stroke of the brush that leaves a glamorous impact on your eyes. This vibrant crème eyeshadow features ColorStay technology and is made using strong flexible polymers that develop a protective film over the eyeshadow that doesn't let it budge no matter what type of environment you step into.
Pros
Waterproof
Buildable coverage
Long wearing formula that lasts for up to 24 hours.
Can be applied with fingers to for better control.
Cons
There may be some fallout during application.
Price at the time of publication: $9.79
The Pacifica Natural Minerals Coconut Infused Mineral Eyeshadows in pink nudes is a gorgeous pink eyeshadow palette that is perfect for everyday use. 10 trendy shades of pink make up this collection of easy to wear pink shades on your eyes. The eyeshadows are made using coconut water and mineral colors that together form a brilliant formula and velvety texture for the highly pigmented pink eyeshadows. The eyeshadow palette contains 10 coconut-infused formulas of pink including highlighters and you can blend multiple shades without any of them losing their individual tone. The highly-pigmented eyeshadows infused with minerals offer a brilliant payoff and have the potential of becoming your favorite pink eyeshadow palette. This video gives you more information about the product.
Pros
100% vegan and cruelty-free
Suitable for office-to-dinner looks
Phthalates, carmine, silicone, petroleum-free
Can be applied with a brush or with your fingertips
Cons
The eyeshadow may not be suitable for sensitive skin.
Price at the time of publication: $9.99
The HAUS LABORATORIES By Lady Gaga: GLAM ATTACK LIQUID EYESHADOW is a cheeky eyeshadow which is a long-wearing and highly-pigmented liquid eyeshadow that can amplify any look. This blendable, liquid-to-powder formula makes it an all day wear pink eyeshadow that also has a lot of shimmer in it. The payoff is incredibly high and the eyeshadow brings depth, highlight, dimension and intensity to any look you wish to create. Just like Lady Gaga, this eyeshadow is bold, unapologetic and demands to be the centre of attention. The eye shadow is free of fallout, is smear proof and is multidimensional with a vibrant versatility that can last all day long. The eyeshadow can easily be applied using the doe-foot shaped applicator and can be blended in nicely as well and will never crease.
Pros
Vegan, cruelty-free
Buildable coverage
Tested by ophthalmologists
Flake, smear, transfer-proof
Cons
The colors may not be very saturated and pigmented.
Price at the time of publication: $5.6
The BaeBlu Hypoallergenic Eyeshadow is a wet to dry eyeshadow offering a highly professional quality. The eyeshadow is organic and yet delivers high pigment with a little touch of water or a liquid primer. The eyeshadow is suitable for sensitive eyes and made using natural mineral colors so will never irritate them. The formula is free of petroleum-based oil, talc, alcohol, fillers, preservatives, chemicals or fragrances. It is vegan, gluten and cruelty-free and does not contain any parabens as well. Despite these amazing eco-friendly features the eyeshadow is velvety, smooth and provides a uniform distribution of pigment. The color is dense, rich and decadent and can be used as a liquid liner too, making this one of the most versatile pink eyeshadows you can find.
Pros
Buildable formula
Blendable shade offers flawless application
Smudge-free, long-lasting color for all-day wear
Cons
The colors may be a little chalky.
Price at the time of publication: $19.19
The Belé Makeup Italia b.One Eyeshadow in Pink Sand is a matte pink eyeshadow that is manufactured in Italy. This pastel pink eyeshadow has an intense texture and offers a comfortable and easy application using fingers or a brush. This pink eyeshadow offers a smooth, uniform as well as gradient stroke so that you can play with your look and achieve multiple finishes using a single eyeshadow. The special texture of this soft pink eyeshadow releases full color and lets you achieve a neutral as well as dramatic makeup look. The eyeshadow is formulated using mica and magnesium stearate adding mineral elements to the powder.
Pros
Cruelty-free
Paraben, BHA, GMO-free
Comes in an easy to carry, travel-size pod.
Cons
The eyeshadows may be a little too pale and will need 7-8 applications to show.
Price at the time of publication: $20
The NYX PROFESSIONAL MAKEUP Shimmer Down Pigment in Mauve Pink is a loose eyeshadow pigment that is filled with shimmer and sparkle. This powder eyeshadow, bursting with intense shimmer is light, delicate and super soft with a creamy texture. The pink is inspired by metallic shades and applying this soft pastel pink eyeshadow can level up your look in a vintage, romantic way. All you have to do to apply this innovative super fine eyeshadow powder is prepare your eyelids with pigment primer and apply this shimmer eyeshadow using a flat blending brush or a fiber shading brush. The result is glossy eyes from the 50s with a twinkling attitude of today.
Pros
Does not require any touch up and can last all-day long.
Vegan, cruelty-free, certified and acknowledged by PETA
The eyeshadow can be used as blush-on powder as well.
Cons
The eyeshadow may have some fallout when applying.
Price at the time of publication: $5.45
The CoverGirl Eye Enhancers 3 Kit Shadow in Dance Party 125 is part of the matte, sparkle and pearl collection. This pink glitter eyeshadow blends easily on your eyes with other shades and the formula lasts for hours without requiring any re-touch. Each shade is hand-picked by make-ip pros and is designed to deliver a classic look. The soft pink eyeshadow doesn't make the eyes look overshadowed and provides easy-blending with fingers or blending brushes. This pink eyeshadow palette is created using advanced, stay-put formulas and the shades can be used together or separately, based on the look you wish to achieve.
Pros
Buildable coverage
Designed to suit all eye colors
The highlighter can be used to brighten your cheeks and forehead too
Cons
The colors are not highly-pigmented.
Price at the time of publication: $11.95
10. Best Dermatologically-Tested FOrmula: Glossier Cloud Paint
The Glossier Cloud Paint is actually a gel cream product that can be used on both cheeks as well as eyelids. This creamy eyeshadow is lightweight and has a pillowy formula that blends instantly in a natural glow that looks flushed from within. It can simply be applied using your fingers, which often gives you better control and blending options than a brush. The colors are all-inclusive, inspired by NYC sunsets and there is a shade to complement every skin tone and eye color. This is also a great eyeshadow for women over 50 whose eyelids may be more wrinkled, as the cloud paint never creases so everyone can enjoy the benefits of makeup without struggling with the disadvantages.
Pros
Cruelty-free
Fragrance-free
Buildable coverage
Dermatologically-tested
Cons
The color may be a little too faint and may not show unless you apply multiple coats.
Price at the time of publication: $33.99
The EDDIE FUNKHOUSER Hyperreal eye Color in Cha Cha Cha is a shimmering pale pink eyeshadow made in Italy. This pastel pink eyeshadow is long-wearing and does not require any touch up throughout the day, especially if you apply eyeshadow primer under it. The eyeshadow has a smooth and silky texture with a vibrant look, which when applying looks matte but shines like diamonds in the sunlight. This pink eyeshadow is a great option for day events and office wear and the pod can easily be carried around in your purse if needed. The color is true, rich and fabulous and can start off as simple soft pink and can be built-on to a ravishing rose with sparkle in it.
Pros
Blendable texture
Buildable coverage
Highly-pigmented for maximum impact
Cons
The color may be slightly lighter than what is displayed.
Price at the time of publication: $6.88
If you are looking for a powder pink eyeshadow that is all about the bling, The Karadium Shining Pearl Smudging Eye Shadow Stick in Ice Pink is the ultimate eyeshadow for you. This light pink eyeshadow is like a powder with actual twinkling stars in it which can add the missing drama to your look. The eyeshadow stick is full of moisture and is silky in texture and the application is mess-free as it does not require brushes or fingers at all. The eyeshadow is cream based and all you need to do is simply twist the stick and apply directly on your eyelids. The bullet shape of the application stick helps you smudge the eyeshadow in a good way to create gradation if needed.
Pros
Crumple-free
Waterproof and sweat-proof
The eyeshadow is suitable for sensitive skin and eyes.
Cons
The eyeshadow may crease when worn for a longer period of time.
Price at the time of publication: $8.95
The Demure Mineral Make Up Eye Shadow in hot pink is a pink glitter eyeshadow that is made using minerals that contain natural shimmer in them. This easy to apply pink eyeshadow is smooth and lets your skin breathe without feeling clogged up. This peachy pink eyeshadow is made using 100% crushed minerals that are absolutely pure and straight from the earth. Free of chemicals, skin irritants like talc, rice and free from harmful preservatives, this natural eyeshadow does not include binders, fillers and fragrance as well. The eyeshadow is lightweight yet is highly pigmented giving the best of both worlds. What is more, it is suitable for all skin types and is not tested on animals at all, making it one of the best pink eyeshadows to choose from.
Pros
Water-resistant
Buildable coverage
Can be mixed with clear nail polish to create custom nail polish colors.
Contains natural minerals like iron oxides, mica and titanium dioxide for natural shimmer.
Cons
The container of the eyeshadow may not be shaped in a convenient manner.
Price at the time of publication: $14.25
The NYX Cosmetics Hot Singles Eye Shadow in cupcake is a matte pink eyeshadow. One of the most basic shades of pink that must be owned by all, this eyeshadow is created using a high intensity formula and is loaded with powerful pigments that can help you make a statement on any occasion. If you prefer edgy makeup or a look that is more natural, this eyeshadow works for all and acts as a great base to begin with. The formula is easy-to-blend and goes well with most eye colors making it a must have pink eyeshadow for all.
Pros
Smudge-proof
Buildable coverage
Can be used as a blush-on powder as well.
Cons
The eyeshadow may not come with an application brush.
Price at the time of publication: $11.44
The Bobbi Brown Long-Wear Cream Shadow Stick in golden pink is a luxurious eyeshadow that gives a new meaning to eye makeup. Featuring a glide-on stick that moves smoothly on the eyelids in a tug-free manner, this eyeshadow stick can be used to define, smoke up, shade or highlight the eyes. The eyeshadow can last for up to 8 hours without needing any additional application and gives your eyes a glamorous, creamy look. This shimmering golden pink eyeshadow is a do-it-all and long-lasting eyeshadow that literally lets you swipe and go. Designed especially for women on the move, it can be blended with fingers if required and can be removed using a long wear makeup remover.
Pros
Flake, crease, fade-free
Waterproof and budge-proof
It works great on oily as well as dry eyelids.
Cons
The color may be more gold than pink.
Price at the time of publication: $15.5
Pink eye shadows come in so many hues and palette styles. Here is a buying guide that will help you narrow down on the pink eyeshadow that is ideal for you.
Buying Guide For Best Pink Eyeshadows
Pink may seem like a single solid color but the amount of sub-tones that come in pink are more than you could possibly count. It's not easy to pick the right pink eyeshadow for yourself in a single go, hence we have created this buying guide for you so you can choose the best pink eyeshadow for your skin tone and eye color.
If you have a warm undertone that almost makes your skin look olive and green veins are often visible, you need to opt for pink eyeshadows that are warmer, more like peachy pink in color. However if you have a cooler undertone with hues of pink or beige you must opt for pink eyeshadows that are neutral or cool in their tone.
Picking The Right Pink Eyeshadow For Your Eye Color
Since your eye color is right there, next to your eye shadow it is important that they both complement each other to create an elegant and soothing result. Let's have a look at which pink eye shadow goes best with the following eye colors:
Pink Eyeshadows For Brown Eyes
Brown eyes can rock all shades of pink eyeshadows and don't really demand a specific tone or shade of pink. Warm as well as cool pinks look great on brown eyes and you can experiment with two tones of pink as well.
Pink Eyeshadows For Green And Hazel Eyes
Peachy pinks work best for green eyes and can make your look really soothing and calm. However if you wish to go for a bold look then cooler shades of pink will really shake things up.
Pink Eyeshadows For Blue Eyes
Sometimes it feels like pink eyeshadows were created for blue eyes because both these colors go really well together, in an almost natural way. If you want to underplay the blue in your eyes then cooler pinks and mauves may have that effect on them.
Why Trust StyleCraze?
Chaitra Krishnan, who penned this article, is our resident expert on fashion and makeup. She conducted extensive research on what's trending and perused through umpteen eyeshadows to bring you this curated list of the best pink eyeshadows for this season. She recommends using these products based on their color payoff, buildable coverage, and other properties like sweat-resistance, smudge-proofing, fade-resistance, and more
Frequently Asked Questions
What eyeshadow goes with pink lipsticks?
Eyeshadows in cool colors go best with pink lipsticks. Purple, mauve and shades of blue are a popular combination with pink lipsticks.
What color lipstick goes with pink eyeshadow?
Fuchsia, pale pink and nude lipsticks go well with pink eyeshadows.
Does pink eyeshadow stain?
Depending on the saturation and pigment of the eyeshadow you are using, it may or may not stain.
Does pink eyeshadow go with red lipstick?
Light pink eyeshadow goes very well with dark red lipstick and is a popular choice for Hollywood red carpets.
Can redheads wear pink eyeshadow?
Pink eyeshadow with red hair is a surprisingly fabulous combination and when done with the right shade of pink eyeshadow it can create a completely striking image.
Can you use pink eyeshadow as blush?
Eyeshadows tend to be more pigmented than blushes, so while they can definitely be used as a blush, be careful about the intensity of the color and the amount of stress you give to your strokes.
Is pink eyeshadow good?
Pink eyeshadow is great, and one of the most popular shades of eyeshadows after gold and brown. Pink eyeshadow can also help you lift your mood and looks great in winter and autumn.
Recommended Articles: