The 15 Best Pink Hair Dyes – 2022's Top Picks
If your ultimate goal is to look unique, style your hair with vibrant shades of pink!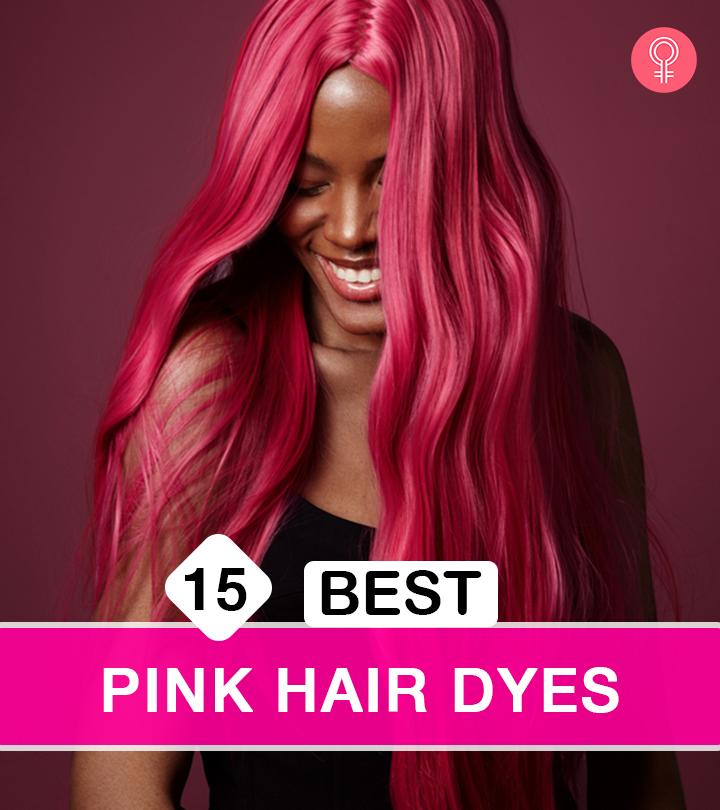 Pink hair color will never run out of style, and it can make you stand out from the rest. This color is a refreshing change from the more conventional browns and blondes. If you plan to get your hair dyed pink, you have come to the right place. In this post, we talk about the best pink hair dyes that will make you stand out from the crowd. Read on to know more!
Top 15 Pink Hair Color Products
Arctic Fox is one of the biggest names when it comes to semi-permanent hair dyes. The Virgin Pink hair dye is made from vegan ingredients and pigmented to show up on darker bases. This product is free of harsh ingredients and comes with a conditioner that helps to hydrate your hair.
Pros
No harsh ingredients
Hydrates the hair
Vegan
Cruelty-free
Pleasant fragrance
No bleeding
Extremely pigmented
Long-lasting
Ammonia-free
Peroxide-free
Ethyl alcohol-free
PPD-free
Cons
None
Price at the time of publication: $12.99
The Keracolor Color+Clenditioner Hot Pink hair dye can transform your hair instantly. It is a cleansing conditioner that deposits color in your hair with every wash. The luxurious conditioning properties of this product make your hair soft while adding shine and strength. It will help add stunning hues to your hair and maintain its vibrancy with regular use.
Pros
Softens the hair
Adds shine
Strengthens the hair
Non-lather formula
Conditions the hair
Paraben-free
Sulfate-free
Cruelty-free
Vegan
Cons
None
Price at the time of publication: $22.0
The Garnier Color Sensation Hair Cream is available in a luscious shade of pink called California Sunset. This coral pink hair dye is a richly pigmented, long-lasting hair color that provides 100% gray coverage. The package includes an after-color conditioner that makes your hair soft, silky, and smell great after wash. The kit also contains an application brush for easy precision, apart from the developer, colorant cream, instructions, and a pair of gloves. Check this video to learn more about the product.
Pros
Includes developer, cream, and conditioner
Includes gloves
Easy styling
Long-lasting
Non-drip cream
Provides 100% gray coverage
Cons
Price at the time of publication: $34.99
The Celeb Luxury Viral Colorwash is a color depositing shampoo available in a charming shade of pastel light pink. It is ideal for pre-lightened white or palest blonde hair. The vibrant pink hair dye leaves intense color on platinum blonde hair and hints of color on medium blonde hair. With repeated use, you can make the color look as vibrant as you want.
Pros
Provides true-tone color deposit
Easy-to-use
Paraben-free
Sulfate-free
Vegan
No fading
Cons
Dark hair needs to be bleached before use.
Price at the time of publication: $35
The IROIRO Premium Natural Semi-Permanent Hair Dye is a fantastic conditioner suitable for all hair types. It is rich in vitamins and minerals and ideal for shiny, textured locks. This natural semi-permanent hair color is the best option for people with delicate, brittle hair. It is vegan, cruelty-free, and devoid of parabens.
Pros
No harsh ingredients
Hydrates the hair
Vegan
Cruelty-free
Paraben-free
Pleasant fragrance
No bleeding
Cons
How about a hair mask that is both a deep conditioning treatment for your hair and a fun and convenient way to color it? The Moroccanoil Color Depositing Mask in Rose Gold does precisely that. It creates soft pink and golden tones in pre-lightened or blonde hair. This hydrating formula also provides intense nourishment to your hair.
Pros
Nourishes the hair
Softens the hair
Adds shine
Easy to use
Ammonia-free
Peroxide-free
Bleach-free
Cons
Price at the time of publication: $30
The Adore Shining Semi-Permanent Hair Color in Pink Rose is just what you need to spice up your hair color when things get boring. It is a fabulous pink hair dye, and the formula is extremely gentle on your hair. It is free of alcohol, peroxide, and ammonia. This product is vegan and not tested on animals.
Pros
Easy to apply
Vegan
Alcohol-free
Peroxide-free
Ammonia-free
Cruelty-free
Cons
None
Price at the time of publication: $19.2
The Sarangsae Anthocyanin Acid Color is a gentle pink hair dye that uses plant proteins. It protects the scalp against chemical damage and repairs the health of the hair cortex. The formula is enriched with plant extracts that nourish the hair cuticles with protein. This pink hair dye also provides UV protection to your hair to prevent fading and sun damage.
Pros
Provides UV protection
Long-lasting
Pleasant fragrance
Peroxide-free
Ammonia-free
Cons
Contains alcohol
Might stain the skin.
Price at the time of publication: $18.6
The Splat Semi-Permanent Hair Color in Berry Blast adds a vivid pop of pink to your hair with its unique formula. If you have dark or unbleached hair, expect subtle hints of color. For intense or vibrant color, this pink hair dye is applied to bleached or blonde hair. This single-use kit includes color, bleach, peroxide, and gloves.
Pros
Easy to apply
Conditions the hair
Long-lasting
Cons
Price at the time of publication: $11.26
The Uberliss Bond Sustainer enhances your hair color, appearance, and mood. It is semi-permanent and can withstand up to eight washes. This pink hair dye contains aloe vera juice and coconut oil. Thanks to the color's excellent responsiveness, your hair will remain silky all day.
Pros
Vegan
Cruelty-free
Easy to apply
Natural ingredients
Long-lasting
Gluten-free
Cons
Price at the time of publication: $11.75
The Uberliss Bond Sustainer Hair Color regenerates broken hair bonds effectively while depositing vibrant color. The Pink Rose shade looks vibrant and lasts up to 8 washes. This nourishing formula is powered by the Uberliss Bond Treatment, which contains aloe vera and coconut oil. The semi-permanent hair color is vegan and cruelty-free.
Pros
Regenerates broken hair bonds
Lasts up to 8 washes
Hydrates the hair
Vegan
Cruelty-free
Gluten-free
Cons
Not effective on dark hair.
Expensive
Price at the time of publication: $11.75
Jerome Russell's Punky Color is created by hair color experts. The brand claims that the ingredients used in their hair colors are of the highest quality. This product is cruelty-free and hydrates your hair. Flamingo Pink is a peppy, intense shade that lasts long and stays vibrant even after a few washes.
Pros
Cruelty-free
Pleasant fragrance
Fades well
Long-lasting
Budget-friendly
Cons
Color might bleed and stain
Price at the time of publication: $9.99
The Splat Naturals Semi-Permanent Hair Color is enriched with quinoa protein that strengthens your hair, improves moisture retention, and helps the color last long. Baobab extracts keep the hair strands nourished and protected against UV damage. It also contains vitamin B5 that restores shine while strengthening your hair follicles. This pink hair color lasts up to 30 washes, depending on your hair type and porosity. Splat Naturals is eco-friendly, both in formula and packaging.
Pros
95% natural formula
Sustainable packaging
Paraben-free
Sulfate-free
Gluten-free
Cruelty-free
Ammonia-free
Cons
Might stain
Might not be effective on dark hair.
Price at the time of publication: $11.99
The Manic Panic Semi Permanent Hair Color in the shade Hot Hot Pink glows under black lights, especially on level 10 blonde or bleached hair. When applied on virgin or unbleached hair, it results in deep hues of pink. It mixes easily, so you can create custom shades with limitless options. This vegan formula is gentle on your hair and fades slowly within 4 to 6 weeks.
Pros
Vegan
Cruelty-free (PETA certified)
Ammonia-free
Paraben-free
Gluten-free
Resorcinol-free
Phthalate-free
PPD-free
Cons
Colors may bleed.
Not long-lasting
Price at the time of publication: $14.24
Stargazer's Semi-Permanent Hair Color line contains a conditioner, which hydrates your hair. This direct color treatment has vibrant and vivid pigments that last long. It does not contain ammonia or peroxide. This hair dye is easy to apply, and gloves are included in the package. It gives perfect results on pre-lightened or blonde hair.
Pros
Fades beautifully
A little goes a long way
Budget-friendly
Includes gloves
Easy to apply
Ammonia-free
Peroxide-free
Cons
Contains parabens
Contains sulfates
Price at the time of publication: $9.05
Getting your hair dyed can add a glam quotient to your looks and personality. Here are a few things to look out for while choosing a pink hair dye.
Things To Consider Before Buying Pink Hair Dyes
Pink hair dyes come in many shades. It is important to pick a shade that suits you best. The choice of shade depends on natural hair color and skin tone. For people with darker hair, a pre-lightening session may be required for the pink dye to reflect perfectly. One can also bleach the hair before going for a pink hair dye. This allows the color to remain longer without losing any sheen. Choose pastel pinks, cotton candy, and rose blonde shades for a lighter skin tone. Shades like light pink, bubblegum pink, hot pink, and fuschia look great on medium skin tones. For deeper skin tones, look for options such as pink ombre, blush, copper pink, magenta, hot pink, and neon pink.
Carefully read the ingredients of the product. Avoid buying the ones with harsh ingredients as they can damage hair roots and strands. Opt for pink hair dyes free from paraben, sulfate, peroxide, and ammonia. Some people also prefer only vegan products.
Choose a dye formula that gives your hair a glossy finish rather than appearing dull on the hair strands. Get long-lasting formulas that last at least 6 to 8 weeks without getting faded. Additionally, it must also contain conditioning properties to make your hair soft and silky. Look for gentle formulas that do not cause any irritation or allergy on the scalp. Dyes that provide protection against UV rays must be preferred. Many dyes have a nourishing and hydrating impact on the hair follicles. Your pink dye that you apply to the hair must not have any strong fragrance. It must either be very mild or no additional scent at all. Less or no scent also helps to retain dye for many weeks.
Lastly, go for good quality dyes even if you need to spend a few extra bucks. You may need not always use overpriced products but at the same time don't compromise on quality. Look for products that work for your hair without burning a hole in your pockets.
Now that you know about the best pink hair dyes on the market, let's learn to color your hair at home the right way.
Semi-Permanent Vs. Permanent Hair Color
Permanent hair color means hair dyeing or color treating the hair. It is an intense procedure that changes your hair's structure by opening up the hair shaft before adding color. Permanent hair color lightens or darkens your hair by changing the tone. It provides full hair coverage and lasts up to 8 weeks.
Semi-permanent hair color is used to add shine, which is why it is also known as hair gloss. It does not alter your hair structure, nor is it required to be mixed with developer-activator before use. It works best for changing your hair color tone, but you cannot rely on semi-permanent hair color to lighten or darken your hair. It does not provide gray coverage, and the color lasts up to 8 washes.
So you have made up your mind to switch to pink locks. Before you take the leap switch to pink locks, take a moment to educate yourself on a few useful tips and tricks to achieve the color of your dreams and avoid any awkward tragedy.
How To Apply Pink Hair Dye – Tips And Precautions For Best Results
Pink hair dye shows the best results on light blonde or pre-lightened hair. If you have dark hair, you should get it bleached before dyeing it in pastel colors like pink.
If you dye your dark hair pink without bleaching it, the results will not meet the expectations.
It is always best to apply pink hair color on healthy, normal hair. If you have permed or relaxed your hair recently, wait at least a week before subjecting your hair to dyeing.
Bleaching also harms the hair, and if your hair is weak, wait for a day before applying the hair color. If you have healthy hair, you can lighten and color your hair on the same day. Make sure that your hair can stand it, and there is no extra breakage.
Always do a strand test 24 hours before applying the hair dye. Take a strand of hair from a hidden part of your head and apply color to it. Doing this will give you an idea of how the color will turn out and whether dilution is needed. It will also alert you to possible allergic reactions.
Use nourishing hair masks for a few washes before dyeing your hair. They keep your hair healthy for a better and long hold of the hair color. Damaged hair will not hold the color evenly.
Dry hair absorbs color best, so make sure your hair is cleaned thoroughly and 80% dry. Also, use a regular shampoo and do not apply conditioner before coloring your hair. Otherwise, residue from the products may impact the color's adherence to your hair.
Rinsing out the hair dye with cold water helps to lock in the color and make it last longer.
While preparing for a hair color session at home, wear an old button-down shirt that you need not pull over your head while rinsing your hair. Apply petroleum jelly to your hairline, ears, neck, and hands to prevent staining.
Keep two pairs of disposable gloves handy – one for applying the color and another while washing it out.
The pink color will begin to fade after a few weeks. You can either enjoy the new look as it fades or invest in maintaining the original vibrancy. Color-depositing shampoos, conditioners, and hair masks are an easy way to preserve your hair color. Also, invest in color-safe shampoos and conditioners to prevent premature fading.
If you have decided to dye your hair pink, keep the following factors in mind to help you purchase the best pink hair dye.
Considerations Before Buying The Best Pink Hair Dye
Base Color – Pink hair color shows best on blonde or lightened hair. If you start with a darker base, you have to wait longer to reach the desired shade or bleach your hair before dyeing. But bleaching is a harsh process. Hence, it is best to get it done professionally.
Undertones – If you have a warm skin tone, choose a warm shade of pink with yellow or orange hints for a flattering effect. Likewise, cool fuchsia or magenta hues with a blue or violet undertone works best for cool skin tones.
Maintenance – Pink hair dye will fade faster than a natural-looking hair dye. If you want to sport rosy locks for a long time, invest in color-safe shampoos, conditioners, and color-depositing products to maintain the color between salon visits.
Your Office Policy – Your work environment is a vital factor when making a significant hair color change. Bold pink hues may work in a creative workspace, but in a formal setting, go for subtle shades like a soft rose gold ombré or cleverly concealed highlights.
Why Trust StyleCraze?
Sakshi Bahal, the author of this article, is a fashion and hair care enthusiast. She has browsed through several forums for user feedback and put together the list of the best pink hair dyes you can use at home. Her list contains products that have received high praises from all corners. They are long-lasting, stylish, and easy to use at home.
Frequently Asked Questions
How long does pink hair last?
Unfortunately, pink hair dyes fade fast. Even after thorough maintenance, it will start fading considerably after 3 months.
How do you make pink hair dye last longer?
• Wash your hair with a sulfate-free shampoo and use a color-depositing conditioner to maintain the pink color of your hair.
• Wash your hair with warm water for better cleansing, then rinse your tresses with cold water to lock your follicles and prevent the color from escaping.
• Limit heat styling and use heat-protectant before stepping in the sun.
• Trim your hair occasionally to get rid of damaged ends.
How often do you have to re-dye pink hair?
Re-dye your hair after six months to continue fashioning pink tresses.
How do you dye the underneath of your hair pink?
• Pin the top layers of your hair on the top of your head.
• Apply petroleum jelly on your hairline to keep the dye off your neck.
• Section the underlayer hair and apply the dye on the sections.
• Coat both the button and top layer of the under hair sections.
• Wrap a towel around your neck and wait for the dye to settle in your underlayer hair.
• Rinse the hair with cold water and apply a conditioner to the tresses.
How do you remove pink hair dye without bleach?
• Mix half a cup of baking soda with one cup of shampoo.
• Apply the mixture evenly on your tresses with a brush.
• Lather up the product in your hair.
• Let the mixture sit for 30 minutes in the hair.
• Rinse it with cold water.
• Apply a conditioner to lock in the moisture.
Is pink hair dye damaging?
No. Pink hair dyes that are free of alcohol or harsh colorants are not damaging. But, if you have dark hair, bleaching is essential to set the color of the tresses. Bleaching can strip the natural moisture of the hair and damage it.
Can I use purple shampoo on my pink hair?
Yes. Use purple shampoo to eliminate the brassy tones of your pink hair and restore the color's brightness.
Recommended Articles