15 Best Pink Lip Glosses You Need To Check Out Right Now
For healthy, stunning lips that speak out loud even when you remain silent. .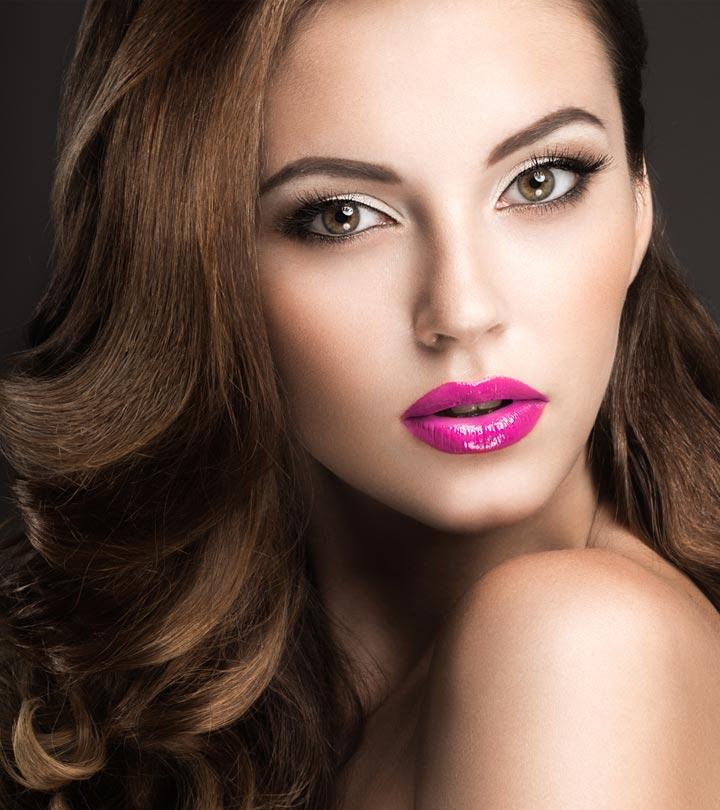 Girls know that pink lips are a go-to look for all our special occasions, whether our dates or work conferences. Glossy, pink lips are one of the top makeup trends currently, made popular by celebs and beauty influencers. That's why many girls carry their best pink lip gloss with them at all hours of the day. But keep in mind – one girl's lip gloss may not suit the other girl at all, and that's why looking for well-suited pink lip glosses can be tricky.
If you're up for buying a versatile pink lip gloss that has your back even on the days when your lips look chapped and dull, we have something for you. Check out our list of some of the best lip glosses in different gloss shades of pink. This list can help you pick the best lip gloss that suits your skin tone.
Top 15 Long-Lasting Pink Lip Glosses
This best-selling non-sticky lip gloss makes your lips look too hard to resist. The Tiramisu shade non-toxic lip gloss is all you need to get the matte lips. It has a soft buttery sheer to medium coverage and leaves the lips smooth and soft. NYX Butter Gloss can now become your favorite lip gloss, especially when you love desserts, as it has all its shades named on some of the delicious colors. The product smells great and tastes good too! Try the nude pink lip gloss no matter where you have to go. You will receive appreciative smiles in return. Here's a video to help you know more about this product.
Pros
Moisturizes the lips
Reasonable price
Cruelty-free
Medium coverage
Cons
Price at the time of publication: $4.97
The Broadway Vita Lip Clear Lip Gloss is the most super glossy lip gloss that heals your cracked lips. This soothing and clear pink lip gloss has the greatness of vitamin A and jojoba oil. The product helps remove fine lines and makes the skin soft and smooth. The 5-piece set comes in different flavors such as mint oil, mango butter, argan oil, rosehip oil, and coconut oil. It hence provides the benefit of each of these nourishing nutrients. This video takes you through this glossy, lip stain's product details.
Pros
Hydrates and moisturizes
Non-sticky
Offers shine
Offers refreshing and cooling effect
Cons
Price at the time of publication: $5.99
This high-shine, non-sticky, ultra-hydrating, lip glow lip gloss is all you need to pamper your lips with the best. This nourishing and clear shimmer lip gloss is available in 12 shades that help you choose your favorite shade based on your taste and skin color. The product makes the lips look plumper. The antioxidant-rich and moisturizing lip gloss retains shine and keeps the lips soft. The famous lip gloss is enriched with agave, cupuacu butter, and moringa oil. One stroke of this Revlon Super Lustrous is all you need to get the perfect pigment and beautiful shine. For a more detailed review of this product, here's a video.
Pros
Non- sticky
Hydrating
Intense shine
Rich in antioxidants
Cons
The applicator may not be up to the mark
Price at the time of publication: $2.01
This super vibrant, shiny lip gloss moisturizes your lips with the goodness of shea butter. It has a lovely vanilla scent that adds high-shine finish and gives a beautiful color to the lips. High Shine is the most popular lip gloss that comes in 18 shades. This moisturizing formula has vitamin E that heals the cracks of your lips, thus making it soft.
Pros
Smells great
Amazing shine
Long-lasting
Richly pigmented
Cons
Price at the time of publication: $2.5
The Neutrogena MoistureShine Lip Soother Gloss lends you glossy pink lips that moisturize your skin and keep it hydrated. The lip gloss with SPF 20, thus protecting the lips from sun exposure. The product has essential ingredients such as chamomile, cucumber, and glycerin that provide great care to the lips. This easy-to-use, travel-size, hydrating, glittery lip gloss will help you get rid of dry and chapped lips while lending a cooling and soothing effect as well.
Pros
Long-lasting
Locks in moisture
Tinted lip shine
Great pigmentation
Cons
Price at the time of publication: $5.89
The new Gaga sheer lip gloss gives a matte finish to your lips. The hot pink lip gloss by Haus Laboratories also comes in 30 other shades. The long-wear high gloss lip gloss has high-quality shine and also adds shimmer to your lips. The lightweight pink glitter lip gloss will help you volumize your lips and offer fuller-looking lips. The creamy texture of this pink lip gloss tends to amplify the look and stays on for long. Now wearing lip gloss for the entire day can be so comfortable and satisfying.
Pros
Water-resistant
Non-drying
Cruelty-free
Vegan
Cons
Might offer patchy color payoff sometimes
Price at the time of publication: $8.53
Get the greatest plump pout with the best pink lip gloss by e.l.f., that offers a subtle shine to the lips. The product is enriched with vitamin E and coconut oil that makes your lips soft and supple. This long-lasting lip gloss by e.l.f comes in 7 shades, and can be worn alone or with lipstick. You can now quickly get pink glossy lips with the product that is entirely safe for use as it has no paraben, phthalate, hydroquinone, or any other harsh chemical.
Pros
Cruelty-free
100% vegan
Moisturizes the lips
Beautiful shades
Cons
Price at the time of publication: $5.5
This 100% natural sheer pink lip gloss by Burt's Bees can become your new favorite. The lip crayon moisturizes the lips and gives it a beautiful color too. The product is available in 6 shades and has the goodness of some nourishing ingredients such as jojoba oil, kendi oil, and shea butter. The lip crayon's creamy texture gives lips a shiny finish and has no added fragrance or flavor to it, making it even better. Try it now if you haven't already!
Pros
Lightweight
Long-lasting
Moisturizer
No added fragrance
Cons
Price at the time of publication: $7.99
The light pink lip gloss by Almay Goddess comes in 8 different shades and a flocked applicator that provides a consistent color to the lips. The lip gloss gives a high shine and shimmery finish that makes the lips look beautiful. Get moisturized lips and lovely pigmentation in no time.
Pros
Dermatologically-tested
Easy to apply
Non-sticky
Safe to use
Cons
Price at the time of publication: $3.48
The peach-pink, hyaluronic-infused gloss by Milani Keep It Full Nourishing Lip Plumper is infused with natural peptides and has a hydrating formula consisting of collagen. Get a sheer finish, softer, fuller-looking lips with this lip care product. There are different shades available, ranging from pink to neutral colors, giving you 16 options to choose from.
Pros
Cruelty-free
Non-sticky
High-shine formula
Hydrates lips
Cons
May have thick consistency
Price at the time of publication: $19.6
The Rimmel Stay Glossy lip gloss gives a lovely shine and color to your lips that promises to last for about 6 hours. The light pink lip gloss is easy to apply and has a smooth, lustrous glossy finish. The product is safe to use and provides doubling moisture that nourishes the lips and keeps it soft and supple.
Pros
Long-lasting
Smooth and soft lips
Moisturizes the lips
Cons
The applicator may pick up too much product
Price at the time of publication: $2.39
The natural, nourishing, and hydrating Palladio Lip Gloss has the goodness of vitamins A, C, D, and E. This cruelty-free lip gloss is also infused with herbs and antioxidants that soothe the skin instantly. A single swipe will moisturize the skin and make it look irresistible. Soften your lips, get rid of lines, and get a beautiful shine instead. The not-so-sticky formula of the product provides a beautiful color to the lips.
Pros
Cruelty-free
Paraben-free
Lightweight
Perfect shimmer
Cons
The color might slightly vary.
Price at the time of publication: $6.99
Paint your lips with the pink lip gloss and its various shades as Draw Tint Gloss never fails to beautify you and your lovely lips. You can wear it alone or with other lipsticks. The shine and color given by the pale pink lip gloss make it the best. The product also moisturizes and hydrates the lips with its natural oils and nourishing ingredients. The long-lasting lip gloss will keep you fresh and beautiful all day.
Pros
Moisturizer
Clear and gentle
Non-sticky
Smooth finish
Cons
Price at the time of publication: $9.99
The Lune Aster Lip Gloss is nourished with Vitamin E and C's goodness that provides the lips with hydration, repair, and protection. The lips can now shine as they deserve to without worrying about getting damaged as this product is pure and safe to use. The remarkable consistency of the pink glossy lips makes it smooth and easy to apply. The lip gloss is not sticky and provides various shades options, making it the best lip gloss for all skin tones.
Pros
Dermatologically tested
Gluten-free
Vegan
True to its color
Cons
Price at the time of publication: $16.0
The new Mented Deep tan Nude Lip Gloss is the best nude lip gloss vs. pink lip gloss or any other shade. The shade is ideal for work, at parties, or just a lazy day at home. It makes you outshine no matter where you are and what occasion it is. The super-smooth consistency of the gloss allows it to stay on the lips for long without getting smeared. The product is safe to use and has no harmful chemicals added to it, making the product more awesome. The lip gloss also moisturizes the lips and lasts all day. So what are you waiting for? Just grab the Mented Deep Tan Nude Lip Gloss that will not only look good on fair skin but dark as well!
Pros
Cruelty-free
Highly buildable
Paraben-free
Cons
Might have a low consistency
Price at the time of publication: $50
The Bottom Line
Why Trust Stylecraze?
Srijita De is a makeup enthusiast who is passionate about writing comprehensive beauty and lifestyle content for her readers. To help her readers choose the best shade of pink lip gloss that complements their skin tone, she has gone through multiple user reviews before curating the list. The list includes products that have moisturizing and non-sticky formulas that are highly pigmented and have pleasant fragrances.
Frequently Asked Questions
Is pink lip glass worth it?
Yes. Pink lip glosses are makeup essentials. They enhance the natural color of your lips and make them shiny. So, they are worth it and deserve to be a part of your makeup routine.
How long does pink lip gloss stay on?
Pink lip glosses last for four to six hours on your lips.
What is pink lip gloss made of?
Pink lip glosses are made up of emollients like beeswax oil, almond oil, Vitamin E, and pink coloring agents.
Is lip gloss good for dry lips?
Yes. Lip glosses replenish the moisture level of your dry lips and hydrate them.
Does pink lip gloss expire?
Yes. The shelf life of a lip gloss is one to two years.
Recommended Articles