The 10 Best Pizza Cutters – Reviews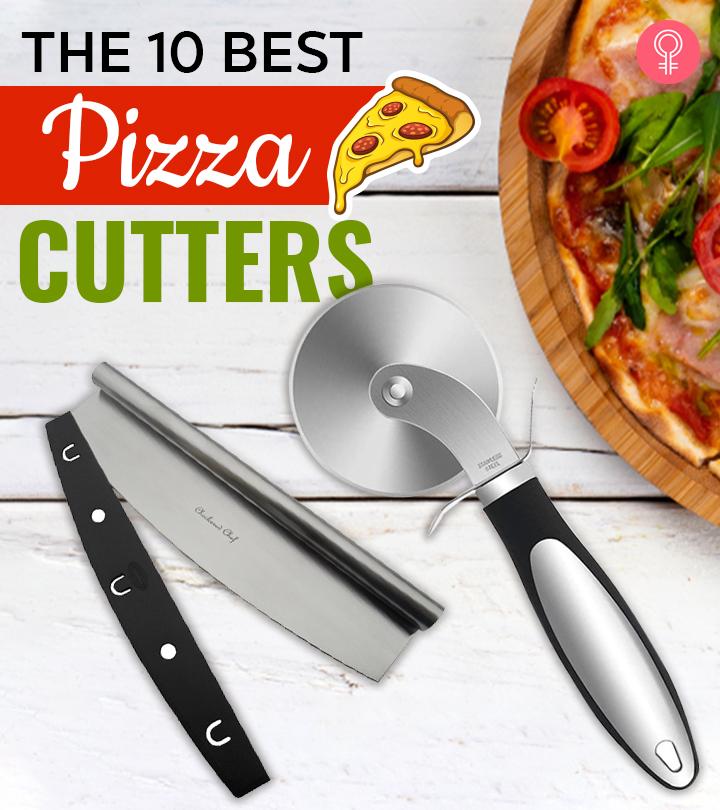 If you are a pizza lover, you know how biting into the perfect slice of pizza feels. However, pizza cutting can be very messy without the right tool. This is where a pizza cutter comes in – it can be the difference between euphoria and absolute mayhem. The best pizza cutter not only cuts pizzas smoothly but is also affordable, safe to use, and easy to clean and store. In this article, we have listed the top 10 pizza cutters you can buy online. Scroll down to check them out!
10 Best Pizza Cutters
The Kitchy Pizza Cutter Wheel features a sharp blade that ensures a one-time clean slice, keeping the pizza toppings intact. It cuts through thick and thin crusts easily and can also be used to cut brownies, fudge, and cookies. The retractable blade guard covers the sharp edges and prevents inadvertent cuts. The ergonomic handle with a slip-proof grip fits comfortably in your palm. It is dishwasher-safe and can also be disassembled easily for cleaning.
Key Features
Protective blade guard
Non-slip ergonomic handle
Specifications
Dimensions: 4.88 x 4.65 x 1.18 inches
Weight: 4.8 oz
Pros
Available in 3 colors
Easy to disassemble
Dishwasher-safe
Non-slip grip
Lifetime money-back guarantee
Cons
The OXO Pizza Wheel And Cutter is equipped with a beveled stainless steel blade that cuts through thick crust easily. The die-cast zinc thumb guard protects your fingers and ensures safety. Its rubber handle with non-slip grip absorbs pressure. This pizza cutter is dishwasher-safe and recommended by America's Test Kitchen.
Key Features
Sharp bevelled stainless steel blade
Die-cast thumb guard
Large handle
Specifications
Dimensions: 9.38 x 4.13 x 0.63 inches
Weight: 1.6 oz
Pros
Non-slip grip
Dishwasher-safe
Ergonomic
Cons
The LILMDAG Pizza Cutter Wheel is made of rust-proof, high-quality stainless steel. It features an ergonomically designed non-slip silicone handle with a hanging hole. The one-piece riveting process enables 1000 times cutting. The slanted extension handle with a 3-inch sturdy wheel and finger protector ensures safety.
Key Features
Non-slip ABS padded handle
Finger protector design
Hanging hole
Specifications
Dimensions: 8.5 x 3 x 1 inches
Weight: 3.8 oz
Pros
Sturdy
Anti-rust
Dishwasher-safe
Easy to clean
Ergonomic design
Cons
The KitchenAid Gourmet Pizza Wheel is made of high-quality, premium 430 stainless steel that is rust-proof and suitable for slicing waffles, pies, or cookie dough. The inbuilt finger guard protects your hand from the sharp blades and heat. The angled wheel and ergonomic handles ensure a comfortable grip and optimal performance. Its ABS handle features a debossed logo, chrome-plated bolster, and stainless steel endcap.
Key Features
Angled wheel
Built-in finger guard
Specifications
Dimensions: 3.74 x 1.18 x 9.25 inches
Weight: 7.6 oz
Pros
Dishwasher- safe
Comfortable grip
1-year replacement
Easy to clean
Ergonomic design
Cons
The Kavako Pizza Cutter Wheel has a sharp stainless steel circular blade with a queer shaped ergonomic handle. The blade pops out for easy cleaning with a press of a button. It is BPA-free and dishwasher-safe. This product includes a handy storage base to store your pizza cutter safely and guard the blades.
Key Features
Ergonomic handle
Push-button assembly
Storage base
Specifications
Dimensions: 5.5 x 4.8 x 2 inches
Weight: 7.2 oz
Pros
BPA- free
Dishwasher-safe
Easy to clean
1-year warranty
Cons
None
The Checkered Chef Pizza Cutter is a conventional knife-type pizza cutter fit for professional use. It is rust-proof, dishwasher-safe, and made of commercial quality 18/0 stainless steel with no wooden handle. This product includes a plastic sheath/ holster blade cover to keep your fingers protected.
Key Features
Commercial quality stainless steel
Protective cover
Specifications
Dimensions:14.3 x 4 x 1.1 inches
Weight: 10.3 oz
Pros
Sturdy
Easy to use
Rust-proof
Dishwasher-safe
Durable
Cons
The Love This Kitchen Pizza Cutter is a sturdy Italian style pizza cutter that rocks side to side for a smooth slice. The 14-inch rust-proof blade has an ergonomically designed handle with a wide grip. Its protective cover has a long back to slip in the blade easily, preventing dulling and protecting your hands from cuts.
Key Features
14" large blade
Two handles on either side
Protective case
Specifications
Dimensions: 14.6 x 4.5 x 1 inches
Weight: 12 oz
Pros
Ergonomic design
Non-slip grip
Anti-rust
Dishwasher-safe
Cons
Heavy
The rivets get loose.
The Winco Pizza Cutter is lightweight, dishwasher-safe, and suitable for slicing pizza, lasagna, and fudge. This roller type pizza cutter is equipped with a stainless steel blade and a durable plastic handle. It comes in two standard blade sizes – 4 inches and 2.5 inches. The plastic finger protector is an extension of the handle.
Key Features
Specifications
Dimensions: 9 x 4 x 0.5 inches
Weight: 1.58 oz
Pros
Lightweight
Dishwasher-safe
Durable
Ergonomic
Cons
The KoBzA Pizza Cutter features a top-quality stainless steel axe-shaped blade and an ergonomic rubberized handle. The manufacturers have tried to package the functions of a conventional knife in a contemporary design and have pulled it off well. The pizza cutter is dishwasher-safe and comes with a protective cover for the blade.
Key Features
Easy-to-hold handle
Protective blade cover
Specifications
Dimensions: 7 x 5 x 0.5 inches
Weight: 7.2 oz
Pros
Lightweight
Dishwasher-safe
Ergonomic design
Comfortable grip
Cons
The Yinghezu Pizza Cutter features a sharp stainless steel blade with a non-slip, ergonomically designed silicone handle. It is dishwasher-safe and cuts toppings of any size or thickness smoothly. The pizza wheel comes with a plastic finger protector to prevent injuries.
Key Features
Built-in finger guard
Large stainless steel blade
Specifications
Dimensions:9.5 x 4.4 x 0.6 inches
Weight: 7.2 oz
Pros
Lightweight
Rust-proof
Available in 2 colors
Dishwasher- safe
Ergonomic design
Anti-slip handle
Cons
Now that you know about the best pizza cutters you can buy, here are a few points to consider while buying one.
Factors To Keep In Mind While Buying A Pizza Cutter
Material: The blade should be made of high-quality stainless steel, free of rust and corrosion. The handle can be made of various materials like plastic, hardened rubber, silicone, and wood. These materials are durable, and your pizza cutter will last long. The nuts, bolts, and rivets should be high quality and anti-corrosive.
Design: There are two basic designs – the rolling wheel type and the mezzaluna (knife blade model) type. The roller wheel model has slight variations. The first variant has a handle grip, and another variant has a clasp that covers half the blade. If the purpose is just to cut pizzas, the roller wheel model is ideal. The mezzaluna type is suitable as a multipurpose kitchen tool for slicing, chopping, and mincing. Both types have ergonomic designs and feel comfortable without putting pressure on the hands.
Safety: The sharpness of the knife can make things messy and risky while cutting, washing, and storing. Hence, safety is of paramount importance. Both the roller wheel and mezzaluna models usually have a thumb/finger protector to ensure safety. The roller wheel models are a bit risky when washing due to the movable and rotating parts. However, both the models are usually dishwasher-safe.
Longevity: If the cutter is intended for long-term use, choose the materials carefully. Also, buy a product with an extended warranty or satisfaction guarantee. This way, you can either return the product or demand a replacement if it does not meet your expectations in terms of durability.
Price: Budget is an essential aspect of every purchase. But usually, the more durable ones are more expensive. Look for a competitively priced product for better durability and performance.
Hygiene: The lesser the inaccessible parts for washing, the better the hygiene because the germs have no place to hide. Blades or cutters made out of a single piece stainless steel do not usually form cracks. Thus, they are more hygienic than others.
Let's look at the types of pizza cutters in the following section.
Types Of Pizza Cutters
There are two major types of pizza cutters. The first type has a rotating wheel with a fulcrum in the center and a long handle. These pizza cutters are compact, easy to use, and tailor-made for pizza cutting. The other type has a conventional knife blade design and can also be used for chopping and mincing.
Pizza cutters are handy when you want to carve out that perfect pizza slice. Pick your favorite pizza cutter from our list and relish every bite!
Expert's Answers For Readers' Questions
Does a pizza cutter effectively cuts pizza?
A good pizza cutter should cut pizza effectively without messing up the topping and garnishing. It should also be able to navigate well through thick and thin crusts in a single roll of the blade.
Is it easy to clean a pizza cutter?
The knife blade cutter type is easier to clean than roller types. A few roller type pizza cutters can be dismantled for cleaning.
Are pizza cutters dishwasher-safe?
Yes. Most pizza cutters are dishwasher-safe.
Is it worth getting a high-end pizza cutter?
It depends on your frequency of use. If you intend to use it often, go for a high-end pizza cutter. The high-end pizza cutters also have multipurpose use.
Is a rotary cutter better than scissors?
It depends whether you intend to use it only for pizza cutting or other purposes. A rotary cutter is best suited if the intended use is only to cut pizzas.
Can you cut pizza with a knife?
No. Cutting pizzas with ordinary knives can be messy and look like a pizza slaughter with sauce and cheese everywhere. Thus, a knife is not a recommended pizza tool.
How do you sharpen pizza rollers?
There are a few methods to sharpen pizza cutters. You can use a conventional knife sharpener or whetstones. Handheld whetstones, known as puck sharpeners, also serve the purpose. A belt grinder can also do the job. However, it is not meant for household use. There are also pizza cutter sharpeners, designed specifically for the purpose.
Recommended Articles
The following two tabs change content below.

Latest posts by Harini Natarajan (see all)

Harini Natarajan
As Chief Editor, Harini sets the tone and editorial direction for StyleCraze to deliver engaging, interesting, and authentic content revolving around women's health, wellness, and beauty. She has over 14 years of experience in content writing and editing for online media. She specializes in the areas of Beauty, Lifestyle, and Health & Wellness and is proficient in Medical Sciences (Biology, Human Anatomy and Physiology, and Biochemistry). Her background in Biomedical Engineering helps her decode and interpret the finer nuances of scientific research for her team. Harini is a certified bibliophile and a closet poet. She also loves dancing and traveling to offbeat destinations.