20 Amazing Platinum Hair Shades To Try
From platinum blonde to highlights, choose a unique shade perfect for your tresses.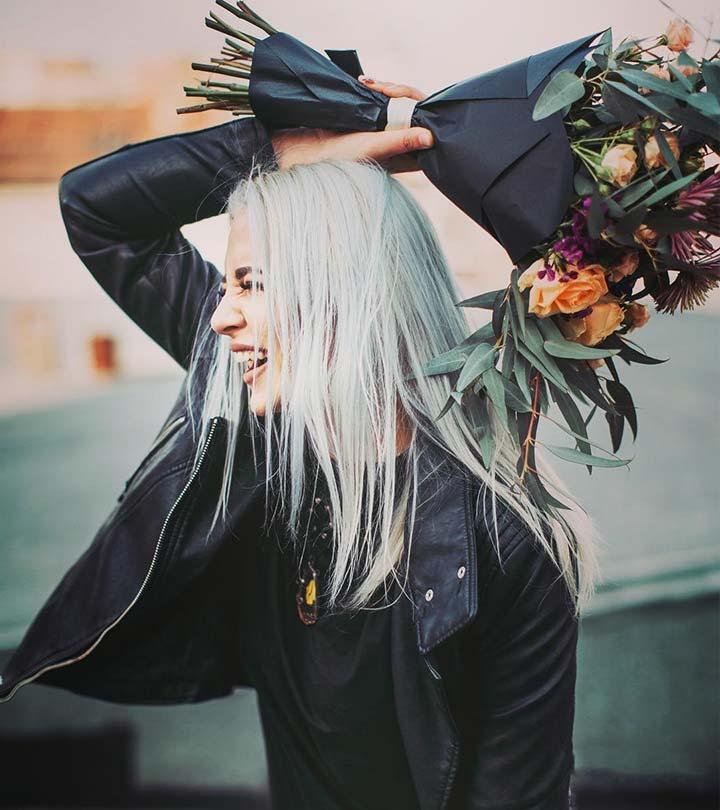 Platinum hair is in demand! And we love it! Platinum is the lightest shade of blond there is. While this color doesn't suit all skin tones, don't cross it out till you try it out. If you're looking for an edgy look, platinum hair is for you.
Now, if you thought platinum hair is just that one shade, how wrong you are! There are many shades you can try out. Before you start frantically searching for the perfect shade of platinum hair, I've made you a list. Read on to find 20 amazing platinum shades you have to try.
But before that, in case you were considering coloring your hair, here are a few tips to help you.

Quick Hair Color Guide: Platinum
How To Choose A Shade:
Go for deeper shades of blonde if you have cool undertones. Choose lighter shades of blonde if you have warm undertones.
Level Of Maintenance: High
Suitable For: Fair and medium skin tones and straight and wavy hair types
Looks Best With: Rosy or beige eyeshadow and neutral or dark lip colors

How To Color Your Hair
To go platinum, you have to bleach your hair. It essentially has to be stripped of any color. Follow this procedure if you want to color your hair entirely platinum. If you want to color your hair partially, then use the balayage or streak method. Ideally, I recommend you get a professional to do it, but if you want to try coloring your hair on your own and sport stunning bleached platinum tresses, then here are a few tips.
Pre-Coloring Care For Your Hair
Don't wash your hair the day or night before you bleach your hair. Washing your hair can lead to the bleach irritating your scalp due to scratches on the scalp that you wouldn't even notice. But once bleach is applied, it burns the scalp in those scratches. You can go 48 hours or more without washing your hair. This allows your natural oils to protect your scalp.
A week or two in advance, get a deep-conditioning done for your hair. This will moisturize and strengthen your hair.
The process of coloring your hair platinum involves bleaching out your natural hair pigmentation and then to use toner and color on your hair. All of this is going to take a substantial amount of time, so you need to be physically and mentally prepared.
If this is the first time you are bleaching your hair, you might experience itching. There should never ever be a burn. An itch is okay, but if there is a burn, the bleach must be washed off immediately. Bleach is a serious chemical and can chemically burn skin to the point where medical help is needed.
Make sure you don't color your hair at least 6 months before you decide to color your hair. Some colors might resurface when reacting with the bleach. So, make sure you stay away from hair colors for a good 6 months if you want the best outcome.
Procedure
Wear old clothes. Apply a little petroleum jelly to the skin around your hairline that is close to your scalp so that the bleach, color, and toner don't affect your skin. Use gloves to apply the bleach.
Bleach is applied thoroughly to the hair to lighten it. How long you keep the bleach in is up to you. You need to check the color every 10 minutes to see if it has reached the color you want. Just rub off a little bleach on the side to see if it is the right color.
If your scalp is burning and you can't handle it, then wash your hair. This is not a strength test. The burn is your scalp letting you know how much it can take.
Apply heat to the hair, using a blow dryer, for only a minute at a time. Heat works very quickly with bleach, so when applying heat, check it every 60 seconds. Check with a hairstylist on how long you have to keep the heat on. This will help speed up the process.
Rinse the bleach out and dry out your hair.
If your hair is still dark, then you might need to apply a second round of bleach. You may do this a couple of weeks later as well.
Finally, apply toner as it eliminates the yellow tint from your hair, then wash it off. Don't keep the toner in for too long as it can also add color to your hair.
After Bleach Hair Maintenance
Once you double bleach your entire hair, it's going to look and feel different. Your hair will feel dry and fragile. Your hair is going to need a lot of care.
Apply coconut oil to your bleached hair to nourish it back to health. Do this at least 3-4 times a week. Also, while applying the oil, gently massage your scalp.
Do not tug or pull at your hair. Your hair is in a very fragile state, and the last thing you want is breakage. So, be careful when combing your hair. Use a wide-toothed comb. Remember to be gentle!
Avoid styling your hair using heat at all costs for at least 3 weeks.
Get some protein packs for your hair. These protein packs will help strengthen your hair and bring it back to life.
Shampoo your hair only once a week and use a mild shampoo. Using too much shampoo can make your hair break and become drier.
Use a cleansing conditioner that will keep your hair color from fading. Use sulfate free color-safe shampoo and conditioner. It will help your hair and turn it yellow instead of white blonde.
Use a toning shampoo, but be careful not to overdo it as it can add color when left in for too long.
You will need to touch up your hair every 4-6 weeks. This is done to avoid banding. Your hair grows every day. So, after you bleach your hair, the hair that grows out will be your natural hair color. If you don't touch up your hair, this will leave a band of your natural hair color.

Quick Tip
Use satin or silk pillowcases while sleeping to prevent frizz and hair breakage.
20 Amazing Platinum Hair Shades To Try
1. Platinum Silver White
This blend of silver and white platinum hair is lovely. The soft waves add texture and volume to your hair.
2. Platinum Blonde Ombre
This fascinating platinum blonde ombre is achieved using the balayage technique. The platinum shade at the bottom makes your face look lean at the jawline, while the dark hair on top makes your face look longer.
3. Platinum Highlights
Platinum highlights are just stunning. Getting platinum highlights is a great way to see if you love how it looks before getting your hair completely platinumed. Also, the light platinum color helps in framing the face. If you want to show off your natural hair color, then getting platinum highlights is one of the best ways to do that.
4. Platinum Ash Blonde
This shade is a mix of platinum and ash blonde. This color is a highly sought-after shade. The light blonde ash hair color is just a tad bit darker than platinum hair, and so these two colors blend wonderfully.
5. Platinum Ash Brown
Who says the dark-haired can't go platinum! This coveted hair color is gorgeous. It's a perfect mix of medium brown and platinum. You can see platinum hints over a curtain of brown hair.
6. Rooty Platinum
You should go for rooty platinum when you have dark hair. So, the roots of your hair are seen, but the rest is colored thick platinum. You can get a golden or yellow tint to the platinum shade to add a glow. These platinum strands look absolutely gorgeous and are guaranteed to add some charm to your look.
7. Rose Gold Platinum
This color is one of the trendiest shades of platinum hair. This blend of platinum with rose gold is mesmerizing. The rose gold adds a peachy hue. If you have medium or dark skin, try this shade out.
8. Butter Blonde Platinum
In case you were wondering if this shade of blonde is named after butter, yes, it is. Not only does it look like butter, but it also shines like it. The platinum color further highlights the butter blonde shade.
9. Honey Platinum Blonde
This lovely shade of honey platinum is perfect if you don't want to go full platinum. The honey and platinum shades come together to frame your face, enhancing the features. This mix can be tried by all skin tones.
10. Golden Lowlights With Platinum Highlights
If you're looking to make a statement, this stunning bleached blonde look can be your go-to choice! Highlights and lowlights are a great way to showcase your natural hair. Here, the gold lowlights enhance the platinum highlights, which make those peaks of natural hair stand out.
11. White Platinum Blonde
If you love edgy hair, then this shade of white platinum blonde is undoubtedly going to make you happy. This stunning cool blonde shade is highly in demand. The best part about getting this hair color is that if you want to transition from dark hair to any lighter or brighter shade, then this is the first step towards it.
12.Lavender Purple Platinum
This blend of colors is playful and vibrant. The platinum colors highlight the lavender and purple blends, which is truly captivating. If you have fair, olive, medium or light skin tones, try this mix out.
13. Dark Blondes Roots With Platinum Ends
Dark roots are a great way to make your hair look voluminous. Also, dark roots make it look like you have a longer face. If you want your jawline to look slim, then get layers cut.
14.Smoky Platinum
Nothing enhances mystery like smoky platinum hair. If you have grey, brown or blue eyes, then this shade will make your eyes pop. If you have light skin, this shade will look great on you.
15.Platinum Brown Highlights
Using the balayage technique, blend brown and platinum colors at the top of your hair. This hair shade works like magic for face framing. If you have a round face, then try this out. The dark tone on top makes your face look oblong, and the platinum shades make your jawline appear slim. A perfect win!
16.Blue Platinum
This cotton candy denim shade is in demand. It is one of the most sought-after pastel shades there is. If you have light or fair skin, this color will suit you well. You can try darker shades of blue to see which one will suit your skin color. A navy blue will suit darker skin tones, while a greenish-blue will suit olive skin tones.
17.Frosted Platinum
Okay, I have a confession! I envy Elsa's frosted hair, and it makes me happy to know that I can try it too. This lovely icy platinum shade will look great on any skin tone. You can enhance the look by keeping your roots dark.
18.Pearl Platinum
Pearl platinum looks great on fair skin. Add layers to help frame the face well. If you have green eyes, this color will make them pop.
19.Pastel Blend
Pastel shades are in crazy demand. And we love it! The dark roots enhance the whole look, and make a round face appear longer and slimmer. The textured waves add volume to the hair, while the humble platinum streaks give it a soft appearance. The blue and violet hues are just captivating. All in all a perfect 100!
20.Platinum Pink
Platinum pink hair has been the talk of many towns. This candy color shade is a mix of pink and platinum. Depending on your skin tone, you can go darker pink or lighter pink. Darker pastel pinks work well with dark skin tones. If you have medium or olive skin, then go for the Toni Topaz hair color. Your new platinum mane will surely complement all your looks, especially if you are aiming for the soft girl aesthetic.


Fun Fact
Celebrities like Lady Gaga, Cara Delevigne, Michelle Williams, Kristen Stewart, and Poppy Delevigne have experimented with various shades of platinum for their hair.
Infographic: 6 Unique Platinum Hair Colors
The lightest shade of blonde known to date, platinum deserves a try before striking it out of your list. Platinum blonde hair gives an edgy look and has many shades and highlights for you to try. Let's explore 6 unique platinum hair colors in the below infographic. Scroll down!

Platinum locks are something to die for! Although they are a bold move, they are totally worth trying at least once in a lifetime. And now that you have different options to choose from, you can let go of your fears and inhibitions (if any) and roll up your sleeves to look nothing but amazing. However, whether you go for platinum silver-white, platinum ash brown, or any other shade, make sure you are strict with your hair care routine. Keep your platinum tresses hydrated and oil them regularly to avoid hair fall and frizz. Taking care of bleached hair is highly important to ensure their longevity and to prevent fading of the color.
Frequently Asked Questions
What's the difference between icy blonde and platinum?
Icy blonde is a pale shade with tones of blue shimmer, while platinum is bright white and shiny.
Does platinum blonde make you look older?
While that's a popular notion, platinum blonde highlights won't make you look older if you have well, moisturized, shiny, silky hair. Proper aftercare is required to keep your hair looking good on you.
What is the difference between platinum and silver hair color?
While both may look similar at first, platinum has a bright shine to it while silver hair color is more of a dull grayish tone.
What is the difference between white and platinum hair?
It's in the undertone. While platinum has a warm tone to it, white is more towards cool and icy hues.
Check out this video that shows some valuable tips and tricks for platinum hair color correction. If you desire the perfect white blonde, you should not miss out on this video.
The following two tabs change content below.