The Top 15 Products From Plum In India – 2021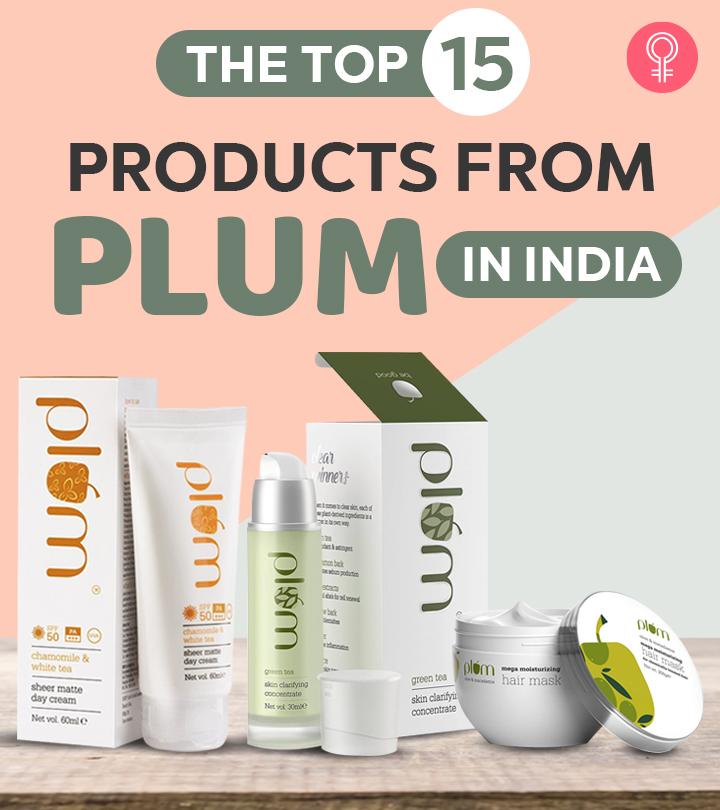 Selecting a skin care or hair care product is a challenging task. One has to keep several things in mind, such as the skin type, ingredients, allergic reactions, price range, and the final results. If you have tried several products from various brands and are not satisfied with the results, try Plum.
Plum products are cruelty-free and vegan. They are infused with superior ingredients and are free of sulfates, fragrances, parabens, and phthalates. The best part is that Plum offers products based on the skin/hair type and texture. These products contain the goodness of nature and promise to deliver the best results and make you fall in love with your skin and hair. Scroll down to check out the top 15 products from Plum.
The Top 15 Products From Plum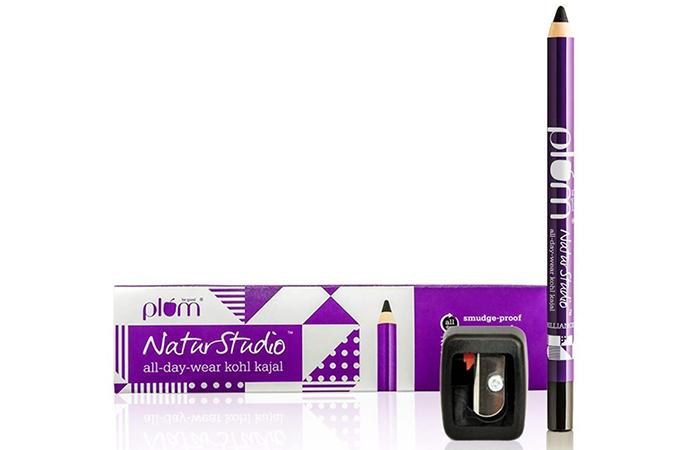 The Plum NaturStudio All-Day-Wear Kohl cum liner is deep black and easy to apply. A single swipe of this super pigmented kohl, and you are good to go. This 2-in-1 kohl offers excellent color payoff and can also be used as an eyeliner. It looks freshly applied even after 12 hours of application. It has a gel base and contains castor oil, rice bran wax, and vitamin E that hydrate, moisturize, and protect your eyes. The pencil comes in an environment-friendly PVC-free barrel. It is ophthalmologically tested and safe for sensitive eyes and contact lens wearers. This all-day long kohl is smudge-free and waterproof.
Pros
Smudge-proof
Waterproof
Ophthalmologist-tested
Comes with a free sharpener
Suitable for sensitive eyes and contact lens wearers
Cons
Needs multiple strokes
Not long-lasting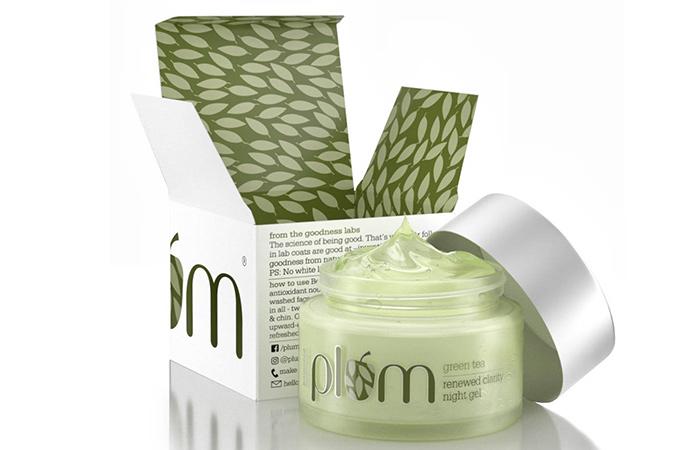 The skin tends to lose moisture at night, which makes it more susceptible to wrinkles and fine lines. Hence, it is important to moisturize it before you go to bed. The Plum Green Tea Renewed Clarity Night Gel is specially formulated for oily skin. It offers the right amount of moisture without being greasy or making your skin look dull. This night gel contains non-comedogenic ingredients that will not block your skin pores. Argan oil contains vitamin E and essential fatty acids that moisturize and soften the skin. Green tea extracts help control acne, while licorice lightens dark spots and acne scars. Apply this night gel and wake up to clear, fresh, and moisturized skin.
Pros
Silicone-free
Non-comedogenic
Makes the skin soft
Gets absorbed easily
Non-greasy
Cons
Not suitable for sensitive skin
May cause breakouts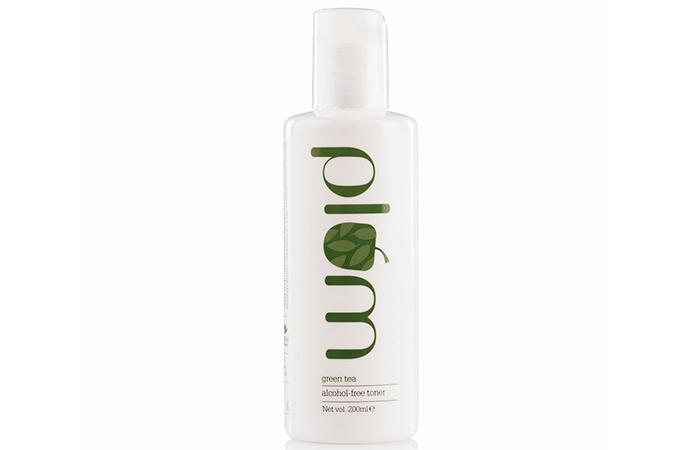 No skin care regimen is complete without a toner. The Plum Green Tea Alcohol-Free Toner is specially formulated for oily, combination, and acne-prone skin types. It contains green tea extracts that have antioxidant, antibacterial, and anti-inflammatory properties. They help control acne and blemishes. The glycolic acid gently exfoliates the skin while glycerin softens the skin. This toner tightens pores and gives you soft and clear skin.
Pros
100% recyclable packaging
Alcohol-free
Refreshes the skin
Makes the skin soft
Cons
Strong fragrance
Not suitable for sensitive skin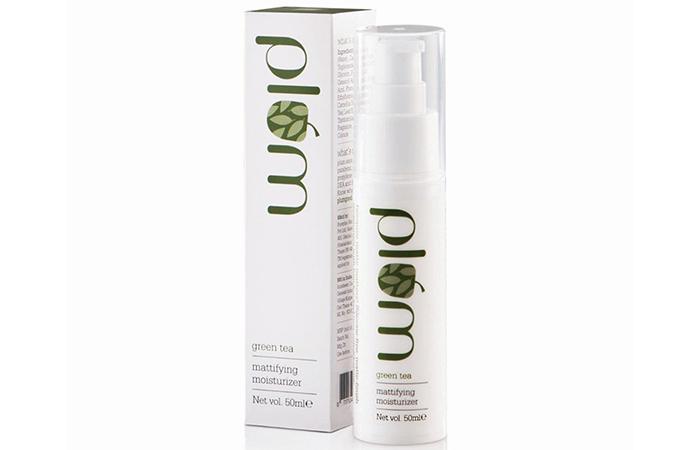 This lightweight skin moisturizer from Plum promises to deliver the utmost care to your skin. It contains organic green tea that helps in nourishing and repairing the skin and glycolic acid that exfoliates the skin and stimulates cell renewal. This moisturizer is designed for oily skin and provides a non-shiny matte finish. It is free of silicone and non-comedogenic ingredients. The Plum Green Tea Mattifying Moisturizer offers controlled hydration and makes your skin appear fresh and clear. It is best suited for oily to combination skin types.
Pros
Silicone-free
Non-comedogenic
Lightweight
Matte finish
Cons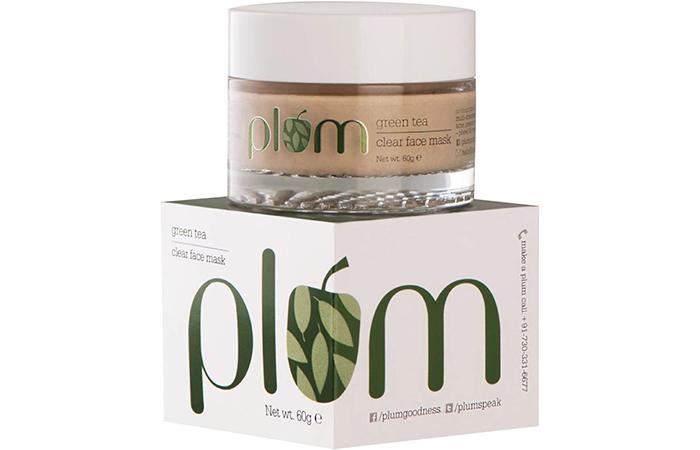 If you have acne-prone and dull skin, cleansing and exfoliating your skin is important to control the oil production. The Plum Green Tea Clear Face Mask contains green tea extracts that reduce sebum production and have an anti-inflammatory effect on the skin. It also contains glycolic acid and kaolin and bentonite clays that exfoliate the skin and absorb excess oil. This face mask is suitable for oily, combination, and acne-prone skin types. It unclogs the pores and makes your skin softer and brighter. The soft and creamy formula spreads easily on the skin without causing dryness.
Pros
Non-drying
Rejuvenates the skin
Imparts a subtle glow
Cons
May cause a burning sensation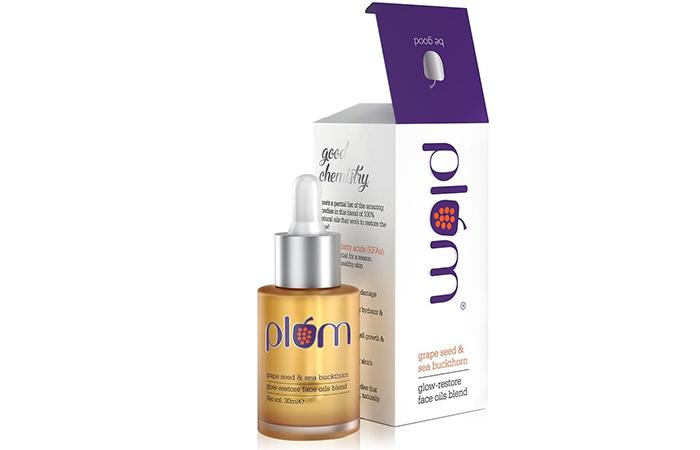 This unique blend of 10 plant-derived oils combats dryness and makes your skin glow. Grapeseed oil unclogs pores, while sea buckthorn and pomegranate seed oils protect the skin from free radical damage. Olive, apricot, sweet almond, and jojoba oils hydrate the skin and repair skin damage. Argan oil reduces inflammation, rosehip oil fights the signs of aging, and sunflower oil makes your skin healthy. The natural minerals, antioxidants, and phytonutrients help in nourishing, repairing, and protecting the skin. This non-greasy oil helps prevent the transepidermal loss of water from the skin.
Pros
Lightweight
Quickly absorbed
Can be used with a sunscreen
Works well for dry skin
Cons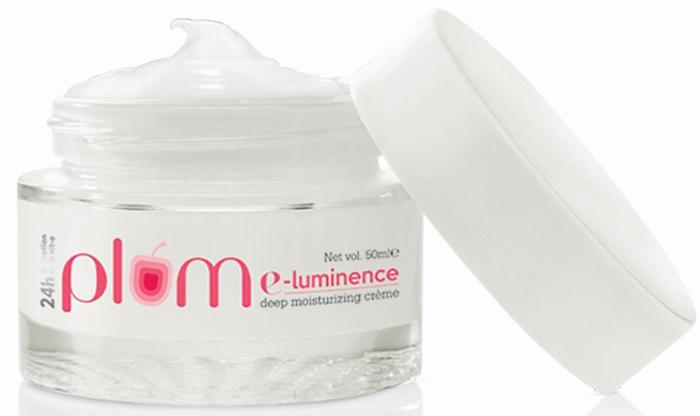 Dehydration can make your skin look dull and lifeless. Add a boost of hydration to your skin with the Plum E-Luminence Deep Moisturizing Crème. It offers 24-hour intense hydration for normal, dry, and very dry skin types. It nourishes the skin from deep within and makes it radiant. This moisturizing cream contains jojoba, vitamin E, kokum butter, and plant-based nutrients and antioxidants that provide nourishment to dry and dehydrated skin. It makes your skin dewy, nourished, and bouncy. You can use it any time, day or night.
Pros
Provides 24-hour hydration
Makes the skin glow
Cons
Heavy
Not suitable for oily skin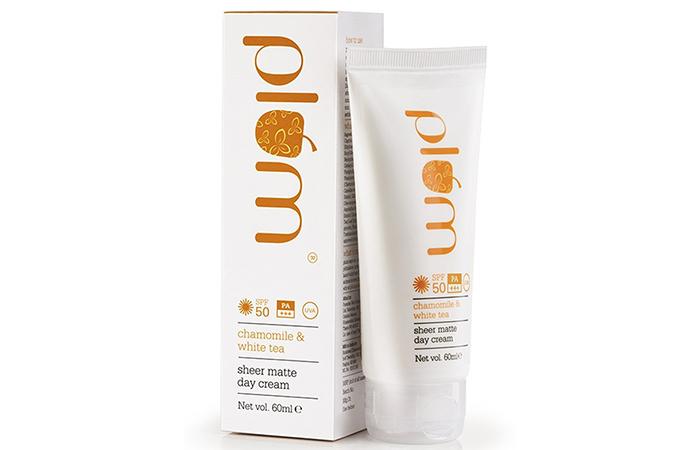 Excessive exposure to the sun can make your skin look dull and lifeless. The Plum Chamomile & White Tea Sheer Matte Day Cream has SPF 50 and PA+++ that protect your skin from UVA and UVB rays. The cream base spreads evenly onto your skin to give a sheer and matte finish that stays up to six hours. It contains a cocktail of antioxidant-rich ingredients white tea, ginkgo biloba, and chamomile extracts. White tea extract protects the skin from oxidative damage caused due to sun exposure, ginkgo biloba extract fights the early signs of aging, and chamomile extract soothes the skin.
Pros
Non-sticky
Contains SPF 50 and PA+++
Matte finish
Cons
Heavy
Leaves white patches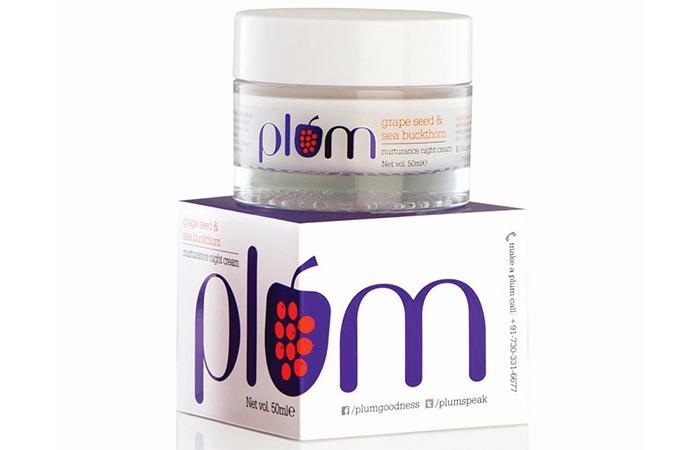 Undernourished skin is more prone to wrinkles, blemishes, and fine lines. The Grape Seed and Sea Buckthorn Nurturance Night Cream from Plum Goodness is an antioxidant-rich cream that helps prevent signs of aging and fine lines. The long-lasting formula spreads easily on your skin and offers deep moisturization. This night cream is suitable for normal to combination skin types. It is infused with grape seed and sea buckthorn oil, which protect your skin from free radical damage and help it heal. This cream repairs and heals your skin to make it look young, fresh, and clean.
Pros
Lightweight
Blends well
A little goes a long way
Soothes the skin
Makes the skin soft
Cons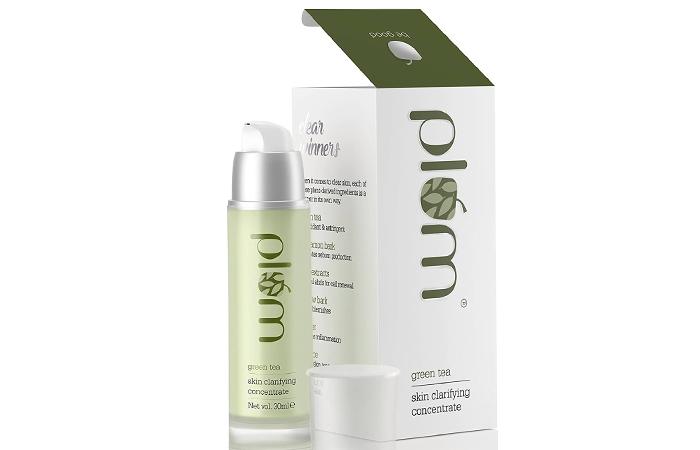 The Plum Green Tea Skin Clarifying Concentrate helps clear up your skin and prevent blemishes. It contains ingredients like green tea to prevent the occurrence of acne, cinnamon bark to regulate sebum production, licorice to lighten blemishes, and willow bark to combat acne-producing bacteria. The natural AHAs present are derived from five plant sources – bilberry, lemon, maple, orange, and sugar cane. They help in gently exfoliating the skin and aid skin renewal. This product is suitable for oily and acne-prone skin.
Pros
Paraffin-free
Silicone-free
Non-comedogenic
Non-sticky
Cons
May cause skin irritation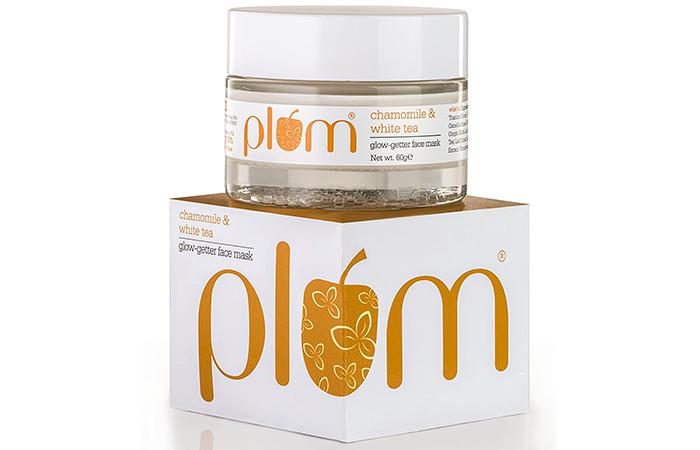 Ban the tan and get that glow with the Plum Chamomile & White Tea Glow-Getter Face Mask. This face mask contains natural clays (bentonite and kaolin) that help in exfoliating the skin while cleansing it. The chamomile extracts calm and soothe the skin, while the licorice root extract helps in lightening the skin by removing tan. This clay mask is non-drying and easy to apply. It helps in shielding the skin from the harsh sun rays, which can cause oxidative stress. It is best suited for normal to combination skin.
Pros
Non-drying
Makes the skin smooth
Lightens tan
Cons
May cause a burning sensation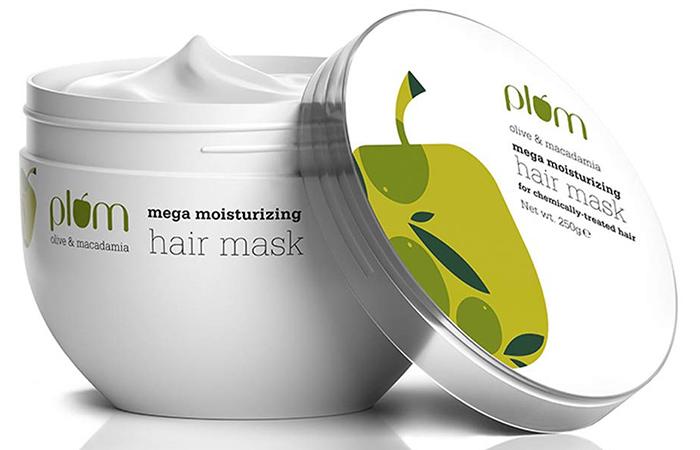 Chemically treated hair tends to become dull and dry with time. Hence, you need a deeply moisturizing hair mask to restore your hair to its former glory. The Plum Olive & Macadamia Mega Moisturizing Hair Mask offers long-lasting hydration to your scalp and hair. It contains shea butter that hydrates the hair and olive derivatives that soften the hair and impart a healthy shine. Macadamia oil tames frizz, while provitamin B5, tung wood, and rapeseed oil form a protective coat on your hair and protect it from pollution.
Pros
Non-greasy
A little goes a long way
Suitable for colored or chemically treated hair
Cons
Not suitable for curly hair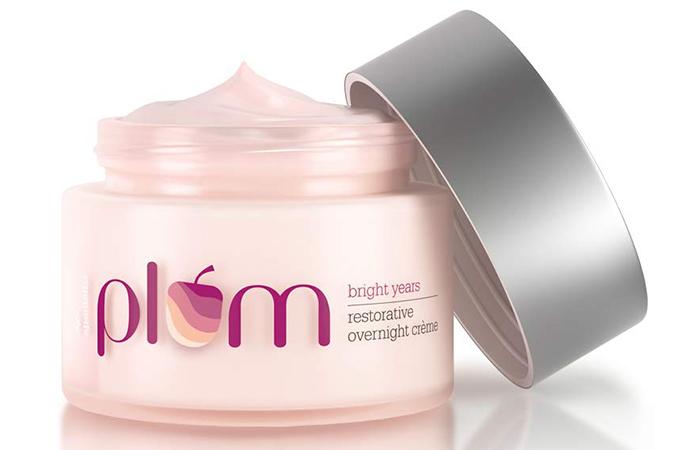 The Plum Bright Years Restorative Overnight Creme makes your skin soft and supple. It activates the cell renewal process to minimize the appearance of fine lines and blemishes. This multi-action cream contains aloe juice to provide a soothing effect and shea butter and jojoba oil for deep moisturization. The plant stem cells stimulate the skin's stem cells to make it healthy and supple, the plant amino acids rebuild its structure, and the plant AHAs initiate the renewal process. This nourishing cream revitalizes the skin and makes it healthy and radiant.
Pros
Moisturizes the skin
Spreads easily
A little goes a long way
Cons
Not suitable for oily and acne-prone skin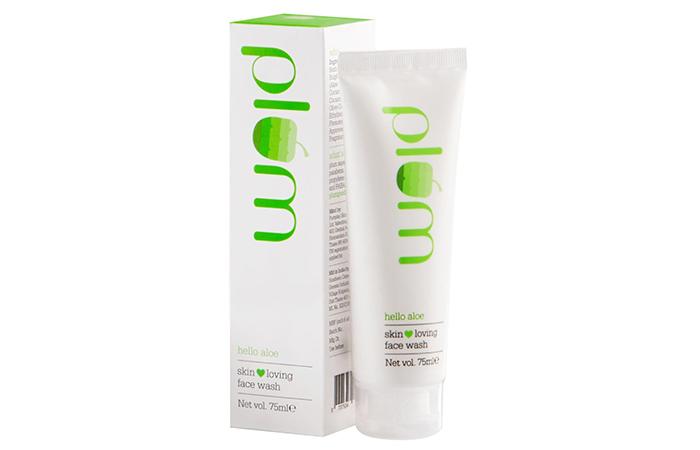 The Plum Hello Aloe Skin Loving Face Wash contains real aloe juice, which soothes the skin and moisturizes it. Aloe juice also has natural healing and anti-inflammatory properties that aid skin repair. This soap-free, gentle face wash contains mild ingredients that will not harm your skin.
Pros
Mild
Soap-free
Suitable for sensitive skin
Cons
Contains SLES
May dry out the skin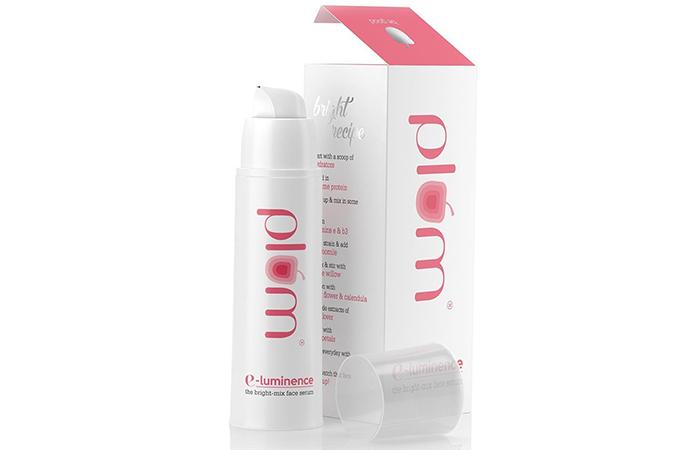 Say goodbye to dull and dry skin with the Plum E-luminence The Bright Mix Face Serum. It contains natural ingredients and potent vitamins that make your skin even-toned, revitalized, and blemish-free. The moisture-rich formula gets easily absorbed in the skin and restores its glow. The protein-rich ingredients in the cream make the skin firm, toned, and tight. The cream also contains sesame proteins and vitamins E and B3 that help fight skin aging and promote protein synthesis to make the skin smooth and wrinkle-free. Licorice and white willow bark help exfoliate and soothe the skin and lighten pigmentation.
Pros
Lightweight
Non-sticky
Easily absorbed
Evens out the skin tone
Cons
Not suitable for all skin types
Listed below are the benefits of using a product from this brand.
Benefits Of Plum Brand Products
They are made of natural and organic ingredients that promise safety and protection to the skin.
Plum products are free of parabens, phthalates, SLS, propylene glycol, DEA, and PABA.
They are not tested on animals and are completely vegan.
That was our round-up of the top 15 Plum products. Take your pick from the list and treat your skin to natural goodness.
Frequently Asked Questions
Are plum products safe?
Yes. Plum products are made of all-natural and safe ingredients. They are also free of harmful chemicals like parabens, phthalates, glycol, propylene, DEA, and PABA. They make use of recyclable plastics like PVC and ABS for packaging for a pollution-free and waste-free environment.
Is Plum Goodness a good brand?
Yes. The ingredients used in Plum products go deep into the skin and act from within to clarify and heal it. All you need to do is to know your skin type and select the right product. Well, that's not it! The Plum range of products is also vegan and cruelty-free.
Are Plum products good for oily skin?
Plum has a wide range of products for oily skin that contain organic green tea. Green tea works great for acne-prone and oily skin. It penetrates the skin and acts from deep within to combat issues related to oily skin. The mild and gentle formula of these products helps in reviving, repairing, and healing the skin. The active ingredients help in reducing open pores, blemishes, pigmentation, and acne scars on oily skin.
Recommended Articles
The following two tabs change content below.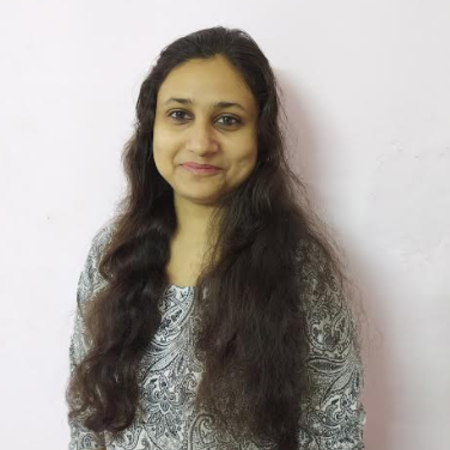 Shiboli has a master's degree in English literature from The English and Foreign Languages University, Hyderabad, and is a certified...
more