Best Plum Shade Lipsticks Available In India – 2023
Stay pout-ready with the boldest color choices that help you stand out!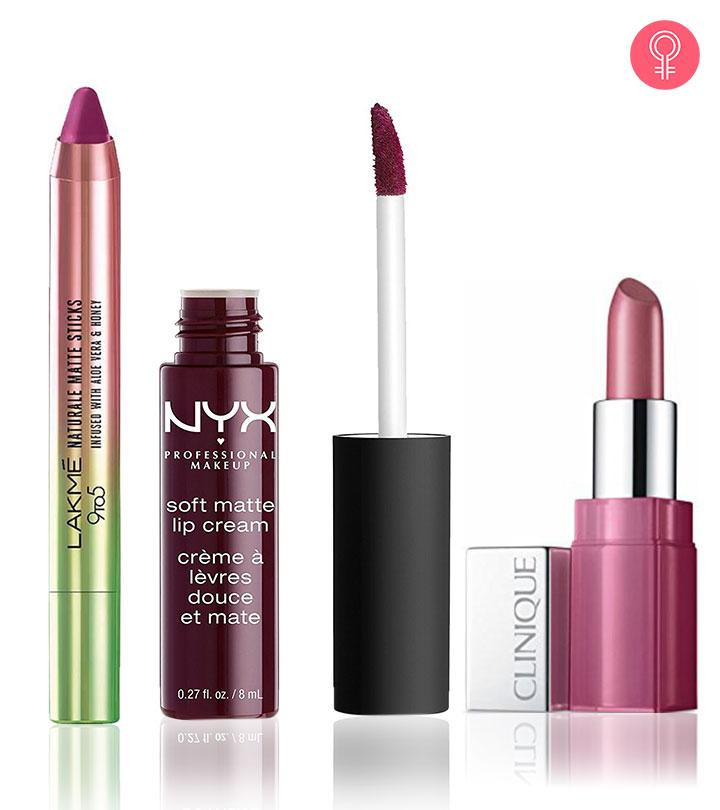 Makeup trends come and go, but bold and vibrant plum shade lipsticks remain timeless. No matter the season, occasion, or your skin tone, a yummy plum shade flatters everybody. But with an abundance of options and infinite variations, it can be a daunting task to pick out the perfect plum-toned lipstick for you. To make your life easier, we've rounded up the 12 best plum shade lipsticks that you can easily find in India. From a fuschia plum to an eggplant plum – they are all down here!
a
Top 12 Plum Shade Lipsticks In India
Review
This foxy-brown plum shade by M.A.C is a cult favorite for many reasons. It is a soft, muted plum that looks gorgeous on every skin tone. Its formula is extremely pigmented, and it gives you a beautiful finish in a single swipe. This is the best plum lipstick as it won't leave your lips feeling dry, thanks to its creamy yet matte formula. You can build up the color with a few swipes for a bolder and more vibrant-looking pout. Definitely give this MAC plum lipstick a try if you're looking to invest in a plum lip color.

Pros
Long-wearing
Extremely pigmented
Does not bleed or feather
Does not settle in fine lines
Cons
Review
If you're looking to jazz up your pout, this L'Oreal lipstick in the shade 'Plum Gold' is what you need to try. It is a stunning deep plum lipstick with purple undertones and gold shimmer. The grape shade looks extremely flattering on the average Indian skin tone. The formula is comfortable to wear and leaves your lips with a glossy finish. The gold shimmer in this plum color lipstick adds to the beauty of the color, giving your lips the perfect shine.

Pros
Great pigmentation
Enriched with jojoba oil
Long-wearing
Creamy texture
Cons
Review
This Colorbar lipstick in the shade 'Plum Berry' is a pretty plum with pink undertones. It is a very versatile color that is great for any season. It is bound to leave you impressed with its lightweight texture and pigmented formula. Also, this plum berry lipstick has a moist matte finish, so say goodbye to dry lips as this hydrates and moisturizes your lips really well.

Pros
Comfortable to wear
Long-lasting
Beautiful packaging
Hydrates lips
Cons
A little difficult to take off as it stains your lips with a subtle tint by the end of the day.
[ Read – Colorbar Makeup Products Your Must Try ]
Review
If you want a glossy plum color, try 'Imperial Plum' from Faces Canada, Weightless Glossy range. It is a soft, muted plum shade that is perfect for a pep look. The lipstick has an ultra-glossy formula enriched with shea butter, jojoba, and almond oil. The moisturizing formula hydrates the lips, while the intense pigments provide a beautiful color finish in a single swipe. The creamy lipstick gives you smooth, silky lips that look gorgeous on all skin tones.
Pros
Intensely pigmented
Creamy formula
Suits all skin tones
Long-lasting
Easy to use
Cons
None
Price at the time of publication: ₹186
Review
'Plum Local' from Lakme's new natural range is a bright plum shade with purple and pink undertones. This formula is enriched with aloe vera and honey that hydrate and moisturize your lips – and it truly does work well in this aspect. Lakme has also stepped up their packaging game with this range. You get a sleek, retractable lip crayon that is super easy to use. Its texture is smooth and glides on like a dream. It also does not feel heavy on your lips and is perfect for daily wear.

Pros
Beautiful semi-matte finish
Lightweight
Does not dry out your lips
Long-wearing
Cons
Review
The Lakme 9 To 5 Weightless Matte Mousse in this shade is a pinky-plum that looks phenomenal on Indian skin tones. With its powdery matte finish, it is an incredibly comfortable lip product to wear. It is also very lightweight, and its formula does not dry out your lips. Here's the best part about plum shade lipsticks – you can also use this shade on your cheeks to add a little flush to your face!

Pros
Lightweight
Great applicator
Long-wearing
Extremely pigmented
Cons
Could be slightly drying if you have parched lips.
Price at the time of publication: ₹525
Review
The Plum Perfection by Maybelline New York is a beautiful wine plum shade with a subtle maroon tinge. It looks flattering on all Indian skin tones and is ideal for brides. This lipstick has a silky matte finish that glides smoothly on the lips. It gives an intense color pay-off without drying the lips. This product contains saturated powder pigments and honey nectar that keep your lips defined and hydrated.

Pros
Matte finish
Smudge-proof
Glides smoothly
Highly pigmented
Cons
Price at the time of publication: ₹280
Review
'Plum Star' by Revlon is a deep plum shade with subtle purple undertones. Here's what's special – it contains glitter to add that extra oomph to your pout. Its texture is quite buttery and moisturizing. You need to go in with at least two swipes if you want an opaque finish. However, even the sheer plum finish with a single swipe looks very pretty for a daytime look. Revlon plum lipstick is a great option if you're looking to try something unique for those special occasions.

Pros
Suits all skin tones
Decent longevity
Buildable formula
Reasonably priced
Cons
Review
This bold and buttery plum matte lipstick from Lotus Herbals is good for your lips. The shade is a vibrant plum with a splash of deep purple. It is a must-try if you have dry lips as it is enriched with shea butter, jojoba oil, and vitamin E. The pigment is saturated and leaves you with an opaque finish with two swipes.

Pros
Does not settle into fine lines
Moisturizing
Pigmented
Unique shade
Cons
Pricey for a drugstore lipstick
Price at the time of publication: ₹468.75
Review
This lipstick from Clinique is a soft purple-pink shade with a sheer finish. If you like plum shade lipsticks that leave you with a more natural look, this is the perfect flush of plum to add to your collection. This lipstick is great for daily wear and feels comfortable on your lips. Your lips also feel properly moisturized and hydrated while you're wearing it.

Pros
Packed with a primer
Long-lasting
Allergy-tested
100% fragrance-free
Cons
Price at the time of publication: ₹8.99
Review
Want to go bold? This shade from Sugar cosmetics is all you need for a unique plum pout. As its shade name suggests, this is indeed a blackened plum color. Its lightweight formula will make you forget that you have lipstick on. So, if you hate the feeling of having product on your lips, you will love this lipstick. The texture is smooth and creamy and will not dry out your lips like most matte liquid lipsticks tend to.

Pros
Very pigmented
Candy-like fragrance
Applies smoothly and evenly
Does not settle into fine lines
Cons
Takes time to dry and set
Review
For all you dark lipstick lovers, 'Copenhagen' is the perfect vampy burgundy shade with just a tinge of plummy purple to brighten things up. It is the most lightweight and intensely pigmented lipstick formula for a drugstore brand. Definitely a must-try for fall and winter! And did I mention it smells like sweet cupcakes?

Pros
Long-wearing
Lightweight
Non-drying
Value for money
Cons
Can feel drying if you have dry lips, especially in the winter.
If you are trying to figure out which one of these shades of plum you should choose, here's a tip – pick the one that lifts your complexion and makes your face pop. A lively color like plum is not supposed to wash you out. The moment you test it out, you'll know that it's made for you!
That was our list of the 12 must-try plum shade lipsticks available in India. We hope this article comes in handy for you. Which one are you excited to try out? Let us know in the comments section below.
Frequently Asked Questions
Can plum shade lipsticks be worn during the day, or are they more suitable for evenings?
You can wear plum shade lipsticks both during the day and in the evenings, depending on your overall look and style. For daytime, you may go for muted plum shades and use a light hand to achieve a subtle dash of color on your lips. For evenings, pick deeper and more intense plum shades and apply the lipstick more generously for a bold look.
Are plum shade lipsticks suitable for all age groups?
Yes, plum-shade lipsticks are suitable for all age groups. You can choose the intensity of the shade depending on your personal taste, style, and skin tone.
Can plum shade lipsticks be layered with other lip colors or glosses?
Yes, you may layer plum shade lipsticks with other lip colors or glosses to create fun and interesting looks. You may pair a darker plum shade with a lighter one to create ombre lips or mix and match it with different colored lipsticks to create a custom color.
Can I wear plum shade lipsticks with bold eye makeup?
Yes, you may wear plum shade lipsticks with bold eye makeup like smokey eyes. You may want to avoid vibrant colors like orange and red to avoid an over-the-top look. Also, keep the blush light to balance your look.
Can I find plum shade lipsticks in cruelty-free or vegan options?
Yes, you can get your hands on the Lakme and Sugar Cosmetics plum lipsticks if you're looking for a cruelty-free option.
Recommended Articles: