14 Best Plus-Size Activewear Brands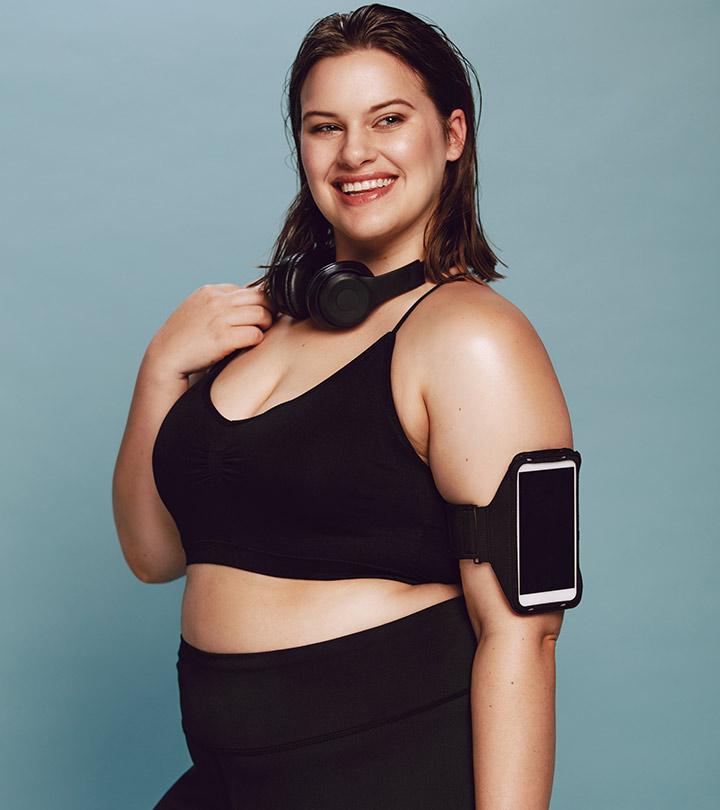 Who says plus-size workout clothes have to be boring? Activewear has become a huge deal. It is important to invest in good-quality activewear that will not only motivate you to show up at the gym every single day but also aid your workouts. Today, there are many brands that have come up with functional, fashionable, and comfortable activewear for every shape and size. From plus size yoga clothes to plus size athletic shorts, there are a lot of options from various brands to shop from and explore. Here are 14 best brands for Plus size workout clothes that you can look at.
14 Best Brands For Plus Size Activewear
1. Lane Bryant
Lane Bryant is a brand that focuses exclusively on plus-size clothing. The brand believes in creating stylish clothing possible for women of all shapes and sizes. Lane Bryant has a wide range of stylish and edgy, low to high impact plus-size activewear, including active leggings, sports bras, athletic tops, jackets, hoodies, etc. Their form-fitting plus-size leggings are made of breathable and comfortable material that ensures there is no chafing or slipping. Whether you are prepping up for a marathon, exercising indoors, or running to the grocery store, Lane Bryant has a huge collection of athleisure and activewear clothes you can pick from.
2. Torrid
Torrid is a brand that helps and supports women of every race, size, and culture. They have an organization called Torrid that helps in empowering women, and the clothes are a way of funding the organization. The brand has various clothing categories, including quirky, highly supportive, and comfortable plus-size Women's activewear and swimwear, which provide both style and comfort. Whether you are doing yoga, Pilates, Zumba, hiking, or an intense workout, Torrid activewear can keep you cool and comfortable. Their plus-size activewear line is made of lightweight, moisture-wicking fabric and meshes ventilation panels that keep you cool and dry even through the toughest workout routines. It is the best Plus Size Fitness Wear.
3. Addition Elle
Addition Elle is one of Canada's largest plus-size brands. It is known for its comfortable and fashionable plus-size activewear. Whether you are going for a high-intensity training or a light workout session, you will find what you need. Their activewear collection includes microfiber sports bras, padded and wire-free bras, sweatpants, pants, capris, joggers, leggings, shorts, breathable and stretchable T-shirts, v-neck tops, crop tops, racerback tops, hoodies, jackets, etc. that are Old Navy Activewear specially designed for curvy bodies. It is one of the Best Activewear Brands.
4. Full Beauty
Full Beauty is a brand that expertizes in plus-size clothing from sizes 12 to 44. If you are looking for a plus-size activewear brand that is laid-back, comfortable workout wear, you should definitely try out this brand. From plus size yoga wear, joggers, leggings, and shorts to tops, tanks, and jackets, they have it all in exclusive patterns and styles. Their active bottoms and tanks are not only form-fitting but are also made of comfortable and breathable fabric and are not too tight. Their plus-size jackets and tees make your body look in shape while still allowing movement and airflow.
5. Dia
Dia was founded with a vision to spark radical self-love through style. It aims to meet every curvy girl's needs through its subscription boxes. You need to take a quiz to determine what you want and how much you are willing to spend. The brand offers a dedicated service to curate and customizes your plus-size activewear based on your needs. If you don't like it or have received the wrong size, you can send it back or exchange it. The brand provides a hassle-free shopping experience from the comfort of your home.
6. Penningtons
Penningtons is a renowned Canadian plus-size brand that advocates body diversity and size acceptance with their exclusive clothing range. The plus-size activewear from Penningtons is runway-inspired and has a perfect tailored fitting. The clothes are practical, comfortable, and breathable and include yoga pants, joggers, Plus Size Sports T-Shirts, racerback tank tops, plus size running jackets, and sweatshirts. Whether you are running, doing yoga, or just taking a casual walk, they have plus-size clothing for every activity.
7. Woman Within
Woman Within are experts in fit, comfort, and value. Their stunning range of plus-size activewear and swimwear might leave you wanting for more as each product is tempting. They have activewear collection and styles in sizes 12W-44W across each style. Apart from that, they offer everyday value packs at affordable prices.
8. Always For Me
Always For Me has been one of the trusted brands for plus-size activewear and swimwear collection. Their figure-flattering activewear for plus-size women not only makes exercising a little more fun but also makes you feel motivated and look fabulous while doing it. The high-quality fabric used provides the perfect fit for any figure and allows you to feel comfortable in your skin. Whether you are heading out to the gym, a yoga class, or a morning run, they have stylish and cute options available.
9. Day Won
Day Won is a brand that strives to create activewear that's everybody-friendly. Their sizes range from 0 to 32W, and even though there are limited collections, the brand ensures to keep everything priced under $100! Several pieces have quirky prints and mantras that are inspirational and confidence-boosting. If you want fun and sassy plus-size activewear, Day Won is your way to go!
10. Juno Active
As the name indicates, Juno Active is all about plus-size activewear! The brand believes that every woman deserves what she wants and needs to be active. It specializes in stylish plus-size activewear that enhances your confidence as well as your curves. From swimming to workout wear, they have a wide range of options. Juno Active often offers exclusive sales and deals that you can shop from. The brand promises comfortable, super-supportive activewear and sizes that go up to 6X.
11. SuperFit Hero
SuperFit Hero is one of the most premium plus-size activewear brands. The brand makes activewear from the sizes XS to 5XL. It is known for its body-positive approach and fitness through its products. SuperFit Hero represents strong, confident women who can change the world, and they provide activewear to help them do that. From plus-size capris, leggings, and shorts to bras and tank tops, you can find them all here. It is the Best Plus Size Activewear.
12. Glamorise
Glamorise is one of the oldest names in the industry that has been around for about 100 years now. They are famous for providing comfortable and well-fitting activewear bras to full-figured women. The brand ensures a comfortable, easy to use, and ultra-supportive activewear sports bras for plus-size women. These plus-size activewear sports bras are available in sizes from 32B to 46H.
13. Active Truth
Active Truth is a brand started by two women and is well-known for making one of the best tights for plus-sized women and moms-to-be. The brand promises super supportive, comfortable, fun, and chic activewear at affordable prices. Their activewear collection has fun styles and quirky patterns, and the sizes range from S to 3XL.
14. Rsportlife
Rsport is a brand that is made for badass, athletic plus-sized women who are motivated to be healthy and sporty. They have limited but have extremely comfortable sporty plus-size activewear options in various styles. Their products are built and crafted for extreme workouts and sports. It is a brand that will surely keep you motivated and energetic to be on your toes. It is an Affordable Activewear.
If you are someone who wants to shop for the best plus-size workout Leggings, check out the above-mentioned websites, and you will not be disappointed! These workout clothes are so chic and comfortable that they will motivate you to work out every single time you wear them. Happy shopping, ladies!
Recommended Articles
The following two tabs change content below.

Latest posts by Harini Natarajan (see all)

Harini Natarajan
As Chief Editor, Harini sets the tone and editorial direction for StyleCraze to deliver engaging, interesting, and authentic content revolving around women's health, wellness, and beauty. She has over 14 years of experience in content writing and editing for online media. She specializes in the areas of Beauty, Lifestyle, and Health & Wellness and is proficient in Medical Sciences (Biology, Human Anatomy and Physiology, and Biochemistry). Her background in Biomedical Engineering helps her decode and interpret the finer nuances of scientific research for her team. Harini is a certified bibliophile and a closet poet. She also loves dancing and traveling to offbeat destinations.