14 Best Plus-Size Clothing Brands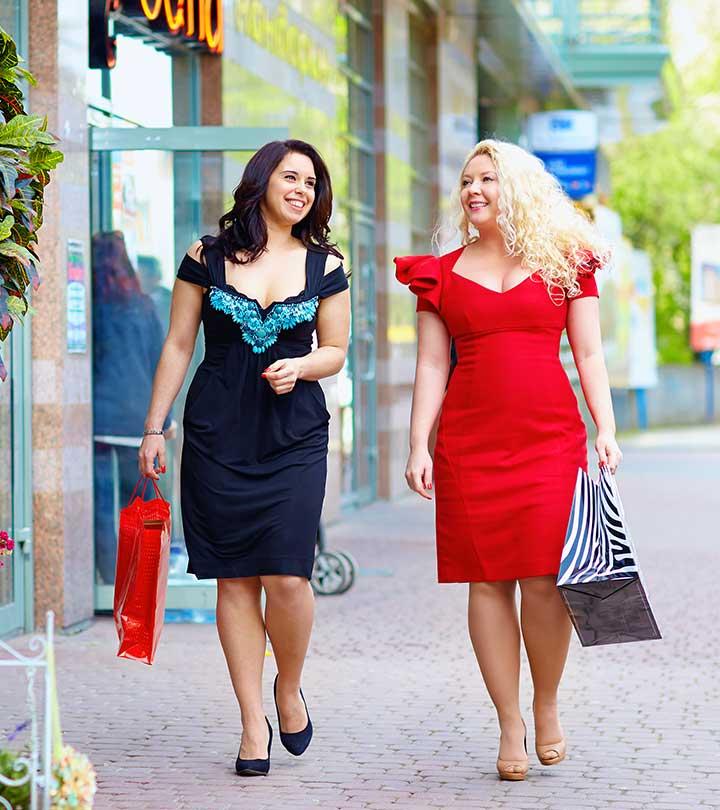 You don't have to be a specific size to look and feel great. Today, more and more brands are endorsing body positivity and coming up with plus-size clothing lines that are as stylish and chic as the rest. Plus-size fashion is on a roll, and this makes shopping exciting and fun. If you are unsure which brands to explore, we have got you covered. Check out our list of the 14 best plus-size brands and revamp your wardrobe.
14 Best Brands For Plus-Size Women
1. Boohoo
Boohoo is a trendy plus-size clothing brand. The clothing line covers sizes from 16 to 28. From chic slogan sweatshirts, mini dresses, and stylish tops to loungewear, you are going to love the options that Boohoo offers. The best part – the prices are extremely pocket-friendly! Take your pick and flaunt a new look every day. In the brand's own words, "you supply the curves, we supply the trends."
Check them out: Boohoo
2. Old Navy
Old Navy is one of the classic plus-size clothing brands known for offering trendy casual wear at reasonable prices. Old Navy has a variety of trendy plus-size clothing that includes stylish essentials and everyday staples in sizes 16 to 30. From the perfect summer tee to printed maxi dresses, you will find all you want here. Best of all? Everything is priced below $60!
Check them out: Old Navy
3. Lane Bryant
Lane Bryant is one of the most accessible plus-size labels and has a wide range of styles. This high-end plus-size women's clothing brand often collaborates with designers and plus-size influencers for capsule collections. Lane Bryant offers plenty of options for plus-size women, from jeans, jackets, and swimwear to dresses and everything in between with sizes that range from 10 to 32.
Check them out: Lane Bryant
4. Torrid
Torrid is a high-end plus-size women's clothing brand that features trendy designs and a size-inclusive collection in sizes 10-30. Whether you are looking to stock up your wardrobe with exclusive fashionable items or you simply want to feel comfortable and beautiful in your skin, Torrid has something for you. From dresses, maxis, tunics, and intimates to shoes, accessories, and more, this brand has everything a plus-size woman needs to feel her best without breaking the bank.
Check them out: Torrid
5. Simply Be
Simply Be is yet another plus-size brand that offers stylish and comfortable plus-size fashion. The sizes range from 12-34. The brand's approach is simple – every woman is beautiful, no matter what her size, and her clothes should reflect that. From casual to formal wear and even lingerie, Simply Be has plus-size clothing that suits different needs at affordable prices.
Check them out: Simply Be
6. Evans
This high-end plus-size clothing brand celebrates curves while putting fashion first. The brand curates wardrobe essentials that fit well and are trending with a splash of glamour thrown in. They know what makes a flattering fit for curvy women. As Evans is a curve specialist, they have sizes from 14 to 32.
Check them out: Evans
7. Ashley Stewart
Ashley Stewart is a chic and trendy plus-size clothing brand that focuses entirely on clothes for curvy women. From Halloween costumes to casuals, party wear, and formal wear to everything stylish – Ashley Stewart has it all. The clothes are available in a variety of styles and a range of sizes, so you are sure to find whatever you are looking for here.
Check them out: Ashley Stewart
8. Eloquii
If you are a plus-size shopper, this is a name you may probably know well, and for a good reason. ELOQUII is one of the few places you can always find a fresh collection of the latest, trending pieces, workwear, and great designer collaborations. In addition to the standard 12-32 sizes, and plus-size petite, they recently added Viola sizing, which caters to curvy women with pear-shaped figures.
Check them out: Eloquii
9. City Chic
City Chic is your go-to for incredible fashion and affordability and amazing and trendy plus-size clothing. It is your one-stop-shop for all designer plus-size clothing – with everything from swimwear to casual and formal wear to lingerie and denims. The brand keeps offering amazing discounts on selective ranges.
Check them out: City Chic
10. Navabi
The stylish lineup at Navabi has something to offer women of all shapes and sizes. Feel comfortable and beautiful with Navabi's trendy clothing that comes at affordable prices. Whether you are looking for jackets, dresses, denims, or a wrap dress, Navabi has one of the biggest arrays of plus-size women's clothing.
Check them out: Navabi
11. Monif C
Finding sexy, stylish, and comfortable lingerie for a plus-sized woman can be quite challenging. Most lingerie stores don't even stock in anything bigger than medium or large sizes, and with some online outlets, you just can't be sure. Monif C is the plus-size lingerie destination for women of all sizes. You will find everything from stylish corsets to show off your curves to lace bodysuits and everything in between.
Check them out: Monif C
12. Premme
Premme's collections are effortlessly chic and designed specifically for plus-size bodies rather than straight-size pieces simply made bigger, with no sense of proportion. Premme provides an attractive and stylish lineup of trendy plus-size women's clothing from sizes 12-30. This truly inclusive clothing line contains everything you need, with multiple collections to meet the tastes of plus-size women all over the world.
13. Violeta By Mango
Mango recently launched the Violeta line that offers amazing and trendy plus-size clothing options. This plus-size brand delivers chic, grown-up offerings but often with a playful edge. Their range has vibrant colored outfits that can simply brighten up your wardrobe. Their plus-size range includes dresses, suits, cardigans, and much more.
Check them out: Violeta
14. A' Beautiful Soul
A' Beautiful Soul is a trendy plus-size brand that believes that plus-size women should look and feel good in dresses or casual wear just as much as any other girl. Creating stunning designs that bring out your confidence and beauty is what the brand strives for. A' Beautiful Soul has a collection of stunning dresses, cozy yet chic sweaters, and lots of jackets and coats perfect for a gorgeous winter.
Check them out: A' Beautiful Soul
The demand for stylish and trendy plus-size clothing has grown, making space for more dedicated plus-sized stores striving hard to extend their collections. The above-listed brands are best at what they do – offer excellent, stylish, chic, and comfortable plus-size clothing. Shop from any of these 14 plus-size clothing brands and let us know about your experience in the comments section below.
The following two tabs change content below.

Latest posts by Harini Natarajan (see all)

Harini Natarajan
As Chief Editor, Harini sets the tone and editorial direction for StyleCraze to deliver engaging, interesting, and authentic content revolving around women's health, wellness, and beauty. She has over 14 years of experience in content writing and editing for online media. She specializes in the areas of Beauty, Lifestyle, and Health & Wellness and is proficient in Medical Sciences (Biology, Human Anatomy and Physiology, and Biochemistry). Her background in Biomedical Engineering helps her decode and interpret the finer nuances of scientific research for her team. Harini is a certified bibliophile and a closet poet. She also loves dancing and traveling to offbeat destinations.