13 Best Plus-Size Lingerie Brands, According To Reviews 2023
Support yourself with the right lingerie sizes without compromising on style.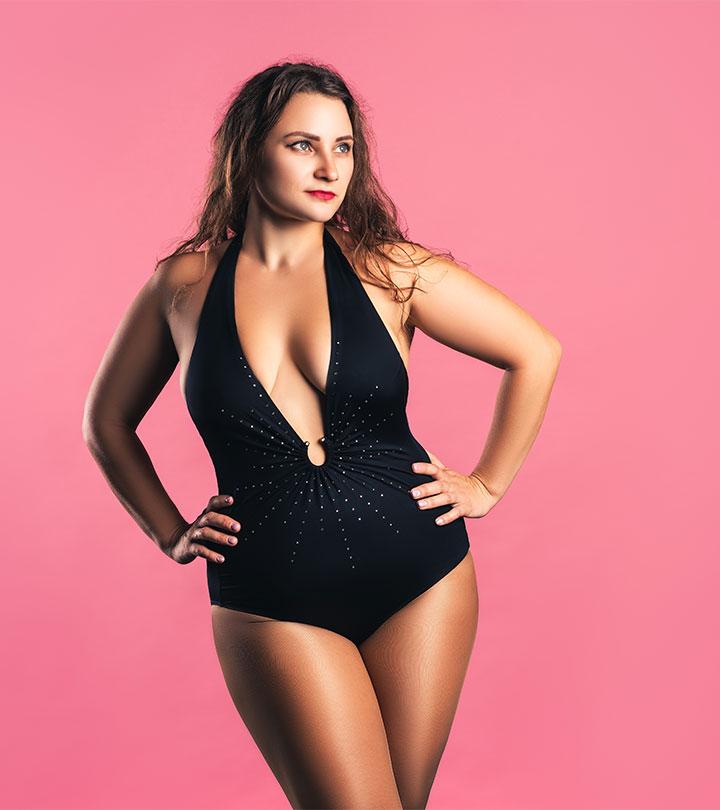 Finding the perfect-sized lingerie is no joke. It is all the more frustrating if you are on the curvier side. The best plus-size lingerie available on the market is no longer drab and boring and is meant to be functional only. Although, there are not many brands out there that make stylish-looking lingerie for plus-size women. The choices are limited in the plus-size lingerie section.
Whether you want to dress up in sexy plunging necklines, backless ensembles, or spice up things in the bedroom, getting lingerie that appeals to the eyes and does the job is like finding the Holy Grail. Finding the right fit that does not pinch into the skin or suffocate with their wide bands is not easy. In this article, we have listed a few of our favorite brands and their lingerie that strike the perfect balance between function and fashion. So that you no longer have to be disheartened while selecting your next lingerie. Read on to check out our list below.
What Kind Of Lingerie Looks Best On Plus-Size Women?
When buying lingerie at any size, ensure that the fit is right and not too baggy or tight as this can look unflattering. When you wear something comfortable, you automatically feel sexy, and the same applies to undergarments. With lingerie that doesn't cause any discomfort, you can be your best self. Well-supported bras with enough padding, thick straps, and proper underbands along with underwear that has crotch gussets are good choices. Breathable fabrics such as bamboo-derived viscose, cotton, and polyester will keep you cool, while a spandex blend will give you the freedom to move around easily.
The 13 Best Plus-Size Lingerie To Spice Up Your Bedroom
With a front closure that gives your chest a wonderfully flattering look, this women's plus-size lingerie is a gorgeous piece of craftsmanship. The adjustable shoulder straps and deep V-neck extend comfort, while the floral lace pattern lends a feminine charm to this pretty plus-size lingerie. This fashionable lingerie is the best bet for full-figured women. Cut in asymmetrical hems, the soft lace and mesh material sits comfortably against the skin and is bound to make you feel so smoldering in your own skin, you'll end up spending the night taking sultry selfies.
Pros
Available in 18 colors
No underwire
Front closure
Soft and comfortable
Floral lace
Has a slight stretch
Cons
Might not offer optimum bust support
Price at the time of publication: $9.99
Made with 80% polyester and 20% spandex, this ladies' plus-size lingerie is buttery-soft and not prone to any itching. Its cold-shoulder design, fringed cuffs, and round collar are ideal for showing off your masterpiece of an upper body. The sheer eyelash lace has a flowy, almost dreamy look that flatters everything it touches. You can throw this on as a top for date night or use it as a cover-up for never-ending vacation beach days. A not-so-demure G-string is included in this plus-size lingerie with support for a complete look.
Pros
Soft and comfortable
Cold-shoulder design
Fringed cuffs
Round collar
G-string included
Available in 15+ colors
Cons
Might run slightly big for some
Price at the time of publication: $16.99
This stunning pair of plus-size lingerie for women is made of 100% polyester with a soft scallop lace trim featured on the bust for confident curves.. A see-through lace panel on the front and back is complemented with a satin bow detail for extra breathability. You can easily adjust the straps to get the fit you desire and play around with them to create a crisscross design that bares your shoulders. With 18 colors, both solid and printed, you can keep your trendy plus-size lingerie drawer fully stocked!
Pros
Ultra-soft
Breathable
Satin bow detail
Solid colors and prints
Adjustable shoulder straps
Lace panels at front and rear
Cons
Might cling to the skin slightly
Price at the time of publication: $19.98
Is it an evening dress? Is it a cheeky negligee perfect for your boudoir photo shoot? Well, why not both? Featuring a polyester-spandex fabric blend that keeps it comfy and super-stretchy, this lingerie for plus-size girls is one of the more versatile choices on the list. Inspired by the Victorian style of sleepwear, the silk-like material of the nightgown flows with you and is roomy enough to lounge around in without feeling like you have anything on. Skin-friendly with a delicate lace panel near the bust, the fabric of this high quality plus lingerie allows your skin to breathe and is lightweight. The loose swing hem and adjustable spaghetti shoulder straps will make you feel like your best and sexiest self.
Pros
Skin-friendly
Lightweight
Breathable
Adjustable shoulder straps
Flattering lace panel
Available in 36 colors
Ideal for everyday wear
Cons
Price at the time of publication: $22.99
Chic Lover's beautifully crafted plus-size women's lingerie comes with a sheer floral lace pattern and a silhouette that fits snugly to give your curves a captivating look. The blend of polyester and spandex is ultra-light, soft, and extremely comfortable, no matter when you choose to wear it. Breathable and stretchable, the bodysuit has a cotton lining to make it easy on the skin and a plunging neckline that gives your bust the spotlight it deserves while offering a certain amount of support.
Pros
Available in 9 colors
Sheer floral pattern
Snug fit
Breathable
Lightweight
Stretchable
Flattering for curves
Cons
Might be a little short for some
Price at the time of publication: $19.88
One of the hottest plus-size lingerie brands out there, Donnalla's sleepwear features adjustable shoulder straps that are well-thought-out to create the most flattering silhouette for you. A light mesh lace combined with a soft floral trim and a split cup design keeps the bustline properly supported while enhancing the curve. The back of the babydoll has a keyhole that serves both an aesthetic and practical purpose, adding sensuality and breathability to your experience. As the material is super-lightweight, it's bound to keep you feeling cozy without weighing you down during nap time. With 11 color options, each more attractive than the other, this thong-inclusive lingerie set is an absolute must-have.
Pros
Split cup design
Lightweight
Available in 11 colors
Easy-to-adjust straps
Cheeky keyhole design
Breathable and skin-friendly
Cons
You might have to size up.
Price at the time of publication: $15.99
If you prefer lingerie with a little extra to boot, this number will instantly catch your eye and not let go. Ella Lust's classy plus-size lingerie is cute and sensual, with a sheer mesh cami top that has an attractive V-neckline. The red rose appliqués add an elegant touch that draws attention to your bust without giving everything away, and the spaghetti shoulder straps can be adjusted for a good fit. Matching shorts are also included, which have a thick waistband that doesn't roll down or ride up. Soft and breathable, this camisole set is all you need for a comfy night's sleep.
Pros
Attractive needlework
Thick waistband
Adjustable straps
V-shaped neckline
Available in 5 colors
Breathable and soft
Cons
The dye may bleed slightly at first.
Price at the time of publication: $16.88
When you want to indulge in a gorgeous treat without breaking the bank, look no further than JuicyRose's inexpensive plus-size lingerie, which is composed of 90% nylon and 10% elastane. With a sheer lace underbust band, your girls can stay supported while still looking knockout sexy. The see-through mesh skirt features a satin trim that feels soft against the skin, and the oh-so-saucy back opens in an A shape to keep you thoroughly ventilated. Stretchable with shoulder straps that shift to your will, this piece of sleepwear comes with underwear for full coverage.
Pros
Available in 6 colors
Form-flattering fit
Soft and comfortable
Doesn't bunch or ride up
Deep V-neck
Comes with a thong
Cons
Might be slightly tight for bigger breasts
Price at the time of publication: $13.99
Merging intricate lace details with high-quality mesh for the ultimate comfort-meets-sensuality look, Elescat's plus-size lingerie dress brings all the heat you need for a late-night rendezvous. The wine color lends an exotic feel and is the perfect capper for Valentine's Day festivities. With an asymmetrical hem, the skirt drapes beautifully around the hips while accentuating every curve. The front closure offers playful convenience and the straps can also be adjusted if need be.
Pros
Available in 9 colors
Soft and comfortable
Incredibly lightweight
Matching G-string
Adjustable straps
Deep V-neck
Cons
Might not be as supportive on the bust
Price at the time of publication: $11.99
Want to feel extra-sexy and confident? LingerLove's high-quality plus-size lingerie comes fully equipped with adjustable garters for maximum playfulness. The cups have an underwire to keep your bust line supported with the bottom half molded for a secure fit. With apron lace on top, this lingerie set features a big black bow around the waist that oozes sex appeal and is supplemented with 2 small ones at the shoulder straps. You can fasten this piece of clothing with the hook-and-eye closure at the rear. This can be the perfect choice for the much-desired garter and stockings look.
Pros
Beautiful bow details
Soft lace and mesh
Supportive underwire cups
Adjustable garter straps
Stretchable fabric
Available in 6 gorgeous colors
Cons
The underwire might dig a little.
Price at the time of publication: $17.99
If few things in life are as sexy as a neat bargain, this brazen babydoll is a double whammy. The lace plus-size lingerie is netted around the bust but has a near-opaque skirt, so you can wear it outdoors as a top with the right full-coverage bra and high-waist bottoms. Crafted from polyester and spandex, which is a breathable, lightweight, and comfortable blend, the gown's halter-style neckline is the perfect option for voluptuous women. Lace trims at the bottom along with floral details elevate its appeal, and the skirt is so flowy that you can move around with ease. A snug stretch at the underbust gives you some support without being too constricting.
Pros
Breathable
Lightweight
Floral lace detailing
Stretchable
Free-flowing skirt
Available in 4 colors
Cons
The accompanying undies might be slightly small for some.
Price at the time of publication: $16.99
Full-busted folks on the hunt for cute plus-size lingerie will fall in love with this one, and not just because it's made from satin and lies buttery-soft against your skin without causing the slightest hint of irritation. The spaghetti shoulder straps are connected to a plunging neckline that makes the shoulders look deliciously attractive, while the underbust features a bowknot design to add a sweet, feminine charm. With the skirt opening into a slit at the front, it wears like a wraparound while the asymmetrical hemline adds some structure.
Pros
Soft and lightweight
Comfy and breathable
Adjustable shoulder straps
Charming bowknot design
Available in 6 colors
Cons
Might be slightly short for some
Price at the time of publication: $19.88
There's something about leopard prints that feels so pretty yet punk. Composed with 95% polyester and 5% spandex, this erotic plus-size lingerie comes with the softest scallop lace trim along the bustline, while a lacey V-shaped panel sits in the front and back topped with a tiny satin bow for added charm. You can pair this with the matching thong (included in the set) to complete the look. With a neckline that plunges deep, your chest gets a flattering look and you get to choose between 2 seriously hot colors.
Pros
Lace finishing
Lightweight
Comfortable
Bow details
Soft to the touch
Thong included
Cons
Slightly less supportive around the bust
Price at the time of publication: $17.77
Now that we've looked at some of the best plus-size lingerie out there, let's learn how you can choose the ideal set for yourself.
How To Choose The Right Plus Size Lingerie
You need to know your size verbatim so you don't end up with lingerie that runs too large or small. You want something that fits well without constricting your lungs or freedom of movement. Something too tight can cause friction and chafing while a dress too loose will look unflattering. Instead of looking for lingerie that works for all body types, go for the ones designed for specific body types.
For clothes that don't demand your attention constantly, look for wide and thick waistbands that stay put while still looking sexy. A reinforced bra without an underwire is a good option.
As curvier women tend to have a broader back and chest, they need to choose wide shoulder straps and sides along with better reinforcement in the chest area. You can look for padding (preferably removable) if it lends you extra comfort.
Why Trust StyleCraze?
The author, Priyam Gupta, loves everything fashion, including the ever-emerging trends and fashion products in every category possible. She put her drive and exemplary research skills to curate this list of the best plus-size lingerie available in online stores from various top-class brands. The products shortlisted strike the perfect balance between function and fashion and can turn your lingerie collection from drab and boring to hot and happening.
Recommended Articles: