15 Best Plus Size Sports Bras With The Perfect Fit For Workouts – 2023
Try the comfy, soft & elastic undergarments that offer solid support for high-intensity workouts.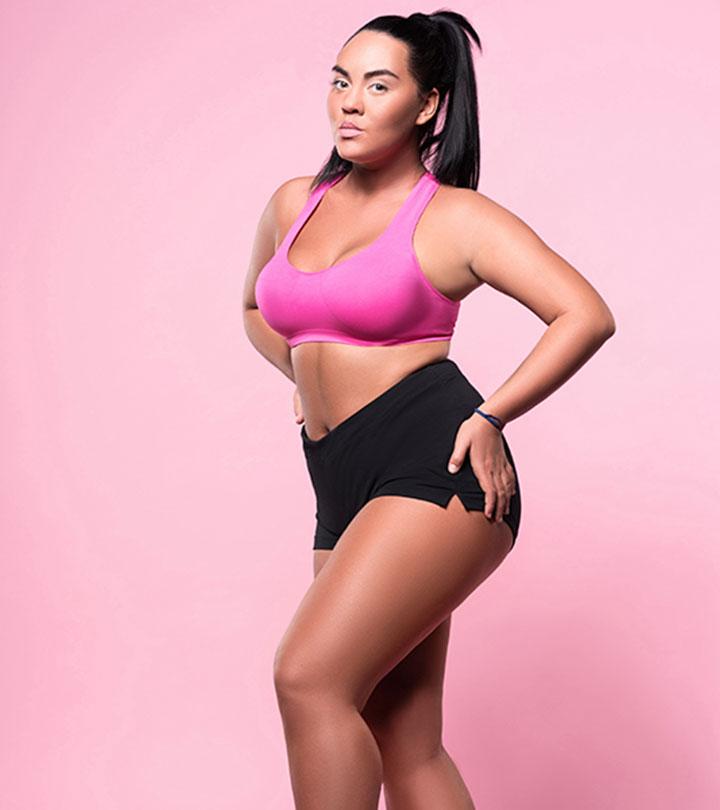 Finding the right bra is always as essential as it is difficult, especially if you are into heavy workouts, physical activities, running, cycling, yoga, etc., and are plus-sized. You will need the best plus-size sports bra to prevent breast sagging. A well-fitted sports bra reduces breast movement during exercise and prevents the chance of developing stretch marks. A sports bra also maintains the shape and size of the breasts and doesn't hurt during heavy physical activities.
However, we are aware of how daunting it can get to find the right bra for yourself. To save you from the extra efforts, we have listed the 15 best plus-size sports bras that lift your breasts, provide definition, and ensure extreme comfort at all times.
Top Picks
15 Best Sports Bra For Large Busts
 The Cabales Women's Sports Bra is made from nylon and spandex that offer great breathability. The t-shirt design snugs perfectly to your body, and the moisture-wicking fabric absorbs sweat. The double compression layer is ideal for light to medium activities. This wireless sports bra provides excellent support and comfort to prevent any injuries and vibrations. You can wear this bra even while sleeping.
Material: Spandex and Nylon
Pros
Seamless design
Wireless
Absorbs sweat
Comfortable fit
Comes with removable pads
Pull-on closure
Cons
None

Price at the time of publication: $21.99
. Glamorise Women's No-Bounce Sports Bra
Best Quality:
Pros
Machine washable
Breathable
Moisture-wicking fabric
Secure straps
Long-lasting comfort
Hook and eye closure
Cons
None
Price at the time of publication: $35.7
 This High Impact Workout Sports Bra from Syrokan is made from high-quality spandex, polyester, and polyamide. It comes with hook-and-loop closure and bonded front adjustable straps. The molded cup design offers maximum support and maintains the shape of your bust. The wide underband provides full coverage and reduces movement, while the front interior yoke absorbs shock. This wireless bra with twin-sided mesh and racerback design keeps you cool and comfortable. It is ideal for running, boxing, basketball, and other physical activities.
Material: Spandex, Polyamide, and Polyester
Pros
Wireless
Hook-and-loop closure
Provides full coverage
Wide underband
Adjustable nylon tape straps
Mesh racerback design
Cons
None

Price at the time of publication: $28
Pros
No breast compression
Ventilating mesh panels
Adjustable converts
Hook and eye closure
Racerback design
Cons
The straps pressurize the shoulders
Price at the time of publication: $36.48
Pros
Easy to wear and remove
Machine washable
Wireless
Breathable
Wireless
Comfortable fit
Cons
None
Price at the time of publication: $36.99
Pros
Moisture-wicking fabric
Hidden sling cups
Slide and hook closure
Prevents chafing
Underwired
Cons
None
Price at the time of publication: $72
The Vermilion Bird Seamless Sports Bra is ideal for medium to high-impact workouts. It is made from 90% nylon and 10% spandex. The pull-on closure offers full coverage and long-lasting support while fitting the chest comfortably. This bra is breathable, lightweight, and stays soft on the skin. It absorbs sweat, keeps you cool, and prevents injury to your bust. This bra comes with removable pads that can be worn the way you like.
Material: Nylon and Spandex
Pros
Lightweight
Breathable
Offers full coverage
Skin-friendly
Wide straps
Racerback design
Comes with removable pads
Cons
Price at the time of publication: $10.99
This plus-size sports bra from Cabales is made of spandex and nylon. It features pull-on closure and does not have any clips or hooks. The curve-hugging design provides comfortable fitting. This sports bra has wide straps and a bottom band with a sleek silhouette. The super-soft material is skin-friendly, while the seamless design remains invisible under your dress. This stretchable support bra enables you to move freely.
Material: Nylon and Spandex
Pros
Seamless finish
Wireless
Curve-hugging design
Easy to wear and remove
Skin-friendly fabric
Four-way stretch
Cons
Price at the time of publication: $10.99
Pros
Wireless
Convertible straps
Hook and eye closure
Easy to wear and remove
Moisture-wicking fabric
Cons
Price at the time of publication: $19.36
The Champion Women's Plus-Size Sports Bra features moisture-wicking technology to keep you cool and dry during physical activities. It is crafted with nylon and spandex. This sports bra with pull-on closure is breathable and ideal for medium impact activities. The wide gel-cushioned straps offer support without hurting the shoulders, while the removable pads provide long-lasting comfort.
Material: Nylon and Spandex
Pros
Breathable material
Machine washable
Removable pads
Cushioned straps
Pull-on closure
Moisture-wicking technology
Cons
Price at the time of publication: $42.99
Pros
Hook and eye closure
Adjustable back design
Non-slip straps
Wireless
Soft, molded cups
Cons
Price at the time of publication: $77
The Elomi Women's Plus-Size Energise Sport Bra is made of polyamide and elastane. The three-section cups with side panels offer a forward shape and optimum lift. The non-compression design shapes your breasts and separates them to keep you comfortable. The moisture-wicking fabric keeps you clean and dry, while the j-hook closure enables you to convert the bra to a racerback design.
Material: Polyamide and Elastane
Pros
Durable
Moisture-wicking fabric
Underwired
Convertible back design
Cons
Price at the time of publication: $57.62
This full-coverage sports bra from Specifics offers a comfortable and supportive fit. It is made from imported nylon, spandex, and polyamide. The hook and eye closure prevents bust injury and bouncing during high-impact activities.
The quick-drying and breathable material with a seamed design offers long-lasting support. The V-shaped section prevents sweat accumulation. This no-bounce bra features encapsulated padded cups that prevent breast compression.
Material: Nylon, Spandex, and Polyamide
Pros
Machine washable
Breathable
Encapsulated cups
Offers full coverage
Hook and eye closure
Wireless
Wide side wings
Cons
Price at the time of publication: $25.98
The Mae Women's Camisole Sports Bra is crafted with polyester, nylon, and elastane. It features a hook and eye closure. The moisture-wicking fabric with two-way stretch enables free movement. The plush design offers maximum comfort and support.
Material: Polyester, Nylon, and Elastane
Pros
Moisture-wicking fabric
Long-lasting comfort
Two-way stretch
Machine washable
Cons
Price at the time of publication: $26.49
This high support sports bra from Adidas features a zip closure that enables easy wear and removal. It is made of imported polyester and elastane. This bra with an X-shaped back is suitable for high-impact training. The soft, molded cups offer full support and adjustable fit. The high neckline provides maximum coverage and comfort.
Material: Polyester and Elastane
Pros
Zip closure
Easy to wear and remove
Offers full coverage
Molded cup design
Cons
None
Price at the time of publication: $65
Consider the following points before you buy a plus size sports bra.
What Are The Things To Consider Before Buying A Plus Size Bra?
Size: Make sure to buy the right size of sports bra for yourself. The cup size should fit you comfortably without squeezing the breasts. The overall fitting should not be too loose or tight.
Design: Plus size sports bras come in various styles – adjustable straps, racerback, and pull-on closure. Choose one based on your preference and which matches your requirements. A plus size bra for workouts should prevent breast movement, reduce pain caused by bouncing, and keep your bust shape intact.
Comfort: Comfort is another vital factor when it comes to plus size sports bras. Try the fit and select a bra that supports your heavy breasts during physical activities. Consider factors like material, breathability, moisture-wicking ability while measuring the comfort of your bra.
Why Trust StyleCraze?
Baishali Bhattacharya, the author, is a certified image consultant who loves boosting people's confidence by helping them find chic, comfortable, and well-fitted clothing. In this article, she lists out the best plus-size bras. She thoroughly researched all products and user reviews and put them on this list based on their benefits. These bras provide superior support, are made of high-quality materials, come in shade varieties, and offer other such advantages.
Frequently Asked Questions
Can sports bras flatten the breasts?
No. However, wearing a bra of a smaller size can squeeze and flatten your breasts.
How are sports bras supposed to fit?
Sports bras are supposed to fit snugly but not too tight to restrict breathing or circulation.
Can you wear sports bras to the gym?
Yes, it is recommended to wear well-fitted, breathable sports bras to the gym.
Can you wear sports bras all the time?
No, wearing sports bras all the time may feel uncomfortable to your breasts and also cause skin rashes.
Should you go up a size in sports bras?
No, sports bras fit snugly but you do not need to go up a size.
How often should you wash sports bras?
Wash your sports bras after every use to get rid of sweat and odor.
Can you wash sports bras in the washing machine?
Yes, you can sports bras in the machine on a delicate setting using a mild detergent.