Top 11 Plus-Size Tunics That Are Stylish And Pocket-Friendly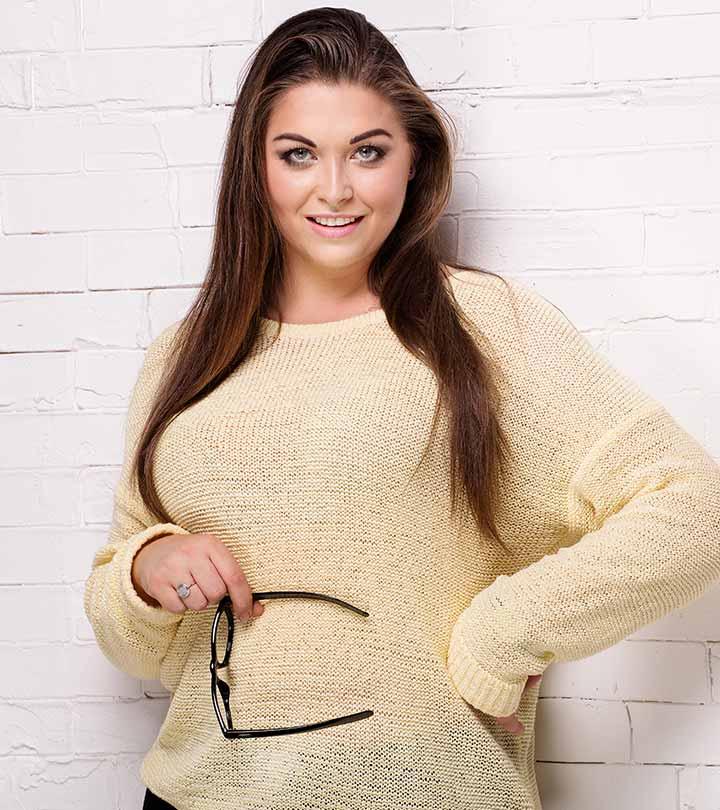 Tunics are one of the basic essentials in every girl's wardrobe. Unlike tops that are well-fitted and structured, tunics are airy, breezy, and comfortable to wear. Plus-size tunics are perfect for curvy women as they have a loose fit around the hips, thus accentuating the figure and hiding the problem areas. Here are the 11 best plus size tunic tops that are pocket-friendly and stylish. Take a look.
11 Best Plus-Size Tunics
Vowubo plus-size tunic top is made of a soft fabric that is a blend of cotton and polyester and feels comfortable to wear. It has a side twist knotted design on the bottom of the hemline and a snowflake-like color embellishment. This plus-size tunic top is chic and can be paired with a pair of skinny jeans or stylish pants. It comes in six different colors that go up from XL to 5XL in size.
This slouchy wide crew neck tee has a curved drop-tail hem. It is made of a smooth and rich fabric that is a blend of rayon and cotton, which beautifully drapes around your curves. It comes in seven fabulous colors with sizes that go up to 7X. You can team this plus-size tunic top with any of your jeans or leggings.
This loose-fitting casual V-neck top is perfect for fall, winter, or spring. You can wear this long tunic top as a short dress to look stylish and chic. This plus-size tunic top is available in 43 solid colors and colorful floral patterns to choose from. The size starts from small and goes up to 3XL. Pair it with leggings, boots, and a scarf, and you are all set to slay this winter!
This plus-size tunic to Wear With Leggings. It is made up of rayon and spandex and is super soft, flowy, and comfortable for everyday wear. It has a wide Henley neck with pleated detailing that drops into a fancy A-line style. It looks great on skinny jeans or tights or leggings. You can also layer it during the day as well as night. This plus-size tunic top is available in 30 colors and patterns.
This gorgeous plus-size tunic top with lace detailing along the neck and shoulders is simply stunning and a must-have in your wardrobe. It has a fabulous silhouette that drops and creates volume at the hemline. It is made of polyester and spandex and is light and flowy with a ruffled pattern and lacy embellishments. It is available in 10 beautiful colors and sizes from 1X to 5X.
This Plus Size Tunics to Wear with Leggings is exactly what women love. It is easy, breezy, casual, and comfortable. It will definitely make you want to ditch T-shirts instantly. It has a fashionable V-neck, short sleeves, and a figure-flattering shirttail hem that makes sure to camouflage your hip and waist regions. This comfortable plus-size tunic comes in 34 colors and prints in sizes 1X to 5X.
This gorgeous lace embellished tunic top is so feminine and pretty! If you love wearing T-shirts, you will love this tunic. The top features a round neck with a lace border along the hemline and is super soft, comfortable, stretchy, and light. This Short Sleeve plus-size tunic top is available in sizes from 14W to 26W, and you have around 11 color options. You can pair it with jeans, jeggings, or leggings for a chic look.
This lovely, striped, blue mid-length tunic in a high-low pattern is perfect for the laid-back days when you want to wear something airy and comfortable. This plus-size tunic top is made of 100% cotton, which is known for being the best breathable fabric. The long sleeves have a roll-up button tab. This tunic comes in eight wonderful striped colors, and the sizes start from small and go up to 5XL. It is the Best Shirts For Leggings.
This tunic top looks sexy, stylish, and uber-chic. Besides having a simple crew neck with long sleeves, the tunic has a wide side slit on the sides that makes it stylish and trendy. The plus point is, the sizes start from 1X and go up to 7X, so it is the best  Extra Long Plus Size Tunics that you can quickly add it to your cart. It is the best Cheap Plus Size Tunics For Leggings.
This tunic is a regular scoop neck top with short sleeves, but it has a full flare and drops at the hemline, which gives it a very fancy and stylish look. You can wear it with a pair of skinny jeans or ripped jeans as casual wear or even party wear. It is available in 33 colors and prints with sizes from 1X to 5X.
This is yet another fancy floral plus-size tunic top to Wear With Leggings or a pair of jeans for a casual and chilled out vibe. It has an uneven hemline and is made of stretchy and lightweight fabric. You can pair it with shorts, slacks, or skinny jeans. It is available in solid vibrant colors and prints, and the sizes start from small and go up to 5X.
These were some pocket-friendly plus-size Long tunic tops you could consider buying. Tunics are the way to go if you are looking for nice, loose-fitted, and stylish laid-back clothes. You can pair them with jeans, leggings, stockings, and even tights. And if they are extra-long, you can wear them as short dresses. Style them right, and you can wear them even to parties. If you are a curvy beauty, tunic tops are your way to style, grace, and panache.
Which of these tops did you like best? How are you going to style your look? Share your inputs with us in the comments section below.
Recommended Articles
The following two tabs change content below.

Latest posts by Harini Natarajan (see all)

Harini Natarajan
As Chief Editor, Harini sets the tone and editorial direction for StyleCraze to deliver engaging, interesting, and authentic content revolving around women's health, wellness, and beauty. She has over 14 years of experience in content writing and editing for online media. She specializes in the areas of Beauty, Lifestyle, and Health & Wellness and is proficient in Medical Sciences (Biology, Human Anatomy and Physiology, and Biochemistry). Her background in Biomedical Engineering helps her decode and interpret the finer nuances of scientific research for her team. Harini is a certified bibliophile and a closet poet. She also loves dancing and traveling to offbeat destinations.