15 Best Waist Trainers For Plus Size Women
Shape and support your body and give it a sculpted look that flatters all your outfits.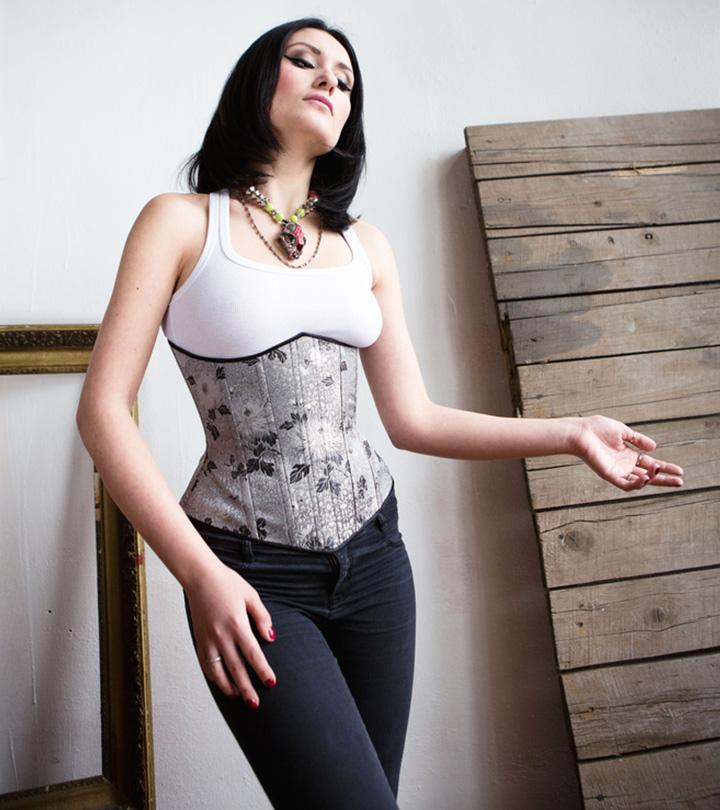 Waist trainers are a great remedy for quick postpartum healing. And when you invest in the best plus size waist trainer, you can also expect it to help you with your back aches by lending a great deal of support. While it's simple to realize the many benefits of a waist trainer, what's not is finding a comfy and durable one. But we're here for you with the best options out there. Here's a list of the 15 best waist trainers for plus-sized women!
15 Best Waist Trainers For Plus Size Women – Reviews
The Lady Slim Fajas Colombiana Latex Waist Trainer is made of 100% natural latex. This waist cincher helps increase the temperature in the abdominal area, which increases sweat and helps reduce fat in the area. This high-quality waist trainer reduces up to three to five inches instantly. The flexible boning allows the latex cincher to correct one's posture too.
The boning also prevents the cincher from rolling down or bulging when you sit or move. The three hook rows allow easy size adjustment and fit. This waist trainer creates a beautiful curve by smoothing out the silhouette. It also provides support to the back and reduces back pain. Wearing the waist cincher could be difficult if you are doing it alone. Seek help from a friend and go from bottom up.
Pros
100% natural latex
Smoothes out bulges
Does not bulge when you sit
Does not roll down
Good for weight loss
Cons
May smell unpleasant
No enough sizes available
Not easy to wear
The Chong Erfei Postpartum Support Recovery Belly Wrap helps with the postpartum healing process. It helps reduce swelling, supports abdominal muscles, and makes you look instantly slimmer. It also supports the lower back and redefines the waistline. This one-size waist belt measures 41.3″ x 10.25″, fits waistline 26″-39″, and hipline 32.7″-42″. The pelvis belt measures 43″ x 6″.
The wrap is made of a breathable and comfortable, high-quality lightweight fabric that helps correct posture. It does not roll up when you sit or move and is easy to clean. You can wear it all by yourself. Pull the straps from both sides to tighten this waist trainer. 
Pros
Helps in postpartum healing
Reduces swelling
Supports abdominal muscles
Supports the lower back
Breathable and lightweight fabric
Corrects posture
Does not roll up when you sit or move
Easy to clean
Easy to wear
Reasonably priced
Cons
Inefficient velcro straps
The YIANNA Women's Under bust Latex Sport Girdle Waist Trainer is perfect for getting that hourglass shape. It features three layers of fabric – the inner layer is constructed with soft and cozy 96% cotton + 4% spandex, the mid-layer is made of 100% latex, and the outer layer is made of durable nylon+ lycra+ spandex. These layers are structured with nine spiral steel flexible bones in the front and the back for added support.
This waist trainer gives you that smooth waistline with three columns of hook-and-eye closure adjustment design. It can instantly take 3-5 inches off the waist. The thermal activity also boosts sweating, and the upper part gently lifts the under bust. The trainer can also be used for postpartum recovery.
Pros
Boosts sweating
Gently lifts under bust
Can be used for postpartum recovery
Supports lower back
Easy to wash
Reasonably priced 
Cons
Not suitable for sensitive skin
Fabric may cause red rashes
The Nebility Women Waist Trainer is made of high quality 90% polyester and 10% spandex. This soft fabric is smooth, healthy, moisture-wicking, elastic, flexible, breathable, and comfortable to wear. This beautiful-looking zipper corset is equipped with three rows of hook-and-eye closure and two adjustable shoulder straps to ensure a good and tight fit. It instantly provides a sexy, natural curve with no bulges.
It is also good for postpartum healing. It reduces swelling, tightens skin, improves posture, relieves postnatal pain, eases the transition of the uterus and shrinks it down to the normal size, and makes your maternity body get back to its original shape. When complemented with a healthy diet and exercise, you can see visible weight reduction from the tummy area. It is available in two colors.
Pros
Soft fabric
Moisture-wicking
Elastic
Flexible
Breathable
Natural curve with no bulges
Boosts postpartum healing
Reduces swelling
Tightens skin
Improves posture
Relieves postnatal pain
Reasonably priced
Cons
Not many plus sizes available
Bones may bulge
The SHAPERX Women's Waist Traineris made of high-quality and durable latex and authentic spiral steel boning. It provides high compression around your waist and reduces your waistline by 3-4 inches instantly. This waist trainer for plus size women is available in long and short torso lengths. Four rows of hook-and-eye closure allow a tight fit around your waist. The trainerprovides good side and back support. It is perfect for women with lower back issues as it offers lumbar support, relieves pain, improves posture, and reduces the risk of injury. Its sauna effect increases sweating, which helps flatten your abdomen. The best way to use this waist trimmer is to wear it while exercising. 
Pros
Tight fit
Provides side and back support
Offers lumbar support
Relieves pain
Improves posture
Reduces the risk of injury
Sauna effect increases sweating
Reasonably priced
Cons
Not enough sizes available
Not easy to wear
The Zhitunemi Women's Waist Training Underbust Corset is made of satin, cotton, and spandex. It is lined with soft cotton fabric on the inside for maximum comfort. It evens out and smoothes bumps and bulges for a sleeker, slimmer look. This is a fashion corset that you can use at weddings, Christmas parties, Halloween, clubbing, cosplays, and stage performances. This shapewear also has a sauna effect that helps mobilize the fat cells. It comes with ribbons that make the fit secure.
Pros
Easy to secure
Great fit
Affordable
Cons
Not suitable for weight loss or postpartum recovery
The Wonder-Beauty Waist Trainer is made of premium neoprene. It increases the abdominal temperature and increases sweating, helping you reduce fat from that area. In addition, the seven steel bones of the trainer correct your body posture and give you back support. It also flattens the lower belly and lets you move freely without worrying about the lower belly rolling down.
The comfortable material and the zipper-and-hook loop system make it easy to wear during work, workouts, sports, or other activities.
Pros
Good for weight loss
Comfortable material
Does not roll down
100% neoprene
Cons
The uniquely designed Feelin Girl Neoprene Sauna Suit Tank Top Vest is a sports bra plus a waist trimmer and trainer. It provides high compression, and firms and shapes your waist. The thermic effect makes you sweat a lot. It promotes detoxification and faster weight loss. It also cleanses the pores.
This 2mm single-layer neoprene fabric compression garment is lightweight. The zipper front closure and an adjustable waistband with velcro closure are perfect for all sizes. The racerback sports bra allows free movement of the arms and shoulders. This waist trainer vest keeps you warm when you sweat outdoors in cold weather. It is easy to wear and take off. An interior pocket is provided for storing earphones, keys, etc.
Pros
Provides bust support
Supports the back
Sauna effect causes sweat
Helps withdetoxification
Cleanses pores
Pocket provided
Reasonably priced
Cons
May smell unpleasant
Fitting issues for women with heavier bustline
The LODAY Women's Shapewear is a neoprene under bust waist trainer. It is thick enough to generate a sauna effect and increases the sweat produced. You can wear it while working out for more effective and faster weight loss. The thermal gym tank keeps the midsection warm even without training. This waist trainer cinches the waist, flattens the abdomen, and smooths out the belly bulges.
The moisture-wicking material is comfortable and dry on the outside. The double-layer hi-compression design gives you those sexy curves. The layer with threehooks allows you to adjust to the desired tightness. It supports the back, improves posture, and adds a lift to the bustline. The fabric is stretchable. It is easy to put on and remove.
Pros
Sauna effect increases sweat
Moisture-wicking material
Supports the back
Improves posture
Adds a lift to the bustline
Stretchable fabric
Easy to put on and remove 
Cons
Inside layer might not stretch
The SAYFUT Women's Tummy Control Slimmer is a waist trainer, thigh slimmer, and butt lifter. The 2-layer midsection is designed to flatten the tummy with higher compression. It also holds your stomach inwards and makes your abdomen smooth and slim, giving you anhour glass figure.  Two spiral steel bones in the front and 2 spiral steel bones at the back provide midsection and back support. They also relieve back pain, improve posture, and keep the waist trainer in place. The trainer is perfect for shaping the body and for postpartum recovery.
Pros
Holds the stomach in
Provides midsection and back support
Relieves back pain
Improves posture
Does not roll down
Good for postpartum recovery
Cons
Bone lines may be visible in bodycon dresses
Thigh and butt-lifting cutouts may be too small
The iSZEYU Women's Latex Waist Trainer Corset has an instant slimming effect. You can wear it while working out and reduce your tummy. This waist trainer for plus size women is equipped with boned hooks that keep it from rolling down. The trainer gives your midsection a smoother appearance. The 3 hook layer allows to tighten the corset to the desired tightness. It helps support the back, abdomen, and improves posture. It does not cause chafing. It is sturdy. 
Pros
Does not roll down
Give the midsection a smoother appearance
Supports the back and abdomen
Improves posture
Does not cause chafing
Sturdy 
Cons
The Pandolah Steel Boned Compression Waist Trainer is made of natural rubber and its inner layer is made of pure cotton. This corset is supported by 4 spiral steel flexible bones. These are durable, as soft as plastic bones, and can bend easily but get back to their original shape. The waist trainer improves your posture. You can easily use it for yoga, exercise, and recovering from postpartum belly. The 3-hook system allows you to tighten the corset to the desired strength. It is available in various styles and has sizes up to 6 XL.
Pros
Durable
Bones are soft
Comfortable to wear all day long
Improves posture
Reasonably priced
Cons
None
The Lover-Beauty Body Shaper is made of 30% spandex+70% nylon. This vest-style waist trainer is equipped with three rows of hook-and-eye closure and an inside zipper to avoid hurting the skin. It also has a firm control over the abdomen. The two adjustable shoulder straps ensure good fit and smoother and sexier curves. The buckles on the crotch make it easier to be used while inthe washroom. The front U-shaped open bust lifts and supports your bustline. This waist trainer also corrects posture and enhances the butt shape. It provides a comfortable and smooth feeling. It is available in various colors and sizes (up to 6XL).
Pros
Firm control over the abdomen
Lifts and supports bustline
Corrects posture
Enhances the butt shape
Smooth feeling to touch
Reasonably priced
Cons
Maybe flimsy
Not easy to wear 
The Flovex Curves Waist Trimmer Corset is perfect for wearing during any kind of exercise. It also has a sauna effect that helps burn fat faster and detoxify. It strengthens, tightens, and protects the core muscles. It offers better balance, improved circulation, easier breathing, and a healthy posture. It supports the waist, abdomen, and the lower back. The compression binder around the waist offers lumbar support and helps heal the postpartum belly.
This stomach belt or waist trimmer is made of high-quality polyester fiber and stretchy fabric with strong velcro closure. You can wear this adjustable waist trainer belt under any apparel. The material is lightweight and breathable. 
Pros
Has a sauna effect
Better balance
Improved circulation
Easier breathing
Healthy posture
Supports the lower back
Offers lumbar support
Helps heal postpartum belly
Strong velcro closure
Lightweight
Breathable
Cons
The Luxx Curves Waist Trainers are made of 3 layers of materials that seal heat and induce thermogenesis to make you sweat. This, in turn, burns calories and helps trim the inches. The 9 flexible steel bones vertically support the spine, improve posture, and reduce back pain. For postpartum moms, this waist trainer pulls abdominal muscles together in case of diastasis recti. Once on, this waist trainer takes off 2-5 inches immediately. It also helps reduce back pain and shed lower belly fat. It comes in 3 torso lengths and 10 sizes.
Pros
Supports the spine
Improves posture
Reduces back pain
Helps treat diastasis recti
Cons
These are the 15 best waist trainers for plus size women. Let us now take a look at how you can choose a good waist trainer for you.
How To Choose A Good Waist Trainer For Plus Size Women
Size: Getting the size right may require a few trials. It is best to talk to the customer service executive before deciding which size to buy. A trainer too small may not allow you to move freely. A size too large will not have the hourglass effect.
Material: If you are allergic to latex, avoid corsets made with latex. Neoprene, cotton, and nylon are best.
Function: Waist cinchers can just compress the waist or can lift the bustline, butt, and compress the thighs. Choose the one that serves the purpose.
Closure: The hook-and-eye closure is the best. However, zipper closure, velcro straps, and the hook-and-eye closure may have challenges of their own. These closures are not foolproof. Buy the one that has a hook-and-eye with either zipper or velcro straps.
Comfort: Comfort first, always! If the bones hurt and itch, the waist trainer is not for you. Buy the one with flexible steel bones so that the cincher does not roll down. Avoid tightening the corset too much so that you can breathe and do not injure your skin.
Why Trust Stylecraze?
Aditi Naskar holds a diploma in health and wellness. She is a certified writer of health and fitness products as she understands the needs of her readers before suggesting any product. She went through many websites and reviews to prepare this best plus-size waist trainers list. These waist trainers were selected due to their supportive designs, adjustable fabric composition, and good user reviews. To assist you in making the right choice, Aditi has included the pros and cons section for each product, a comprehensive buying guide, and an FAQ section.
Frequently Asked Questions
What if my waist trainer is too big?
If your waist trainer is too big, try exchanging it or returning it. Consult the seller and buy the right size.
How many hours a day should you wear a waist trainer to see results?
You can wear it for 3-4 hours and also while exercising to see results.
How do you pick the right size for a waist trainer?
The size chart for companies differ. Therefore, we suggest you talk to the customer service representative before deciding.
Does waist training flatten your stomach?
Yes. The compression effect makes your stomach appear flat. However, you must eat healthy food and exercise regularly to actually lose belly fat.
What are the side effects of wearing a waist trainer?
Wearing a waist trainer can poke and hurt your skin. It can also make breathing uncomfortable.
Recommended Articles