10 Best Plus-Size Yoga Pants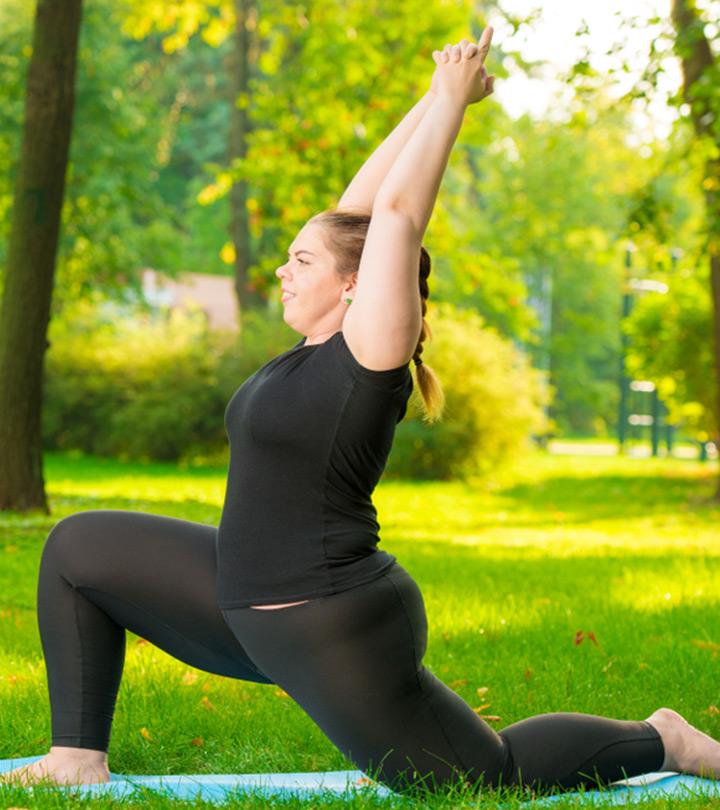 Finding the perfect pair of yoga pants is not easy. You need to look at options that will make stretching easy and not slide down your hips when you are doing an asana. You also need to ensure that they are breathable and moisture-wicking, so you stay dry and do your workout.
In this article, we have rounded up the 10 best plus-size yoga pants and leggings that ensure you are comfortable. Check them out.
Best Yoga Pants For Plus-Sized Women
These stunning starry cute plus size yoga pants are gorgeous to look at, isn't it? They are made of nylon and spandex, super stretchable, breathable, and comfortable to wear for activities like running, jogging, dancing, aerobics, or exercising. There is a drop pocket at the back of the waistband. The cute star print all over makes these pants super quirky. You can pair them with a fancy sports bra, activewear t-shirt, or even a basic solid colored tank top.
These comfortable plus-size yoga pants have a supportive and controlled waistband. The fabric is smooth, comfortable, and breathable. It is made of 72% rayon, 24% nylon, and 4% spandex and has highly effective moisture-absorbing properties that are ideal for the gym and other workout activities. The fabric is stretchable and sits comfortably around the curves without making your body look bulky or fluffy.
These comfortable-looking plus-size yoga pants are high quality and made of 92% cotton and 8% spandex. These leggings are available in six amazing colors and various sizes that go up to 3XL. They offer high flexibility and are stretchable for long hours of heavy workout. They are highly opaque and sweat absorbing. Apart from curvy women, they are also ideal for pregnant women. The high waist gives firm control and comfortable support to the tummy area. The fabric of these plus-size yoga pants is thick and soft, which makes it perfect for activities like running, aerobics, yoga, and other sports hence it is the Best Plus Size Workout Pants for a woman.
Danskin's lounge pants are straight-cut and made of 57% cotton, 38% polyester, and 5% spandex. This makes these comfortable and stretchable pants suitable for yoga workouts. They come in a pleasant green color, and the sizes go up to 4XL. They have a broad waistband and two front pockets to hold small items. These are the bust plus-size yoga pants are comfortable for light sports and activities. They are lightweight and soft on the skin.
These are high-quality, non-see-through thick girl yoga pants that are high-density activewear. These yoga pants are made of cotton lycra, have a high waist, and are perfect for an extensive workout with comfort. the High Waisted Yoga Pants Plus Size has a fabric that is comfortable and stretchable around the curves. It is available in 28 varieties of patterns, inseams, and colors. You can wear these plus-size yoga pants for other activities like workouts, aerobics, athletics, running, and walking.
These Curvy Yoga Pants that are gorgeous and chic stretchy plus-size yoga pants are fascinating to look at. The fabulous splash of multicolor gives them an edgy look. They are made of 20% spandex and 80% polyester. These plus-size yoga pants have a high-rise waistband that is designed to settle in a comfortable spot and stay put as you move throughout your day. The fabric is moisture-wicking and breathable, making it perfect for activewear. It has five fabulous choices of colors and patterns to pick from with sizes, ranging from XL to 4XL plus.
Swap your plain yoga pants with these striped yoga pants that are quirky and non-boring. These plus-size yoga pants are made of 95% polyester and 5% spandex that give extreme comfort and stretchable texture to the fabric. These yoga pants come in two variants – black and white, and gray and white. They are loose-fitting and are great as loungewear as well as workout wear.
These classy mesh cut-out plus-size yoga pants are a must-have in your wardrobe. The soft, moisture-wicking fabric featuring asymmetrical mesh cut-out panels around the legs give it a very stylish look. There is a classy tiny pocket at the back on the waistband that is sleek enough to fit your phone. These pants are stretchable and breathable. They come in four color variants – Black, Marine, Navy, and Taupe.
These yoga pants are made of thick fabric and have a hip-lifting and tummy controlling design that stretches and sits perfectly around your curves. These yoga pants have a tiny front pocket to fit in small things, like your earphones or keys, during your workout. They are great for activities like walking, yoga, aerobics, dancing, and exercising.
This pair of plus-size yoga pants are all about style and comfort. The contrast foldover high waistband can be adjusted as per your preference. These yoga pants can be used as workout wear as well as everyday loungewear. They are soft, breathable, and stretchable as they are made of 95% cotton and 5% spandex. They hold their shape in spite of rough washing or hand wash.
These stylish and chic plus-size yoga pants should immediately start making their way to your wardrobes. From high waist plus-size yoga pants to shapewear yoga pants, there are so many amazing options to pick from. Go through the article and pick your favorite ones. Happy shopping!
Recommended Articles
The following two tabs change content below.

Latest posts by Harini Natarajan (see all)

Harini Natarajan
As Chief Editor, Harini sets the tone and editorial direction for StyleCraze to deliver engaging, interesting, and authentic content revolving around women's health, wellness, and beauty. She has over 14 years of experience in content writing and editing for online media. She specializes in the areas of Beauty, Lifestyle, and Health & Wellness and is proficient in Medical Sciences (Biology, Human Anatomy and Physiology, and Biochemistry). Her background in Biomedical Engineering helps her decode and interpret the finer nuances of scientific research for her team. Harini is a certified bibliophile and a closet poet. She also loves dancing and traveling to offbeat destinations.