15 Best Plyometric Jump Boxes Of 2023
Improve muscle elasticity and develop agility with these workout accessories.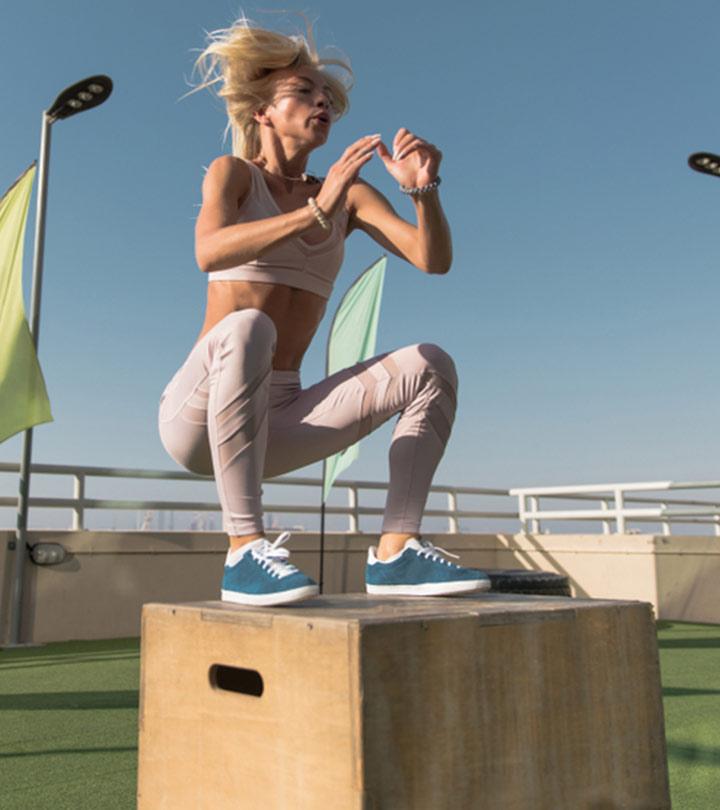 A polymetric jump box improves your muscle tension and elasticity by stretching the muscles and shrinking them. This equipment allows you to build muscles. The best polymetric jump box also helps in agility, quick thinking, coordination, and balance. In addition, you can also push yourself to do push-ups, side steps, step-ups, box jumps, and squats. This article is a curated list of the 15 best jump boxes and their details. Keep reading!
Top Picks
15 Best Plyometric Boxes Reviewed In 2023
Pros
Durable and firm foam body
Anti-slip
Stable during jumps
Two styles
Three dimensions in one
Cons
Requires someone to hold it steady
May not suit all strenuous exercises
Price at the time of publication: $149.99
Pros
Robust build
Easy assembly
CNC machined for accuracy
Pre-drilled holes for easy set-up
Sanded edges offer protection
Cons
Only pictured instructions
Price at the time of publication: $79.99
Yes4All Wood Plyo Box is an exercise box suitable for use by adults of all age groups. It fits the fitness requirements of both men and women. It is made available in 4 different sizes and 3 height levels for people of different heights and age groups. It is compact and stable and does not take up much space. You can rotate the plyo box to meet your height needs during exercise. This box is designed with rounded blunt corners that prevent injuries during workouts.
Its non-slip surface on the top adds extra stability. It supports heavier athletes too. The box is perfect for step-ups, box squats, CrossFit, and MMA. It has a poly-coated outer layer that protects its exteriors.
Features
Dimensions: 24.9 x 21.4 x 5.5 inches
Weight: 38.93 pounds
Material: Wood
Pros
Quick mounting
Anti-slip base
Pre-drilled holes
Internal support
Perfect for heavyweight athletes
Rounded corners for safety
Sturdy construction
Cons
Needs an extra for hammer for assembly
Difficult to disassemble
Price at the time of publication: $36.19
The Bound Plyometric Jump Box is a 3-in-1 piece and is available in different height options. It is made of wood on the inside and thick plywood on the outside. It comes with mounting screws, square drives, and glue for easy assembly. The box is CNC-machined and enables one to jump and stay agile. The manufacturers of this box have sandblasted the edges to make it smooth – this prevents scratches, scrapes, and injuries during exercise.
The box needs a rubber mallet for assembly, making the box quite strong. Its pre-drilled holes offer quick assembly.
Features
Dimensions: 12 x 14 x 4 inches
Weight: 14.3 pounds
Inner material: Wood
Outer material: ¾-inch thick wood
Design: Slim-fit puzzle design
Pros
Easy assembly
Pre-drilled holes
Durable
Versatile
Reliable interlocking
Cons
None
Price at the time of publication: $76.4
Pros
High weight capacity
Saves space
Rock-solid construction
Cons
No top coating
Cannot be stored outdoors
Price at the time of publication: $102.95
The Titan Fitness Plyometric Jumping Box enables a versatile workout with its unique design and construction. You feel motivated and encouraged to perform routine fitness exercises with this 2-in-1 piece. This soft plyo box needs no assembly. It has a slip-free surface. Its soft material helps prevent injury. Its foam construction also offers added stability. This box gives you the edge needed to carry out a multitude of aerobic exercises and fitness therapies.
Features
Dimensions: 20 x 24 x 30 inches
Weight: 67 pounds
Material: Foam
Pros
Durable
Sturdy construction
Slip-free surface
Needs no assembly
Added stability
Prevents injury
Cons
None
Price at the time of publication: $149.99
The Stamina Plyo Box X-shaped and is more suitable for intense workouts. It features a strong, firm base. Its weight is evenly distributed. You can also adjust its height based on your build and training requirements. It has four different height settings. Its solid, textured standing platform challenges your core, upper, and lower body.
The box has a durable, non-slip surface. It needs no assembly. Its steel construction lasts long and supports a weight of 300 lbs. The box helps build your workout speed, muscle strength, agility, and overall fitness.
Features
Height Options: 12, 16, 20, and 24 inches
Weight Capacity: Up to 300 lbs
Material: Durable steel
Design: X-shaped
Pros
No assembly required
Workout guide included
Non-slip jumping surface
Durable
Heavy-duty construction
Adjustable height options
Effective for extreme training regimens
Cons
Difficult to store in small spaces
Heavy
Pros
Versatile
Easy assembly
Sturdy construction
Comes with pre-drilled holes
Satisfaction guarantee
Suits both beginners and advanced professionals
Cons
No inner supports
No finishing coat
Price at the time of publication: $59.2
Pros
Wider surface area
Added stability
Sanded corners for safety
Ideal for both men and women
Suits beginners and athletic trainers
Cons
Price at the time of publication: $149.99
Pros
Versatile
Offers different height options
Comes with screws and pre-drilled holes
Higher weight capacity
Suits both beginners and professionals
Cons
None
Price at the time of publication: $59.95
Pros
Sturdy construction
Rubber feet protect the floor
Non-slip surface
No assembly required
Space-saving design
Four-legged base support
Cons
None
Price at the time of publication: $100.99
Pros
Solid construction
Soft surface offers safety
Suitable for everyday use
Slip-free design
No assembly needed
Cons
None
Price at the time of publication: $139.99
Pros
Adjustable height
Deep sunken pre-drilled holes
Routed radius corners for safety
Smooth surface prevents injury
Internal bracing
Anti-slip design
Large handle openings
Cons
Compatible with only a Philips head screwdriver
Price at the time of publication: $99.99
The Yogu Plyometric Jump Box is available in four different sizes. You will need to assemble it and set it up with a screwdriver. The base is strong, flat, and firm. It suits perfectly for cardio workouts, jumping, twists, and physical training.
It is designed with strong plywood with internal bracing for added strength. The box can hold up to 450 lbs. It allows you to perform push-ups, step-ups, squats, lunges, and other MMA and Crossfit workouts.
It is a pre-drilled box featuring a non-slip surface for extra stability. Its edges are rounded to prevent injuries.
Features
Dimensions: 30 x 24 x 20 inches
Weight Capacity: Up to 450 pounds
Material: Plywood
Pros
Quick assembly
Pre-drilled holes
Non-slip surface
Rounded edges for safety
Cons
Price at the time of publication: $49.99
The Rage Fitness Plyometric Box is recognized by its signature puzzle design. It is shipped flat. Its assembly needs no glue. It is perfect for routine exercises, workouts, jumps, cardio, and fitness regimes.
Features
Dimensions: 20 x 24 x 30 inches
Weight Capacity: Up to 400 pounds
Material: Wood
Design: Signature puzzle
Pros
Needs no glue for assembly
Cons
No external coating
Expensive
Price at the time of publication: $119.36
These are the top 15 plyometric boxes available on the market. But does everyone need one? The following section will tell you.
Who Should Buy A Plyo Box
Plyo boxes are perfect for any gym and home workouts. If you are an athlete training for sports events or wanting to strengthen and tone your muscles, plyo boxes are a must. They also are a great exercise option for those who are bored with traditional fitness regimes. These boxes offer a fun way of getting fit.
Before you pick your plyometric jump box, here are a few factors to consider.
What To Consider Before Buying Your Own Plyometric Jump Box
Durability: Plyometric boxes take a lot of impacts. Hence, they must have a durable construction. They must be capable of withstanding repeated jump impacts without breaking or giving away under the pressure.
Versatility: Plyo boxes are not meant for jumping alone. They should be capable of serving other physical training needs as well.
Size: Plyoboxes come in different sizes. The smaller ones are perfect for beginners, while the larger ones are ideal for professional, athletic, and rigorous training. Size matters if you want to make the most out of your workouts without injuring yourself.
Material: Most plyo box units are made either of dense foam or wood. While those made of foam are soft and gentle on your knees, those made of wood are more likely to hurt you. On the other hand, wood plyo boxes stay firm on the floor, while those made with foam are more likely to topple over. Choose wisely.
3-in-1 or Traditional Design: This is specifically meant for wooden plyo boxes. They are available in two types – as 3-in-1 boxes or as traditional boxes. The former design allows you to jump on all the surfaces. The traditional design comes with a narrow upper surface and a wide base.
Metal or Resin Make: Metal plyo boxes look similar to stools. They also come in X-shaped designs. You can set them up only in one position. They can hold significant weight and are ideal for heavy-duty exercising. Most of them enable height adjustments. The resin units appear like step stools and are less expensive. These are manufactured from recycled material and are not as sturdy on hard surfaces.
Pre-assembled or Flat-shipped: This is specifically meant for wooden plyo boxes. Most of them are delivered to customers as flat boards to save space and cut down on shipping costs. You need to assemble them before use. Pre-assembled boxes could cost a little more.
Why Trust StyleCraze?
Aditi Naskar, the author of this article, holds a diploma in Health & Wellness. She loves to stay updated when it comes to fitness products. To assist her readers in buying the best plyometric jump boxes, she has conducted thorough research and read several product reviews online. With the insights, she has compiled a list of the most impactful plyometric jump boxes. These products enhance your muscle tension and elasticity and can up your fitness game.
What is the size of a plyometric box?
A plyometric box is manufactured with various height options that range between 12, 16, 20, 24, and 30 inches. The smaller plyo boxes work well for beginners, while the larger ones are suitable for athletes and the experienced.
How many reps of box jumps should you do?
Beginners are recommended to do a minimum of 10 to 15 reps. Those used to the drill can do about 25 to 40 reps in each workout session.
Are box jumps bad for your knees?
The wrong form can hurt your knees. It is important to maintain good posture and follow the best techniques to make the most out of box jumps.
What kind of plywood do you use for a plyometric box?
The best plywood suitable for plyometric boxes is one from the construction-grade quality. It must be minimum ¾ inches thick.
How much weight can a plyo box hold?
plyo box can hold a maximum of 450 to 470 pounds.