10 Best Pole Dance Heels To Try In 2022
The silhouettes these stilettos create are as enticing as the art of pole dancing.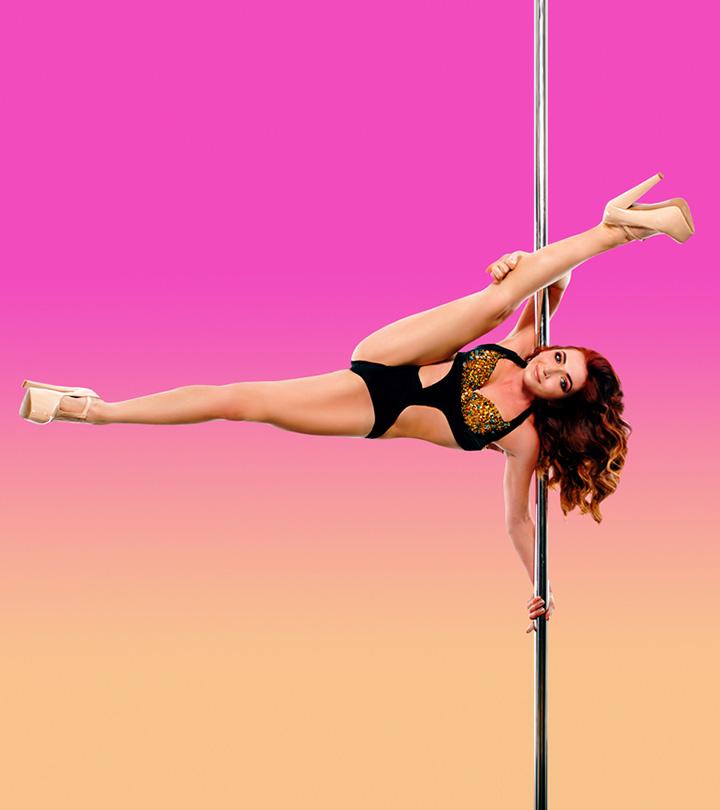 Nothing can make you feel confident like a pair of sexy pole dance heels, whether you plan to work your magic through a performance on stage or practice your own moves at home. The best part about these extravagant pairs of stilettos, pumps, or platform heels is that they provide vital support to your ankles and calves without making you feel like you will trip or fall while busting a move. You don't have to be a dancer, model, or pro clubber to wear these because, at the end of the day, it is all about the confidence you carry and the looks you are willing to serve. To help you get your hands on the perfect pair of pole dance heels, we've listed the best ones of this year. Be sure to go through our list as we've reviewed each one and listed out the pros and cons as well. In the end, we've also included a buying guide that will give you a wealth of information and more on choosing the right one for yourself. So, go on and scroll down. You're only minutes away from looking and feeling like the ultimate diva!
Ace Every Move With The 10 Best Pole Dance Heels Of 2022
Dream Pairs brings you this hot pink pair of pumps that will give you legs for days. The shoes have a chunky platform of almost 1.25 inches and pointed heels of nearly 5 inches, which is high enough to make those calf muscles pop. From an incredibly stylish design to a rubber outsole that keeps you standing tall and steady on the floor, these shoes are capable of everything you need. Crafted with padded faux leather insoles, the pumps truly live up to their brand name of being the ultimate dream pair for every stiletto lover. Featuring a slip-on closure, they are super-easy to put on and take off.
Pros
Fits comfortably
Slip-on closure
Classic round toe design
Available in 14 colors
Cons
Doesn't have much arch support
If you love open-toed heels and would like to add memorable details to all your looks, these shoes are an ideal fit for you. This pair comes with a strap design around the ankle that ends with a zipper at the back. With a high platform heel, these shoes are apt for dancing, standing for long durations, and complementing your figure. The insoles are highly comfortable with padded cushions, while the textured outsoles provide extra stability. Wear them with leather pants, sexy dresses, or body-sculpting overalls, and get ready to be showered with compliments.
Pros
Light synthetic sole
5-inch stiletto heel
Premium vegan material
Fashionable cut-out design
Cons
When it comes to peep toes, the only thing that matters is achieving the right texture, a comfortable feel, and the most beautiful design that becomes the center of every outfit. One such pair of black heels is this one from Funtasma, which isn't just a classic but one of the most luxurious ones out there. The heels come with an ankle strap to keep your feet firm and secure, while the sole has a striped design that helps maintain traction and prevent accidental slips. There's also a shoe buckle on the ankle strap that lets you adjust the fit just as you like it.
Pros
3.75-inch long heels
Perfect for dancing
Good for people with wide feet
Comfortable synthetic sole
Cons
When all you need is a shoe that makes you look a little wild and a lot sensual, these beautiful black boots will make it happen almost effortlessly. They have high heels of a whopping 7 inches, which is quite a rare discovery. The boots are highly versatile, making them ideal for dancers and runway models who are used to staying on their toes all the time or anyone who wants to accentuate their legs. Not only will they let you slay any look (you could pair them with pajamas and look hot), but the comfy, show-stealing design will also help you slay the pole from end to end.
Pros
Glossy texture
Support ankles
Upright lace design
Premium faux leather
Cons
You've heard the expression, "having the world at your feet", but with these stilettos, you will finally know what it means. With the night sky patterned all over the stocky platform as well as the long, pointy heel, these shoes will be the life and talk of every event. They are created with a man-made sole and offer next-level comfort, while the round toe front provides enough room for wider feet. You can seamlessly add these heels to your pole dancing routine without having to change into something else for after-parties. The boot-like design with 2 wide buckle straps enhances your entire look.
Pros
Sturdy feel
Lightweight
Good quality
Eye-catching design
Cons
Size might run slightly small
If you're a pole dancer looking to add some oomph to your attire, these shoes will definitely do the trick. Constructed with faux suede, the heels look super elegant and are easy to maintain. With the padded insoles, you can overcome the pain of having to wear heels all the time and actually enjoy comfortable walks. The rubber outsoles keep your feet firmly planted to prevent slippage. Equally ideal for the dance floor and a date night, these lace-up sandals are a must-have in your closet.
Pros
Unique design
Suits wide feet
Stunning leopard print
Straps keep feet secure
Cons
Heels might feel a little high to some
There's so much to love about these flaming-hot flamingo heels beyond the fact that they are entirely transparent and will make you look 8 inches taller. As comfy as they are stunning, you can put them on for your dance routine as well as any event that demands a substantial amount of walking around. They feature a unique design that's easy to pair with anything in your closet and provide you with a firm, sturdy grip that keeps you protected in case you lose your balance.
Pros
Feels light
Durable quality
Comfortable PU sole
Abrasion-resistant
Cons
Some may find them slightly narrow
Whether you love to doll up every now and then or just need a towering pair of heels for work, these babies will not disappoint. Made from a durable polyurethane material, the shoes eclipse anything in their vicinity while keeping you ultra-comfy. There's a synthetic sole used for keeping the heels from chafing or overheating your feet. The design includes net layering on the sole and at the heel, which adds to the luxurious design. Available in a glossy black shade, the shoes will go well with all your favorite outfits.
Pros
Fits beautifully
Unique design
Long-lasting material
Double-strap for extra support
Cons
Fashion Thirsty brings you this all-time-favorite pair of glitter sandals that pole dancers and runway models are obsessed with. Designed with a 7.5-inch heel that leaves you feeling sumptuous after a bit of break-in, these open-toed shoes are easy to secure with a durable buckle. Whether it's the middle of the day and you're brunching with the gals or dead in the night and you're tearing up the floor, these beautiful sandals will not fail to make you stand out. You can pair them with a short cocktail dress or a gorgeous, full-length gown for a sleeker and taller frame.
Pros
Perfect for parties
True to size
Durable quality
Strap design keeps feet in place
Available in many beautiful colors
Cons
Might feel slightly snug at first
Here's a line of heels that will fulfill your wildest, all-eyes-on-me fantasies. This gladiator-inspired pair features a faux-patent upper that looks and feels premium-grade. The strap runs up the ankles in 3 layers of buckles and makes your legs look intimidatingly long. With quilted insoles and a heel measuring 6.25 inches, the sandals are ideal for keeping pole dancers comfy and relaxed throughout their routine. In addition to the stage, these sleek, glossy, and super-sexy heels are also skilled at spicing up the boudoir.
Pros
Easy to walk in
Long-lasting quality
Made for versatile use
Ergonomic peep-toe design
Cons
Might not suit people with narrow feet
With an enticing selection like this, it's easy to fall in love with more than one pair of pole dance heels. But if you're on a limited budget, you might as well get the biggest bang for every buck by picking the best. Allow our buying guide to help you choose.
How To Choose The Best Pole Dancing Shoes
If you are a beginner, choose a heel size of 7-ish inches. For those who are used to wearing steep heels while dancing, a heel size of 8 inches is probably better for the silhouette.
Always look for ankle-strapped heels to prevent any sort of flimsiness. They will keep your feet firm and sturdy while you groove all over the dance floor. Also, such heels are great when your routine includes leg kicks, spins, or other tricks.
Since heels are a crucial part of your job, it's wise to look for more supportive ones that comfort and relax your feet. Choose heels that come with padded insoles that help you stay comfortable and let you stand for a longer time.
Locating the perfect pair of pole dance heels is a dream come true for professional dancers. Such heels are designed to provide you with a better grip, enhance your moves, and accentuate your silhouette. Not finding the right fit doesn't just affect your performance, but it also causes actual damage to your feet. Most of the options in this roundup are versatile, well-cushioned, breathable, and gentle on the feet, not to mention unbelievably sexy. They can be worn on multiple occasions outside of the dance arena, such as after-parties, high-ticket events, hot dates, nightclubs, and some of them even at work.
Why Trust StyleCraze?
The author, Priyam Gupta, is a fashion enthusiast. After thorough research and going through numerous reviews and feedback on multiple forums and websites, she has curated a list of the best pole dance heels that provide vital support to your ankles and calves without making you feel like you will fall while busting a move.
Frequently Asked Questions
Why do pole dancers wear high heels?
Pole dancers wear high heels because these provide better leg extension that looks attractive while dancing. Such heels are also designed for creating a better grip at the pole, so they serve practical and aesthetic purposes.
Is it easier to pole dance with heels?
Yes, it is easier to pole dance with heels when you have some practice and know what you're doing. However, it does take time, effort, and heaps of core strength to get the best results.
Can you pole dance in regular heels?
No, you must not pole dance in regular heels as they probably won't have the kind of grip and traction that pole dance heels do, which can be dangerous.
How do you walk in pole heels?
You should align your body, head, and shoulders with your hips and walk with a firm gait when you're wearing pole dance heels.
Does wearing high heels increase hip size?
Yes, wearing high heels might increase hip size, but only if you wear them regularly.
How tall are pole dancing heels?
Pole dancing heels range from 5 inches to 10 inches.
Recommended Articles