10 Best Pongal Rangoli Designs To Try In 2022
Decorate your space and fill it up with colors in the finest and most intricate designs.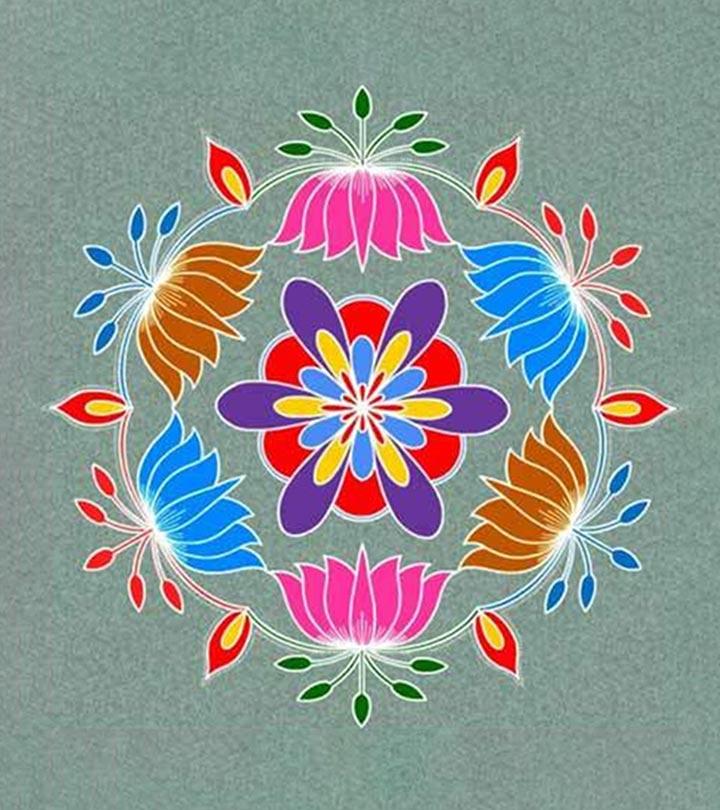 Pongal, also known as Sankranti, is one of the most auspicious festivals of Hindus. And people celebrate this festival by creating special Pongal rangoli designs in their houses. Rangoli patterns are usually symmetrical and beautiful, and it is believed that goddess Lakshmi will see these rangoli designs and bless the family with wealth. The designs are created by mixing rice powder with different colors and hues.
Rangoli  Designs For Pongal 2022
The themes followed for rangoli designs vary from geometrical designs to the use of motifs which symbolizes plants and animals. Celestial bodies are also depicted in rangoli designs. Pongal festival denotes prosperity and joy. The origin of this tradition started in the state of Maharashtra in India; however, now it is very popular among other countries also. This art is transferred from the older generations and this does not require any formal training. Here we have a collection of top 10 rangoli designs for pongal/sankranti:
1. The floral design in the middle of this fabulous rangoli design is quite unique and is encircled by the lotus flower design. The usual pink lotus has been manipulated and purple and orange shades have been used in this design. This design is quite simple yet very apt for the festival day.
2. This pongal rangoli design with dots seems a bit complex than the first one. A lot of colourful shades are used in this wonderful design. The unusual use of shades makes the design unique. The flower patterns in the design make it more attractive.
3. This latest design is bright with shades of pink, blue, orange and green. This design is quite difficult from the above simple rangoli designs that we discussed. This unique design adds more color to the festival.
4. This design seems to be more colourful with bright blue coloured base and yellow, purple, green and pink shades. The use of colours in a different manner makes the design pretty.
5. This design is quite easy. The different coloured flower patterns used in this rangoli design makes it special. This simple design can decorate your home in a simple way.
6. This Rangoli design is beautiful with its bright blue base. This simple design makes the festival appear more colourful. Beginners in the field of rangoli design can also try this one.
7. This simple rangoli design can make anyone the star of the day. The yellow, green, purple and saffron combination over the grey base makes the design simply fabulous.
8. This one is a beautiful rangoli design with a peacock at its center. The vibrant colors used in this design make it more attractive. The peacock is drawn using bright colors like yellow and orange. Beginners can also experiment with this simple design.
9. This unique design is attractive because of the bright green and yellow shades used. This design is quite simple.
10. The floral pattern looks very apt for the day and a lot of colors are used. The beauty of this design lies in the subtle colors used. Anyone with a bit of practice can do this design.
Festivals in India are more than just holidays. They bring joy and prosperity to the lives of people. Pongal or Sankranti is a harvest festival, and people celebrate it by creating various rangoli designs. This festival is incomplete without rangolis. Many people believe that goddess Lakshmi will see all these rangolis and bless them. There are different patterns used in Pongal rangoli designs, and these are created by mixing rice powder with different colors. Designs with dots and floral patterns are very popular. Start incorporating these beautiful designs today.
Frequently Asked Questions
What do rangoli patterns represent?
Rangoli patterns represent the happiness, good luck, positivity, and liveliness of a household.
Why are rangoli patterns an expression of spirituality?
Rangoli patterns are an expression of spirituality because it is believed that the symmetry of these patterns influences the mind and denotes universal coexistence.
Images: Google, Pinterest,
The following two tabs change content below.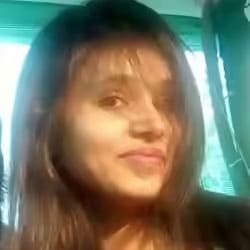 Jyotsana Rao is an engineering graduate from NIT, Nagpur, who discovered her love for writing during her undergraduate days. She...
more