50 Best Pookalam Designs For Onam 2019
Flower, flower everywhere and beautiful colours in my hair! As kids we all sang these kind of funny rhymes, but as we grow up we see these beautiful flowers being used everywhere in our daily life in different forms.  We decorate our homes with beautiful flowers during festivals.
Onam is one of biggest festivals celebrated in our country, especially in Kerala. This festival celebrates the home coming of Emperor Mahabali who is considered as the Vamun Avatar or Lord Vishnu's Avatar. The celebration is held in the month of Chingam (August-September) and continues for 10 days. This homecoming is celebrated by various festivities like large community banquet lunches, Onam pookalam (flower rangoli) as well as boat races and many other activities.
50 Best Pookolam Designs To Try This Onam 2019
In this article, today we will quench all your thirst for pookalam designs for this Onam. Here we present to you the top 50 designs we like: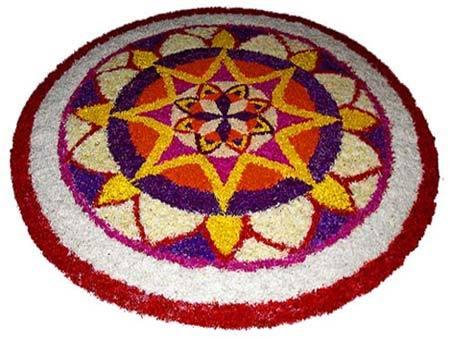 1. Usually during Onam, people of Kerala use flowers to do the rangoli. Here we see a similarly done floral rangoli or pookalam which is made using flowers of different colours like yellow, pink, purple, white and red. The basic shape is a circle and within it is a star shaped design in the center of the pattern.

2. This is a beautiful flower rangoli design done with simple flowers like marigold, rose and lotus with few other flowers. There is a repetition of the colour yellow and orange in the design and it is a great pattern for beginners.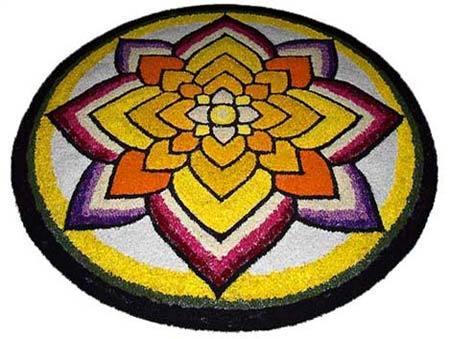 3. This pattern is a great way to show your rangoli making skills. The design requires great precision and the design is a symmetrical design and both the sides are similar. The colours used are various like white, purple, red, orange, yellow and more.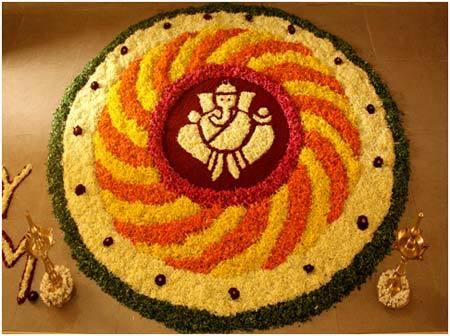 4. In this pattern, the picture of lord Ganesha adorns the center of the rangoli pattern. Red backdrop with the Ganesha design done in yellow is a perfect contrast.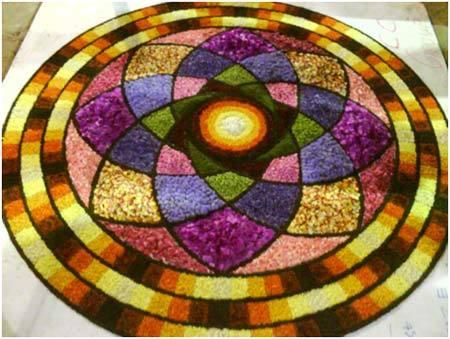 5. This design is one of the finest and it beautifully gives a three dimensional effect. One definitely needs time as well as steady and practiced hands to make this pattern. The colours are combined in a perfect way to create the illusion of a three dimensional effect. The colours used are vivid like purple, blue, yellow and green.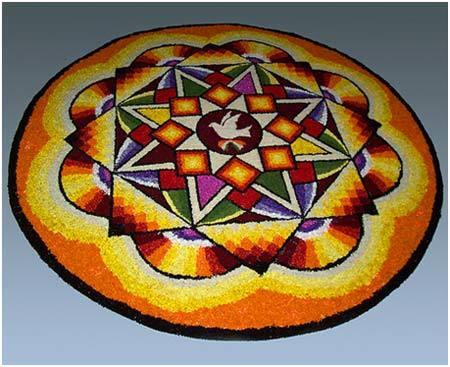 6. This is a beautiful geometric pattern. In this rangoli, there is a circular shape holding a floral shaped motif inside exhibiting more motifs and designs inside. The extensive detailing in this design surely deserves an applause and will be best for veterans.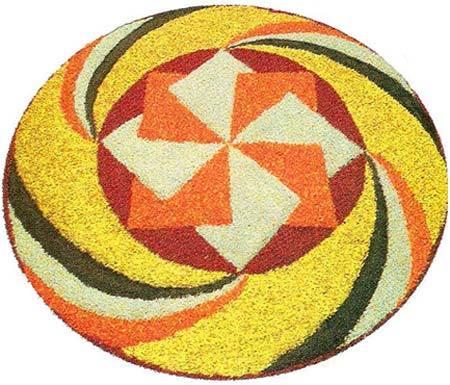 7. This beautiful rangoli pattern has a spiral design with common colours adorning it. The design is easy to make in a short time, as it requires very less number of coloured flowers. Yellow, orange and white marigold flower petals with green leaves are used in this pattern to give an exquisite look. Not to forget the red flower petals used, which give a beautiful definition to the pattern.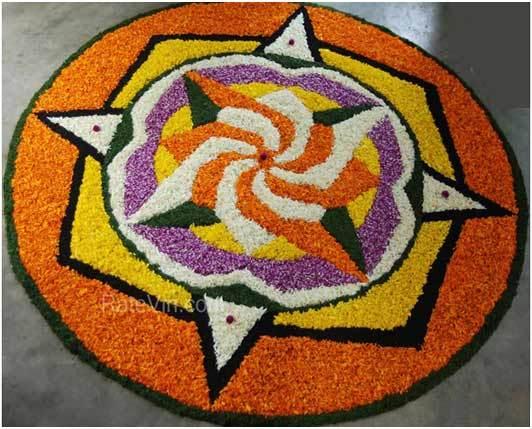 8. This design is quite different from the usual ones. The main shape here is a circle but within it is a rectangular shape. The use of coloured flower petals enhances the pattern with yellow and orange marigold petals being predominant.
9. A beautiful circular shaped rangoli with a star shaped center. The colours used here are mostly yellow and saffron with detailing and variations ranging till deep red. This is a very complex design and hence, needs great skills to create a pattern like this.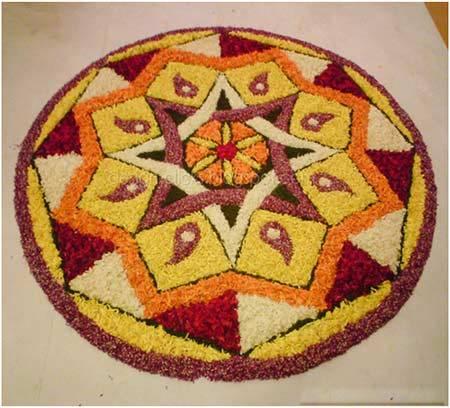 10. This pattern has a circular shape and an octagon shape within it. The center is a star shaped design with more intricate details. The flowers used are common and easily available throughout the year.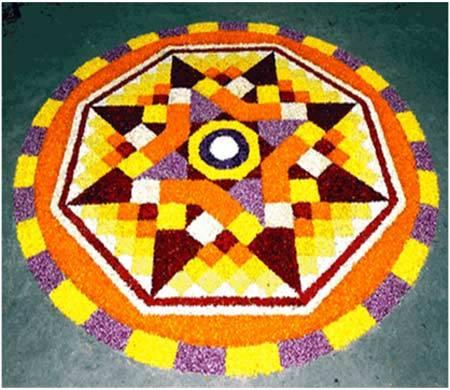 11. A checkered design incorporated into a rangoli. The main shape is circular with an octagon inscribed within it. The central star shape along with the checkered design looks quite nice as well as needs good experience to achieve this done up well.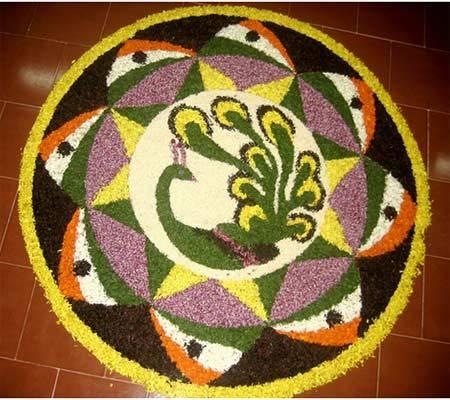 12. This rangoli design is inspired by patriotism for the country. Indian flags are done circling the design. The center shows a peacock motif done with green and yellow. Peacock being the national bird of our country.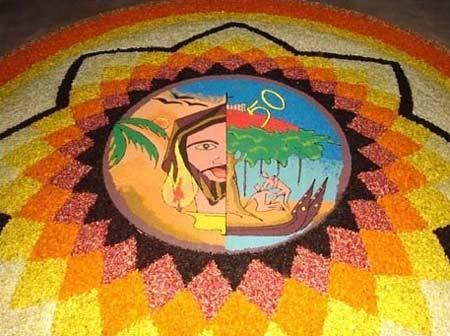 13. This design features a true work of art and combines both floral and colour based rangoli making techniques. The central pattern is a colour rangoli design which is surrounded by floral pattern.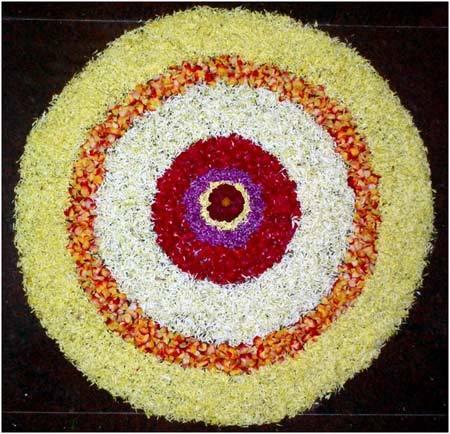 14. This pattern is fairly easier to do for anyone. This design only requires 5 coloured flower petals in yellow, saffron, white, red and violet. Here there is no complex design and only the petals are used to create circles which are fairly very easy for anyone. Making this design will be great for beginners and fun too.

15. We feel that this design will be a great way to welcome your guests on Onam. The design highlights the diya stand in the middle of the whole pattern. Saffron and purple coloured petals create a great contrasting combination in this design. White and yellow petals also add to its beauty.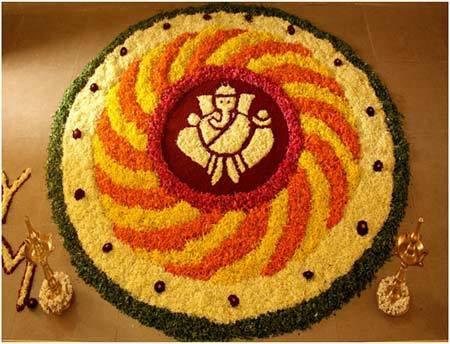 16. This Ganesha design for Onam will surely be a winner. The contrasting colours of saffron and yellow and the central Ganesha design make this pattern unique. This design will surely bring prosperity to your home.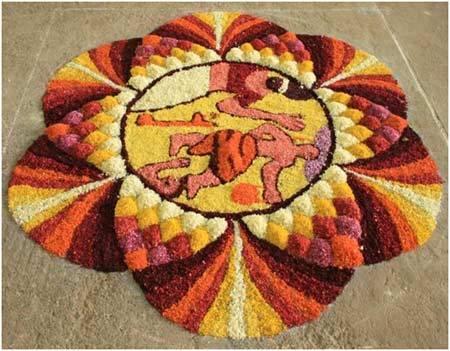 17. This design features the depiction of the mythological stories. The center of the designs shows one such scene from the Hindu mythology. Here the colours used are quite vibrant to make the effect quite striking.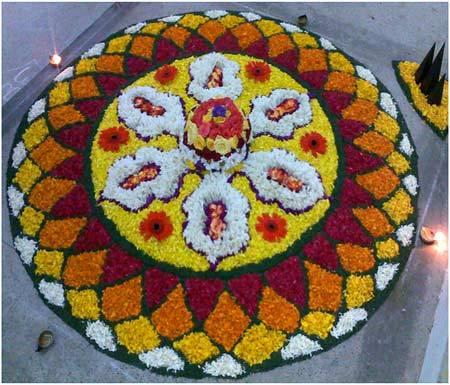 18. Here we see a circular flower pattern featuring a white flower in the inner design. The common colours used here make it easy to draw and small diyas placed along the sides also make this rangoli look even more vibrant and festive.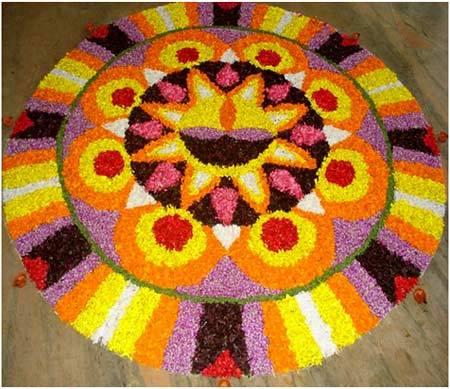 19. A diya at the center of this design surely makes it apt for the Diwali celebrations but we also love this as an onam rangoli too. This pattern looks quite colourful with saffron, violet, red, yellow and black colours. The central design of a diya surely is the USP here.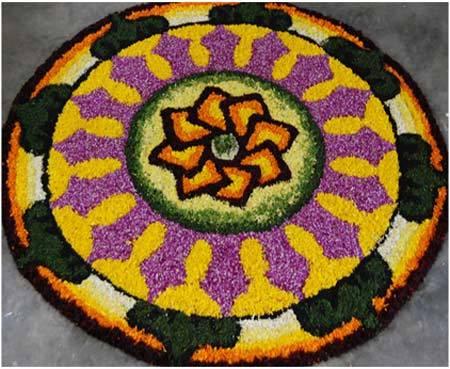 20. Green, violet, saffron and yellow come together in this Onam rangoli to give an unusual touch to the commonly found pattern. The contrasting colours of yellow and purple here make it quite an interesting pick.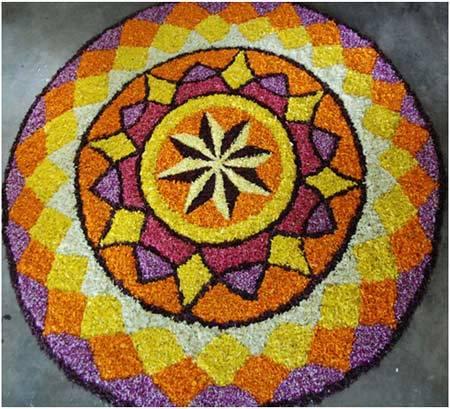 21. The geometric pattern featured in this rangoli looks beautiful for any occasion. The colours are common but the carefully created design is sure to get you a lot of appraisal on this festival.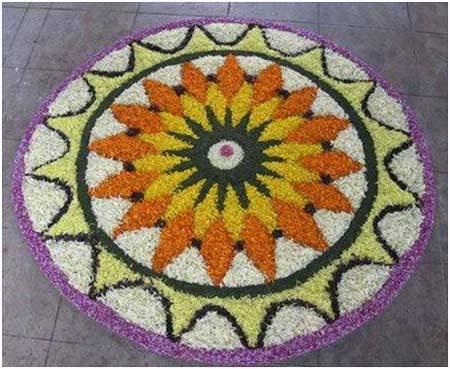 22. White colour here works as the background of the rangoli design. The contrasting purple and saffron add to the beauty of this pattern. Yellow in the middle and black borders also define this rangoli.
23. This design features an octagon within a circle, within which is a star shaped pattern. This complex design is surely for those who are doing rangoli for quite a while. The colours used are sober and common yet creating a beautiful harmony.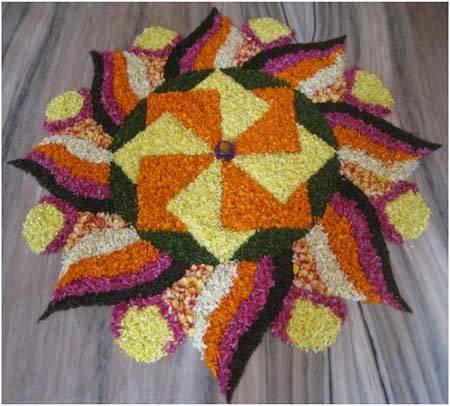 24. This one is an abstract shaped rangoli which surely looks great with vibrant hues and crisp design. The central geometric pattern makes it a great choice for those who are pros in creating rangoli.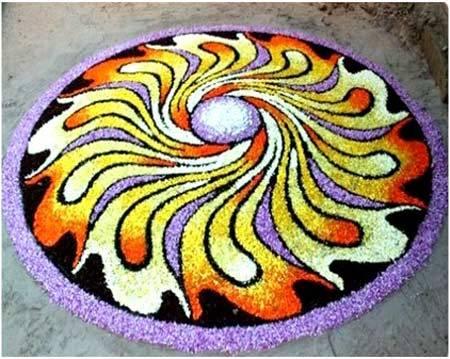 25. This unique rangoli looks vibrant and offbeat as well. The colours used are quite bright to match the design. The black background in the pattern makes it stand out and more attractive.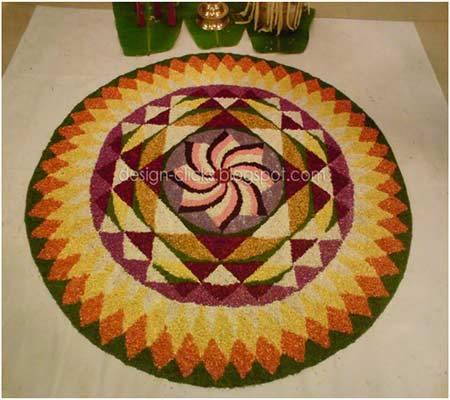 26. This design is definitely not for the beginner or occasional rangoli maker. It has a complex geometrical design which need steady hands and lots of practice. The colours are sober but the design looks quite unique.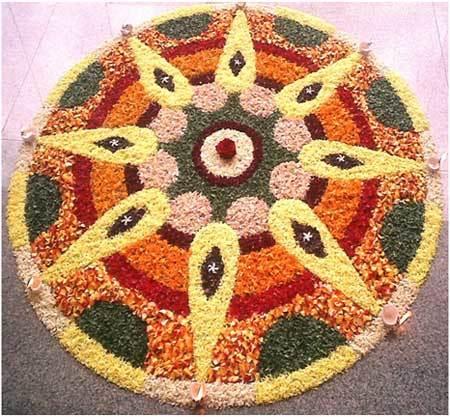 27. This rangoli looks vibrant with contrasting yellow, green and saffron coloured petals. The circular pattern holds a star pattern within, which is done with green and yellow petals.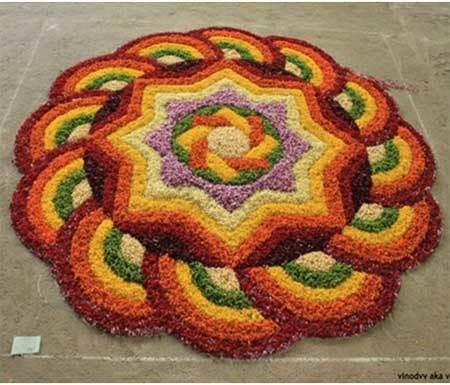 28. A floral shaped rangoli with a star shaped center makes this a unique pattern for rangoli. The design also features similar colours of red, saffron, yellow as well as purple and green being used.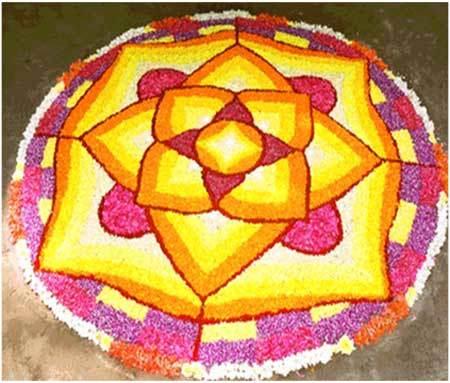 29. This bright and colourful rangoli looks beautiful with pink, violet, yellow and saffron coloured petals. The rangoli forms with a similar pattern from the center and the border is done with vibrant colours like pink violet and yellow.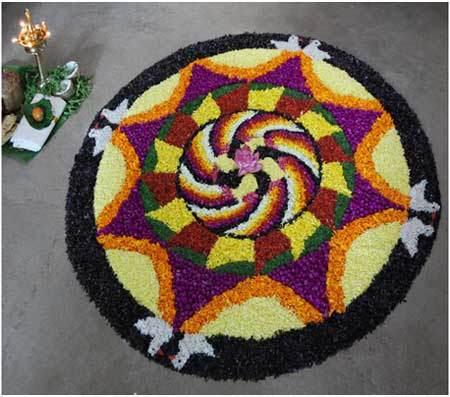 30. A black bordered design featuring colourful shades of saffron, yellow, violet and white. This rangoli requires trained hands and time.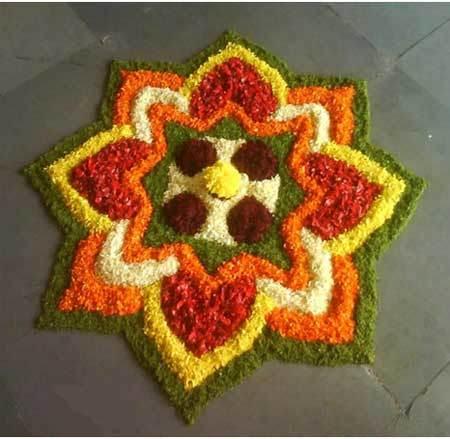 31. This simple rangoli design is fit for anyone, even for first timers. The pattern is simple with the colours used which are easily available.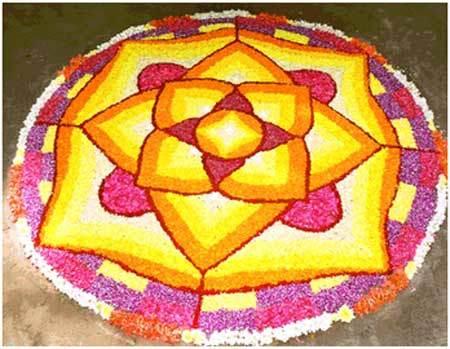 32. This design is for the expert rangoli makers who want to make something extraordinary for this festival season. This design requires a good amount of space as well as expertise. This pattern has many small details and motifs, so it surely requires practice to get perfect results like this. There are a wide range of colours used here, so one needs a lot of preparation for this design.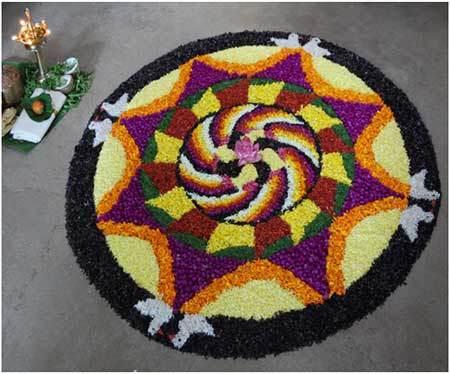 33. This design is an abstract design with bright contrasting shades of white yellow saffron red and black. It has a inward swirling pattern. This design also requires good amount of expertise in rangoli making.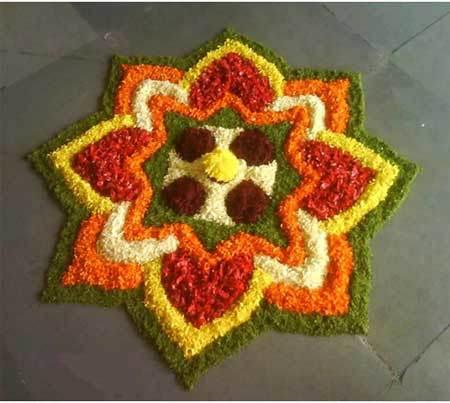 34. Another unique design for all of you is presented here. We see similar colours of yellow saffron and red being used here. This is a geometrical design within a round rangoli background.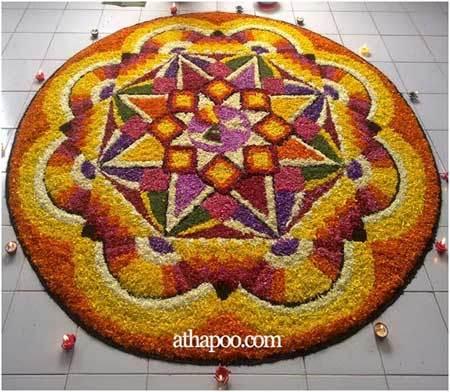 35. This vibrant rangoli uses colours like pink, yellow, saffron, violet and white. The outline is done in saffron coloured petals.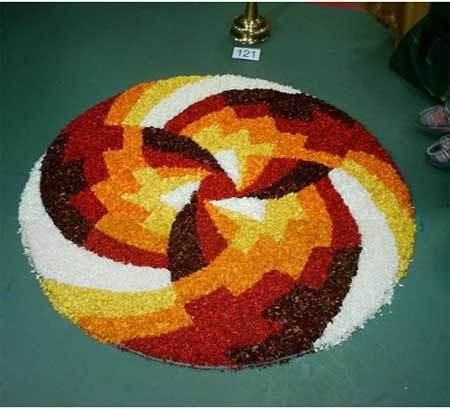 36. A simple yet vibrant design meant for everyone. The colours used here are quite simple and making the design is easy. The border of this pattern is done with white flower petals and contrasting shades of saffron, yellow white and purple.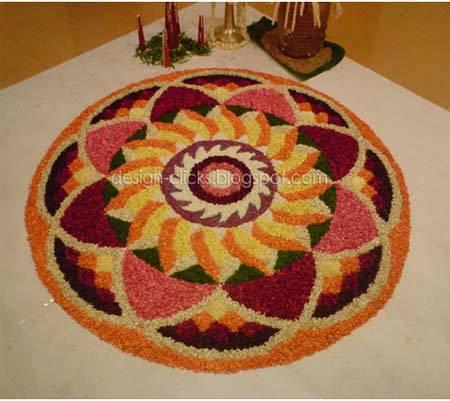 37. India is a country where so many religions and cultures reside in harmony. Nothing better to depict this than this rangoli which captures the same essence of communal harmony in India. The different signs are different symbols of the religions in India and the saffron, white and green border on it stands for the colours of the national flag.
38. The design here is easy as well as vibrant with yellow, saffron and red coloured petals. We love how the central floral pattern is emphasized with a white border. The red background also increases the intensity of the central design.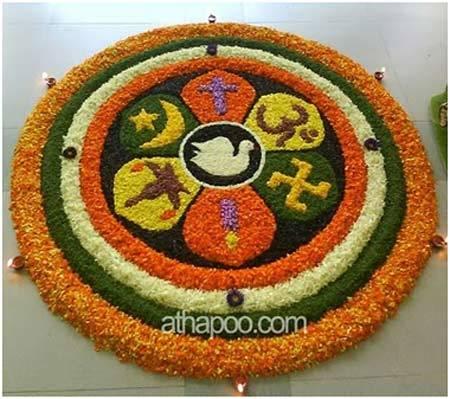 39. This rangoli is colourful as well as unique with a vibrant mix of shades like saffron, yellow, black, yellow and red. We love the star shaped design and the inscribed pattern within.

40. This flower rangoli is beautiful with octagon shaped inner design made with yellow flower petals over a pink background. The central theme is in the combination of saffron and white with the rangoli's border made in white flower petals.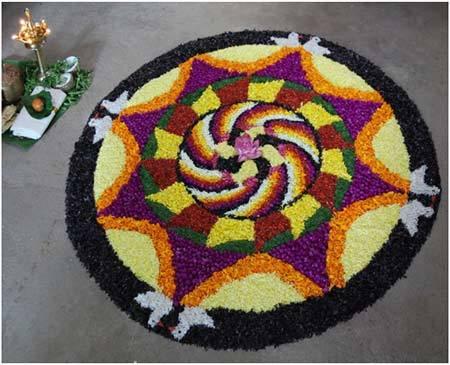 41. A flower shaped pattern with pink, yellow and green colours. Yellow and pink create a great contrast while the unusual design and shape makes it a unique choice for a festival.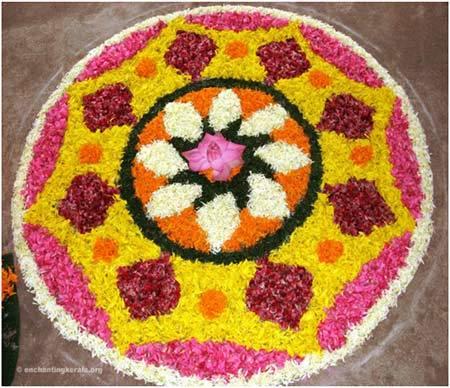 42. This round rangoli looks quite unusual with the four petal shaped design and the flower motif in the center.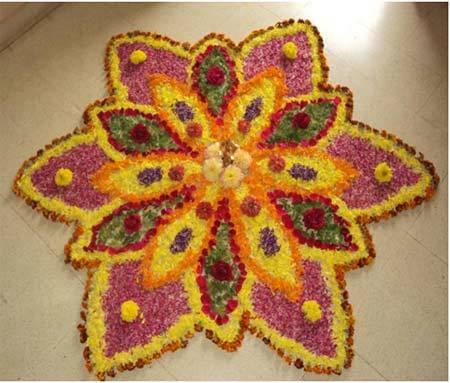 43. A star design in the middle makes this a great choice for anyone. The design of sun and within it a star gives a glimpse of the religious beliefs. The colours used are common, but this design requires quite a bit of expertise to be executed perfectly.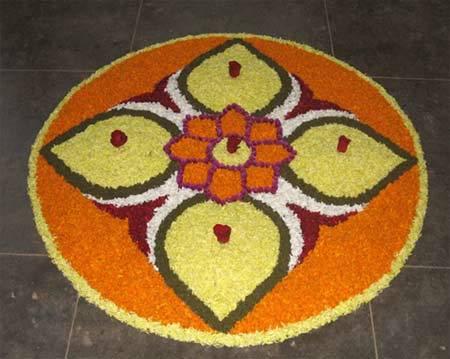 44. This one is a beautiful pink and violet hued rangoli with a contrasting red and yellow center pattern. The design of the floral motif is done with white over a black backdrop making it look even more pleasant and elegant.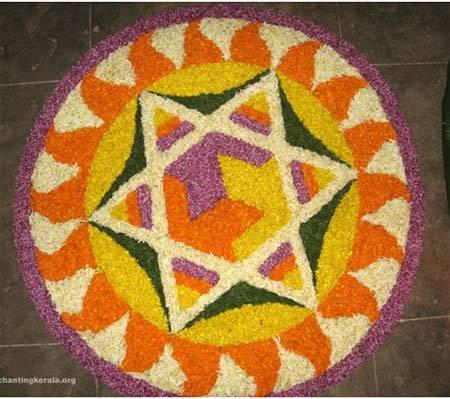 45. This flower shaped rangoli looks gorgeous with contrasting white, yellow and saffron shades. The central black pattern looks beautiful with yellow and saffron colours.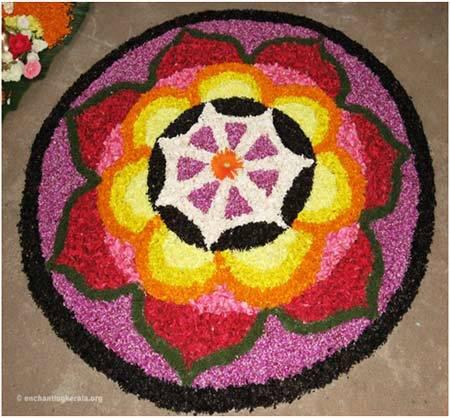 46. A perfect rangoli for any festival. This pattern is truly a complex design with saffron, yellow, red and purple shades. The flower in the middle makes it look even more beautiful and unique.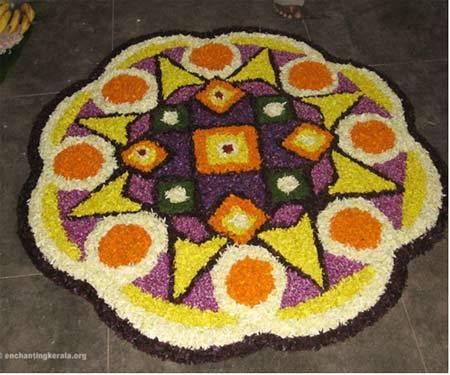 47. This rangoli has a flower shaped center done with saffron, white, red and yellow. The backdrop is done in a circular shape with yellow coloured flower petals.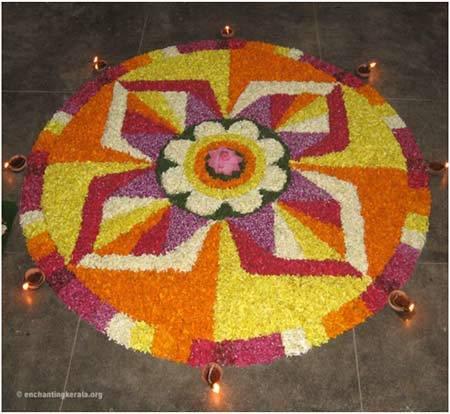 48. A multicoloured rangoli with random colours. These colours are used in smaller amounts on all parts of the design.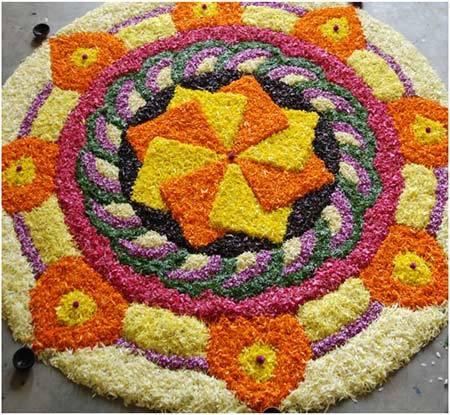 49. White, yellow, saffron, green and purple colours enhance the vibrancy of this rangoli. The design looks a bit complex, so it would be better for those who have a bit of practice.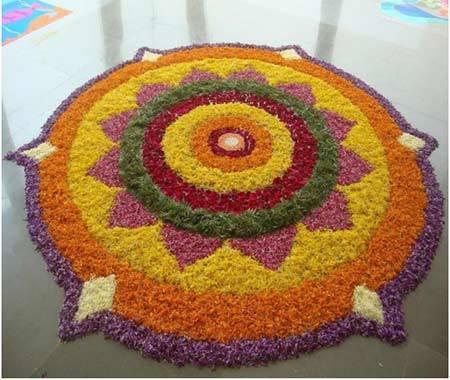 50. A circular shaped rangoli with multiple colours used in a ring pattern. Saffron, yellow, pink, green and red colour makes it a great design to choose for your Onam.
We hope you have liked and loved these 50 lovely Onam pookalam designs. We will be back with more festival inspired designs, do keep visiting. Please leave your comments to tell us your favourites in this list.
Images: Google
The following two tabs change content below.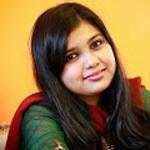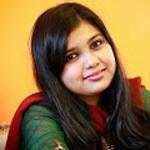 Shabby
A Blogger, a writer, Makeup hoarder and makeup fanatic- I love writing and love love trying new products and sharing my makeup ideas with the world. .