13 Best Pool Vacuums – Reviews And Buying Guide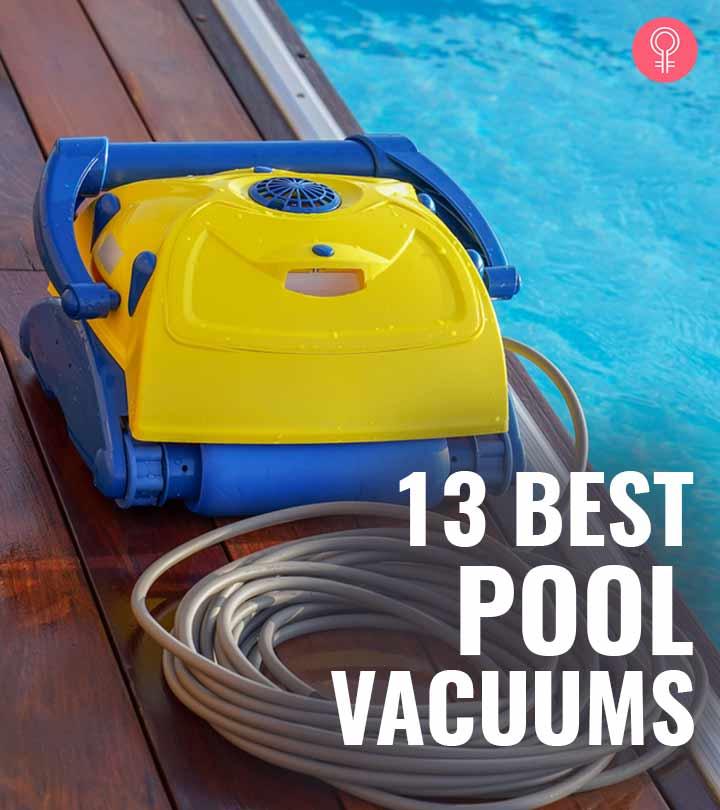 Whether it is a small pool in your backyard or a large indoor pool, it always remains exposed to debris, dirt, and algae. A simple filtration system may not be enough to clean a pool. To keep it clean and free from contamination, you will need an additional cleaning system. This is where a pool vacuum comes into the picture.
A pool vacuum works like a standard vacuum cleaner. It collects and dumps the sediments and debris from the pool and regulates filtered water in the pool. Here, we have covered the 13 best pool vacuums available on the market. Take a look!
13 Best Pool Vacuums
The Dolphin Nautilus Automatic Robotic Pool Cleaner is the best fit. It is a high-end and functional pool cleaner. It comes with a dual scrubbing brush for intensive filtering. It is ideal for swimming pools up to 50 feet deep and cleans an entire pool in 2 hours. It consists of 4 sizeable filters that sieve debris and water, and effortlessly expel them from the top of the device. The pool vacuum efficiently cleans dead algae and dirt from the bottom of the pool in just one round.
Features
Dimensions: 16 x 10 x 16 inches
Type: Automatic
Weight: 19 pounds
Pros
Energy efficient
Tangle-free cable
Scheduled cleaning
Dual brushes for efficient cleaning
Strong suction
Cons
The XtremepowerUS Wall Pool Cleaner does a great job of cleaning the bottom of the pool. This can be a great pick if you want a budget-friendly cleaner that can be used with your existing filtration system. The pool cleaner comes with 10 hoses and is ideal for a 30-feet deep pool. This adjustable diverter and cleaner features a smart design and quickly climbs your pool walls for hassle-free cleaning. It can also be used in different positions to clean the pool above and in the ground.
Features
Dimensions: 5 x 5.5 x 17.5 inches
Type: Manual
Weight: 15 pounds
Pros
Low maintenance
Durable
Easy navigation
No electricity needed
Easy to assemble
Cons
The Milliard See-Thru Pool Vacuum quickly sinks to the bottom of the pool and maneuvers easily to clean every corner of the pool. Its triangular shape effectively covers the corners and walls while the see-through design allows you to see the areas left unclean. The 11-inch wide tool is equipped with a set of 7 nylon bristles that are ideal for cleaning vinyl lined pool floors. Additionally, the device is molded using lightweight and chemical-resistant ABS plastic that can be easily cleaned. The rubber bumpers on the sides of the pool vacuum prevent scratches on the pool surface. 
Features
Dimensions: 39 x 3.94 x 12.99 inches
Type: Manual
Weight: 3.25 pounds
Pros
Locking clips
Affordable
Cleans corners efficiently
Lightweight
Durable
Chemical-resistant make
No scratches on pool surface
Easy to operate
Versatile
Cons
Not ideal for large pools
The Zodiac In-Ground Pool Cleaner features an innovative and functional low-flow design that is ideal for pools with variable or 2-speed pumps. It provides cyclonic suction for powerful cleaning and an articulating turbine blade for aggressive wall climbing. The cleaner comes with a 90-degree twist-lock elbow, an automatic weir valve, a flow regulator valve, twist-lock hose lengths, a warranty card, and a hose protector.
Features
Dimensions: 38 x 8.88 x 14.75 inches
Type: Automatic
Weight: 17.41 pounds
Pros
Quick-connect swiveling hoses
Easy assembly
Great suction power
Compact
Programmed navigation
Sturdy
Cons
May not clean leaves or grass
The FibroPool Professional Pool Vacuum Head is a time saver. It features a thermoplastic flexible body that seamlessly cleans every corner and contour of the pool surface. It comes with 6 integrated weights that assure a consistent seal on the entire pool surface. The device's chrome-plated metal handles are versatile and attach most standard-sized extension poles. The vacuum suction port easily connects to a standard 1.5-inch hose for ease of use. Additionally, the device features durable urethane wheels with metal ball bearings that efficiently roll-on and protect the pool surface.
Features
Dimensions: 4 x 10.5 x 2.2 inches
Type: Manual
Weight: 4 pounds
Pros
Easy maneuverability
Sturdy
Versatile
Stainless steel hardware
Non-corrosive
Cons
The Aiper Automatic Robotic Pool Cleaner is perfect for large pools. This professional-grade cleaner features PVA brushes that provide superior grip and absorbability to clean garbage from the pool floor. It is suitable for cleaning above-ground and in-ground swimming pools up to 50 feet deep. It effortlessly climbs the walls for excellent cleaning. Its anti-rollover technology holds the device and prevents falls. You may simply schedule the pool cleaner to clean the pool every 1 or 2 or 3 hours automatically and make the cleaning process smoother. The device's  built-in top-loading basket traps dirt and debris quickly while leaving your pool sparkling clean.
Features
Dimensions: 26 x 19 x 12.5 inches
Type: Automatic
Weight: 30 pounds
Pros
Lightweight
Easy to assemble
Great suction power
Easy to clean
Elegant design
High-quality brushes
Scheduled cleaning
Cons
The Water Tech Pool Cleaner is powered by a rechargeable lithium-ion battery and features an easy push button. It also features powerful suction with its P30 motor box that is designed for efficient debris collection. If your pool requires intensive cleaning, this cleaner delivers 60 minutes of cordless cleaning. It fully recharges in just 4 hours. The brushes and the vacuum head in the device are specially engineered to clean different types of pool surfaces. The cleaner's large debris chamber captures large debris like leaves, twigs, and acorns.
Features
Dimensions: 5 x 6.5 x 7.5 inches
Type: Manual
Weight: 5.5 pounds
Pros
Long battery life
Reusable multilayer filter
Easy to use
Budget-friendly
Durable
Recharges in 4 hours
Captures large debris too
Cons
Suction is not too powerful.
The Intex Handheld Rechargeable Vacuum is impressively efficient and provides powerful suction to clean the dirtiest pools. The vacuum is ideal for above-ground pools. It features durable, built-in rechargeable batteries for proper cleaning. It comes with an automatic shut-off feature when the device is not submerged in the water. The kit comes with a shaft adapter to fit a 94-inch telescopic shaft, a USB cable for charging, and two interchangeable brush heads.
Features
Dimensions: 5 x 6.88 x 39.38 inches
Type: Manual
Weight: 4.7 pounds
Pros
Lightweight
Versatile
Easy assembly
Good battery life
Low-maintenance
Auto shut-off feature
Cons
The Polaris Robotic In-Ground Pool Cleaner features ActivMotion sensor technology that provides impressive navigation in large pools. This 4-wheel drive cleaner is equipped with Aqua-Trax tires for effortless maneuvering and debris collection. Its rear water prolusion system effectively collects debris and dust from tight corners and even under the stairs. Furthermore, it comes with a 7-day programmable timer, powder-coated alloy caddy, and a handheld remote for smooth operation.
Features
Dimensions: 22 x 22 x 22 inches
Type: Automatic
Weight: 43.6 pounds
Pros
ActivMotion Sensor Technology
Motion sensing
Easy-clean filter canister
70 feet long cable
Easy lift system
Dirty canister indicator
Smooth operation with remote
Cons
Does not climb pool walls easily.
The Aquabot Robotic Pool Brush is a great option for residential pools. The vibrating brush at the bottom of the device makes this cleaner more efficient and versatile. It comes with an extra-long 60-foot cable for hassle-free cleaning. The cable is tangle-free. With this brush pool, you save up to 30% on chemical usage and up to 40% on pool electric usage. Additionally, its powerful pump system and 2 micron filtration provides a safer and healthier swimming experience.
Features
Dimensions: 21.5 x 20.25 x 15 inches
Type: Automatic
Weight: 32.5 pounds
Pros
Energy-savvy
Extra-long cable
Tangle-free cable
Auto shut-off feature
Easy to clean
Safe for delicate pool surfaces
Cons
Does not collect large debris in pools.
The Hayward Poolvergnuegen Pool Cleaner comes with patented self-adjusting turbine vanes for collecting debris with maximum power. Its 2-wheel drive efficiently cleans pools of sizes of up to 16 x 32 feet. Moreover, it is engineered with patented tire treads that enhance climbing ability and offer better maneuverability. It also comes with multiple pre-programmed internal steering sequences to clean the entire pool. Its adjustable roller skirts maintain the needed suction while encountering obstacles, even on uneven surfaces.
Features
Dimensions: 4 x 11.6 x 9.9 inches
Type: Automatic
Weight: 16.46 pounds
Pros
Easy to assemble
Affordable
3 interchangeable throats
Sturdy tire heads
Optimal suction on uneven surfaces
Cons
The low suction setting is not effective.
The Tacklife Rechargeable Pool Vacuum features a 2200 mAh lithium-ion rechargeable battery that stores and releases energy and enables the motor to run more effectively. With its 85-minute run time, the vacuum allows you to clean the entire pool in a single session. It is engineered with a self-equipped suction head for stronger suction and a scrubbing bristle for removing small pebbles, debris, and tough dirt. Moreover, it comes with an aviation-grade aluminum frame that is rust-proof and lightweight.
Features
Dimensions: 5 x 6.1 x 3.6 inches
Type: Manual
Weight: 2.97 pounds
Pros
Compact
Durable
Lightweight
Waterproof
User-friendly design
Rustproof make
Cons
Not ideal for deeper pools
The Kenwell Automatic Robotic Pool Vacuum Cleaner comes with huge top-loading cartridge filters that easily capture ultra-fine debris and fine dirt. It comes with 3 auto modes for better cleaning at slow speeds. Its long cable prevents tangling and makes cleaning an effortless task. It is suitable for small and medium-sized pools with a flat surface or a slope of 15 degrees. 
Features
Dimensions: 5 x 6.1 x 3.6 inches
Type: Automatic
Weight: 2.97 pounds
Pros
Easy to use
Simple installation settings
Easy to clean
Low maintenance
Versatile
Indicator lights
Lightweight
Cons
Now that you have explored the 13 best pool vacuum cleaners, go through the following informative guide to choose the right pool vacuum cleaner for your pool.
How To Choose The Best Pool Vacuum Cleaner
Here are the factors you should consider before buying:
Manual pool vacuums are not operated on electricity. They are generally attached with a long pole for cleaning the pool floors. However, robotic vacuums are automatic and work as standalone units for cleaning the pools. These devices operate on electricity and are highly energy efficient. If you want minimal hassle, a robotic vacuum is an ideal option. But if you are looking for manual hand cleaning, a manual vacuum is a great pick. The type of vacuum you select depends on the size of your pool, your budget, and the pool vacuum features.
The filtration system removes dirt and contaminants from the water and expels the filtered water in the pool. Some vacuums come with an in-built filtration system while some are to be used with an existing filtration system of your pool.
Vacuum cleaners for large pools consume more energy. You do not have to worry about energy consumption while using manual pool cleaners. Certain robotic cleaners are energy-efficient. The suction cleaners may use more energy compared to the other options.
Not all vacuums climb the walls of the pool effectively. If you have an above-the-ground pool, you will need a vacuum that climbs the walls for easy cleaning. Most automatic vacuums quickly climb the walls and clean them as neatly as the floors.
The best vacuum is one that cleans the pool in quick, fewer cycles. Different pool vacuums have different cleaning cycles. Thus, pick one that suits your requirements and offers quicker and deeper cleaning in fewer cycles.
The pool vacuum may get stuck in tight corners or due to obstacles. If you want to prevent this, you can buy automatic or robotic cleaners that are engineered with sensors to track obstacles and avoid them. These vacuums easily avoid obstacles like leaves or any large debris.
To clean your pool with minimal effort, you can use a 4-wheel drive cleaner that efficiently cleans the bottom and the walls of the pool. The 4-wheel drive system makes the vacuum portable. It also effectively reaches the tight corners of the pool.
Brushes play an essential role in cleaning the floors and walls of the pool. Most vacuums are engineered with high-quality brushes that easily brush-off the stubborn dirt, debris, and dead algae stuck to the pool. Thus, choose a vacuum with a high-quality brush.
Vacuums with a high suction power efficiently suck the debris and dirt from the pool. You may go for an automatic vacuum or one that has a high suction power.
Cleaners with wide tires effectively remove dirt and debris stuck on the floor and sides of the pool. These devices are also highly maneuverable and rotate quickly at different angles for cleaning the stubborn surfaces.
A pool vacuum should be easy to use and operate. Suction and pressure cleaners may need you to go through the installation process. But this is not the case with automatic and manual cleaners – they are comparatively easy to be used.
Some vacuums come with programmable timers that allow you to leave the device in the pool until the cleaning is done. These vacuums are great for those who have less time for cleaning and often multitask.
A long and tangle-free cord makes cleaning more convenient. Ensure the cord is tangle-free, and long enough to reach all the areas of the pool without stretching.
A lightweight vacuum cleaner is always easy to operate and makes cleaning easier. Most pool cleaners are lightweight and can be integrated with existing filtration systems.
In the following section, we have discussed the different types of pool cleaners available.
Types Of Pool Cleaners 
These cleaners are generally added to the suction side of the pump and dump the debris into the filters. Due to the suction, these cleaners move around the pool and collect debris. If you want to promote daily circulation to the pools, a suction pool cleaner is the best option. It is a type of automatic vacuum that circulates water even when the pool is not used regularly. You just have to empty the filter basket occasionally. Also, these cleaners are good for small pools rather than large pools. 
Automatic/Robotic Pool Cleaners
Automatic or robotic pool cleaners are energy efficient but quite pricey. These are self-contained units that operate on electricity. These pool cleaners need high maintenance and cannot be left in the pool permanently. You will have to remove the cleaner from the pool whenever you want to clean the basket. Additionally, these cleaners are heavy and may strain your knees and back
These vacuums attach to the pressure side of the filter pumps and move using the force of water pressure. These units are not highly effective as they require an additional booster pump and a filtration system. These vacuums are generally low-price options and pick large debris more quickly. Also, these cleaners clean the floors better than the walls. 
Manual pool cleaners are attached to a long pole and do not need electricity for operation. These pool cleaners are driven over surfaces for cleaning. However, these cleaners are not as efficient as suction and robotic cleaners in terms of debris collection. However, manual pool cleaners are way cheaper.
Conclusion
Pool vacuums minimize the time and effort needed to clean a pool. These efficient devices can leave your pool sparkling clean. However, you need to pick the right vacuum that suits your needs. Consider factors like vacuum type, price, suction power, cleaning capacity, material, etc. You also need to clean and maintain these devices regularly to prevent deterioration and improve their efficiency. Choose your favorite pool vacuum today.
Expert's Answers for Readers Questions
How does a robotic pool cleaner work?
Robotic pool cleaners come with a powerful motor that uses minimal energy to clean the pools. These motors create suction to collect the debris. Like a vacuum cleaner, the pool cleaner sucks in debris and dirt from the pool and dumps it into the filter. These filters ensure the clean water is circulated back into the pool. Also, most of the robotic pool cleaners come with bristle brushes that can remove algae, debris, and build-up from tight corners. These cleaners maneuver easily and can also track obstacles.
How often should you run a pool vacuum?
It is highly recommended to run a pool vacuum once a week to clean large amounts of debris, dirt, leaves, and algae.
How long would a pool vacuum last?
A pool vacuum lasts typically for 4-5 years. However, a high-quality and durable pool vacuum may also last for up to 8 years as well.
How often should I backwash my inground pool?
To keep the pool clean and hygienic, it is essential to clean and backwash the inground pool. Generally, you should backwash the pool once in a week to prevent build-up and dead algae. Regular cleaning and maintenance also improve the efficiency of the cleaner.
Should I brush the pool before vacuuming?
Yes, it is recommended to brush the pool and remove the dirt before vacuuming. You can brush the pool and direct the sediment towards the drain so that it can be vacuumed easily.
Where should the water go when you backwash a pool?
You can expel the water in a private sewer cleanout instead of a storm gutter. If you want to reuse the water, you can also use it to water your garden/plants.
How much water do you lose when you backwash a pool?
It is normal to lose up to 500 liters of water when you backwash a pool. By overdoing the process of backwashing, you can minimize the amount of water you lose during the process.
How long should you rinse the vacuum after backwashing a pool?
Use the rinsing setting for about 20 seconds after backwashing a pool. This feature expels the dirt and sand from the filter.
What happens if you do not backwash your pool?
Backwashing relieves pressure and cleans the sand filters. If you do not backwash your pool, the pressure rises, and the flow continues to go down. Also, debris and dirt will build-up in the filters, and the water may get expelled back into the pool.
Recommended Articles