15 Best Pore Vacuum Cleansers To Buy In 2021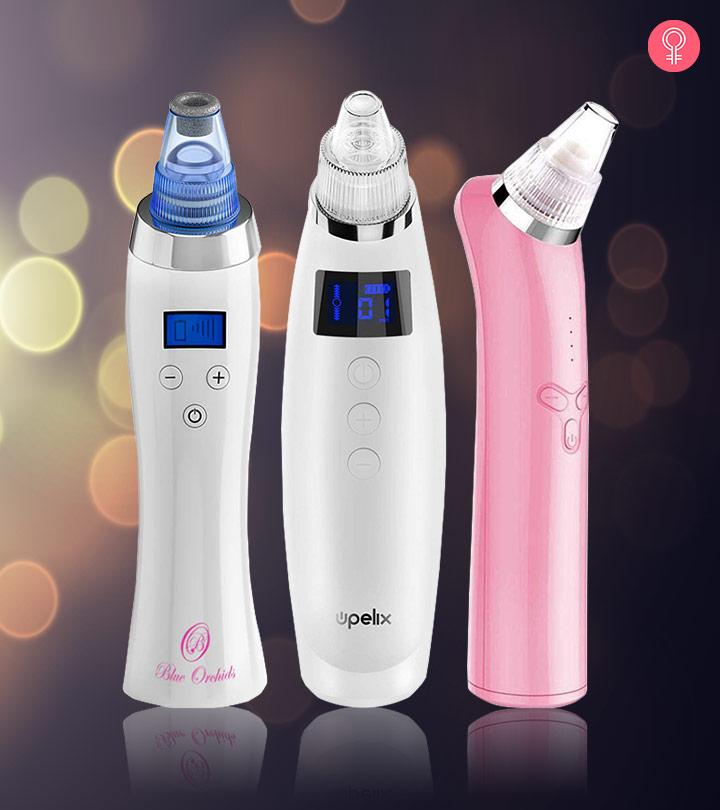 Pore vacuum cleanser sounds like another crazy K-beauty invention, doesn't it? If you have been dreaming of smooth, blackhead-free skin for a long time now, this crazy-sounding tool is the answer to your prayers!
A pore vacuum cleanser works like a typical vacuum cleaner. It suctions out all the dirt and impurities clogging your skin pores. It is the most popular K-beauty gadget people are going gaga over, and it lives up to the hype. Too good to be true? Why don't you give it a try? Scroll down to find out all about what a pore vacuum cleanser does and to check out the best pore vacuum cleaners available on the market right now.
What Does A Pore Vacuum Do?
Pore vacuums are useful tools that help in clearing out your clogged pores. It works with topical skin care products to gently exfoliate and remove the dead skin cells, sebum, dirt, and other impurities. They use suction to physically extract these impurities from your pores. Pore cleansing devices have different suction power settings for different skin types. They are also known for removing blackheads and whiteheads.
However, pore vacuums are not miracle devices because they are not a permanent solution for getting rid of enlarged pores and blackheads. Eventually, your pores will get clogged again.
Do Pore Vacuums Work?
Pore vacuums do work to remove stubborn impurities, oil, and blackheads to a certain extent. After using a pore vacuum cleaner, you will notice a more radiant complexion. This is because it removes the dull and dead skin cells that make your pores look enlarged. You will also notice fewer blackheads. Thus, pore vacuum cleansers are a temporary solution for removing blackheads, and they should be used only occasionally in conjunction with a proper cleansing routine.
Now that you know all about what pore vacuum cleansers do, let's check out the best ones on the market right now!
17 Top-Rated Pore Vacuum Cleansers To Buy Right Now
Product Claims
DERMAFLASH DERMAPORE Pore Extractor And Serum Infuser Device is one of the best pore vacuum cleansers. It is a 2-in-1 ultrasonic skin care device that unclogs pores and helps your skin care products penetrate deep into your skin to improve its appearance. It is equipped with ultrasonic skin scrubbing and infusion technology to deep clean your skin. This device's extract mode efficiently removes excess oil, dirt, and stubborn blackheads. The infuse mode with ultrasonic vibration help the active skin ingredients in your favorite products penetrate deep into your skin. Dermapore instantly reveals bright and radiant skin. Its unique spatula shape offers you a spa-like treatment in the comfort of your own home.
Pros
Unclogs pores
Deeply cleanses the skin
Improves the efficacy of skin care products
Water-resistant silicone body
Cons
Product Claims
Reveal your bright and radiant complexion with the PMD Personal Microderm Classic. This facial pore vacuum cleaner offers you soft and supple skin by reducing blemishes, enlarged pores, and imperfections. It also visibly reduces the appearance of fine lines and wrinkles. It is embedded with aluminum oxide crystals that exfoliate the dull and dead skin cells to reveal youthful and glowing skin. This pore suction vacuum is perfect for increasing circulation, healing your skin, and boosting elastin and collagen production. It also facilitates 20 times better absorption of skin care products.
Pros
Reduces blemishes and enlarged pores
Reduces fine lines and wrinkles
Exfoliates dead skin cells
Boosts collagen and elastin production
Evens out the skin tone
Brightens the skin
Cons
None
Product Claims
If you are new to pore vacuum cleansers, this device is the best to start with. It has a very basic and minimalistic design that is easy to operate. Its powerful suction cleanses your skin deeply and revitalizes it. It comes with adjustable suctions and four suction power settings for different skin types.
Pros
Travel-friendly
FDA-approved
3 replaceable tips
USB charging
Cons
Similar Products

Product Claims
This product is a multifunctional blackhead extractor and has an adjustable suction force. It cleanses your skin pores thoroughly and prevents pimples and acne. It also exfoliates dead skin cells and makes your skin firm.
Pros
Rechargeable
5-setting vacuum suction
LED display
Low noise
Cons
Similar Products

Product Claims
Lufei Blackhead Remover Pore Vacuum has a 60 KPA strong suction that removes blackheads from your skin without leaving behind any residue. It does not hurt your skin and has an LCD digital display where you can control operation time and check the battery status.
Pros
Waterproof
Wireless operation
1-hour superfast USB charging
4 suction tips
3 suction levels
Cons
Similar Products

Product Claims
This vacuum pore cleaner comes with double vacuum technology that has powerful suction for effective and thorough cleansing. It not only removes blackheads, dirt, and oil from your skin but also improves your blood circulation and skin elasticity.
Pros
5 suction levels
LED display
4 replaceable suction heads
Built-in rechargeable battery
FDA-approved
Low noise
Cons
Similar Products

Product Claims
The most innovative feature Lanccona Blackhead Remover is its compress technology. This product is made with the latest German technology that uses hot compress (45°C) to open your pores and then cold compress (18°C) to shrink your pores once the cleaning is done. This also minimizes skin damage and does not leave any bruise marks.
Pros
IPL beauty lamp (red for collagen boosting, green for skin brightening, blue for skin repair)
5 adjustable suction intensity settings
65 KPA suction
900 mAh battery
Cons
Similar Products

Product Claims
This is a skin-safe product as it is made with premium quality plastic. It extracts blackheads, dirt, and grease from different parts of your face, including the delicate areas, without hurting. The best thing about it is that it comes with a two-year warranty.
Pros
Eco-friendly
Non-toxic material
Waterproof
Easy to operate
FDA-approved
Rechargeable
Cons
Product Claims
Freeshow Vacuum Blackhead Remover is a pore vacuum device that provides deep cleaning and efficiently removes blackheads, whiteheads, dead skin cells, and makeup residue. This device also helps in reducing fine lines and wrinkles, stimulating blood circulation, boosting skin elasticity, and shrinking enlarged pores. It offers 5 different suction levels for intense deep cleansing of different skin types – level 1 for dry and sensitive skin, level 2-3 for neutral skin, and level 4-5 for oily and combination skin types. It is a painless device that is non-irritating, non-toxic, and eco-friendly. This portable pore vacuum cleaner has a built-in USB rechargeable battery.
Pros
Suitable for all skin types
Painless
Non-toxic
Non-irritating
Eco-friendly
Rechargeable
Portable
Cons
Product Claims
This is the latest generation blackhead vacuum cleanser that is designed to extract dirt without hurting your skin. The suction heads of this product use pore vacuum-absorption technology and have five adjustable levels of suction intensity. The product also comes with a silicone head for gentle suction.
Pros
Wireless design
LED display
Superior standby time
Eco-friendly material
Non-toxic
Certified by FDA, FCC, CE, and ROHS
Cons
Product Claims
This portable device has six suction levels with about 45 to 65 KPA suction that clears dead skin cells, blackheads, and dirt, and also boosts blood circulation. It is battery-driven and easy to use. It is suitable for all skin types.
Pros
Certified by FDA, ROHS, and CE
LED display
Can be used in both manual and auto modes
Replaceable suction tips
Cons
Product Claims
This is a multifunctional device that comes with the latest technology to gently clean your skin and remove all impurities from your pores. It has powerful suction that can be adjusted to an intensity that you think your skin can handle. It is safe and easy to use.
Pros
FDA-certified
Ergonomic design
Wireless operation
Rechargeable
Cons
Product Claims
This blackhead remover runs on an innovative vacuum technology that removes dirt and blackheads without hurting the delicate skin of your face. Whether you have stubborn blackheads, dead skin cells, or makeup residue, it takes care of everything and leaves your skin feeling smoother than ever.
Pros
LED display
Low noise
Rechargeable
5 replaceable suction heads
3 suction levels
Cons
Product Claims
This pore vacuum cleaner makes use of an innovative plasma micro-district discharge technology with low temperatures and high frequencies. It gives you a soft and smooth skin tone without harming your skin surface. It effectively removes excess oil along with dirt and impurities that lead to clogged pores. It has 5 different suction settings for various skin conditions. 
Pros
Comes with 5 replaceable heads
3 adjustable suction settings
Free lifetime guarantee
Elegant and ergonomic design
Safe and easy to use
Improves skin elasticity 
Cons
None 
Product Claims
If you have sensitive skin, give this product a try. Voyor Blackhead Remover Vacuum Cleanser has three adjustable suction intensity modes, and the lowest level is appropriate for sensitive skin. It also has four functional heads for gentle and intense suction and a microcrystalline head for exfoliating dead skin cells.
Pros
Rechargeable
1000 mAh Li-battery
Ergonomically designed
Portable
Travel-friendly
Cons
Product Claims
The Pore Vacuum Blackhead Remover from Xpreen is a wonderful choice when you want your device to do more than just remove blackheads. This pore cleanser also purifies your pores, removes dead skin and excess sebum, and reduces fine lines. Using it regularly will give your skin a gentle lift, making it appear revitalized. It also remembers your selected suction setting for next use, saving you time and energy.
Pros
Wireless charging
Lightweight and portable
Adjustable blackhead vacuum
Dual button design
Multi-function pore cleaner 
Cons
May not work on all skin types
Product Claims
This product is excellent for extracting blackheads, pimples, and whiteheads. You can choose from four different suction levels to remove deep-seated blackheads and acne. The black and white design of the product makes it stylish, and it has easy-to-operate controls.
Pros
Digital display
USB charging
Rechargeable battery
Cons
No instruction leaflet (as reported by users)
Now that we know all about the best pore vacuum cleansers on the market, let's check out how to actually use one.
How To Use A Pore Vacuum Cleanser?
Wash your face with a deep facial cleanser.
You can steam your face with a personal steamer or while taking a shower to loosen up the debris. This will make your pore cleansing process easier.
Dry your face with a soft towel.
Pick up your pore cleanser tool and fix it with a clean, sanitized nozzle.
Turn the pore vacuum on and set the suction on the lowest setting.
Place the suction on the affected area and move it around gently.
Target the clogged pores. Move the vacuum smoothly in those areas.
Make sure you keep moving the device around. Don't hold it in the same position for too long.
After you are done with cleansing your face, clean the nozzle with an alcohol-based cleanser. Try not to use the pore vacuum for at least a week.
Like everything else, pore vacuum cleansers have their own set of possible side effects. Find out what they are in the next section.
Are There Any Side Effects Of Using A Pore Vacuum Cleanser?
Using pore vacuum cleaners has specific side effects on your skin. According to skin care experts, using a vacuum exerts pressure on your skin. Pore vacuum cleansers have different speed settings. The pressure should be adjusted based on your skin type, texture, and condition. Putting too much pressure for too long can cause bruises, redness, tenderness, swelling, and even hemorrhaging. Experts also warn that too much use of vacuum pore extractors can damage the elastic fibers of the skin and hamper collagen production.
What are you waiting for? Vacuum your blackheads and skin issues away with these easy-to-use pore vacuum cleansers. Most users give up after a single use and often complain about the bruises and red spots left behind by this product. However, these issues arise only when you don't use it properly.
Exercise caution while using a pore vacuum cleanser and do not spend more than a few seconds on one area. Also, while removing it from your skin, move it sideways before lifting it off. Follow the instructions carefully when using a pore vacuum cleanser to avoid any issues.
Expert's Answers for Readers Questions
How often should I use a pore vacuum?
It is highly recommended that you use pore cleansers no more than twice or thrice a week. Using a pore cleansing tool too often can be tedious and can also cause side effects like bruises, redness, tenderness, and swelling.
Can you use a pore vacuum on a pimple?
Pore vacuums can be used on blackheads and whiteheads but not on deep-rooted, inflamed pimples.
What should I put on my face before the pore vacuum?
Before using a pore vacuum, you can apply a deep cleanser or steam your face to loosen up the debris.
Do blackheads leave holes?
Yes, blackheads might leave behind holes using a pore cleanser. After removing the blackheads, it is necessary to use a toner to close the pores.
Does squeezing blackheads make pores bigger?
Squeezing, picking, or pulling your blackheads stretches the elastic fibers around the clogged pores, making them even broader and more visible.
What are whiteheads?
Just like blackheads, whiteheads are congested follicles or pores that are very close to the surface of your skin. Whiteheads develop when dead skin cells, excess oil, and dirt get clogged in your pores. Unlike blackheads that can be pulled out, whiteheads are closed within the pore, and hence removing them can be quite challenging.
Recommended Articles