11 Best Portable Dishwashers Worth A Try In 2020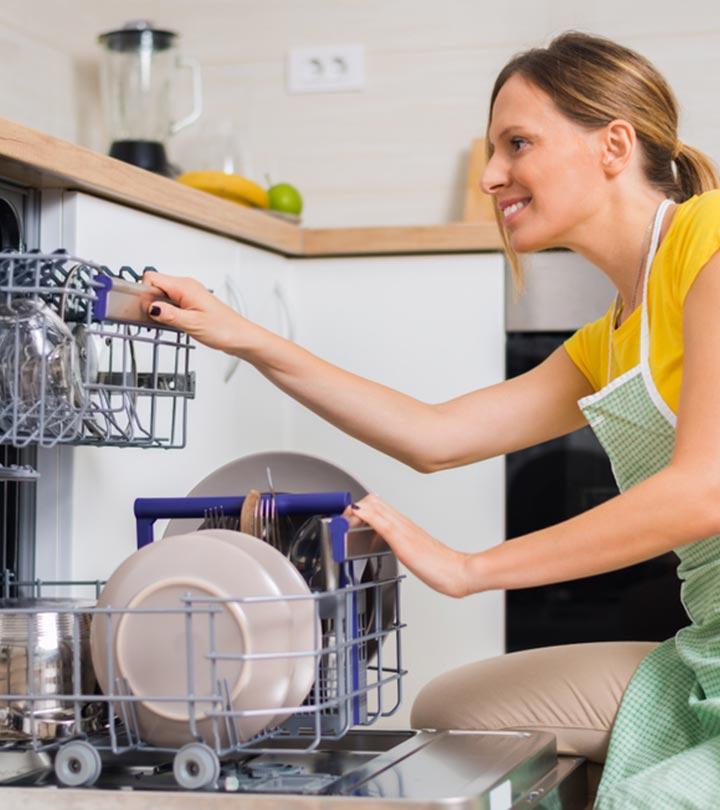 Hosting friends and family over for a meal is always fun, but everyone dreads doing the dishes after. Even on days that you are not entertaining, dishes do tend to accumulate and going to the kitchen and looking at a dirty sink is never joyful. If only there was someone or something that would do the job for you, without costing a bomb and without taking too much space in the kitchen. Well believe it or not, apparently there is!
Portable dishwashers are the trendiest and smartest kitchen appliances that are gaining popularity all around the world. You can literally place it anywhere in the house as long as there is a faucet and a charging point that you can use. Let's get right into the best portable dishwashers that are worth bringing into your home.
11 Best Portable Dishwashers Of 2020
This compact, portable dishwasher from Danby is a super space saver. Ideal for tiny kitchens in apartments and condos, the Danby Countertop Dishwasher runs very quietly at 52 dB. With the capacity of 6 place setting and silverware basket, this small portable dishwasher still manages to offer 6 wash cycles —normal, economy, intensive, rapid, soak, and glass. What's more is that you can even schedule the wash for up to 2, 4, 6, or 8 hours later. The dishwasher has a capacity of 11.7 L and needs a power of 120 V. The dishwasher also has an LED display that makes it look sleek and futuristic.
Pros
Ideal for a family of 4
Compatible with majority of faucets
Includes rinse agent dispenser and auto detergent
Cons
11" dinner plates may not fit when placed upright, and would have to be placed at an angle.
This countertop portable dishwasher from EdgeStar has a capacity of 6 place settings as well as a dish rack, cutlery basket, and cup shelf. 10.5" diameter plates fit easily into this small portable dishwasher which even features 7 different wash cycles. The adaptor connects quickly and fits most of the standard-sized faucets in the kitchen. The dishwasher consumes up to 2.85 gallons of water in a normal wash, has a beautiful steel body on the inside and can fit under most counters in the cabinet. What's more is that the dishwasher has a noise level of only 52.3 dB and has the power rating of 1160 W.
Pros
Energy star-rated
Performs with very little noise
Can be fixed permanently too
Cons
If you use a detergent or a pod that is not recommended by the product manual, the dishwasher may overflow.
One of the best portable dishwashers out there, this Faberware countertop dishwasher is portable in the real sense. While most dishwashers need an inlet pipe that connects to the faucet, this smart dishwasher has a built-in water tank that can store up to 5 L of water. This is especially helpful if you don't have a standard-sized faucet or if you want to use the dishwasher in a location that doesn't have a sink nearby. However, it still needs to be connected to electrical power supply. This countertop dishwasher can fit dishes within 12" diameter, even if it is at an angle. This tabletop portable dishwasher has 5 wash settings— rapid, normal, baby care, glass, and fruit wash and the dishes are dried using the air dry feature.
Pros
Easy-to-use LED controls
Baby care program produces steam that sterilizes the bottles and toys
Includes an air exchange function that prevents peculiar smells and improves speed and efficiency of drying.
Fruit wash setting makes fruits and vegetables clean enough to serve directly
Cons
The body of the dishwasher may be larger than the usable space inside.
This apartment-size portable dishwasher from SPT includes a dish rack and silverware basket and has a strong stainless steel body inside. It also includes a stainless steel spray arm which is of durable quality. The biggest advantage of this countertop dishwasher is that it includes the faucet adaptor with the dishwasher, which means you do not have to prepare and scout for the perfect adaptor that will have to match not only your faucet but also the hose that comes with the dishwasher unit. This mini dishwasher has 6 wash settings that include light, normal, heavy, speed, soak, and glass. It has an energy consumption of 220 kWh a year and water consumption of 14.5 L or 3.8 gallons. This dishwasher also dries dishes using residual heat drying and the noise level is limited to 55 dB.
Pros
6 place settings capacity
Automatic rinse agent and detergent dispenser
Energy star certified
Power cord length is 4 feet 5 inches.
Cons
It may require the hoses to be tightened every week to prevent leaking.
This Danby stainless steel dishwasher connects easily with most kitchen faucets and has all the connectors that are needed for installation. It consumes very little water, around 11.7 L every wash, which is much lesser than what full size dishwashers consume. When lesser water is consumed, your utility bills are lower and it is a saving for the entire family as well as the environment! This countertop dishwasher includes 6 wash cycles namely economy, normal, glass, soak, and rapid.
Pros
Energy star compliant
6 place setting capacity
Delay start option up to 2, 4, 6, and 8 hours
Includes an adaptor to connect dishwasher hose with sink faucet.
Cons
May not offer enough space for cups and glasses.
The hOmeLabs Compact Countertop Dishwasher is very easy to use and has a simple control panel which is self explanatory. With 6 wash cycles like eco, normal, heavy, rinse, speed, and glass, this machine is a lot of wonder packed in such a small unit. It easily sits on countertops or on tables, and involves a quick installation. The biggest advantage of this portable dishwasher is that you don't need a warm water supply into the inlet hose from your faucet as it will heat the water on its own. The drying system in the dishwasher also ensures no streak marks are left on your dishes. This countertop appliance measures 17.2 x 19.6 x 21.6 inches which is a good size for a portable dishwasher.
Pros
Energy star rated
Includes all the parts that are needed to install the dishwasher
6 place setting capacity which is ideal for a small size household
Cons
May not clean heavily soiled dishes in a single cycle.
The Ensue Countertop Portable Dishwashing Machine is very easy to use with simple control buttons on the front panel. This countertop dishwasher has 6 washing programs that include light, normal, heavy, mini party, speed, and rinse. The dishwasher is Energy Star certified which means when you purchase this dishwasher, not only do you save time from doing the dishes, but you also save our planet!
Pros
Easy to fill rinse aid and detergent dispensers
Capacity for 6 place setting
Attachment adaptor included with the dishwasher
Cons
The faucet adaptor may not be of a standard size.
White kitchen appliances easily match most kitchens and countertops, and this Magic Chef counter portable dishwasher does more than simply match your furniture. With a capacity for 6 place settings, this countertop dishwasher has a stainless steel body on the inside which is strong and durable. It also includes an EZ Clean Removable Filter which means your dishwasher can be easily cleaned of any residual dirt or food items, so that it functions smoothly and efficiently. The dishwasher also includes the attachment adaptor so that your new dishwasher can be installed within no time. It offers all the advantages of a full-sized dishwasher in a space-saving design.
Pros
6 washing functions
Residual drying system
24-hour delay start
Cons
The hose may leak if not checked or tightened regularly.
What is a portable dishwasher if it doesn't have wheels to be moved around? The SPT SD-9263W Energy Star Portable Dishwasher is a floor-mounted dishwasher with wheels. While this dishwasher needs more space than a countertop dishwasher, it simply means it is larger in size and can fit more dishes at one time. It is energy star rated and boasts 6 wash programs namely eco, normal, heavy, 90 minute, rapid, and glass. The dishwasher makes sounds up to only 52 dB ensuring that it does not bother you. The input voltage required is 120V or 60 Hz and energy consumption is 237 kWh per year.
Pros
8 place setting capacity
Easy to operate
Refill reminder when rinse aid gets over
A full cycle has a power consumption of 1000W with very low noise level.
Cons
The hose may not connect to some standard faucets.
Perfect for small apartments and condos, this SoloRock Countertop Dishwasher has multiple cycles for wash and rinse. The portable dishwasher has a stylish and utilitarian control panel making the dishwasher easy to use for all. The stainless steel body inside makes the dishwasher strong against wear and tear from constant use. The wide body of the dishwasher makes it possible to wash more dishes at once when compared with other portable dishwashers.
Pros
6 place setting capacity
Includes 5 ft (60 inches) long hose
Sink adaptor included
Ideal for 4 people
Cons
Dinner plates may fit only if placed horizontally.
The Sunbeam Portable Countertop Dishwasher has the capacity of 6 place settings that can fit easily in the body of the machine. It also offers 6 washing cycles ranging from eco, normal, heavy to speed, glass, and rinse. This tabletop dishwasher also has an automatic dispenser for rinse aid, as a result of which your dishes remain stain-free and water or soap does not get deposited on any dish. The absence of streaks and spots after washing your dishes in a dishwasher is a blessing.
Pros
Cup shelf and cutlery basket included
Quick connect hose included
Strong and durable stainless steel body
Cons
The dishwasher may not heat water completely.
Let us now take a look at how to choose the right portable dishwasher.
A Buying Guide To Find The Best Portable Dishwashers
Why Should You Choose A Portable Dishwasher?
You should choose a portable dishwasher simply to make your life easy and have some me-time to indulge in self-care and self-love. Here are some compelling reasons:
Lack of space: Be it a country home or urban home, smaller houses are becoming the new way of life. Smaller houses automatically mean smaller kitchens and very little storage and under counter space. In such situations, the best thing one can opt for are kitchen appliances that are space savers. Portable dishwashers are just that and so much more.
Water conservation: Portable dishwashers may not wash very huge pots and pans, but they do reduce the time, energy, effort and water that gets used up when washing the smallest of cutlery as well as full-size dinner plates.
Energy conservation: A portable dishwasher uses about half as much energy and water as a regular dishwasher.
Adjustable and compatible: Portable dishwashers are named so for a reason. These magical machines can be taken anywhere without proving to be a hassle.
Features To Focus On When Choosing A Portable Dishwasher
Wash cycles are an important element in portable dishwashers and should be one of the first things you check. Dishwashers with multiple wash cycle options can fulfill multiple needs of dishes and cleaning up. With only one washing function, a lot of your dishes that require a specific way of washing will have to be washed by hand, making the purchase of a portable dishwasher not worth it.
Just like regular and full-sized dishwashers, portable dishwashers also come with dedicated space for full-sized plates. While most portable dishwashers have space for about 6 place settings, some portable dishwashers may be able to wash more at a time.
One of the main reasons that portable dishwashers were created was that they would occupy less space than full-sized dishwashers. A portable dishwasher should be of a standard size that can fit on your kitchen countertop or under the cabinets.
Portable dishwashers ideally should not make too much sound when the washing function is going on. Since these tabletop dishwashers are meant for smaller homes louder sound will be heard throughout the apartment and you do not want to be disturbed by that.
The delay washing feature is a great idea for any type of dishwasher, and works very well for countertop dishwashers too. You may very conveniently set up the delay washing function to start the washing process only once you have left the house so that by the time you come home the dishes are dry.
Energy Star certification:
Energy star certifications are given to portable dishwashers that are energy efficient. The higher the energy rating, the lesser amount of power supply and water will be used by the machine.
Portable dishwashers are meant to be portable. This means any average-sized adult should be able to carry it with ease, be it within the house and kitchen, or when you have to carry it to elsewhere outside your home.
Like all kitchen appliances, always look for portable dishwashers that offer a longer warranty period, not just for the motor but for the product body too.
How Do I Connect A Portable Dishwasher
Before purchasing a portable dishwasher make sure your kitchen is prepared to accept it. We promise it is not too much work, especially considering how enjoyable the benefits are going to be.
Step 1: Make sure you have a drain line to get rid of the dirty water, 110 V electricity supply and a faucet that can be used as an inlet for water. Make sure your faucet has an external or internal nozzle.
Step 2: Dismantle screen holder, screen and washer from the faucet.
Step 3: Use an adaptor that fits your faucet nozzle along with screens and washer.
Step 4: Join the hose, which is provided at the back of the portable dishwasher and connect it to the faucet with the adaptor.
How To Use Portable Dishwasher
Clean up your sink: When using your portable dishwasher, make sure your sink is ready and all set for the cleaning activity. Make sure it is free of dirty dishes, food particles and the drain is not clogged. Turn the faucet into hot water mode, so that your portable dishwasher receives warm water.
Attach water inlet pipe to faucet: Before you start loading your dishes into the dishwasher, make sure the machine is close enough to the sink as well as power outlet. Connect the water inlet pipe with the faucet, and place the second pipe which will drain the water out into the sink or your drain line.
Load soiled dishes into the racks: Once the dishwasher is attached to its water supply, you can start loading your dirty dishes into the machines, one by one. When the loading process is complete, place the dishwasher detergent into the dispenser and close the door.
Begin washing: Make sure your hands are dry after you have loaded the dishes and shut the dishwasher door. It is time to turn on the power supply, and watch your dishes being washed effortlessly.
Store dishwasher back in place: When your dishes are done being cleaned, are dry and put back into their respective resting places, unplug your dishwasher, unhose it, and keep it in its storage space until your next dishwashing adventure!
The saying "good things come in small packages" is an ideal way to describe portable dishwashers. Most couples and family members quarrel about issues that involve daily chores, but once you bring a portable dishwasher into your kitchen, everyone will want to be in-charge of the dishes. No matter how big your kitchen may be, to the user it may always seem small, and bringing in an appliance like a regular-sized dishwasher that takes up huge space is never a welcome thought. With so many portable dishwashers to choose from, we are sure you will be spoilt for choice! Let us know in the comments which one is your favorite and which one will match your kitchen decor the most!
Expert's Answers For Readers' Questions
How do portable dishwashers drain?
Portable dishwashers are fitted with a unicouple that has two hoses that go into your sink faucet. The hose drains the water into the sink once the entire washing and drying process is complete.
Can I leave a portable dishwasher running overnight?
Yes, you can very well leave the dishwasher running overnight. The portable dishwasher finishes its cycle and stops all activities, and even if it is connected to the faucet and power, it won't run until you give it instructions to.
What is the "Eco" wash cycle for?
In eco mode, the portable dishwasher doesn't use very hot water, which means it can save upto almost 30% energy. The washing process however is longer in eco mode.
Do I need to clean my dishwasher?
Yes, like all machines that wash, a portable dishwasher too needs to be cleaned from time to time. This will ensure the machine gets rid of all food and waste particles that get stuck in its nooks and corners, and it will also clean the drain pipe that may have clogged from all the food particles.
How do I get rid of or avoid water stains on my dishes and cutlery?
Vinegar is the answer to all stain issues on dishes that are washed by hand or in the portable dishwasher. Vinegar has the capacity to remove stains created due to chemicals in the hard water as well as those created by your dishwasher soap.
Does Bosch make portable dishwashers?
Unfortunately, Bosch does not make portable dishwashers for the market in the US.
Are there other dishwasher options for small kitchens?
Dishwasher drawers are also a great idea for small kitchens, especially for those who do not have enough counter space but have more under counter space to spare.