The 11 Best Post-Mastectomy Bras For All Body Types – 2023
Enjoy immense comfort and support with this handpicked post-mastectomy shapewear.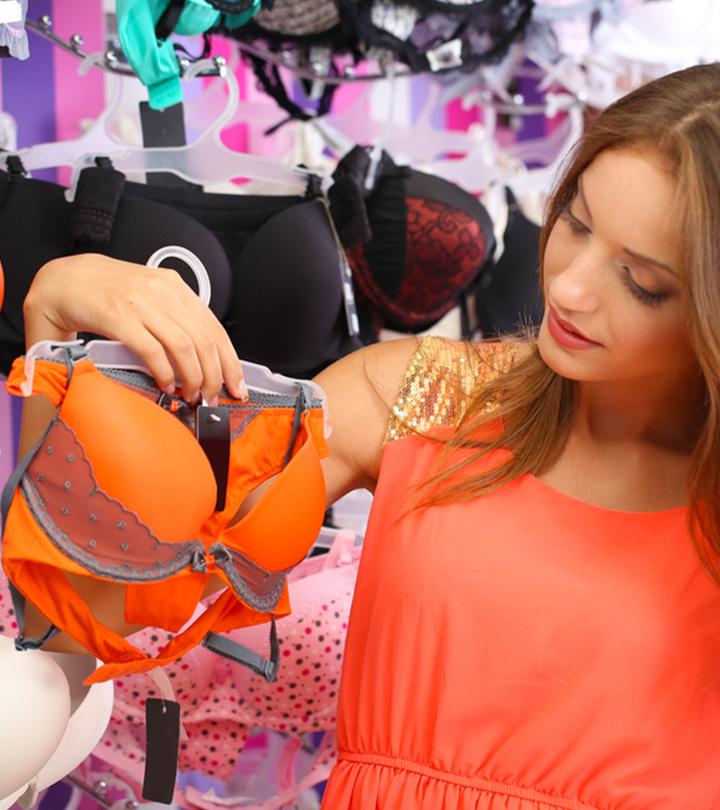 It is challenging to find the best post-mastectomy bras to cover and protect the most vulnerable areas of a body after such a reconstructive surgery. Post-mastectomy, the shape of the breasts changes, and the right bra need to recognize just that and cater to the need. During this time, you require a bra that acknowledges the change in shape, accommodates weight fluctuations, and everything else that results from the treatment.
Bras with front closure and pockets, while being flexible and soft, are comfortable to wear throughout the day. These are made of soft cotton fabric to feel gentle on the skin. There are post-mastectomy bras available in various feminine designs that make you feel and look your best, notwithstanding the ongoing changes. In this article, we have listed the 11 best post-mastectomy bras ideal for all body types. Have a look to make the best and comfiest choice.
The 11 Best Post-Mastectomy Bras Of 2023
The WANAYOU Women's Zip Front Wireless Post-Surgery Sports Bra is made of 92% polyamide and 8% spandex and comes with a zipper closure that allows you to wear it and take it off quickly. The zipper has an anti-slide feature that prevents the bra from sliding down as you go about your daily routine. A protective cloth layer around the zipper also safeguards your chest from any scratches. The stylish and comfortable razorback design delivers the extra support you need while offering ventilation. This medium-support sport comes with removable bra pads and wide shoulder straps to alleviate any pressure on your back and give your shoulders comfort.
Pros
Ideal for everyday use
Made for active women
Comfortable and breathable fabric
Razorback design for extra support
Wide shoulder straps
Wireless bra
Cons
May not be best suited for heavy chested women
Price at the time of publication: $28.99
The Burvogue Post-Surgery Sports Bra comes with a 3-hook front closure that allows you to put it on with ease. The razorback design offers you back support and the adjustable shoulder straps offer you the kind of breast support you need. Made of lycra, this gentle post-surgical bra is comfortable and comes with fixed thin pads to provide you with the required chest support. The wide elastic under-bust offers you optimum care, making this supportive bra ideal for everyday activities and exercise routines.
Pros
Ideal for post breast procedures
Adjustable shoulder straps
Criss-cross back for support
Adjustable 3-hook closure
Side support without middle padding
Cons
Some users found that the cup sizes ran slightly small
Price at the time of publication: $19.99
The BRABIC Post-Surgery Bra with a hook and eye closure offers you maximum comfort with its wireless design. This post-surgery non-padded tank top vest is made with elastic fabric that is lightweight and allows your skin to breathe easily. With adjustable wide straps to reduce the strain on your back, this push-up bra is ideal for posture support too. The 2-in-1 post-surgical liposuction compression mastectomy bra provides full coverage and promotes natural healing. This front closure bra can be adjusted to accommodate multiple cup sizes and is ideal for everyday use.
Pros
Hook and eye closure
Wireless bra
Non-padded
Comfortable and breathable elastic
Full coverage
Accommodates various cup sizes
Cons
Only available in 2 colors
Price at the time of publication: $21.99
The Kimikal Women Post-Surgery Front Closure Sports Bra is a post-surgical compression bra made of lycra, polyester, and elastin that ensures a gentle, breathable, and flexible support system. Ideal for everyday wear, this bra comes with side support and wire-free compression that reduces any discomfort post mastectomy. Stay away from irritations and embrace these comfortable bras with a supportive criss-cross back and wide elastic band to support your back and ensure that the bra stays in place.
Pros
Gentle and breathable wear
Ideal for daily use
It comes with side support
Wire-free
Supportive criss-cross back
Cons
Some may find this bra a bit bulky
Price at the time of publication: $24.99
The HAHIOE Mastectomy Bra is a durable and user-friendly support system. With a special-purpose pocket to include a silicone breast prosthesis to give you a natural look, this bra also gives body support. Made from high-quality cotton, this decompression sleep bra is comfortable and lets you breathe all day. The razorback design provides your back with the help you need to move about freely. This pocketed bra also has a 360° coil, which delivers a breathable and perspiration-free experience.
Pros
Durable
User-friendly
Pockets for a silicone prosthesis
Breathable fabric
Razorback for extra support
Cons
Some may find the fabric to be too stretchy
Price at the time of publication: $12.99
The SendYou Women Everyday Bra For Mastectomy comes in a wide range of sizes and colors that you can choose from. It is recommended for women post-mastectomy as this bra has pockets for silicone inclusion and is made with comfortable lace fabric. The soft cotton cup and back closure are comfortable, wire-free, and easy to wear. This post-mastectomy bra matches all artificial breast shapes, including teardrop, spiral, and long-sided. For the right balance and style, this wire-free bra is suitable for all body types.
Pros
Available in a range of sizes and colors
Pockets for silicone inclusions
Comfortable and breathable material
Wire-free
Provides support
Cons
Price at the time of publication: $19.18
The DELIMIRA Mastectomy Pocket Bra is made from a soft and breathable fabric that will help you recover comfortably after a mastectomy. This pocket bra includes an under-band that offers firm support and holds the prosthesis in place. The full cups provide you with maximum coverage as well as leave you feeling comfortable throughout the day. The cotton-lined bra also has lace trimmings and floral embroidery details that add to this non-padded bra style. Use this post-mastectomy bra with adjustable wide straps for a comfortable and customizable fit.
Pros
Breathable fabric
Pocket bra
Full-cup coverage
Cotton-lined bra with attractive details
Adjustable wide straps
Cons
Some users felt that the cups were placed too close to each other
Price at the time of publication: $27.99
The Handful Women's Adjustable Sports Bra is a washable, versatile, and chafe-free sports bra that you can wear everywhere. The sports bra comes with pockets, removable pads, and adjustable straps that you can wear in 3 unique ways. The soft fabric ensures comfort and is made of 78% nylon, 22% spandex lining, 43% polyester, 43% Coolmax, and 14% spandex. The moisture-wicking Coolmax lining helps to keep you dry as you go about your day.  
Pros
For daily use
Versatile
Chafe-free
Pockets for silicone inclusion
Adjustable straps
Cons
Some may find the coverage inadequate
Price at the time of publication: $58
The SendYou Post Surgery Bra for Mastectomy are ideal pocket bras that allow for prostheses' inclusion in case you may need them. This post-mastectomy bra is simple and comfortably made out of soft cotton, so you never feel uncomfortable while wearing it. Free from chafing and wires, this bra is easy to put on and take off. Ideal for women who have recently undergone surgery, but not limited to them, this bra is ideal for everyday use and is available in a considerable size range and variety of colors.
Pros
Pocket bras
Simple to use
Comfortable
Made out of cotton
Wireless
Cons
Some may find that the tip of the cups is too close to each other.
Price at the time of publication: $13.19
The Mayuber Pocket Bra is made from skin-friendly material, cotton fabric that is comfortable to wear and gentle on the skin. With a hook and eye closure, this pocket bra is apt for post-mastectomy wearers as it is made to look like the real deal. With added lace reinforcements, this bra not only supports your chest but is also pleasant on the eyes. Ideal for shaping the breasts, this bra can be worn even when you are prone to active days. For the ideal post-mastectomy bra that provides invisible seamless support and delivers a fabulous, natural shape, this is your best bet.
Pros
Made of cotton
Comfortable to wear
It comes with a hook and eye closure
Pocket bra
Ideal for daily use
Cons
Not available in many colors
Price at the time of publication: $14.29
The Anita Care Safina Embroidered Mastectomy Soft Cup Bra is crafted to be gentle on the skin. This bra comes with a floral embroidered and transparent tulle on the upper cup for the confident woman in you. With comfortable jersey pockets for mastectomy breast forms or removable pads, this adjustable bra also has wide straps in the back so you can adjust them. The hook and eye back closure also make it supportive of your body. Made with nylon, polyester, elastane, cotton, and viscose, you can machine wash this bra and line dry it after use.
Pros
Smooth fabric
Comfortable
Jersey pockets
Adjustable wide straps
Hook-and-eye back closure
Cons
You may find the inside envelope to be a bit saggy.
Price at the time of publication: $53
You can find the most suitable bra depending on the procedure you go through, that will allow your body to breathe comfortably without worrying about chafing, discomfort, and other factors. Our buying guide will help you navigate the best available options of post-mastectomy bras so you can find the ideal choice for you.
How To Choose The Right Mastectomy Bra
When you're choosing a post-mastectomy bra, you may find a few different options. Front-closing soft cup bras, for instance, stretch to fit over surgical dressings and offer light compression on incisions, and the front closure makes them easier to put on and take off. On the other hand, compression bras provide much greater coverage for the breasts, back, and underarms. Compression on incisions can also help reduce swelling caused by fluid accumulation during the healing process, so this is ideal for when your skin has healed completely.
Look for a bra with pockets if you want to wear a prosthesis after surgery. After a mastectomy, it's best to use a lightweight prosthesis. You don't want to place any extra weight or pressure on your incisions, so a prosthesis is a fast and straightforward way to fill the gap where your breast once was. Wear a weighted prosthesis only after you've completely recovered. Pockets enable you to use either one or two silicone extensions according to your requirements.
The bra will stay put and won't dig into the skin, thanks to broad bands around the shoulders and under the breasts. The wire may cut through your skin, and you might not even feel it due to the operation numbness, so your post-procedure bras should ideally be wire-free.
Fabrics and natural fibers that are comfortable and breathable are likely to keep you from sweating. In general, the smoother the material feels, the more at ease you will be. Avoid rigid, abrasive fabrics in favor of stretchy, high-cotton blends so that you feel relaxed.
Adjustable straps and closures are recommended for most post-procedure bras. Use a bra that is flexible from the front and doesn't twist or stretch too much. These straps will help you to achieve the best possible fit and comfort.
For How Long Should I Wear A Compression Bra After A Mastectomy?
You can wear a compression bra as long as you feel comfortable. Some patients will benefit from wearing a compression bra for the first 4 to 6 weeks, while others may be advised not to.
Why Trust StyleCraze?
Srijita De, the author of this article, is a fashion enthusiast and enjoys trying out different fashion products available in the market. Understanding the challenges people encounter while picking the most effective post-mastectomy bras, Srijita has done thorough research on those bras and also visited many forums to read customer feedback. With the insights gained, she has curated a list of the best for her readers. These products are made of soft cotton fabric and are perfect for all body types.
Frequently Asked Questions
Can I wear a sports bra instead of a surgical bra?
No, sports bras are not the ideal option to wear immediately after surgery because most sports bras have a back closure, and reaching the back with your hands or stretching them may be painful after breast surgery. In addition, the straps and wide underbands may be too tight, preventing comfortable blood flow through the body.
Can you wear a regular bra after a mastectomy?
No, wear a compression bra instead. These bras are elastic and comfortable and can help you unwind as you deal with the symptoms of your mastectomy.
How long after mastectomy can you wear a bra?
You may wear a bra 2-3 weeks following a mastectomy,
Does Medicare cover post-mastectomy bras?
Yes, regardless of when you had surgery, Medicare offers partial reimbursement for post-operative camisoles, mastectomy bras, and breast forms.
What should I wear after a single mastectomy or double mastectomy?
You should wear a soft cotton camisole after a single or double mastectomy.
Recommended Articles