9 Best Postpartum Leggings For All Body Types – 2023
Lightweight and comfortable pants for new mothers in their post-natal phases!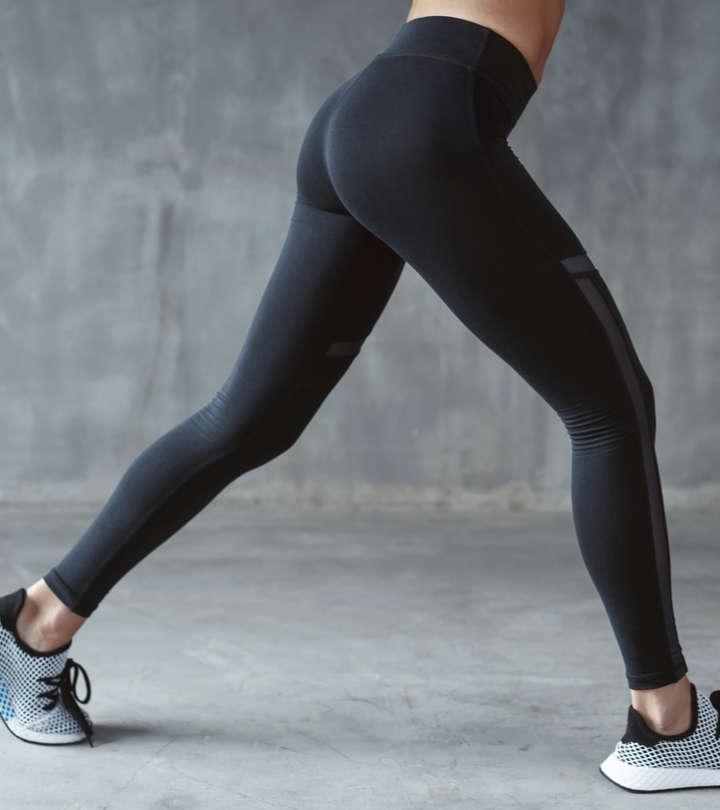 Pregnancy changes your body, but thanks to the best postpartum leggings – you can easily have the proper amount of support and compression around your waistline. There's a specific set of clothes designed for new mothers to help them adapt to their changing body size. The postpartum leggings make the daily chores a little easier as it holds the belly flaps in place and smoothen it. They are available in plus-size options, ensuring that all mothers can find the perfect fit. Also, these leggings are versatile clothing options and hence can be paired with any outfit that helps one stay relaxed. They are a perfect blend of fashion and function. Swipe up to explore our list.
When Can You Wear Postpartum Leggings?
The right time to wear postpartum leggings is anytime between one week to 4 months of postpartum. It depends on the extent of your recovery and also the capacity of the leggings.
9 Bestselling Post-Pregnancy Leggings
Made from imported quality polyester and spandex fabric, these machine-washable leggings set of 4 come with a pull-on closure. Ideal for any season and multiple activities like yoga, pilates, CrossFit, etc., this set of leggings comes in multiple sizes to fit different body sizes. Its durable material is suitable for high-intensity workouts and produces minimum friction. It has a high-waist design to control the tummy. The wideband helps in compressing as well. These leggings fit perfectly on the postpartum body to reveal an hourglass shape. Furthermore, they are highly stretchable, non-see-through, squat proof, and contours your legs perfectly well. Stay fashionable and comfortable with these pregnancy-friendly postpartum leggings.
Pros
 High stretch
 Broad waistband
 Non-see-through
 Squat proof
 Machine washable
 Lifts butt
Cons
Price at the time of publication: $33.99
Featuring 5 inches high waist, this Yoga Legging from Running Girl is made from nylon and spandex and is suitable for hand wash only. This pair of leggings has an elastic closure to wear and remove it easily. It comes in multiple sizes, and with their stretchy and soft fabric, they offer a comfortable fit that accommodates your postpartum belly. It eliminates muffin top by offering optimum compression due to its high-rise style to cover your stomach area and reveal a contoured body shape. These postpartum leggings are so comfortable on the skin that you will forget that you are wearing something. Its breathable fabric keeps you cool while you are busy with any physical activity. Its gusset crotch design has interlocked seams to reduce chafing, making it a perfect buy for postpartum body shaping.
Pros
 4-way stretch
 Sweat-wicking
 Skin-friendly
 Breathable
 Lightweight
 Anti-chafing
 Square proof
Cons
Price at the time of publication: $21.99
This High Waist Tummy Compression Control Slimming Leggings from Mothers Essentials is crafted with elastane and polyamide, featuring a hook-and-loop closure. Its seamless design offers a smooth look while providing medium support and full comfort. Its moisture-wicking material keeps you cool and dry during workout activities, and the high-waist design is ideal for compressing. In addition, the legging comes with 4 level compression to smoothen bulges, trim tummy, and cinch sides. These leggings are not only practical but also versatile, making them suitable for all-day wear and pairing with any outfit.
Pros
 Moisture-wicking
 Seamless
 Eliminates muffin top
 Smoothens bulges
 Can be used during pregnancy too
Cons
Price at the time of publication: $19.6
The Shapewear Postpartum V Leggings from Baleaf features spandex and polyester material that provides 4-way stretch with lasting comfort. These non-see-through leggings offer high-performance compression and come with a super high waist to control and sculpt the tummy. In addition, its seamless design has no side pockets but has an inner pocket for keeping cards or keys. These lightweight, shaping leggings perfectly hold the belly without suffocating it and are suitable for any sort of physical activity. Whether you're running errands or engaging in light exercise, these activewear leggings offer the flexibility and body-contouring support you desire.
Pros
 Lightweight
 Stretchable
 Non-see-through
 Super high waist
 Comfortable fit
 Inner hidden pocket
 Breathable
Cons
Price at the time of publication: $29.99
Belly Bandit's Mother Tucker Legging is made from nylon and spandex. The machine-washable postpartum leggings smoothen and shape your tummy, thighs, and tush to reveal a perfect look. It offers extra compression to flatten the tummy and stays as it is post multiple washes. The breathable fabric of this pair of leggings has a seamless design, making it ideal for daily wear.
Pros
 Breathable
 Machine washable
 Durable quality
 Seamless design
 Extra compression
Cons
Price at the time of publication: $79.95
The Dear Sparkle compression slimming leggings feature a zip closure to let you wear and remove them easily. The pair has a 4-layer wide waistband to offer optimum compression and control the tummy and expedite postpartum recovery. Crafted for tummy controlling and flattening, this sculpting pair of leggings is suitable for gym, yoga, sports training, etc. Its high quality, breathable, and smooth fabric is moisture-wicking and non-see-through. Plus, it provides ultimate stretchability. It has anti-cameltoe crotch protection with a squat proof design and no logo visibility. Additionally, its pocket-waistband gives easy access to your card, headphones etc.
Pros
 Breathable
 Non-see-through
 Moisture-wicking
 Square proof
 Anti-cameltoe
 No visible logo
 Hidden pocket
Cons
 Not a true size
 Tight waistband
Price at the time of publication: $21.95
The Amposh Women's Maternity Full-Length Leggings is designed for pregnancy and postpartum recovery. This comfortable pair of leggings is made from high quality and super soft rayon and spandex. It is lightweight, and the stretchable fabric stays comfortable on growing belly during pregnancy. It has a supportive, high waistband that doesn't suffocate your tummy and expands easily to accommodate changing belly sizes. Suitable for multiple occasions, the postpartum leggings won't tighten around the incision of a C-section and will stay super comfy.
Pros
 Lightweight
 Stretchable
 Supportive waistband
 Ideal for changing tummy sizes
 Soft and comfortable
Cons
Price at the time of publication: $9.99
Blanqi's High Waist Postpartum + Nursing Leggings are made from nylon and spandex of imported quality and offer full belly support and coverage. The adjustable waistband ensures a comfortable fit, accommodating your changing body. Suitable to be worn in the 4th trimester and above, this medium-support pair of leggings is ideal for C-section recovery as well, making them nursing-friendly. It prevents chafing and rubbing and features super-soft, seamless, and moisture-wicking fabric to keep you clean and dry while soothing your postpartum belly.
Pros
 Full coverage
 Medium support
 No chafing
 Seamless
 Moisture-wicking
 For easy nursing
Cons
Price at the time of publication: $64
This high waisted compression pair of leggings from Cugoao comes with elastic closure to let you wear and remove it comfortably. In addition, it features a high-waist tummy control with seamless design and non-see-through fabric made from nylon and spandex. Equipped with high elasticity, the thick and non-see-through leggings offer excellent breathability and quick-drying capability due to its sweat-absorbent fabric. These leggings are designed to be long-lasting and flexible, allowing you to move with ease and providing gentle compression to your midsection.
Pros
 Seamless
 Breathable
 Non-see-through
 High elasticity
 Sweat-absorbing
Cons
Price at the time of publication: $15.95
The Bottom Line
Postpartum legging offers an excellent way to control your tummy and get back in shape after childbirth. This post features the best postpartum leggings that will assist you to recover better and faster. Many of these leggings have an athleisure-inspired style that blends fashion with function. The CAMPSNAIL High Waisted Leggings offer effective tummy control and are designed to provide a flattering silhouette, while the RUNNING GIRL High Waist Yoga Leggings are sweat-wicking, making them perfect for active workouts and yoga sessions. However, if you require anti-camletoe protection. go for the DEAR SPARKLE Compression Slimming Leggings. Pick the one that suits your needs the most and enjoy the joy of motherhood worry-free.
Why Trust StyleCraze?
Baishali Bhattacharya is a certified image consultant with a love for fashion. She believes that postpartum leggings are the best thing to wear for new mothers as it offers proper support and compression around your waistline. Besides all the comfort, this versatile pair of clothing can be paired with any outfit to keep you relaxed. Moreover, all the products on the list have been carefully chosen and reviewed to help her readers make the best choices.
Frequently Asked Questions
Is it OK to wear compression leggings postpartum?
Yes, it is safe to wear compression leggings postpartum. It helps you heal faster and reduce abdominal pain.
Is it OK to wear leggings postpartum?
Yes, it is good to wear leggings for comfort while your body takes time to return to shape.
What is the best thing to wear after giving birth?
Comfortable clothes such as dresses, oversized T-shirts, leggings, or even pajamas are great to wear after giving birth.
Is it OK to wear leggings after the C-section?
Yes, you can wear a comfortable pair of leggings after the C-section. However, ensure you only wear comfortable leggings with a good-quality waistband as you recover from the surgery.
Are postpartum leggings worth it?
Yes. Postpartum leggings are ideal for managing the postpartum phase comfortably. Pregnancy has a huge impact on the pelvic area, and your muscles need support. Postpartum leggings are your support system during such times. They make sure you are at ease and recover quickly.
What is the difference between postpartum leggings and regular leggings?
While regular leggings can be worn anytime, postpartum leggings are specially designed to wear after giving birth. The postpartum leggings provide support to the pelvic area. They are made of breathable, comfortable fabric that helps you feel better and recover faster.
Recommended Articles