10 Best Postpartum Pajamas That Are Perfect For All You New Moms
Remain comfortable and cater to your baby's needs by wearing affordable clothing.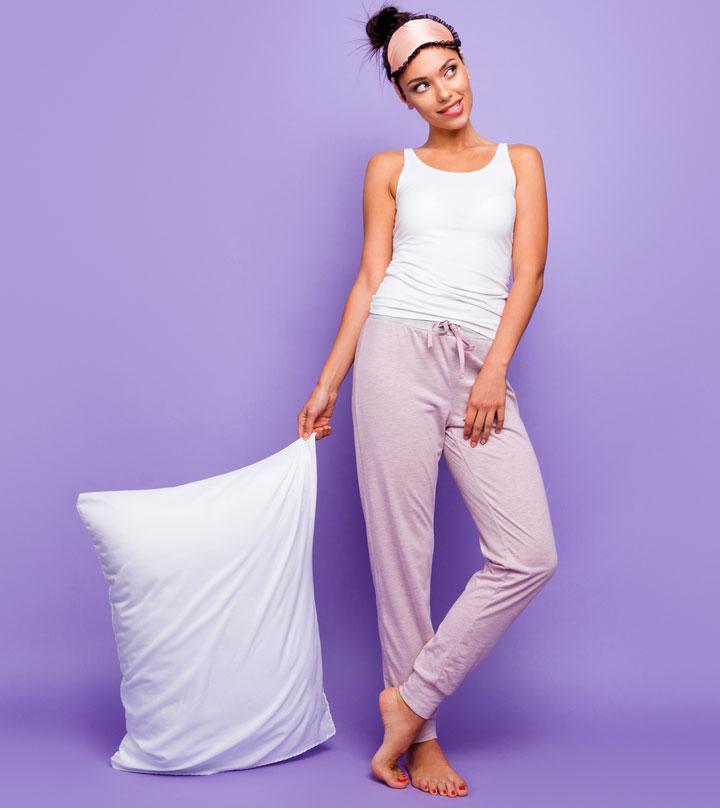 The birth of your new one brings heartwarming joy. Along with a lot of love, affection, and support from close ones, the best postpartum pajamas help you juggle sleepless nights and endless feedings comfortably. A woman's body undergoes numerous changes throughout pregnancy, but it does not stop there. Did you know that your body goes through several changes even in the postpartum period? In addition, the struggles of navigating new motherhood right after delivery can take a toll on a woman's body.
A comfortable pair of pajamas is the best type of clothing you can clad your body in while it goes through such life-changing times. Good-quality postpartum pajamas are super soft and have a relaxed, comfortable fit. In addition, they have easy nursing access for your little one. They are also quite stylish and available at a variety of price points. So, if you are a new mommy or someone looking for a gift for a new mommy, check out the best postpartum pajamas of the season. Mommas approve these all over the world. So, scroll down and find out more about each of them.
10 Best Postpartum Pajamas That Help You With Your Motherhood Journey
Here are the most comfortable postpartum pajamas that you need to pack in your hospital bag! Designed to see you through your entire pregnancy and postpartum journey, this thoughtfully designed set features an adjustable waistband, comfortable crew neck, and ruched side design to accommodate your growing belly. Convenient nursing access with easy-open function makes breastfeeding an absolute breeze, while the soft, breathable material is gentle on the skin and can be worn even on top of a C-section scar. The cute, attractive colors and the flattering fit make this pajama set the ideal gift for the new mama in your friend circle.
Pros
 Breathable, lightweight material
 Convenient nursing access
 Adjustable waistband
 Suitable for both pregnancy and postpartum
Cons
 Some might find that the sizes of this pajama set run a bit big.
Stylish meets functional with this gorgeous pajama set which redefines luxurious postpartum loungewear. Made of a super soft blend of polyester and spandex, this set features a cami with easy breastfeeding access and discreet breastfeeding open design, and pants with an adjustable elastic waistband and a cute waist robe to finish the look. Ideal for daily wear, this comfortable set with no lining and zipper is suitable for all seasons and can be worn all year round. So what are you waiting for? Get your hands on these pretty postpartum pajamas and give your post-baby body the love and care it deserves and can be even worn under nursing bras.
Pros
 Soft, breathable material
 Functional, stylish design
 Easy breastfeeding access
 Ideal for gifting
Cons
 Some might find that the color of these pajamas tend to run a bit.
If you went into pregnancy dreading a boring and drab postpartum body and wardrobe, this cute pajama set is here to prove you wrong! Featuring a stylish sleeveless top with easy nursing access and comfortable shorts with an adjustable waistband, this set is both versatile and functional. The soft, lightweight, and stretchy fabric and unbelievably cozy fit are reasons enough to enjoy this adorable wardrobe staple all through your magical 9 months and beyond! The attractive, eye-catching prints and breathable fabric are an added bonus that you're sure to enjoy as well.
Pros
 Soft, lightweight fabric
 Cozy, comfortable fit
 Adjustable waistband
 Suitable for pregnancy, delivery, and nursing
Cons
 Some might find the shorts of this pajama set a bit baggy.
If you're an expectant mom, almost every blog you read will tell you how essential it is to pack just the right maternity robe in the hospital bag you carry along for your delivery. This gorgeous nursing robe ticks all the right boxes with its ultra-soft knit fabric, 2 belt positions for easy nursing, and beautiful, comfortable fit. Ideal for use throughout the year, the robe doubles up as postpartum loungewear and makes breastfeeding effortless and convenient. Designed for the multi-tasking new mom, this wardrobe essential also makes a great, thoughtful present.
Pros
 Ultra-soft knit fabric with satin trim
 Easy nursing access
 Convenient, deep pockets
 Ideal for gifting
Cons
 Some might find the fabric of this maternity robe a bit thin.
Having a baby shouldn't mean sacrificing style! This delicate V-neck kimono robe is the ideal postpartum loungewear for the young new mama who craves comfort, style, and functionality. Made of a blend of rayon and spandex, this elegant maternity robe has both inside and outside ties to ensure a snug fit with easy nursing access, long sleeves, and gorgeous lace trim. Suitable for all-day wear and sleep-in, the breathable fabric does not shrink or fade while being entirely odor-resistant. This postpartum loungewear set is a 1-stop solution for pregnancy, delivery, and the first few problematic postpartum months.
Pros
 Stylish, functional, and versatile
 Attractive lace hem
 Ideal for all-day wear
 Suitable for all seasons
Cons
 Some might find that the size of these nursing robes run a bit small.
If you're looking for a cozy postpartum pajama set to help you recover from childbirth in comfort, you're going to love this gorgeous set that is designed to make you look and feel oh-so-good. Made of soft bamboo viscose and featuring attractive scalloped lace trim around the neck, this beautiful postpartum pajama set has flexible drawstring pajamas, a wide elastic band, and a flowy full-sleeved top with easy breastfeeding access. Available in a range of pretty pastel colors, these bamboo postpartum pajamas deserve a place on your postpartum shopping list.
Pros
 Made of soft bamboo viscose
 Easy breastfeeding access
 Flexible drawstring pajamas
 Stylish and comfortable design
Cons
 Some might find the pants of this pajama set a bit long.
Get your hands on this absolutely adorable 2-piece silky-soft pajama set and get ready to give your postpartum look a total makeover. Breathable and lightweight, the 2-layer ruched top allows easy nursing access, whereas the roomy pants have an elastic waistband to keep you nice and comfortable. Made of a blend of bamboo viscose and spandex, the moisture-wicking material is designed to keep you cool and breezy on those stuffy summer nights. So get yourself this stylish set and pack it in your hospital bag to start your journey into motherhood with style.
Pros
 Made of moisture-wicking bamboo viscose
 Two-layer ruched top for easy nursing access
 Breathable and lightweight
 Ideal for gifting
Cons
 Some might find the top of this pajama set a bit tight.
Here's a boyfriend-style button-down nursing nightgown which is sure to add a touch of class and elegance to your postpartum wardrobe. Designed for use before, during, and after pregnancy, this thoughtfully designed nightshirt transitions effortlessly from comfortable sleepwear to stylish daytime loungewear. Whether you choose to wear this while lounging at home, receiving guests, or going through a hectic morning working from home, this super soft nursing nightgown is sure to be a wardrobe favorite!
Pros
 Super-soft bamboo fabric
 Conveniently placed side pockets
 Ideal for C-section recovery
 Classic and versatile design
Cons
 Might not be best suited for those with very large chests.
Get camera ready for your first photo with your precious bundle of joy with this gorgeous floral postpartum pajama set which comes with a matching swaddle and hat set for your little one. Made of an incredibly soft fabric, these versatile pajamas come with convenient snaps in the front for discreet breastfeeding, while the elastic waistband ensures you can recover in comfort. Ideal for all day wear, this matching set is sure to make your baby announcement photo look absolutely adorable and give your Instagram page a super cute look.
Pros
 Attractive floral print
 Matching swaddle and hat set for baby
 Soft, lightweight fabric
 Loose, comfortable fit
Cons
 Some might find that the color of these pajamas fade a bit after a few washes.
Say hello to ultimate style and comfort with this luxurious button down postpartum nightgown which is designed to be used through your entire pregnancy, breastfeeding journey, and beyond. Chic meets convenience with the relaxed fit, premium fabric, and easy nursing access. The perfect gift for the new mama in your circle, this nightgown is super soft and is the ideal length to be worn both for sleeping and daytime lounging. Available in multiple attractive colors and sizes, you definitely can't go wrong with this one!
Pros
 Stylish, luxurious design
 Relaxed, comfortable fit
 Ideal for gifting
 Available in multiple colors and sizes
Cons
 Some might find the fabric of this postpartum nightgown a bit thin.
Now that we've had a look at our pick of the 10 best postpartum pajamas in 2022, let us look at some things to consider when picking the best pair for your unique journey into motherhood.
How To Choose The Best Postpartum Pajamas
The best postpartum pajamas should feel soft and weightless against the skin and be made of a material that is breathable, elastic, and lightweight. This is specially important if you're recovering from a C-section as the scar will require additional postpartum care. Pick cotton postpartum pajamas which are made with a blend containing soft, organic cotton if you want a material that does not irritate the skin.
When it comes to postpartum pajamas, there is a wide variety of gorgeous styles to choose from. Whether you pick a button-down nursing gown, a cute set with shorts, or a loose 3-piece set, make sure it is comfortable enough for all-day wear. Looking to pack a pajama set for your hospital bag? Pick an ultra-soft set with an adjustable waistband and easy breastfeeding access.
Not all postpartum pajamas are created equal when it comes to the kind of nursing access they offer and the type you choose is a matter of personal preference. Whether you pick a flap style, a pull-aside design, or one with buttons, ensure that it allows quick and convenient breastfeeding access.
Why Trust StyleCraze?
The author, Priyam Gupta, is a fashion enthusiast who experiments with different styles. She went through numerous reviews and feedback available on multiple forums and websites to curate a list of the best postpartum pajamas that are super soft and have a relaxed, comfortable fit. These postpartum pajamas are versatile and available in multiple colors.
Frequently Asked Questions
How are postpartum pajamas different from regular pajamas?
Postpartum pajamas are designed for new moms to make their transition into motherhood a bit more comfortable. They feature easy nursing access and adjustable waistbands, both of which are likely not found in regular pajamas. In addition, they are made of a super soft material to help aid in recovery after childbirth.
Why do I need postpartum pajamas?
Motherhood and all the new changes it entails can be quite tough on a new mom's body. Investing in good postpartum pajamas is a small and simple way to help make the transition a bit smoother and to give your body the tender loving care it deserves.
Can I wear my maternity pajamas as postpartum pajamas?
This depends on the type of maternity pajamas you're using. Make sure your maternity pajamas allow easy breastfeeding access if you're looking to use them postpartum.
Do you need pajamas for nursing?
Yes, maternity pajamas are specifically designed for nursing. These pajamas are cozy and comfortable and give you easy access to breastfeeding.
Can I wear Pajamas after C-section?
Yes, wear super soft and loose pajamas after C-section.
What should I wear immediately after delivery?
Wear loose or stretchy clothing like leggings, maternity pajamas, a large t-shirt, or a vest in summer. If it is colder months, joggers or maternity dungarees and a hoodie or cardigan will keep you warm.
Are maternity pajamas worth it?
Yes, maternity pajamas are made from breathable fabrics, have a relaxed fit, and accommodate your bump fashionably.
Can I wear normal pajamas postpartum?
No. You need special pajamas that will enable your skin to breathe, ensure free movement, and provide easy access to breastfeeding.
Recommended Articles
Best Nursing Pajamas That Are Perfect For New Moms
Best Postpartum Shapewear For Women
Best Postpartum Robes For New Moms
Best Postpartum Clothes For New Moms
Plush And Functional Maternity Robes To Conceal Your Bump