10 Best Postpartum Robes For New Moms In 2021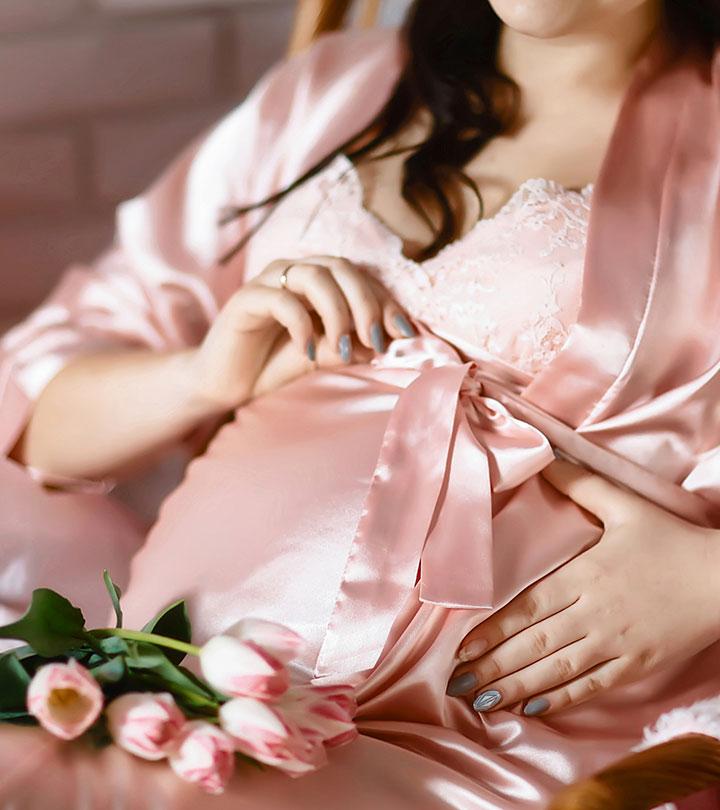 The days that come after giving birth can be quite the emotional and physical rollercoaster, and you need to be comfortable when bonding with your newborn. The best postpartum robes are the perfect mix of style and comfort, especially when expecting guests during the first few weeks after birth. You will want to opt for a soft robe, which offers good coverage and easy access during nursing times.
The maternity robe is an essential item during the fourth trimester, and it helps you sail smoothly into parenthood. The difference between a standard robe and a maternity one is that the former is relatively thin, and the latter is thick. This means they are ideal for covering the postpartum bump and to lounge around in. We have curated a list of the top 10 best postpartum robes you can add to your wardrobe during the fourth trimester. You can go through the list and find the robe that will suit your style and needs the best. Keep reading to know more!
10 Best Postpartum Robes That Are Comfortable And Stylish
Feel elegant and comfortable with this Kimono style maternity robe. The robe is short and goes perfectly with pajama bottoms. They are ideal for any temperature because the soft cotton fabric will keep you warm when you feel calm and relaxed when you feel warm. The unique design can be wrapped around your body and secured with a tie. The robe also has functional side pockets that can store any essentials while lounging or nursing your baby. This lightweight robe can be worn at home, or when you are on vacation, it is perfect for the mornings and evenings. You can choose from a wide range of colors and prints to find the one that looks best on you.
Pros:
Lightweight
Soft cotton material
Comes in ¾ sleeves
Suitable for morning and evening routines
Cons:
Some may find the length too short
This maternity delivery robe was made with new mamas in mind, and you can bond with your new bundle of joy with a matching swaddle blanket! The robe is made from 95% cotton and 5% spandex, making it super soft and stretchy. Make this your hospital bag essential, especially since you will be expecting visitors at the hospital. These comfy mommy robes are stylish and comfortable and come with an attached belt that can be easily adjusted when you have to nurse your little one. You can choose from 2 sizes, which are S/M and L/XL, and it is machine washable. A bonus point is that the robe has 2 hidden side pockets that can store any personal essentials like a baby monitor.
Pros:
Soft and stretchy
Machine washable
Suits all body types
Attached adjustable belt
Cons:
The stitching may be weak
For adequate coverage that has an adjustable belt, go for this floral print maternity robe. The elegant floral print looks stylish and pretty so that you can wear it for your baby shower, at the hospital, and home. The gown has ¾ sleeves and hits just above the knees, so you can pair them with any pajama bottoms or wear them over a dress too. Since the belt is adjustable, you can move it around according to your need or when you have to nurse your baby. The cotton-blend fabric of this floral postpartum robe is soft and comfortable and will keep you cozy during chilly nights or mornings.
Pros:
Stylish floral print
Cotton blend fabric
Adjustable tie
Multifunctional
Cons:
Material may shrink down a size after the first wash
This robe will give you a bang for your buck because not only is it super soft, it has 2 functional pockets, along with a cleverly positioned adjustable belt. The material for this robe is made from natural bamboo fabric. It is perfect for overnight stays at the hospital, lounging at home with your little one, or even when you go on a holiday. The robe will also provide you with dependable coverage, so you don't have to worry about wardrobe malfunctions, especially when entertaining guests.
Pros:
Machine washable
Lightweight
Made from natural bamboo fabric
Dependable coverage
Cons:
If flashy prints and colors are not your styles, and you would like to have a minimal and comfortable robe, this maternity robe is perfect for you. The elastic closure and stretchy material make it great for nursing and provide decent coverage as well. The belt is adjustable and helpful when you want to size down near the belly area while allowing for generous changes during the postnatal days. We recommend that you choose a size larger than your standard fit, as your body may swell a bit after pregnancy.
Pros:
Adjustable tie
Stretchy material
Elastic closure
65% cotton and 35% polyester
Cons:
Some may find the material itchy
This stripy number is perfect for new moms everywhere! The fabric is comfortable, skin-friendly, and breathable so that you can nurse and lounge around the house with ease. The robe can be used throughout your journey of early motherhood, as it offers a decent coverage of the postnatal bump and throughout the transitional stages of the fourth trimester. The attached belt is adjustable and secure, so you don't have to worry about wardrobe malfunctions while on mommy duty.
Pros:
Ultra-soft fabric
Lace trim
Adjustable belt
Generous coverage
Cons:
The stitching may be weak
You and your baby can look good and feel good with this adorable printed maternity robe because it comes with a baby swaddle blanket as well. The maternity robe set is designed to keep you comfortable throughout the day, whether at the hospital or home. The material is made from bamboo viscose, making it breathable, and you won't feel stuffy. The fabric is super soft and gentle on your baby's skin as well. This maternity set is super stylish and will make mommy and baby feel like a million bucks.
Pros:
Made from bamboo viscose
Breathable
Gentle on the skin
Stylish
Cons:
This essential women's postpartum robe is perfect for when you want to lounge around the house or getting ready to step out. The robe has a minimal yet beautiful, feminine design that will drape your silhouette like a dream. The fabric is 96% rayon and 4% spandex. So, it is lightweight and will keep you cool as well, and the robe cinches in the front with the help of an adjustable tie that will go around the bump so that you can wear it throughout your pregnancy and your postpartum journey.
Pros:
Machine washable
Adjustable tie closure
Lightweight
Comfortable
Cons:
The material may be translucent
Aspen Lane is another brand that makes the most adorable soft postpartum robes and swaddles sets, including a hat/headband for the newborn. The modern print options, like the floral ones, are quite popular among new moms. The Kimono-style loose fit is perfect as a hospital robe or when you want to lounge around the house with your little one. Since the robe is oversized, it is ideal for hiding the postpartum belly and is adjusted during nursing times. The robe can be secured with an inside tie, and it has side pockets that will hold your items.
Pros:
Bright floral prints
The set comes with a hat and headband for your newborn
Loose fit
Side pockets
Cons:
Material may not be breathable
Senert is a crowd favorite for maternity wear, and this soft kimono robe is no different. The material is lightweight, durable, and gentle on the skin, making it perfect for hospital stays and lounging around the house. The robe also has two large side pockets that allow you to carry your items like your phone and the baby monitor while you carry your baby. This robe is the perfect addition to your maternity wardrobe. You can wear it during your pregnancy and after you give birth.
Pros:
Large side pockets
Keeps you warm
Lightweight
Durable
Cons:
The strap may not be easily adjustable
Now that you are aware of the popular and best postpartum robes available in the market, you need to know what to look for when selecting the perfect one! Hence, we have put together a buying guide that will help you decide which postpartum robe will look and feel amazing on you.
How To Buy The Best Postpartum Robe
A maternity robe needs to be easy to adjust and practical. This means that the tie must not be too tight and allow you to slip off the robe just enough to nurse your little one. It should also provide generous coverage, especially when you have guests over or lounging around the house.
You will want something soft and breathable; it should be gentle on you and your baby's skin. Look for cotton or bamboo fabric as they are natural and won't react to your skin. The material should feel and look good and opt for something that is not too thin.
If you are looking for a casual robe that you will want to wear only at night or morning, you may opt for a mid or short-length robe that can be worn with pajama bottoms. On the other hand, if you want something that you want to lounge around in the whole day and offer full coverage, then look for a full-length robe that goes all the way to your ankles.
While the postpartum journey may be exhausting and overwhelming, being comfortable can be helpful during this period. Hence, it is always good to purchase a good quality postpartum robe that looks and feels good. Hopefully, our list of the 10 best postpartum robes will help you find one that fits like a dream and looks super stylish. Of course, you can always refer to our buying guide if you are confused about which robe fits your needs; rest assured, you will find the right one! Happy shopping!