7 Best Postpartum Shapewear & Belly Wraps For New Moms – 2023
Get a sculpted look that looks flattering in any bodycon dress even soon after childbirth.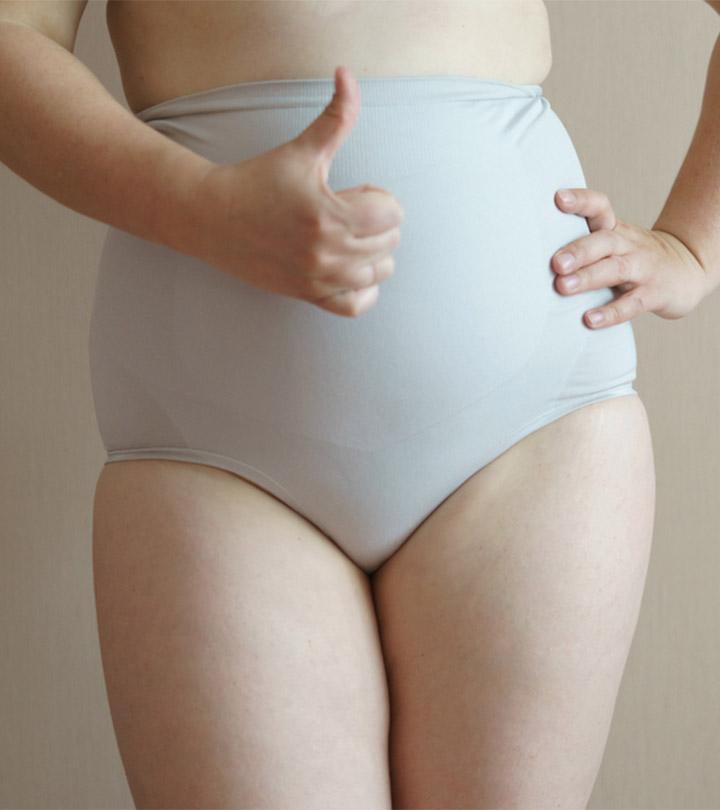 Wearing the best postpartum shapewear for women can give you the confidence usually lost after your body changes during pregnancy. Once you deliver your baby, your body requires additional support in the abdomen area. Taking the help of a postpartum girdle will help you get in shape quicker and without any additional pain. It is scientifically designed to apply pressure on organs to set them in position. Apart from getting your body back in shape, it also alleviates the pain of shifting your organs back in place after delivery. They reduce postpartum backache, uterine cramps, and blood loss. Here are the 7 bestselling and most recommended shapewear to invest in.
7 Best Postpartum Shapewears For Women – 2023 Update
The Bellefit Girdle Corset C Section Recovery Belt has a triple-layer front and back coverage that offers good support. It consists of three front-row closings and an easy crotch opening with three adjustable hooks for easy bathroom access and complete panty coverage. The postpartum girdle offers 360-degree core support, which helps with mobility and is best for recovery by vaginal birth. The high-waisted wrap also assists in managing the pain by supporting the lower abdomen and back with support panels. In addition, it has a groin flap that can be adjusted with heavy flow pads. Moreover, this wrap has inner steek boning that prevents rolling. Reviews claim that the shapewear helps correct posture, offers premium support and comfort, and boosts body confidence.
Specifications
Color: Beige
Size: X-Small to 3XL
Type Of Closure: Hook & Eye Closure
Pros
Improves posture
High-quality fabric
Hypoallergenic
Microporous
Breathable
360-degree core support
Cons
Plastic strips may cause bruising
Expensive
The ChongErfei 3-in-1 Postpartum Support meets all the requirements of the post-pregnancy healing procedure. It is a set of three belts – belly belts, waist belts, and pelvis belts – made with a high-quality breathable and stretchy mesh fabric. Its fishbone design is ideal for C-section and natural childbirth and prevents belly bands from rolling up as you move or sit. In addition, the adjustable Velcro on either side of the belt can be tightened as required. This supportive belly band will help reduce swelling, help the uterus return to its original size quicker, and support core-abdominal muscles. This abdominal binder also makes one appear slimmer and more confident.
Specifications
Color: Beige, Black
Size: One Size and Plus Size
Type Of Closure: Adjustable Velcro
Pros
Breathable
Easy to adjust
Easy to wear
Easy to clean
Highly stretchable
Provides slimming effect
Aids in C-section recovery
Cons
The Gepoetry 3-in-1 Postpartum Support is a set of belts that assist in regaining your beautiful body outline. The set includes a postpartum belly belt, a waist belt, and a pelvis belt. The belts are made from high-quality stretchable fabric. The fishbone shape supports the back and improves posture, and the interior stretchable support pad is made of elastic to fit the natural curves of your body. The belly belt brings back the normal shape while the waist belt redefines the waistline. The pelvis belt contracts the pelvic muscles and brings back the natural shape. Additionally, this tummy control shapewear assists in easing the changing of the uterus and shrinks it down to the required size to support the lower back and keep the tummy in. According to reviewers, the shapewear offers good stability and support.
Specification
Color: Black, Beige
Size: One Size and Plus Size
Type of closure: Velcro
Pros
Cons
The KeaBabies 3-in-1 Postpartum Wrap is made using a soft-to-touch material that doesn't cause skin irritation. The fabric is breathable, and its elastic mesh contours the body with extra comfort. It includes 3 belts in a set – the stomach belt prevents sagging, the waist belt supports breastfeeding, and the pelvis belt restores the shape of the hips. This body contouring postpartum wrap assists in tucking the stomach in and shrinking the womb back to the pre-pregnancy size. It also supports your back, decreasing backaches, and assists you in maintaining the best posture while breastfeeding your baby.
Specification
Color: Blush Pink, Matte white, Classic ivory, Midnight black
Size: One Size and Plus Size
Type of closure: Velcro
Pros
No skin irritation
Breathable
Adjustable
Stretchable
Sturdy
Lightweight
Nursing-friendly
Cons
May not suit women with long torso
The Tirain Store Postpartum Belly Band is a 3-in-1 belt containing a belly belt, pelvis belt, and waist belt in a single set. It fulfills all your requirements throughout the postpartum recovery procedure. This post-natal pregnancy wrap assists to quickly reinstate body shape, eases postpartum discomfort, and helps you regain your confidence. It's made using the best quality lightweight material that's very comfortable, simple to clean, and stretchable. Moreover, all the products have passed the air permeable test and are ultra-breathable and suitable to wear in all seasons. This body shaping belt can be easily readjusted as per one's requirements. Reviewers highly recommend the product because it offers a supportive fit and is seamless enough to be worn anywhere.
Specification
Color: Nude
Size: One Size
Type of closure: Hook & Loop
Pros
Breathable
Lightweight
Stretchable
Adjustable
Cons
The Ursexyly Maternity Support Belt is made from nylon and spandex fabric that is skin-friendly. It is designed using double support as hooks and zipper and flexible straps. It has three rows of hooks & double control that adjust to the best size you require. Moreover, it also has two spiral-steel bones that support your back and keep the shapewear from rolling down. This belt is excellent for people that have had abdominal surgery as it reduces back pain, assists in the shrinking process, and brings the uterus to its original position. This confidence-boosting belt also helps get the baggy skin back in place and flattens your stomach to its normal size. This maternity support vest is suitable for a body-shaping program or aerobic exercise. It helps one return to the antenatal body shape and put on their favorite attire again.
Specifications
Color: Black, Beige
Size: Small to 4XL
Type of closure: Zip & hook
Pros
Skin-friendly fabric
Lightweight
Breathable
No roll-up
Cons
The Annido Postpartum Belly Wrap is made using 90% polyamide and 10% elastane. The stretchy-mesh fabric material is comfortable and breathable. The belt is skin-friendly and highly stretchable. It supports your lower back, holds your tummy in, relieves back pain, and redefines the waistline. This waist trainer belt can be put under a loose shirt or a sweater without being detected. It has elastic double-adjustment Velcro-straps that offer immediate abdominal compression and lumbar support. It is stretched to suit the natural curves of your body.
Specifications
Color: Black
Size: Medium
Type of closure: Hook & Loop closure
Pros
Breathable
Super-strong
Stretchable
Lightweight
Multifunctional
Cons
Less compression
Available only in one size
The post-natal journey is beautiful but your body will go through several changes. The right postpartum girdle can reduce back pain and help you get back to your pre-pregnancy shape. Consider the following points to ensure you make the right purchase.
How To Choose The Best Postpartum Shapewear?
Most girdles have any of the three options: hook and eye closures, pull-on style, or Velcro closure. The kind you select will depend on how easy it is for you to use it. A pull-on type is fantastic and it's good for those who do not need to fumble using closures. Velcro closures are best for those who need to change the compression levels quickly. The hook and eye closures provide a safe fit and are truly effective.
The most common style options include longline and midsection styles. The longline girdle starts below your bust and ends just at/in the mid of the hips. This is best for mothers recovering from a C-section, diastasis recti, or those who need posture improvement. The midsection girdle is superb for general support, and is a better alternative to people that feel longline girdles could be too restrictive.
Numerous brands provide girdles in 2 common sizes. This includes letter sizing (XS to XL). These are based on exact numerical measurements. It is recommended to get your measurements and compare them alongside the size chart provided by the brand. The numerical measurement could be extra precise than sizing that is lettered. Remember that a postpartum girdle is supposed to fit snugly and shouldn't limit your breathing ability or impact your motion range.
Always go for breathable material when you shop for a postpartum girdle. Moreover, if you are recovering from C-section, check for options that have breathability and moisture-wicking properties. Such properties also help the incision heal. You can also opt for sustainable materials that are kind to the environment and your body.
Postpartum shapewears are not only meant for improving your body shape. They offer various other benefits as well. Read the following section for more information.
Benefits Of Wearing A Postpartum Shapewear
One's posture changes steadily during the 9 months of pregnancy. Getting it back to usual could take some concentration and work. However, the best girdle or wrap will help you achieve this effortlessly.
Giving birth can put stress on the stomach muscles. Whether you are having a C-section or a natural birth, your stomach will pay the cost. Moreover, your muscles will be weak for months afterwards. A wrap or girdle will give you that extra abdominal support that you need. Recovery with a C-section can be more challenging as you will be dealing with surgery. Girdles or wraps help ease the pressure and pain you may experience from a surgical wound.
Your back can hurt in the first few months after childbirth. Doctors normally advise not to lift heavy objects for a while and not to rush back to your exercises or chores. The postpartum shapewear can also be of great help in reducing back pain and fatigue.
This is a common condition that occurs when one's abdominal muscles separate as the belly expands during pregnancy. They remain separated even after childbirth. For most, the abdominal muscles close naturally in one or two months after childbirth. Wearing postpartum shapewears can help accelerate the recovery process.
If you deliver a child through C-section, recovery can be difficult as the surgery may warrant incision through numerous layers of muscle and tissue. Women undergoing C-sections may also experience more bleeding, pain, and discomfort. A postpartum shapewear can provide comfort during this time.
A postpartum shapewear also:
Enhances blood flow
Improves posture and mobility
Stabilizes the pelvic floor
Decreases swelling and works towards fluid retention
Offers critical support to the abdominal muscles
Postpartum shapewears are a blessing for new mothers who love to be in shape. But they have their fair share of disadvantages too.
Drawbacks Of A Postpartum Shapewear
One has to wear it all the time for two months or more to get suitable results.
Postpartum wraps can be bulky and may interfere with your dressing style.
The wrap may interfere with the bodily contact a mother needs to have with her new baby.
The wrap may trick one into believing that they are in their best natural shape. This might cause them to ignore healthier habits like regular exercise or maintaining a good diet.
Why Trust StyleCraze?
The author Baishali Bhattacharya is a fashion enthusiast and a mother. Staying in shape is as important as staying stylish. She understands the need for postpartum shapewears for new mothers. This list was curated after carefully researching reviews on trusted online platforms. These reviews will help users make an informed decision to tuck the tummy without feeling uncomfortable and give the body an hourglass shape.
Frequently Asked Questions
Can I wear the shapewear right after giving birth?
Yes, you can wear the shapewear immediately after giving birth. Shapewear can be worn at any time in between one week to 4 months postpartum. It is designed to be worn under your clothes. It is made using breathable material to offer the best comfort.
How long should you wear a postpartum shapewear?
Postpartum belly-bands can be worn immediately after child delivery. Most of the belly wrap manufacturers advise wearing one for about 10 to 12 hours every day, for about 6 to 8 weeks postpartum.
Does shapewear help postpartum?
Yes, shapewear helps your muscles recover faster by providing additional support, which can help your body heal properly.
How can I reduce my postpartum pooch?
Exercise and a healthy diet will help you return to your pre-pregnancy weight in a few months. However, you'll have to practice abdominal workouts if you want to see your belly flatten.
Do postpartum girdles work?
Yes, it helps with core strength, supports breastfeeding, and relieves stress on the back and legs.
Does wearing a girdle help flatten your stomach after pregnancy?
Yes, a girdle might help in the expected closure of your abdominal muscles after delivery.
Are postpartum belly wraps worth it?
Wraps and binders may aid with pain and healing following a delivery. They may also assist in repositioning your organs and muscles following childbirth.
Do hospitals give postpartum girdles?
Not all, but a few hospitals provide girdles if you have a Cesarean section.
Recommended Articles