13 Best Postpartum Underwear For New Moms To Buy In 2023
Absorb heavy discharge and feel fresh all day long after childbirth with this underwear.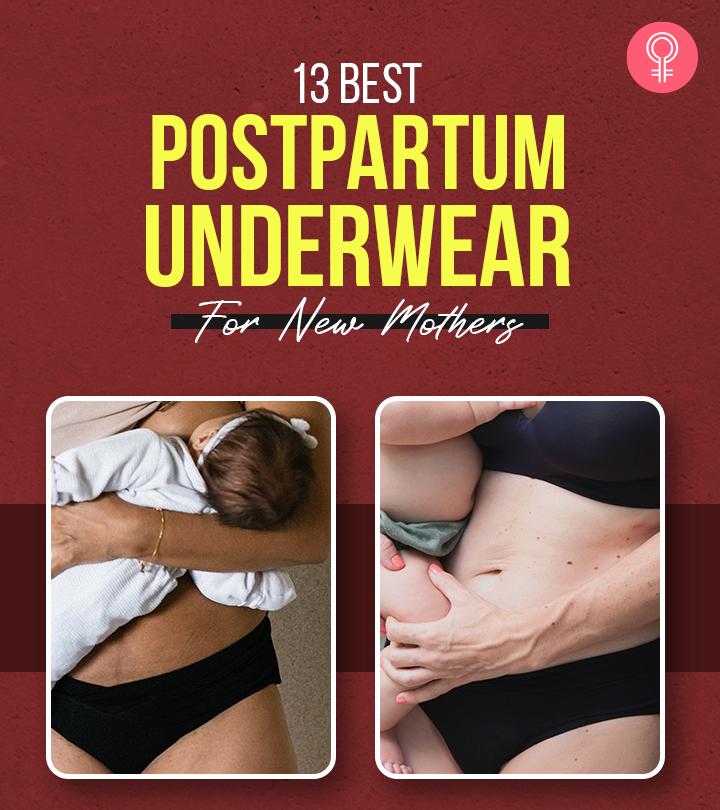 Childbirth is a beautiful thing, and it brings along multiple changes in a woman's life. Physically a woman's body discharges a lot of fluids and mucus vaginally for almost six weeks after childbirth. Regular underwear is not enough during these days, and you must invest in good pairs of postpartum underwear to contain the mess. The mesh underwear provided by hospitals is not enough to contain the discharge and hence, these postpartum underwear.
Postpartum or new-mom underwear keeps you feeling fresh and clean by absorbing the mucus discharge. These have high absorption power and support your postpartum belly too. What's more? These are not boring or drab to look at either! These form a crucial part of your post-delivery shopping and also add a bit of style to your new lingerie collection.
What Is Postpartum Underwear?
Postpartum underwear is a blessing for new moms undergoing heavy discharge after delivery. These high-waisted mesh boy shorts soak the blood and other discharge fluids. Plus, they come in various styles and shapes and are crafted from different fabrics. Below are the different types of postpartum underwear you can consider.
Light Compression Underwear: These offer gentle support to the tummy and lift the buttocks to give your body a flattering silhouette.
Disposable Briefs: These are similar to period panties but are thicker and designed to absorb heavy menstrual flow. These can be paired with pads for additional leak-proofing.
Before you start shopping for these mesh undies, here are few pointers to help you find the right pair.
What Are The Things To Consider Before Buying A Postpartum Underwear?
There are some important points to keep in mind while buying mesh underwear for yourself:
1. Fabric: Due to hormonal changes postpartum, your body will go through phases of excessive sweating. Therefore, it is best to look for cotton, cotton blends, or microfiber panties that are breathable and have antibacterial and moisture-wicking properties. If you would like to reuse the underwear, make sure they are easy to wash.
2. Sizing: Order a size considering your postpartum belly and the fact that you will insert thick pads. Also, remember that your uterus and tummy will start shrinking after six weeks.
3. Absorbency: Look for leak-proof underwear with multiple layers to absorb the moisture while keeping the top layer closest to the skin dry. The outer layer on the crotch should preferably be cotton to reduce the risk of infection and irritation.
4. Compression: It is best to choose underwear that offers light to moderate compression so that there is not too much pressure on the C-section incision to cause discomfort. The aim is to have a secure fit that offers support to your belly and helps lift the buttocks.
5. Coverage: Some high-waisted underwear offers 360-degree coverage front and back, while others may be mid-rise and not cover the buttocks completely. Once again, coverage is a choice of personal preference and depends on what provides you the most comfort.
6. Extras: Some postpartum panties come with a pocket for an ice pack or a silicone panel to soothe the C-section incision. These additional features can make them more attractive than regular mesh underwear.
Now, scroll through our list of the 13 best postpartum underwear that will give your body all the support it needs while getting back to pre-pregnancy shape.
13 Best Postpartum Underwears – 2023
The highly absorbent Solimo Women's Protective Underwear uses their signature Dri-Fit Technology to lock away wetness and keep your skin dry. Its cotton top sheet wicks moisture while the dual odor control system neutralizes strong odors and maintains freshness all day long. This pack of 18 pairs of soft cotton disposable underwear offers protection against urinary leakage as well.
Pros
Disposable
Hypoallergenic
Skin-friendly
Maximum absorbency
Breathable fabric
Leakage protection
Latex-free
Can be used as incontinence underwear
Cons
Sizes run small
Artificial fragrance
Price at the time of publication: $11.01
The high-waisted UMMISS Women's Underwear provides the right amount of compression without being too tight. Instead, they offer gentle compression to keep the incision protected while holding the C-section bandages in place. The wide double-layered waistband offers full coverage without rolling down, providing a good fit for the buttocks. It is crafted with a wide cotton double-layered crotch to make it breathable while offering optimal protection. This five-pack set of cotton-cum-Spandex underwear comes in a mix of black and gray.
Pros
Stretchable fabric
Moisture-wicking
Wide waistband
Full coverage
Tummy control and support
Cons
Price at the time of publication: $24.99
The low-cut design and superior stretchable fabric of the Molasus Women's Cotton Underwear make it a good alternative to traditional "granny briefs." The double-layered waistband sits at the belly button, offering a snug fit for light compression. This full-coverage underwear eliminates panty lines and has bind-proof leg openings to make it comfortable to wear all day long. This set of four black briefs made from 95% combed cotton and 5% Spandex with a double-layered crotch offers protection from sweat and moisture.
Pros
Double-layer crotch
Moisture-wicking
Pre-shrunk
Full coverage
Machine washable
Offers light compression and support
Cons
Price at the time of publication: $24.99
The snug fit and elasticized double-layer waistband of the PORKARLA Women's Cotton Underwear provides light compression on the tummy while lifting the buttocks. Plus, this soft, stretchy, body-shaping underwear compresses the tummy, offering a comfortable wearing experience all day long. Plus, the double-layered crotch with a wide combed cotton leg opening makes these undies breathable. Each pack comes with four panties made from a blend of 95% cotton and 5% Spandex.
Pros
Pre-shrunk
Superior elasticity
Full coverage
Double-layer crotch
Breathable fabric
Cons
Waistband does not compressthe tummy
Price at the time of publication: $24.99
The superior comfort provided by the INNERSY Women's Underwear makes them the ideal choice for abdominal and C-section recovery. They are crafted from 95% cotton to keep the skin cool and sweat-free, along with 5% Spandex to offer just the right amount of compression. The pure cotton inner crotch makes the panties breathable. Additionally, the broad double-layered waistband with double stitching prevents it from rolling and bunching, while the full coverage fit shows off the butt curves. This C-section-friendly five-piece set comes in a range of dark colors like black, blue, maroon, and shades of gray.
Pros
Breathable fabric
Full coverage
Tag-free design
Cotton crotch
Machine-washable
Cons
None
Price at the time of publication: $26.99
The ultra-stretchy Frida Mom Disposable Postpartum Underwear from FridaBaby is designed with an inner pocket to keep pads and other absorbent layers in place while maintaining breathability. These latex-free Spandex boy shorts offer full coverage and support as well. Each pack comes in a set of eight pairs of underwear crafted from lightweight moisture-wicking microfiber that feels like cotton but is disposable. They come in two sizes and are tag-free for a comfortable wearing experience.
Pros
Moisture-wicking
Latex-free
Full coverage
Tagless design
Seamless
Breathable fabric
Cons
Price at the time of publication: $14.99
The form-fitting Always Discreet Underwear has an absorbent core that converts liquid into gel, similar to your regular sanitary pads. It features double leak guards to help keep wetness away from the sides to prevent leaks. True to its name, it is contoured to fit close to the body to offer a smooth look and comfortable fit. Also, it features Rapid Dry Protection to lock away the wetness while keeping the front and back dry. These disposable briefs come in a pack of 56 and can also be used for urinary incontinence.
Pros
High absorbency
Leak guards
Firm fit design
Odor control
Dry feeling
Can be used to manage incontinence
Cons
Price at the time of publication: $42.94
The Motherhood Maternity Post Pregnancy Panty Shaper features a high-rise design that sits above the waistline to provide gentle support. It is made from a blend of 63% cotton, 23% nylon, and 14% Spandex, ensuring breathability and comfort to nursing moms. It features seamless stitching for a smooth silhouette and remains invisible under clothing. This two-pack set has a soft fold-over waistband that helps compress post-baby tummy and is suitable for C-section mommies.
Pros
Seamless
Breathable fabric
Tummy support
Cons
Fabric pills after washing
Price at the time of publication: $24.98
Who said you cannot feel sexy postpartum? The delicate lace waistband on the Kindred Bravely High Waist Postpartum Underwear adds a bit of pep and style to your wardrobe. It is designed to sit above the post-baby belly comfortably while covering the C-section line and holding surgical dressings in place. The wide waist offers full coverage without any pinching or sagging. It is crafted from 95% rayon and 5% Spandex with a 100% cotton gusset. This set of five underwear comes in dark colors like black, red, green, purple, and blue.
Pros
Full coverage
Non-itchy
Machine-washable
Stylish
Cons
Price at the time of publication: $34.99
The 100% cotton fabric lining on the crotch of the Angelhood Women's Postpartum Briefs makes them super hygienic. The white color of the lining also allows easy detection of secretions. The waistband on these highly stretchable briefs has a fold-over design to make them comfortable under or over the post-baby belly. Made from 95% viscose and 5% Spandex, these panties are smooth to touch and great at absorbing moisture. This five-pack comes in various attractive colors like, pink, gray, white, beige, and black.
Pros
Machine-washable
Fold-over waistband
Hygroscopic
Stretchy fabric
Refund/replacement guarantee
Cons
Price at the time of publication: $13.99
The irritation-free Mesh Postpartum Underwear from JUFAN is crafted from 94% polyester and 6% Spandex, making them soft and super-stretchy. They offer a snug fit, while the high-waisted band holds surgical dressings and absorbent pads in place with ease. In addition, these undies are machine-washable and can be reused at least three to four times, unlike the mesh underwear supplied by the hospitals. Each pack comes with four pairs of underwear, which you can wear after abdominal surgery, hysterectomy, or to manage incontinence.
Pros
Breathable fabric
Skin-friendly
Tummy support
Frictionless
Reusable
Multipurpose
Unisex
Cons
Price at the time of publication: $14.99
The innovative Organic Cotton Cover Period Underwear from Rael Organic combines an overnight pad with period underwear to provide the utmost protection from heavy flows post-delivery. This postnatal product is crafted from OCS-certified cotton that is safe for sensitive skin and free of all irritants. The built-in four-layer core instantly absorbs wetness while eliminating odors. Plus, it features a Flexi-fit stretchable waistband that sits comfortably on the skin without any chaffing on C-section or other surgical incisions. The secure fit prevents leakage from all sides all day and night.
Pros
Organic
360-degree leakage protection
High absorbency
Full coverage
Non-irritating
Fragrance-free
Toxin-free
Chlorine-free
Pesticide-free
Cons
None
Price at the time of publication: $13.99
The breathable High Waisted Cotton Panties from Cauniss are a must-have in your postpartum essentials kit. They rise over the belly button to protect the C-section incision and securely hold surgical dressings in place. The gentle compression applied by them provides relief from lower back pain and offers tummy support. They are crafted from 95% combed cotton fabric and comes with a double-layered pure cotton crotch, making them perfect for recovering mothers after childbirth. The slimming fit of this seven-pack underwear shapes your curves and lifts the butt as well.
Pros
Elasticized leg holes
Double-layered cotton crotch
Full coverage
Breathable fabric
Machine-washable
Cons
Price at the time of publication: $25.99
Why Trust StyleCraze?
Baishali Bhattacharya is a certified image consultant with a deep knowledge of fashion. She has compiled the above list of best postpartum underwear following in-depth research of different products and considering merits like comfort, coverage, compression, and super absorbency. The products are endorsed by many users, offer leakage protection, and support the postpartum belly. Moreover, they are made of moisture-wicking and breathable fabric.
Frequently Asked Questions
How long do you need to use postpartum underwear?
You need to use postpartum underwear as long as your postpartum bleeding, which is usually around six weeks.
Can you use period underwear postpartum?
Yes, you can use period underwear postpartum to help you stay dry and comfortable. They are a good option to help prevent leakage during postpartum bleeding. Period underwear comes in disposable and reusable options, both of which can be used postpartum. It is important to make sure you use an overnight pad during the days right after birth as the bleeding will be the heaviest in that period.
When can I stop wearing mesh underwear postpartum?
You can stop wearing postpartum mesh underwear 5-10 days after giving birth.
How many postpartum underwear do I need?
You will need 2-3 packs of postpartum underwear for the initial days.
Do you need to wear postpartum underwear after giving birth?
Yes, you need postpartum underwear after delivery to help you with bleeding.
Should you size up for postpartum underwear?
Yes, you may need to buy postpartum underwear at least one size bigger than you normally would to give your body space for movement and not feel uncomfortable.
How many pairs of underwear should I pack in my hospital bag?
You can pack at least two pairs of comfortable underwear for each day. Pack some extra underwear, especially those with padding, will be a good idea.
Recommended Articles