11 Best Posture Correctors (2023) For Women, According To A Fitness Trainer
Relax and strengthen your spine and add an edge to your personality that excudes confidence.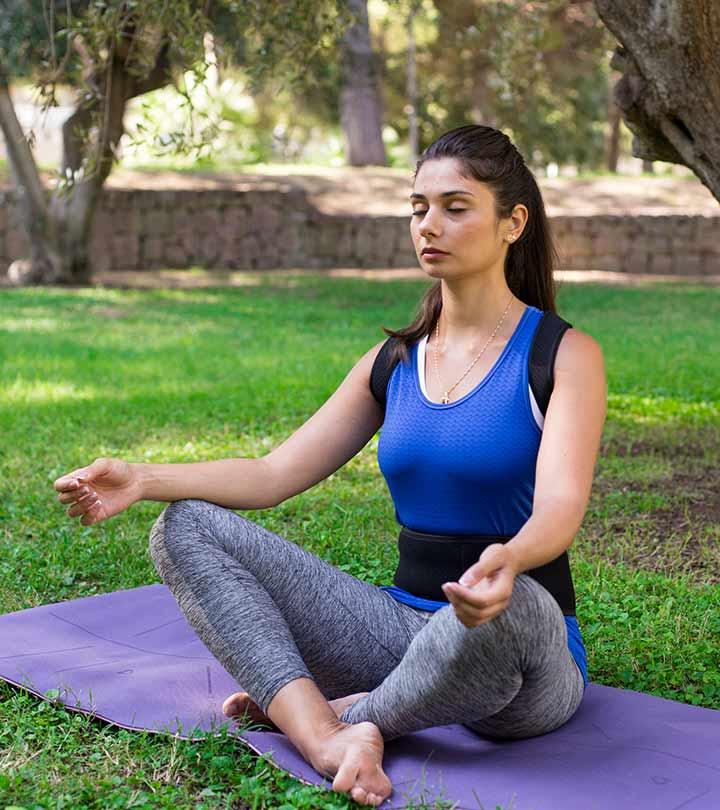 Apart from making you look like the hunchback of Notredame, bad posture can also mess with your confidence. Having tried to fix your posture and not been successful calls for using the best posture corrector for women. These posture correctors help improve your spinal health and correct your posture. All of this will, in turn, positively affect your mental and physical wellbeing, help in your personal transformation, and make you look your beautiful best! To learn more about the best posture corrector for women, read this article and choose the best from our well-curated list!
Why Having A Good Posture Matters?
Firstly, nobody looks good with a hunchback! However, having a good posture is more than just about appearance. It helps improve blood circulation, increases lung capacity, and decreases chances of physical injuries, muscle tension, and fatigue too.
Now, if you are ready to say goodbye to your zombie hunch, check out our list of 11 best posture correctors of 2023 for women below:
Read on know more!
Top 11 Posture Correctors (2023) For Women To Improve Spinal Health
Given how some posture correctors can hurt in the armpits or make you look bulkier, this one offers a comfortable fit, is undetectable under the clothes, and provides optimum clavicle support. A unisex brace designed with a breathable fabric, it ensures to keep your upper body aligned, whether you are sitting or standing. Also, this upper body alignment device is adjustable so you can wear it for prolonged hours without feeling the discomfort. The clavicle brace for women is a great way to regain your perfect posture and confidence, Truweo is suitable to wear for all ages. You can find online reviews that provide user insights on the product, including claims of improved posture, relief from back pain, and increased confidence.
Pros
Easy-to-use and easy-to-wear
Alleviates chronic pain in the back, shoulder, and neck
Fits chest sizes starting from 30inches to 43inches
Helps develop muscle memory to improve posture form
Made of premium quality, lightweight, and flexible material
Ideal body posture corrector to wear during workouts, in the office or at home
Cons
The size may be unfit for petite women.
This premium-quality brace will have your back, always! Whether you are dealing with chronic back ailment, weak muscles, lumbar lordosis, arthritis, or need posture control— this back brace by Mueller ensures relief with every use. Wear it for a few hours or all day long, it is made of a lightweight and breathable fabric that allows free adjustments as per your comfort. This back support product is a must-try for those who are dealing with neck sprain, muscular spasms, or back strain, heal and restore your muscle strength with Mueller. It is voted on and recommended by reviewers for lower back support.
Pros
Available in regular and plus sizes
Ensures relief and support to the lower back
Provides relief during lifting activities and workouts
The lumbar cushions are removable.
It has a premium double-layer design for a custom fit.
The dual tension straps are elastic and allow easy adjustment.
The built-in plastic component prevents bunching or brace shifting.
Cons
Bulky
Not recommended for petite women
Brace yourselves with Selbite Posture Corrector for a pain-free back forever. Designed with an ultra-comfortable, breathable, and latex-free material, the upper back brace for women ensures optimum shoulder support to align your back and correct the posture. So, if you or your loved ones are showing signs of slouching or "computer posture", you might as well give this posture correction belt a try. And given how comfortable and seamless it is, the upper back support for women is absolutely undetectable under clothes too. And besides correcting the posture, this shoulder alignment tool claims to build long-term muscle memory, which means training your back to stay erect, even when you don't have the belt on! Now, that's something worth trying, right?
Pros
Hypoallergenic, soft, and non-irritating fabric
Ensures snug-fit with a sleek and slim design
Eliminates slouching, hunching, and upper back issues
Improves mobility, blood circulation, health, and confidence
Unisex design with sizes starting from 25inches to 53inches
The upper back brace is adjustable to allow a custom fit.
Cons
The posture alignment straps may be flimsy.
It may be slightly uncomfortable near the neck for short or petite women.
No more pain, only great posture! Here's a women's posture corrector that'll support your upper as well as lower back. A great option to relieve muscle sores, neck strains, and correct posture, the women's back brace also claims to retrain the spine to stay erect while standing and sitting. Made of high-quality and breathable material that ensures long-lasting durability, the belt has ultra-soft neoprene pads inserted in the shoulder straps for a comfortable experience. And as far as the construction is concerned — it is easy-to-wear with two brace plates keeping your back straight with optimum support, whereas the Velcro straps allow free adjustments for a custom fit. Wear on to notice the difference!
Don't wait any longer! Experience the benefits of the women's shoulder support posture corrector and start enjoying the benefits of great posture and enhanced comfort today.
Pros
Sturdy, washable, and non-irritating material
Eliminates slouching, pain, and soreness
Available in three sizes for your convenience
X design on the back ensures stable support
Ideal for wearing at home, in the office, during walks or workouts
Cons
Expensive
It may be slightly uncomfortable under the armpits.
Are you looking for a supportive posture garment that does not dig into your armpits? Then, you must try this one! Designed with extra underarm pads that promise ultimate comfort and a snug fit, the brand claims that you won't even feel the weight of the belt — it's so comfortable and seamless. And besides eliminating the zombie-hunch, this back posture support corrector for women will also make you look taller, slimmer, and add a more confident aura to your figure. Also, unlike other posture correctors, you won't require assistance with adjusting the fit as this back posture corrector for women is easy to wear too. Now, who's ready to straighten-up and make a strong impression? Reviewers claim the product to be great in relieving shoulder pain and improving posture.
Pros
Made of breathable, odorless, and lightweight fabric
Improves muscle strength and relieves shoulder pain
Allows custom fit for chest sizes from 30-45 inches
Safe and comfortable to wear all-day
Discreet under clothes and can be worn at work or home
Suitable for kids, adults, aged, and those with shoulder injuries
Cons
Bulky
Not recommended for petite and plus-sized women
Is back pain or discomfort giving you sleepless nights? This sturdy belt by FlexGuard guarantees to retrain and align your spine back to the natural posture. And that's not all — it improves blood circulation, increases lung capacity and physical performance, while relieving back pain. Plus, it is designed with cushion straps that offer optimum support and remind you to straighten up every time you slump. Interesting isn't it? There's more. It comes with a posture guide that includes tips and tricks from professionals to help you become pro at bracing. Still, want to skip this one?
Pros
Made of breathable fabric for comfort
Relieves muscle tension, soreness, and pain
Eliminates slouching, hunching, and computer posture
Ergo-fit design for shoulder, back, and lower back
Suitable for those with shoulder injuries and scoliosis
Cons
Bulky
It may be slightly uncomfortable near the armpits.
The lumbar support belt may ride up while bending or sitting.
To have a healthy and good posture these days is a rare sight. And if you are one of those who are inadvertently hunched in front of the screens all day, then you need to try this posture corrector by Berlin & Daughter. With a unique crisscrossed and ultra-comfy design, this posture realignment tool forces your chest out and clavicles back, to retrain your postural muscles and spine for natural alignment. Relieving soreness, pain, lethargy, tiredness, and discomfort, this spinal alignment device also has adjustable and stretchable straps to allow a custom fit. And yes, all this while being super comfortable!
Pros
Easy to use and wear
Strappy, lightweight, and durable design
Provides optimum lumbar and clavicle support
Ideal for men, women, and kids
Suitable for all and available in four sizes
The straps are cushioned to allow comfortable experience.
Cons
Expensive
It may be uncomfortable around the armpits.
For those who are looking for a non-bulky belt, this posture corrector might fit your needs. With a sleek and slim design, it ensures to keep your clavicles in line with the natural posture. Whether you want to wear it on top of your clothes or under, the women's clavicle support is made of breathable, high-quality, and sturdy neoprene that promises an ultra-snug fit. Wear it at home, at work, while lifting or go trekking if you like with this posture corrector; every use promises to improve your spine alignment, mobility, and muscle strength. A great choice if you want to eliminate that stubborn hunch — give this spine alignment accessory a try!
Pros
Flexible and sturdy fabric
Promotes clavicle support and stability
Boosts confidence and good health
Relieves muscle soreness, strain, and tension
Ideal and safe of men, women, and kids
Adjustable straps for chest sizes 28 inches to 48 inches
The set includes kinesiology tape and a carry bag for your convenience.
Cons
It may not be suitable to wear all day.
It might be slightly uncomfortable around the armpits.
With this posture corrector in your collection, consider your neck, back, and lumbar— protected, aligned, and pain-free! A great choice to give your entire back optimum support and training to realign to the natural posture, this seamless belt will take care of the clavicles and thoracic spine effectively. Designed like a backpack but only lighter, the thoracic support garment ensures to give your shoulder and back ideal stability to relieve the pain and soreness. Available for 26 inches to 47 inches chest circumferences, the support belt is safe and recommended for men, women, and kids. The only back brace that'll make you feel "uncomfortable when you slouch", grab this hunch-hater today!
Pros
Premium-quality belt
Undetectable under clothes
Helps retrain muscle memory
Promotes a taller, slimmer, and confident figure
Hypoallergenic, washable, and breathable fabric
Cons
Flimsy belts
It may be slightly uncomfortable around the armpits.
Lower back pain can be unbearable at times, especially for mature women. And this belt is designed with targeted compression, support, and inelastic fabric to provide the utmost relief from back pain and soreness. Plus, the built-in pulley system with two pull tabs and Velcro fastenings allow even those with limited mobility to adjust the belt effectively. Ensuring pain-free therapy anywhere-anytime, the lumbar posture corrector belt is made of medical-grade material that claims to deliver a sweat-free and allergy-free experience too. Also, it makes a great gift to give away on birthdays, anniversaries, or Christmas. Get this medical posture corrector today!
Pros
Easy to use and wear
Suitable for all ages
Made of 100% polyester
High-quality and medical-grade belt
Improves trunk and back stability
Ideal for those dealing with sciatica, scoliosis, herniated disc, etc.
Cons
Expensive
Not ideal for clavicle support or to eliminate hunchbacks
Lastly, this sturdy posture corrector that'll keep the humpback out of sight. Designed to provide relief from all types of back pain (lats, lower back pain, or traps!), the belt supports upper, middle, and lower back like a shield. Also, it prevents the progressive curve of the spine and kyphosis. Whether you wear it to work, at home, or while working out, it claims to fix misalignments and retrain muscles to walk and sit with the natural posture. So, if you are looking for a posture corrector to bring back your natural shape and confidence, this adjustable and full-back brace might be ideal for you.
Pros
Premium back brace belt
Lightweight, comfortable, and flexible
Guarantees to fix posture and relieve pain
Provides a snug fit around shoulders and waist
Designed to fit both men and women
Cons
Expensive
Not ideal to wear all day
It may be slightly uncomfortable under the armpits.
There you go, those were the 11 best posture correctors for women who want to get rid of the slouch. Still, need assistance with buying the best posture corrector? Read our buying guide below.
Buying Guide – Best Posture Corrector For Women
How To Choose A Posture Corrector For Women?
Though it may vary from person to person, here are some features you must look out for:
Size: Posture correctors are available in universal to snug-fit sizes. However, you must measure your chest circumference and waist before choosing a size. These are braces and belts and may not be the same sizes as your apparel. So, measure, before you pick your belt.
Efficiency: Every posture corrector is designed to provide relief to either upper, middle, lower, or all three parts of the back. So, depending on your requirement and need for relief, pick a suitable posture corrector. Also, keep your body type in mind while choosing one, or else you'll end up straining your neck or your armpits.
Comfort: Though initial discomfort is normal and a sign that the brace is working, the fit should not be uncomfortable while sitting, standing, or breathing. Hence, why choosing a belt with adjustable straps is ideal so you can customize the fit as per your comfort.
Ease To Wear: Unless you want to end up running to your partner or instructor for assistance, choose a posture corrector that is easy to use and wear, and requires less assistance. There are several brands in the market that offer belts and braces with minimal to no-assistance required.
Why Are Posture Correctors Important?
Since our everyday routines involve hours in front of the screen, hunchbacks, slouching, and back pain have become common issues today. And this is why a posture corrector is important. It helps with realigning your muscles and spine back to the natural posture besides alleviating pain, soreness, and lethargy. Also, regular use helps retrain the muscle memory to stay in the natural posture even when you don't have the braces or belt on, thus making them an indispensable item for all.
How Does Correcting Your Posture Improve Health?
In numerous ways! You may not realize, but constant slouching may harm the nerves, nervous system, and create muscle tension that will inadvertently lead to perpetual fatigue. Plus, it also affects lung capacity and blood circulation. And correcting the posture will reverse all of this within a few uses! From realigning your posture to giving your appearance a more confident outlook, a posture corrector improves health, breathing, and muscle strength too.
How Long Should You Wear A Posture Corrector?
Posture improvement devices are available in different shapes, sizes, and levels of effectiveness. Some are designed to wear all day, while others can be worn for a few hours only. Though the duration depends on how long you can endure it, you should initially start with 30 to 45 minutes to let your body get used to the belt or brace. And then accordingly, keep increasing the duration as per your convenience. Chandel Stallworth, a Personal Trainer, says, "One important thing to remember is that even if you use posture correctors, it is crucial to incorporate strengthening exercises to help maintain the short-term benefits that posture correctors give."
Why Trust StyleCraze?
The author, Shreya Vishwanathan, is an expert in health, fitness, and home. She has carefully gone through a wide range of posture correctors available on the market for women and considered the reviews posted on multiple online forums. Depending on their effectiveness, durability, comfort, and various other factors, she has shortlisted the best easy-to-wear products that not only correct the posture but also improve spine health. The best part is that most of these products do not make you look bulky.
Frequently Asked Questions
Does a Posture Corrector Really Work?
Absolutely! All thanks to the unique and strappy designs, posture correctors help retrain and realign your spine and back muscles with the natural posture. So yes, they do work.
Are Posture Braces Bad For You?
It depends on how you wear it and how long you wear the posture brace. Also, it is advisable to consult a doctor before using it, in case you are dealing with chronic back pain.
Can Anyone Wear A Posture Corrector?
Yes, anyone can wear it. Posture correctors help in realigning your spine and back muscles by eliminating slouching or computer posture, which is extremely common today amongst men, women, and even children.
How Long Should You Wear A Posture Corrector?
It depends on the type of posture corrector. Some are comfortable to wear all day, while others stay comfortable for a few hours only. However, initially, you should not use the posture corrector for more than 30 minutes. Let your body get used to the belt, and then you can start wearing it for longer.
Should I Wear A Posture Corrector To Bed?
Ideally, you should not. Posture correctors are meant for day-time activities when you are either sitting or moving around. Wearing it to bed would not only be uncomfortable but also taxing and tiring for the muscles.
When Should I Avoid Wearing A Posture Corrector?
There are several reasons when you should avoid wearing a posture corrector. For example — when the size doesn't fit or when the belt is straining your neck and back muscles.
Should I Wear A Posture Corrector At Work?
Yes, if your work involves sitting in front of the screen for too long, then you should wear a posture corrector in order to prevent hunchbacks, neck strain, and back pain.
Are Posture Correctors Painful To Wear?
At first, you might be slightly uncomfortable, which is common and normal while wearing a posture corrector. Also, your body is used to staying in a hunchback position and these support belts are trying to realign them which may cause some discomfort initially. However, if it persists, then you must stop wearing it and consult a doctor.
How Tight Should I Make My Posture Corrector?
A posture corrector should be tight enough for you to feel comfortable while sitting and standing. Also, it should not strain your back, neck, or affect your breathing.
Can Seniors Wear A Posture Corrector?
Yes, there are posture correctors for senior groups too. But considering the fragility of the muscles and bones at their age, they must consult a doctor before wearing a brace.
Recommended Articles