10 Best Pot Concealers For Flawless Skin – 2021 Update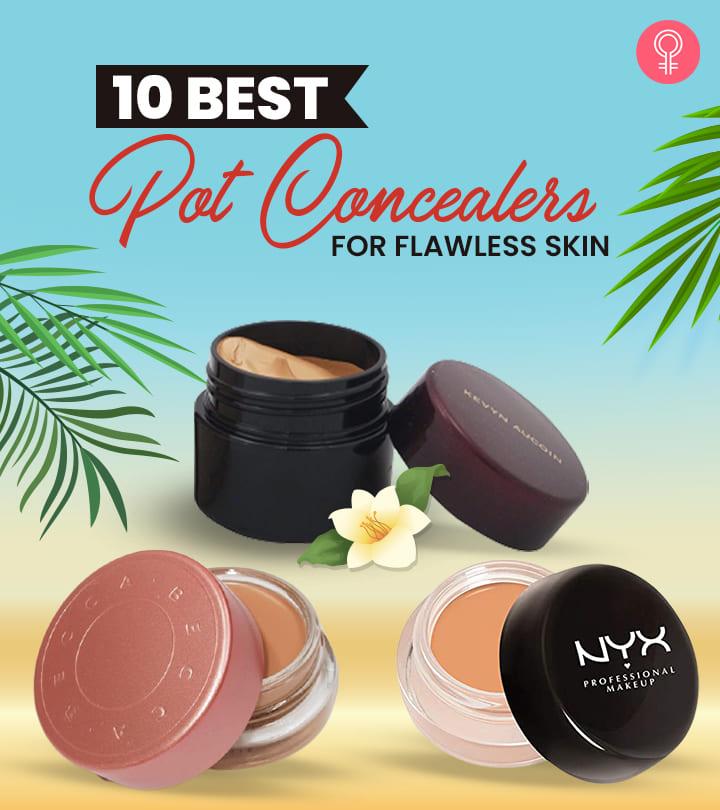 Concealers are essential items for a flawless makeup look. They offer numerous benefits like color-correcting, covering up dark spots, acne, blemishes, and are even helpful for fixing eyeliner smudges and bleeding lipstick. However, there is nothing better than a pot concealer formulated with thick, creamy consistency when it comes to good coverage. In this article, we have curated a list of the 10 best pot concealers for flawless skin. Scroll down to check them out!
10 Best Pot Concealers
The NYX Cosmetics Concealer Jar has a skin-perfecting formula that effectively hides dark circles and blemishes. It provides medium to heavy coverage with a long-lasting effect. It has a rich, creamy texture that blends onto your skin seamlessly for a natural finish without caking or flaking. The emollients in this formula hydrate the under-eye area. It comes in a range of 19 shades, including color-correcting purple and green hues, which neutralize redness, sallowness, and other imperfections.
Shade: Glow (Medium beige with beige undertones)
Pros
 Lightweight
 Crease-free
 Buildable
 Blends easily
 Medium to high coverage
 Creamy texture
 Long-lasting
 Cruelty-free
Cons
 May cause slight flakiness
 Not suitable for dry skin
The Sensual Skin Enhancer by Kevyn Aucoin is a versatile complexion perfector that covers blemishes, corrects discolorations, and conceals skin imperfections like dark circles, redness, and hyperpigmentation. This waterproof and lightweight formula is infused with honey and jojoba oil to smoothen, hydrate, and moisturize your skin. It delivers a high concentration of pigments for buildable coverage and does not flake, crack, or cake to settle into pores or fine lines. It mimics the appearance of healthy, radiant skin.
Concealer Shade: SX 11 (Golden / Medium / Deep)
Pros
 Dermatologist-tested
 Full coverage
 Blends easily
 Waterproof
 High pigmentation
 Buildable
 Versatile
 Creamy texture
 Lightweight
Cons
The Sheer Miracle Wide Awake Organic Vegan Dark Circle Concealer is a cult favorite as it eliminates under-eye dark circles. This rich, creamy brightening formula is enriched with shea butter, jojoba oil, and vitamin E to hydrate, nourish, and pamper the under-eye area. It gives a wide-awake, refreshed look by color-correcting and concealing. It does not crease, flake, or settle into fine lines. Instead, it blends flawlessly and leaves a natural, second skin-like finish that stays all day long.
Concealer Shade: Pink
Pros
 Creamy texture
 All-natural ingredients
 Long-lasting
 Full coverage
 Easy to apply
 Blends easily
 Paraben-free
 Cruelty-free
 Vegan
A little bit goes a long way.
Cons
 May cause irritation on sensitive skin
The specially formulated waterproof Dermaflage concealer works like a charm! This heavily pigmented full coverage cream concealer covers blemishes, redness, scars, acne, under eye dark circles, age spots, hyperpigmentation, melasma, tattoos, and even bruises. It dries to a matte finish, lasting up to 12+ hours without smudging, and is removable only with a makeup remover.
Concealer Shade: Dark
Pros
 Blends easily
 Buildable formula
 Long-lasting
 Full coverage
 Highly pigmented
 Matte finish
 Water-proof
 Smudge-proof
 Transfer-proof
 Paraben-free
 Gluten-free
 Cruelty-free
 Available in 9 shades
Cons
The Sace Lady Pro Cosmetics Full Coverage Concealer Cream is a versatile, water-resistant, and long-wearing formula. It controls excess oil secretion and shine, leaving your skin silky smooth. This concealer covers redness, pores, under eye dark circles, shadows under eyes, scars, blemishes, and birthmarks. Its hydrating formula is smooth to apply and easy to blend. This emollient-based concealer highlights the cheeks, brow bones, and eyes while balancing your skin tone for perfect coverage, ranging from sheer to opaque.
Concealer Shade: #40 Natural
Pros
 Medium to full coverage
 Buildable formula
 Easy to blend
 Smooth application
 Matte finish
 Waterproof
 Long-lasting
 Available in 4 natural shades
Cons
The RMS Beauty "Un" Cover-Up Concealer is a lightweight and hydrating formula that enhances your skin for a youthful and radiant appearance. It is ideal for covering under eye dark circles, redness, blemishes, and other skin imperfections. Its buildable formula uses auto-adjusting pigments that provide sheer to high coverage for a natural finish without feeling heavy or dry on the skin. It is enriched with hydrating and nourishing ingredients like coconut oil, beeswax, cocoa seed butter, jojoba oil, castor seed oil, and rosemary extract.
Concealer Shade: 22
Pros
 Lightweight
 Medium to full coverage
 Blends easily
 Buildable formula
 GMO-free
 Soy-free
 Gluten-free
 Cruelty-free
 Available in 16 shades
Cons
The Jolie Impeccable Me Creme Concealer Pot is a rich and creamy formula designed to give you flawless skin. It is enriched with vitamin A and E to condition the skin while providing antioxidant benefits. The full coverage concealer hides imperfections without caking. The weightless and highly pigmented formula offers full coverage to hide blemishes, age spots, under eye darkness, scars, freckles, bruises, burn scars, birthmarks, age spots, rosacea, and varicose veins. It's easy-to-blend ability gives you a completely natural-looking finish.
Concealer Shade: Medium Neutral
Pros
 Lightweight
 Crease-resistant
 Non-drying
 Medium to full coverage
 Blends easily
 Natural finish
 Buildable formula
 Value for money
Cons
The Korean beauty product Skinfood Salmon Dark Circle Concealer Cream is specially designed to conceal dark circles. It is enriched with Norwegian salmon egg and oil to fight all visible signs of aging like under eye marks, fine lines, and wrinkles. It provides full coverage, brightens dark circles and spots, and corrects complexion, settling into a glossy finish. The formula also contains Hokkaido salmon roe extract and retinol, containing omega 3 fatty acid and vitamin E to combat skin aging, wrinkles, and fine lines. Its smooth, creamy texture blends easily and illuminates the skin to give a youthful appearance.
Concealer Shade: Salmon Beige
Pros
 Buildable formula
 Blends easily
 Low to medium coverage
 Creamy texture
 Value for money
 For all skin types
Cons
 Not enough coverage
 Dries out quickly
The Juice Beauty Phyto-Pigments Perfecting Concealer is a creamy and highly pigmented formula that suits all skin types. This medium to full coverage concealer blends seamlessly into your skin for a natural and crease-free finish without settling into fine lines. It is enriched with organic oils of jojoba, coconut, and grape seed to moisturize and smoothen the skin texture, while vitamins C and E provide antioxidant protection. Its plant-derived photopigments conceal discolorations, under eye dark circles, and other skin imperfections.
Concealer Shade: Sand
Pros
 Crease-free
 Anti-aging
 Medium to full coverage
 All-natural ingredients
 Paraben-free
 Petroleum-free
 Phthalate-free
 Sulfate-free
 PEG-free
 GMO-free
 Silicone-free
 Gluten-free
 Artificial dye-free
 Fragrance-free
 Cruelty-free
Cons
The Time Balm Concealer is a full-coverage and highly pigmented formula that covers fine lines, dark circles, puffiness, sunspots, and redness. It has a semi-matte texture and leaves a subtle, luminous effect with an anti-wrinkle smooth finish. The formula protects your delicate skin from environmental aggressors while covering up imperfections. It is enriched with vitamin A, C, and E combined with panthenol to keep your face looking fresh and flawless round the clock.
Concealer Shade: Mid-Medium
Pros
 Ultra-smooth formula
 Blends easily
 Anti-aging
 Matte finish
 Long-lasting
 Medium to full coverage
 Paraben-free
 Cruelty-free
 Available in 9 shades
Cons
If you are planning to buy the best pot concealer, then here are some things to consider for a hassle-free purchase.
How To Choose The Best Pot Concealer
Pick a pot concealer that conceals dark circles, pigmentation, redness, scars, blemishes, and other spots. There are some heavy-duty and good pot concealers that cover melasma, hereditary skin imperfections, tattoos, and even bruises. Pick the one that caters to your needs and works flawlessly for your skin type.
Skin Type And Formulation
Pot concealers are generally cream-based and come in a solid form. If you wear makeup every day or for long hours, then make sure the concealer lasts long. If you have normal to dry skin, pick one that conceals effectively without drying out your skin or has a dewy finish. If you have acne-prone or oily skin, find an oil-free concealer to prevent further breakouts or greasy texture. For mature skin with under eye dark circles or discoloration, go for a creamy and hydrating concealer. The product should also be water- and sweat-resistant for smudge-free finish.
Go through the label to check ingredients before buying concealers, as they stay on your skin for long hours. Pick a concealer that fulfills your needs and conceals skin imperfections effectively without drying out your skin or leaving it feeling cakey. Avoid any product that contains paraben, sulfate, silicone, GMOs, alcohol, artificial fragrance or colors, and other harmful toxins to avoid any allergic reactions or other undesirable side effects.
Picking the shade of your concealer is as confusing as picking a foundation shade. Knowing your correct undertone and the coverage you want are some of the crucial things to figure out when buying a concealer. The trick to finding the right concealer is to choose half a shade lighter than the shade of your foundation to get that natural look.
On the other hand, if you are looking for budget-friendly prices, opt for reputed brands with excellent customer reviews. These drugstore products are quite good and will cater to your needs.
Unlike liquid concealers, pot concealers are creamier, thicker, and pastier in texture, which is why applying them effectively to get good coverage is essential. Here's how to apply pot concealer correctly.
How To Use Pot Concealer Effectively
Start by applying any moisturizer or primer as a base before reaching for your pot concealer. It does not matter if you are using a foundation or not, a concealer works perfectly on its own. The best way to use a pot concealer is to apply it only where required. Overusing or applying it haphazardly all over your face can make your face look heavy or cakey.
 Spot application is the trick when it comes to full coverage cream concealer. On that note, while using a pot concealer, try not to dip your finger into the container. Opt for a hygienic way and use a small concealer brush instead. If you feel you can blend the product well with your fingers, take some concealer at the back of your hand or a tray with the help of a brush and then work your way to blend it in with your fingers.
The one product every makeup lover has in their makeup bag is a good concealer. The 10 best pot concealers mentioned in our list are sure to beautify your skin. When choosing a good pot concealer, remember that each one of us has different skin concerns and skin types. Always opt for a full coverage cream concealer that covers all skin imperfections and reveals a flawless look.
Frequently Asked Questions
Is pot concealer better than regular concealer?
If you are looking for full coverage or better coverage than a liquid concealer, then yes, a pot concealer works better. Thanks to its thick texture and opaque pigments, a pot concealer provides much more coverage and a seamless finish. It is ideal for all skin types but works best for mature skin, normal, dry, or sensitive skin.
Recommended Articles
The following two tabs change content below.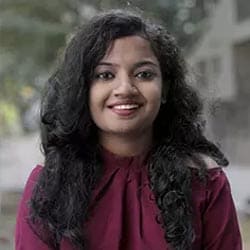 Shalini Roy has a Master's degree in English literature. She is an ambivert whose expressions have found their way in writing. She channels her passion for all things fashion and makeup to write engaging content related to Beauty and Lifestyle. She first found her penchant for writing through poetry and serving on various editorial boards of Model United Nations conferences. Shalini is a lover of spoken word poetry, books, and movies.