12 Best Powder Cleansers To Try In 2023: How To Use & Buying Guide
Heal your dehydrated skin with these cleansers that contain moisturizing ingredients.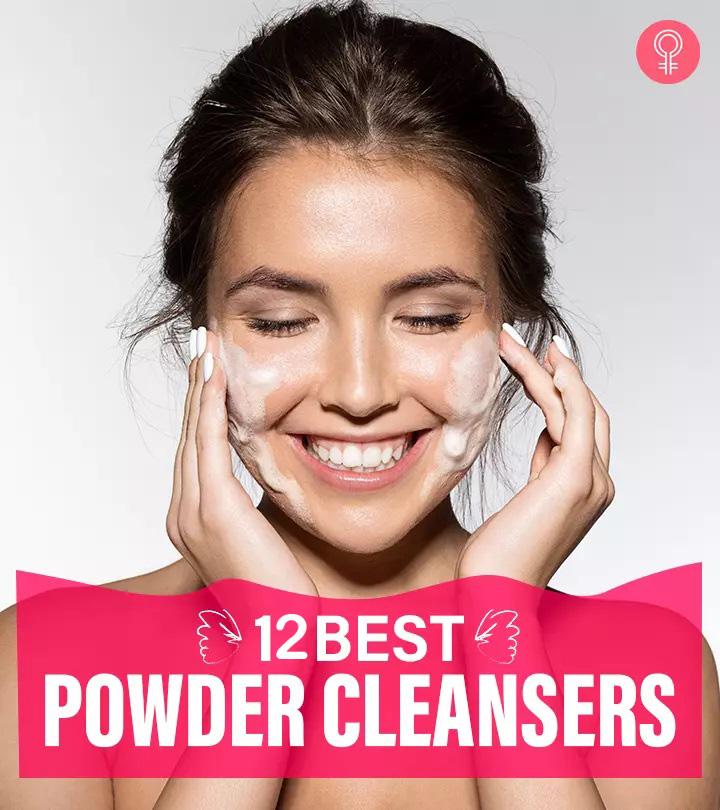 The Korean cosmetics industry never fails to amaze us with its products. Their latest wonder is the best powder cleansers that are dehydrated versions of a general cleanser. All you need to do is add water to lather them up before use. Powder cleansers are extremely travel-friendly and slip into your handbag quite easily. These cleansers are gentle on your skin and remove dirt, oil, and makeup without dehydrating the skin. Some of them are also enriched with natural active ingredients that moisturize and brighten your skin for a fresh glow. Check out our list of the best powder cleansers top-rated by consumers worldwide. Keep scrolling!
Why Should You Use A Powder Cleanser?
Powder cleanser is a dehydrated version of liquid cleanser. Liquid-based cleansers are diluted, filled with water, and contain a ton of preservatives and chemicals. Powder cleansers pack a punch with highly potent enzymes and ingredients like rice, oats, and other minerals that are pulverized. They are especially great for sensitive skin because they exfoliate your skin gently and are activated only when you add water. What does this mean? Let me explain.
You take a little powder in your palm and add a little water, based on the consistency you prefer, before you start lathering up foam. The concentrated formula is then activated, so you can start cleansing like you usually would. That's all it takes to use a powder cleanser. It is mess-free and fits into your travel bag perfectly without the fear of leaking or getting tossed away at the airport.
We have put together a list of 11 best powder cleansers for you to try out. Check them out below!
11 Best Powder Cleansers Available Right Now
Stabilized Rice Bran (SRB) Enzyme Powder is a Korean face wash powder and scrub. It is a revolutionary take on the traditional Asian rice water cleansing method. This powder cleanser is enriched with 50 different nutrients and antioxidants derived from rice bran and rice germ. It is ten times more concentrated than traditional rice water. It is infused with grape seed, papaya, and pollen extracts. Thus, it brightens your skin tone by reducing dark spots, pigmentation, and uneven complexion. The rice and papaya enzymes in this brightening cleanser have exfoliating properties that remove the dead skin cells and debris to reveal new layers of skin. This perfect exfoliation promotes cell growth and improves blood circulation, resulting in glowing and healthy-looking skin. It also contains anti-inflammatory compounds like triterpene and sterol ferulate that soothe the skin and relieve itching. The fine granules also help in removing keratinized skin, leaving behind a silky smooth feel.
Pros
Exfoliates gently
Brightens the skin tone
Moisturizes the skin
Hypoallergenic
Mild formula (pH 5.5-6.5)
Paraben-free
Preservative-free
No mineral oil
Suitable for all skin types, ages, and genders
Cons
May out dry your skin initially
Price at the time of publication: $18.0
Mario Badescu Silver Powder is an oil-absorbent powder. This effective cleansing powder not only deeply cleanses your face but also works as a spot treatment. It is formulated with natural ingredients like kaolin clay that purifies your pores and reduces excess oil, and calcium carbonate and zinc oxide that make your skin look clear and healthy. Also, this powder helps reduce the redness and appearance of acne, diminishes blackheads, and controls excess oil. Take a look at this video to check the demo of Mario Badescu Silver Powder
Pros
Unclogs pores
Improves complexion
Soothes the skin
Removes blackheads
Suitable for all skin types
Cons
Price at the time of publication: $12.0
Hanskin Vitamin C Glow Powder Cleanser is a water-activated enzyme cleanser powder. It contains plant-derived ingredients like papaya enzymes (papain) that gently dissolve dead skin cells, leaving the skin feeling soft, smooth, and supple. This two-in-one, antioxidant-packed powder also contains ascorbic acid that restores the skin's youthful glow, reduces the appearance of fine lines, dark spots, and illuminates dull and uneven skin tone. It is a non-abrasive daily exfoliator meant for normal to sensitive skin types.
Pros
Talc-free
Sulfate-free
Artificial fragrance-free
Silicone-free
Suitable for normal to sensitive skin types
Two-in-one cleanser
Cons
Price at the time of publication: $32
Kanebo Suisai Beauty Clear Powder is a fragrance-free powder cleanser. This hydrating cleanser claims to exfoliate dead skin cells, shrink the appearance of pores, and remove excess sebum without drying out your skin. This water-activated enzyme powder is enriched with pear juice, soy milk extract, a proteolytic enzyme, a sebum-degrading enzyme, and other cleansing ingredients that remove all impurities to deeply cleanse your skin, resulting in reduced blackheads, acne, and pore visibility.
Pros
Fragrance-free
Does not strip moisture from the skin
Improves the skin texture
Brightens the skin
Hydrates the skin
Softens the skin
Cons
Price at the time of publication: $22.99
Hanalei Powder Face Cleanser is infused with a papaya enzyme that exfoliates dull skin and helps clarify your complexion. This anti-aging cleanser also contains Hawaiian noni, which contains essential amino acids and vitamins A, C, and E to help protect your skin from free radicals. Also, it moisturizes your skin and helps reduce the signs of aging. It is great for sensitive skin and perfectly formulated at the skin's natural pH level of 5.5. However, we recommend conducting a patch test to avoid any adverse reactions. Check this video to learn more about Hanalei Papaya Enzyme Powder Face Cleanser.
Pros
Brightens the skin
Gentle exfoliation
Moisturizes the skin
Reduces the signs of aging
Paraben-free
SLS-free
No artificial dyes
Cruelty-free
Cons
Price at the time of publication: $20.0
If you are looking for an effective daily exfoliation product, Josie Maran Argan Exfoliating Cleansing Powder is an excellent choice. It gently removes dead skin cells for a softer, brighter, and more youthful-looking complexion. The finely crushed shells of Argan in this cleanser gently removes dull skin while rice powder helps reduce the appearance of uneven skin and age spots. It is infused with papain, salicylic acid, and rice enzymes and is great for all skin types. Patch testing is essential if you have extremely dry or sensitive skin. To find out more about this product and the reviewer's experience, check out this video.
Pros
Cruelty-free
Vegan
Paraben-free
Sulfate-free
Gluten-free
Phthalate-free
No synthetic fragrances
No mineral oil
Formaldehyde-free
Suitable for all skin types
Cons
May make your skin feel dry or tight
Price at the time of publication: $40.0
The TONYMOLY I'm Rice Exfoliating Enzyme cleanser is a unique water-activating powder infused with rice and papaya extracts that help brighten the skin complexion. It is a gentle exfoliator that removes dead skin cells from the skin's surface and smooths and hydrates the skin. In addition, this cleanser helps improve the skin tone and texture and provides transparent, radiant skin.
Pros
Lightweight
Moisturizing
Cruelty-free
Low-pH
No artificial colors
No artificial fragrances
Cons
None
Price at the time of publication: $13
The DERMA E Hydrating Gentle Cleanser washes away impurities and dirt present on the skin and delivers intense moisture to the skin. This natural cleanser formula is infused with organic ingredients like papaya, vitamin E, and A that help lock moisture in the skin, improve its texture, and provide a youthful-looking complexion. Use this non-drying formula twice daily to get plump, smooth, flawless skin.
Pros
Vegan
Non-drying
Cruelty-free
Paraben-free
Sulfate-free
Mineral oil-free
Petrolatum-free
Gluten-free
Cons
Not suitable for sensitive skin
Price at the time of publication: $11.55
Papa Recipe Blemish Enzyme Powder Cleanser is a non-irritant exfoliating acne-fighting cleanser suitable for acne-prone skin. It consists of platol white, papain, and pha components that softly cleanse and purify the skin for a smoother and softer appearance. Rice flour removes dirt and impurities, making it clear and stronger. The mild acidic pH balance makes it an effective balancing cleanser and helps maintain oil and moisture balance, keeping the skin moist.
Pros
Suits acne-prone and sensitive skin
Mild acidic formula
Non-irritant
Ideal for pore management
Cons
None
Price at the time of publication: $10.95
Selenderm Facial Cleansing Enzyme Powder is a smooth natural enzyme deep cleansing powder. It contains weak acid ingredients that help eliminate and manage sebum, remove dead skin cells, reduce blackheads, and minimize skin irritation. This sensitive skin powder cleanser is infused with vegetable extracts like aloe juice powder, licorice extract, and allantoin that deliver ample moisture to the skin.
Pros
Moisturizes the skin
Minimizes skin irritation
Reduces blackheads
Eliminates sebum
Improves skin texture
Suitable for dry and sensitive skin
Cons
None
Price at the time of publication: $28.9
SAERACO Premium Multigrain Enzyme Cleansing Powder is a hydrating powder cleanser. This hypoallergenic and water-activated cleanser enzyme powder contains organic and natural ingredients and is suitable for all ages and skin types. The purifying cleanser is infused with oatmeal, rice bran, papaya, mug beans, and an ingredient extracted from cactus. Its soothing and restoring formula is suitable for sensitive and irritated skin. The papaya extract in it helps remove impurities from the skin, promote cell growth, lighten the skin, and restore its moisture level.
Pros
Hypoallergenic
Promotes cell growth
Restores the skin's moisture level
Imparts a silky and smooth feel to your skin
Paraben-free
No artificial dyes
Alcohol-free
SLS-free
Fragrance-free
Petroleum-free
Phthalate-free
Cons
None
Price at the time of publication: $4.99
The Honest Beauty Skin Sweep exfoliating powder is a foam-based cleanser that gently cleanses away debris, impurities, and build-up. Reviewers indicate that it helps exfoliate dead skin cells, helps detoxify the skin, and fights against free radicals damage. It aids in preserving your youthful skin. The ultra-gentle formula is non-irritating and is suitable for all skin types.
Pros
Vegan
Paraben-free
Phthalate-free
BHT-free
No artificial fragrances
No synthetic dyes
Cons
None
Price at the time of publication: $15.99
Powder cleansers are excellent at eliminating dirt, debris, dead cells, and excess oil from your skin. Although they are suitable for all skin types, there are some factors to keep in mind before buying them. Check out this buying guide to help you choose the best powder cleanser.
Things To Consider Before Buying The Best Powder Cleansers
Powder cleansers are usually made with particles that can dry on the skin. Therefore, opt for a powder cleanser that keeps your skin hydrated for longer. Cleansers containing vitamins A and E, papaya extracts, and other nourishing oils lock the moisture deep into the epidermis and give an instant freshness.
Look for powder cleansers that cleanse as well as exfoliate your skin. Powder cleansers with potent ingredients help to exfoliate the skin gently without causing itching or abrasions. It helps your skin look young, fresh, and glowing. These skin cleaners can be in the form of rice and papaya extracts which help to detoxify the skin and exfoliate dead cells.
Always opt for natural ingredients like soy milk extract and peer juice, which removes dirt, grime, and pollutants and rejuvenates the skin. Some cleansers contain kaolin clay and grape seed which absorb excess oil and sebum from the sebaceous glands; they are great for oily skin. In addition, cleansers with vitamins and amino acids protect the skin from free radicals.
To ensure that your skin stays radiant, use cleansers free from harmful chemicals. The additives like silicone, sulfate, paraben, SLS, phthalate, and formaldehyde strip away the natural moisture of skin layers. They affect the pH level of your skin and cause irritation, rashes, etc. In addition, excess chemical constituents can make the skin appear to age prematurely. Also, avoid cleansers containing artificial fragrances and dyes.
Suitable For All Skin Types
The facial cleansers and purifiers should suit all skin types, such as oily, scaly dry, or sensitive. While getting rid of debris, free radicals, and excess serum, it should help preserve the natural glow and smoothen it. However, the cleanser must not aggravate skin allergies and or irritation.
Now that you know all about the best cleansing powders on the market, let's check out how to use them.
How To Use A Powder Cleanser
A powder cleanser's concentration can be adjusted by the amount of water you add to it. Here is a quick step-by-step process on how to use a powder cleanser correctly.
Step 1
Take a little bit of product in your palms.
Step 2
If you want to use it as an exfoliator, add just a little water until you get a paste-like consistency. Use it as a scrub and cleanse your face thoroughly.
Step 3
If you want to use it as a cleanser, add more water to the powder and lather it up to use the foam for cleansing.
Step 4
For double cleansing, use it after an oil-based cleanser to remove makeup and impurities.
Step 5
Rinse it off thoroughly with lukewarm water and use a damp towel to gently wipe away the excess cleanser.
Why Trust StyleCraze?
Oyendrila Kanjilal, the author of this post, is a certified skin care coach. She conducted her research, studying many products and their reviews on multiple forums, to find the best powder cleansers to remove any dirt, oil, and makeup from your skin without leaving it dry. She picked these products based on their ingredients, gentleness, exfoliating properties, and application ease.
Frequently Asked Questions
Is powder cleanser good for oily skin?
Yes, a powder cleanser is good for oily skin. It helps gently remove whiteheads, sebaceous filaments, and exfoliate your skin.
Is powder cleanser good for rosacea?
Yes. Gentle powder cleansers are good for rosacea. However, some cleansers contain vitamin E which can worsen the condition. Contact your dermatologist before using a powder cleanser for rosacea.
How often should a powder face cleanser be used?
Most powder cleansers contain exfoliating ingredients that can be rough on the skin if used a lot. You can use gentle powder cleansers twice a day.
How long do powder face cleansers last?
Powder face cleansers typically last more than a year. However, do not use these cleansers past their expiration dates as the ingredients might damage your skin.
Recommended Articles