10 Best Powder Cleansers You Should Give A Shot In 2019
How are the Koreans cracking one beauty secret after another? Yes, the powder facial cleanser is yet another product that's found its way from the East to rest of the world. It's news to so many of us, but not to the Asians. Apparently, it is a thing – Japanese, Koreans, and people in other parts of Asia have been using powder cleansers for a while now. What are they? Why should you consider using them? What are the best brands of powder cleansers? Read on to find out.
Table Of Contents
Why Use A Powder Cleanser?
Powder cleansers are dehydrated versions of your liquid cleansers. Liquid-based cleansers are diluted, filled with water, and contain a ton of preservatives and chemicals. Powder cleansers pack a punch with highly potent enzymes and usually use ingredients like rice, oats, and other minerals that are pulverized. They are especially great for sensitive skin because they exfoliate your skin gently and are activated only when you add water. What does this mean? Let me explain.
You take a little powder in your palm and add a little water based on the consistency you prefer before you start lathering up foam for use. The concentrated formula is then activated, so you can start cleansing like you usually would. That's all it takes to use the powder cleanser. It is mess-free and fits into your travel bag perfectly without the fear of leaking or getting tossed away at the airport.
Now that we know what powder cleansers are, let's understand how to use one.
How To Use A Powder Cleanser
Take a little bit of the product in your palms.
If you want to use it as an exfoliator, add a little water until you get a paste-like consistency. Use it as a scrub and cleanse your face thoroughly.
If you want to use it as a cleanser, add more water to the powder and lather up to use the foam for cleansing.
It works great for double cleansing, removing makeup and impurities to follow up your oil-based cleanser.
Powder cleansers suit all skin types, so there's nothing to worry about.
They use way more natural ingredients than liquid cleansers, but if you have extra sensitive skin, look closely at the list to see if something doesn't suit you.
Let's now look at the top 10 powder cleansers available on the market.
Top 10 Powder Cleansers
1. Clinique Fresh Pressed Renewing Powder With Pure Vitamin C
Clinique Fresh Pressed Renewing Powder redefines the experience of powdered cleansing. It cleans your skin gently and replenishes it with the nourishment it needs. It contains pure Vitamin C that is a wonder ingredient for youthful, radiant, and healthy looking skin.
Pros
Suitable for all skin types
Non-drying
Free of sulfates and parabens
No fragrance
Cons
None
Rating
4.9/5

2. Tatcha Deep Rice Enzyme Powder
Tatcha Deep Enzyme Powder contains HADASEI-3 Bioactive Complex, which is made up of three ingredients – Japanese rice bran extract, green tea extract, and Okinawa red algae extract. It restores your skin's youthful glow and reduces fine lines and wrinkles, leaving you with calmer, glowing, and moisturized skin.
Pros
Dermatologist-tested
No mineral oils
Non-irritating
Contains Dokudami that clarifies your skin
Cons
Rating
4.9/5

3. Tosowoong Enzyme Powder Wash
Tosowoong Enzyme Powder Wash is a blend of vitamin E, papain enzymes, and cornstarch. It deep cleanses the pores and clears the build-up of dead skin cells and sebum. It absorbs excess oil and exfoliates your skin gently.
Pros
Hypoallergenic
Suitable for sensitive skin
Has a moisturizing effect
Cons
None
Rating
4.8/5

4. Mario Badescu Silver Powder
A cleansing powder that not only cleans your face but also works as a spot treatment solution. It helps in reducing the redness and appearance of acne, unclogging pores, and controlling excess oil. It is formulated with natural minerals like kaolin, calcium carbonate, and zinc oxide that make your skin clear and healthy.
Pros
Clears blackheads
Minimizes pores
Makes skin smooth
Cons
Rating
4.8/5

5. Rodin Facial Cleansing Powder
Rodin Facial Cleansing Powder is an ultra-gentle formula that uses the goodness of jasmine that is native to the Asian subcontinent and calms your skin down. It is combined with mineral oils like neroli, sea algae extract, and granulated rice bran that exfoliate, clean, and rejuvenate your skin.
Pros
Makes your skin soft
Doubles up as an exfoliator and cleanser
Free of silicones and parabens
Cons
Steep price for the quantity
Rating
4.7/5

6. The Snow Queen Enzyme Powder Wash
The Snow Queen Enzyme Powder Wash is formulated using effective face cleansing enzymes from natural sources like papaya, pineapple, and mineral-rich carbonated water. It deeply cleanses your face while maintaining the pH balance, leaving you with supple and soft skin.
Pros
Suitable for all skin types, including sensitive skin
Free of SLES
No mineral oil
Cons
Rating
4.7/5

7. Bobbi Brown Buffing Grains
Bobbi Brown's Buffing Grains cleansing powder is a unique formulation with Japanese adzuki bean powder that buffs away dry patches, softens dehydrated skin, and improves skin cell turnover. It can be used with any Bobbi Brown cleanser or water.
Pros
Suits all skin types
Smoothes skin
Cons
Rating
4.7/5

8. Stabilized Rice Bran Enzyme Powder
The SRB Enzyme Powder Cleanser is a Korean product. It is loaded with antioxidants, natural exfoliators, and enzymes with ingredients like papaya, rice bran, corn flour, collagen, allantoin, and aloe juice that soothe, soften, cleanse, and brighten your face.
Pros
Hypoallergenic
Loaded with antioxidants, essential vitamins, and fatty acids
Has anti-inflammatory properties
Cons
Can cause redness or irritation in people with sensitive skin
Rating
4.6/5

9. Biore Baking Soda Scrub For Combination Skin
Baking soda tops the list of natural ingredients and is known for its deep cleansing properties. Here's a product that uses baking soda in its native form but formulated in a way that's activated when mixed with water to bubble out and fully cleanse your face.
Pros
Maintains the pH balance of your skin
Dermatologist-tested
Tightens pores
Cons
Can cause redness in people with sensitive skin
Rating
4.6/5

10. Josie Maran Argan Exfoliating Cleansing Powder
Argan oil is the epicenter of the hair and skin care industries right now. There are serums, lotions, cleansers, and everything else you can think of with argan oil. But, how about dehydrating argan shells and blending with other natural exfoliators like rice, papain, and salicylic acid? This cleansing powder gently exfoliates, removes dead cells, and leaves your skin squeaky clean.
Pros
Free of parabens and sulfates
Cruelty-free
Vegan
Cons
Expensive
Can cause breakouts
Rating
4.6/5

That explains how and why these powdered cleansers moved from the bottom drawer to the top of my shelf. I'm on a mission to make a change in my skin care routine in a way that is not mindless and hence the slow shift to products that make absolute sense. Have you been initiated into the idea of powder cleansers yet? Are you still apprehensive? What are your thoughts? Let us know by posting a message in the comments section below.

The following two tabs change content below.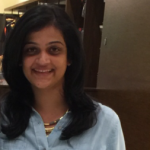 Latest posts by Pratima Ati (see all)