11 Best Non-Aerosol Dry Shampoos Of 2020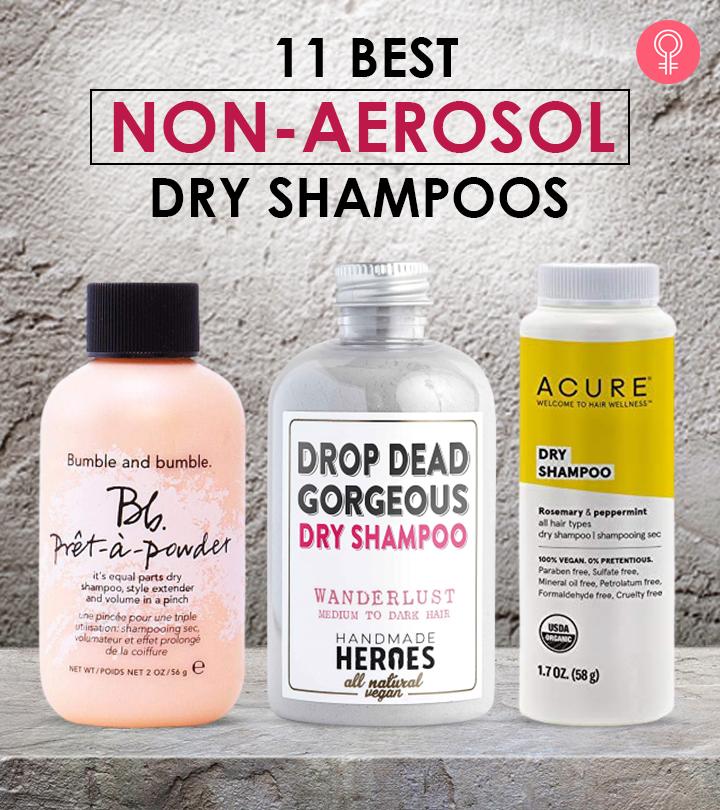 If you are too busy to wash your hair every day, we understand. But how to still keep your hair fresh? This is where powder dry shampoos can help. Regular shampooing is not the only solution to refresh your strands. Hair products like powder dry shampoos can also help rev your hair up. These shampoos can take care of your sweaty, oily, or dirty scalp and allow you to go on for a day or two without washing your hair. They work by absorbing excess oil and adding volume to the roots.
But there is a problem. Such shampoos usually contain aerosol that could lead to long-term hair damage. Hence, we have sifted through various brands and listed the 11 best powder dry shampoos free from aerosol. Take a look.
11 Best Non-Aerosol Dry Shampoos Of 2020
The Handmade Heroes Drop Dead Gorgeous Dry shampoo is a natural powder dry shampoo that keeps your hair fresh and volumized. It removes excess oil and balances sebum production. Its floral smelling geranium oil helps elevate your emotional wellness, reduces fatigue, and uplifts your senses. Its lavender oil keeps your hair smelling fresh, and its rice powder absorbs excess oil and eliminates hair odor.
The dry shampoo also contains activated coconut charcoal that refreshes every strand. It also deodorizes your hair and adds volume. The product is free of parabens, preservatives, and synthetic chemicals and fragrances. It also is vegan and cruelty-free.
Pros
Vegan
Cruelty-free
Paraben-free
Preservative-free
No synthetic fragrances
Long-lasting effects
Suitable for dark hair
Cons
Does not absorb well
Turns ashy
The ACURE Dry Shampoo works for all hair types. It contains a refreshing blend of rosemary and peppermint that absorbs excess oil and removes dirt and impurities. It also offers a fresh texture to your hair. This cruelty-free dry shampoo will leave your hair cleansed and volumized and extends the time between washes. The product is free from mineral oil, petroleum, parabens, and formaldehyde.
Pros
100% vegan
Paraben-free
Sulfate-free
Mineral oil-free
Petroleum-free
Formaldehyde-free
Pleasant fragrance
No residue
Cons
The Klorane Laboratories Dry Shampoo adds volume to your hair. This environmentally-friendly and aerosol-free dry shampoo is suitable for all hair types. Its gentle organic oat milk makes the shampoo safe even for sensitive scalp. The product is free from silicones, preservatives, parabens, sulfates, triclosan, and other harsh additives. It also is dermatologically-tested.
Pros
Protects hair color
Paraben-free
Sulfate-free
Silicone-free
Triclosan-free
Preservative-free
Dermatologically-tested
Suits all hair types
Cons
The Bumble and Bumble Pret-a-powder Dry Shampoo offers extended washing time, adds volume, and gives more life to your hair. It comes with oil-absorption and volume-boosting qualities. It works miracles on all hair textures. It suits all hair types as well.
Pros
Blends easily
Extends your hairstyle
Suits all hair types
Cons
The Lulu Organics Rose Musk Hair Powder is suitable for dark and blonde hair. This cleansing dry shampoo gets its classic mild scent from the fusion of musky patchouli notes and Bulgarian rose. It additionally contains sandalwood and vetiver that eliminate odor and keep your hair smelling fresh for long.
This quick-absorbing dry shampoo is travel friendly and fits easily in your bag or purse. The bottle lasts for about 130 applications. It is also free of parabens and talc. It has never been tested on animals.
Pros
Mild fragrance
Preserves hair color
Paraben-free
Talc-free
Cruelty-free
Cons
The Fujiko Pon Pon Powder Dry Shampoo enhances your hair volume. It also eliminates hair odor and reduces hair oiliness. It works as a perfect option during lazy afternoons or when you cannot wash your hair.
Pros
Cons
The R+Co Skyline Dry Shampoo Powder provides the much-needed freshness to unwashed hair. It dramatically refreshes your hair while adding grip and elevation to the hair strands. Its jojoba seed oil conditions your hair and adds shine without causing oiliness. It also balances the sebum levels and maintains scalp health.
It also contains diatomaceous earth, a mineral compound that absorbs dirt, oil, and impurities. It gives a subtle texture to your strands. The shampoo also contains burdock root extract that helps eliminate flakiness. Its antioxidant properties also promote scalp health. It also offers thermal and UV protection. It is free of parabens, gluten, sulfates, petrolatum, and mineral oil. It also is vegan and cruelty-free.
Pros
Paraben-free
Sulfate-free
Gluten-free
Petrolatum-free
Mineral oil-free
Vegan
Cruelty-free
No greasiness
Heat protection
UV protection
Cons
The Captain Blankenship Mermaid Dry Shampoo Powder is free of talc. It refreshes your hair by absorbing oil, sweat, and dirt while increasing the time between washes. It is packed with a powerful combination of kaolin clay, organic arrowroot, and aluminum-free baking soda. These ingredients help mattify your hair while eliminating toxins. They leave no residue.
This aerosol-free instant dry shampoo provides fullness and body to thin and flat hair. It blends quickly and is suitable for all hair types. It has a mild, fresh, and beachy rose fragrance derived from the essential oils of palmarosa and rose geranium.  It is made with plant-based organic ingredients and is free from harsh chemicals like parabens, sulfates, talc, and synthetic fragrances. It also is vegan and cruelty-free.
Pros
No residue
Suits all hair types
Paraben-free
Sulfate-free
Talc-free
No synthetic fragrances
Vegan
Cruelty-free
Mild fragrance
Cons
The Thermafuse MOCHA Cleansing Powder Dry Shampoo offers a clean and fresh look to your hair by eliminating oil, dirt, and toxins. It also neutralizes bad odor. It is best suitable for dark hair colors like brown or black. It contains natural proteins and amino acids that provide strength and improve hair texture.
Its natural zea mays starch offers fullness to hair shafts and absorbs excess oil. It also makes hairstyling convenient by holding your hair well all day long. It also offers a sweet berry fragrance thanks to its fruity blend of jasmine, rose, vanilla, amber musk, violet leaves, blackberries, and green mandarin. The product is free of parabens, sulfates, and sodium chloride. It also is vegan.
Pros
Suits all hair types
Extends styling
Pleasant smell
No residue
Blends well
Paraben-free
Sulfate-free
Sodium chloride-free
Vegan
Cons
The Manic Panic Hair Freshener Powder Dry Shampoo is lightweight and mildly fragranced. It extends the time between hair washes by instantly absorbing oil and dirt from the scalp and strands. This cleansing and odor-eliminating dry shampoo comes with UV protection to protect hair from sun damage. It is made of natural ingredients, including cornstarch and rice flour.
Pros
Protects hair color
Leave no residue
UV protection
Cons
Less quantity for the price
The ANSUE Dry Shampoo Powder works by absorbing excess hair oil and adds fullness to your hair with just a couple of presses to your head. Its invisible and lightweight formula works well for any hair type. It uses corn scratch transformed into a fine powder using high-tech methods for optimum and subtle coverage. It is free of toxins like alcohol, fragrances, sulfates, and parabens. It is vegan and cruelty-free as well.
Pros
Vegan
Cruelty-free
Paraben-free
Sulfate-free
Alcohol-free
Fragrance-free
No residue
Cons
Conclusion
Powder dry shampoos offer an excellent and convenient way to keep your hair fresh, odor-free, and lively without the need to wash frequently. If you are in the middle of a busy schedule and do not find time to wash your hair, you can always grab a powder dry shampoo. We believe this post has given you enough options to pick from. You can start using your powder dry shampoo today and see the results for yourself.
Expert's Answers for Readers Questions
What is a powder dry shampoo?
A powder dry shampoo is a product that fights excess oil and dirt from your hair without the need for water. It contains corn starch powder to eliminate greasiness and leave your hair fresh.
Is a powder dry shampoo better than a spray?
Power dry shampoos contain more starch and powder to absorb excess oil. Sprays contain aerosol or wax that add shine to hair. Powder dry shampoos are a better alternative.
Can you use baby powder as a dry shampoo?
The majority of dry shampoos use talc and baby powder and some other ingredients and fragrances to eliminate oiliness. You can use any baby powder as an alternative to dry shampoo. All you need to do is sprinkle some powder onto your scalp and keep combing till the power is no longer visible.
Recommended Articles
The following two tabs change content below.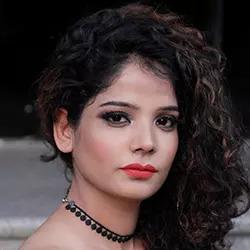 Latest posts by Deepika Telang (see all)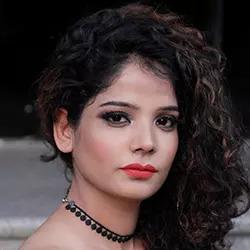 Deepika Telang
Deepika is a nutritionist, a beauty pageant title winner, a model, and a content writer. She has over 8 years of experience in writing articles spanning several niches, such as beauty, lifestyle, and health. She is a certified graphic designer and loves using various softwares to translate her thoughts to reality. This fitness freak and travel enthusiast dreams of exploring the length and breadth of the globe.