The 15 Best Powder Dry Shampoos That You Must Try In 2023
Refresh your dull hair and get rid of the greasy scalp with these innovate formulas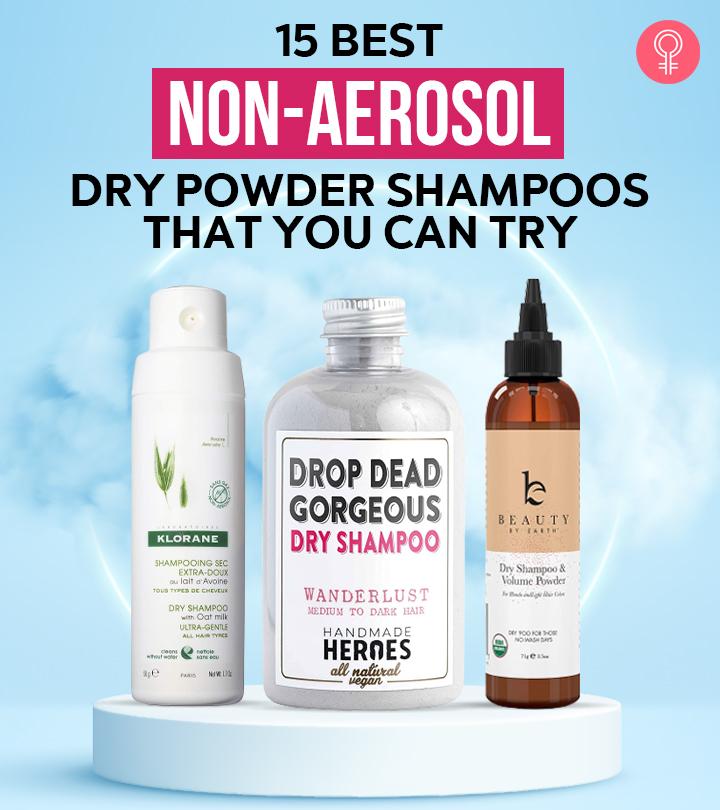 It is not always possible to wash your hair with water. But if it's a chilly day or if you are getting late at work, how do you keep your hair fresh? Well, you can try the best powder dry shampoo to keep your hair strands refreshed and maintain clean hair and a healthy scalp. These shampoos effectively keep your oily roots clean and prevent fungal infections. You can also bring back life to dull-looking hair with these powder formulas.
The dry shampoos are extremely helpful on any lazy day. You can leave your hair without washing it for up to two days as the dry shampoo can take care of oily, sweaty, or dirty scalp. Dry shampoos made with toxin-free ingredients are really a boon for modern women. So, we have carefully made a list of the 15 best dry shampoos that will get you ready in just minutes! Keep scrolling!
15 Best Powder Dry Shampoos
Pros
Long-lasting effects
Pleasant scent
Vegan
Cruelty-free
Paraben-free
Preservative-free
Synthetic fragrance-free
Cons
Pros
Nice fragrance
Safe for colored and chemically treated hair
Vegan
Paraben-free
Sulfate-free
Silicone-free
Triclosan-free
Preservative-free
Dermatologically tested
Cons
Pros
Blends well
Vegan
Organic
Travel-friendly
USDA certified
Non-GMO
Cruelty-free
Paraben-free
Gluten-free
Sulfate-free
Artificial dye-free
Artificial fragrance-free
Cons
Pros
Pleasant fragrance
Does not leave residue
100% vegan
Paraben-free
Sulfate-free
Mineral oil-free
Petroleum-free
Formaldehyde-free
Cons
The R+Co Skyline Dry Shampoo Powder provides much-needed freshness to unwashed hair. It dramatically refreshes your hair while adding grip and elevation to the strands. The lab-tested formula contains jojoba seed oil that conditions your hair and adds shine without causing oiliness. It also balances the sebum levels and maintains scalp health.
This dry shampoo also contains diatomaceous earth, a mineral compound that absorbs dirt, oil, and impurities. This professional-grade product gives a subtle texture to your strands and leaves the hair feeling fresh and clean. The burdock root extract in the shampoo helps eliminate flakiness, and its antioxidant properties also promote scalp health. This non-aerosol dry powder shampoo is infused with a wonderful fragrance consisting of notes of bergamot, lotus flower, wild fig, cyclamen, tonka beans, and cedarwood. The product has accumulated multiple reviews on Amazon, which further testify to its quality.
Key Ingredients: Diatomaceous earth, Jojoba seed oil, and Burdock root extract
Pros
Light, clean fragrance
Vegan
Paraben-free
Sulfate-free
Gluten-free
Petrolatum-free
Mineral oil-free
Cruelty-free
Cons
Pros
Color-safe
Vegan
Cruelty-free
Gluten-free
Sulfate-free
Silicone-free
Paraben-free
Phthalate-free
Artificial dye-free
Cons
None
Pros
Plant-derived ingredients
Talc-free
Value for money
Pleasant fragrance
Cons
Might leave your hair feeling sticky
Pros
Vegan
Works on all hair types
Clinically tested
Paraben-free
Gluten-free
Phthalate-free
Talc-free
Alcohol-free
Cruelty-free
Synthetic fragrance-free
Cons
Pros
Non-sticky
Vegan
Paraben-free
Sulfate-free
Gluten-free
Cruelty-free
Cons
Might leave a white residue
Pros
Mild fragrance
Preserves hair color
Paraben-free
Talc-free
Cruelty-free
Cons
Pros
Light scent
Light texture
Blends easily
Suits all hair types
Cons
Pros
Sulfate-free
Vegan
Cruelty-free
Phthalate-free
Organic
Synthetic fragrance-free
Long-lasting
Color-safe
Suitable for all hair and scalp types
Easy to use
Cons
None
Skip the greasy hair feeling with the John Frieda Volume Refresh Dry Shampoo. It instantly refreshes your scalp and keeps your hair volumized between washes. The luxurious formula absorbs all the excess oil without leaving any visible residue. It has a light and fresh scent that feels soothing on application. The dry shampoo offers heat protection from styling tools for up to 220°C/428°F.
Key Ingredients: Rice starch
Pros
Color-safe
Residue-free
Heat protectant
Cons
The Tigi Bed Head Oh Bee Hive Matte Dry Shampoo has a super fine, powdery formula. It is infused with cornstarch that absorbs excess oil and keeps your hair from becoming greasy and heavy. It refreshes your scalp and hair, lifts greasiness, and leaves the strands with a natural-looking, matte finish.
This dry shampoo also enhances the texture of your hair and gives it a light hold. The refractive index matching technology delivers a clear and sheer finish to your hair. This unique product has a subtle vanilla fragrance that makes your hair smell good. This product also has countless positive customer reviews on Amazon.
Key Ingredients: Aluminum starch octenyl succinate
Pros
Pleasant fragrance
Suitable for all hair types and textures
No white residue
Cons
May make the hair feel stiff
Pros
USDA-certified
Offers a cooling sensation
Does not leave residue
Cruelty-free
Synthetic dye-free
Synthetic-fragrance-free
Paraben-free
Gluten-free
Cons
Difficult to squeeze the product out
*The prices provided in this article are based on the latest available information. However, they may vary due to changes in pricing by the seller and/or promotional offers.
We know what made you gravitate towards dry shampoos – washing your hair every day is not an option, but your hair gets super greasy a day after shampooing! However, before investing in a dry shampoo for your hair, make sure the one you get meets your individual needs. Here is a list of things you must keep in mind before putting dry shampoos on your must-buy list.
What You Need To Know Before Purchasing A Dry Shampoo
Since dry shampoos stay in your hair for extended periods of time, it is a good idea to go for products that are paraben, sulfate, silicone and preservative-free. Go for ingredients like corn starch that absorbs oiliness, bentonite clay that moisturizes your tresses while removing toxins, and kaolin that removes dirt and other residue from your tresses.
If you wash your hair less than two times a week, you need to invest in a dry shampoo that will last you a long time. Frequent reapplication results in product build-up in your hair and scalp, resulting in dandruff. This is why dry shampoos that are long-lasting are the better choice.
There are dry shampoos created specifically for brunette and red hair. Opt for one that would not leave a light cast on your hair and scalp. Similarly, if you have blonde hair, opt for a dry shampoo marketed for light hair.
Avoid using a fragranced product on a sensitive scalp. Perfumes in dry shampoos can cause dryness and damage over time leading to hair loss. Since a dry shampoo is directly applied to the skin of the scalp, be wary of the chemicals in the product. If you are prone to allergies, you must do a patch test before application. Some people experience severe itching after applying dry shampoo, so make sure you aren't allergic to the formulation.
Since it is the dry shampoo's job to absorb the oil from your scalp and hair and make them appear oil-free between washes, it can make the hair dry and frizzy over time. Make sure you choose a product that will suit your hair type. Those with extremely dry and damaged hair should minimize the use of dry shampoos. Also, if you use this product regularly, it is important to deep condition your hair once a week and use a clarifying shampoo twice a month.
After you have picked up your favorite dry shampoo, depending on your hair type, you need to know the correct way of applying it to your hair. Follow these steps for best results after using a dry shampoo.
How To Use A Powder Dry Shampoo
Grab a comb or a hairbrush and comb your hair well to ensure that it is tangle-free. Divide your hair into manageable sections. You can work in subsections according to your convenience by moving horizontally up or down, depending on where you want to start.
The basic rule for applying powder dry shampoo is to aim at the roots of your hair and then apply. Put some powder on the bristles of your applicator brush. Keep the quantity in check and do not take too much of the product as it might leave a residue. Apply it in a dabbing motion in your scalp. Focus only on the oily parts of your hair and do not go overboard with the entire scalp. The amount of product needed will depend on how oily your scalp is.
After applying the dry shampoo to the oily areas, use your fingertips to spread it evenly all over your scalp. Tousle your hair with your fingers. Do it wherever you have applied the product until there are no visible powder spots on your scalp.
Use your hairbrush to brush and style your hair. Now that your hair has become refreshed, voluminous, and soft, leave it down and enjoy oil-free, non-greasy hair for the next few days. Dry shampoo provides more grip and makes hair manageable, thus making it easy to brush and style. If you are curious about how it works, scroll down.
How Does A Powder Dry Shampoo Work?
Depending on your hair texture, dry shampoos make your strands look less oily between your wash days. They are not meant exclusively for cleansing your hair. They eliminate dirt and grease while removing excess oil. Dry shampoos are formulated with starch-based ingredients or alcohol to soak up all the sweat and oils from your scalp. Some dry shampoos also contain fragrances so that your hair feels fresh between washes.
Dry shampoo works differently for different types of hair.
If your hair is naturally dry with enhanced texture, get a dry shampoo that suits your hair type. If your hair is dark brown or black, dry shampoo might appear flaky or leave a visible residue. To solve this issue, you need to purchase a dry shampoo made specially for darker and natural hair.
Dry shampoo can also help remove impurities and freshen up coily hair or curly hair types. However, the application process has to be different from that of natural hair. You cannot use a brush or comb after applying dry shampoo on curly hair. This might make your curls look dry and frizzy instead of giving them a fresh and bouncy effect.
Dry shampoo works most effectively on oily scalps. If your scalp gets oily and sweaty even after a quick workout session or due to weather changes, a dry shampoo might come in handy for a quick fix as a hair styling aid. A greasy scalp often blocks the follicles and prevents average hair growth. Using a dry shampoo can help prevent this.
The Bottom Line
Powder dry shampoos offer an excellent and convenient way to keep your hair fresh, odor-free, and lively without the need to wash frequently. These work wonders in replenishing the locks and eliminating dull texture for a luscious feel. If you are in the middle of a busy schedule and do not have time to wash your hair, you can always grab a dry powder shampoo. The products mentioned above are made with organic ingredients and keep your hair feeling clean and fresh. You can try the Handmade Heroes Drop Dead Gorgeous Dry Shampoo which absorbs excess oil and boosts hair volume, the Acure Dry Shampoo which adds fullness to flat hair and leaves over a mild fragrance, or the Briogeo Scalp Revival Charcoal+Biotin Dry Shampoo which deep cleanses the scalp and controls sebum production. Go ahead and pick your favorites and see the results for yourself!
Why Trust StyleCraze?
The author of this article, Shiboli Chakraborti, is a passionate and dedicated haircare enthusiast who constantly endeavors to provide the best products for her readers. She has gone through numerous customer testimonials online and assembled this list of the choicest dry powder shampoos out there. These shampoos are vegan, free of harsh chemicals, and soften your hair, making them a must-have in one's collection.
Frequently Asked Questions
What is a powder dry shampoo?
Powder dry shampoo is a product that absorbs excess oil and eliminates dirt from your hair without the need for water. It contains corn starch powder to eliminate greasiness and leave your hair fresh.
Is powder dry shampoo better for your hair?
The dry shampoo contains starch-based ingredients and alcohol that absorb the excess oil and grease from your scalp. However, its frequent use can cause itching in your scalp.
Is a dry powder shampoo better than a spray?
If you are looking for a solution to combat grease, powder dry shampoos are a better option. They also work well for fine hair and are easy to apply. On the other hand, sprays work well for thicker hair types.
Can you use baby powder as a dry shampoo?
Yes. A majority of dry shampoos uses talc and baby powder and other ingredients and fragrances to eliminate oil. You can use any baby powder as an alternative to dry shampoo. All you need to do is sprinkle some powder onto your scalp and keep combing until the powder is no longer visible.
Which is better –aerosol or dry powder shampoo?
Powdered dry shampoos are better than aerosol sprays because they are formulated with fewer and cleaner ingredients. Aerosol sprays may be user-friendly, but they contain alcohol and synthetic fragrances, which are not suitable for your hair.
Can dry shampoo cause baldness?
Overuse of dry shampoos can cause buildup, irritate your scalp, and weaken the hair follicles, which in turn might cause hair fall.
Is it OK to use dry shampoo every day?
No, one should not use dry shampoo regularly as it can make the hair prone to breakage and lead to scalp and hair issues.
What are the side effects of dry shampoo?
Excessive use of dry hair shampoo can cause itchiness, scalp redness, dull hair, stubborn dandruff, or scalp pimples.