The 15 Best Powder Dry Shampoos That You Must Try In 2022
Refresh your dull hair and get rid of the greasy scalp with these innovate formulas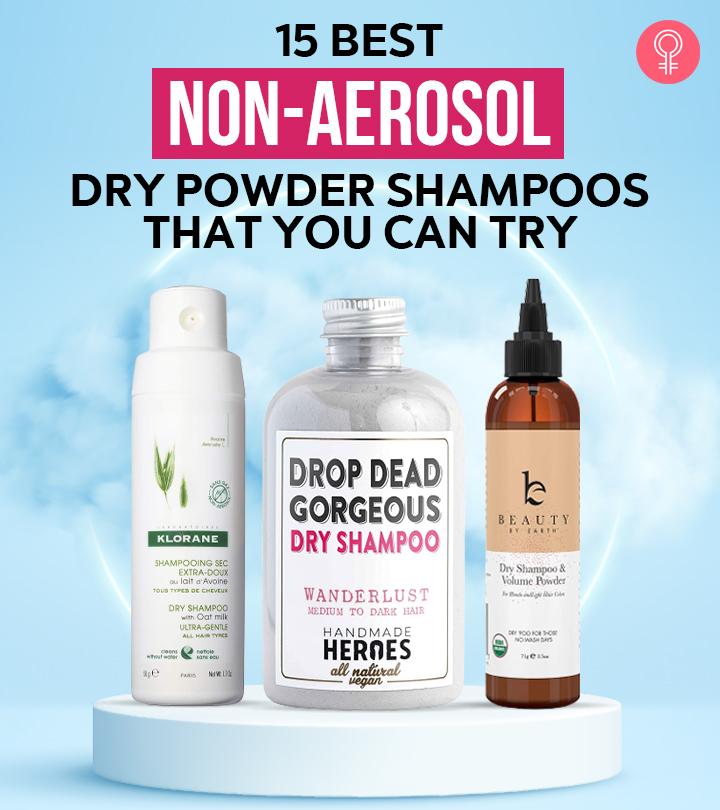 It is not always possible to wash your hair with water. But if it's a chilly day or if you are getting late at work, how do you keep your hair fresh? Well, you can try the best powder dry shampoo to keep your hair strands refreshed. These shampoos effectively keep your hair healthy and clean. You can bring back life to dull-looking hair.
The dry shampoos are extremely helpful on any lazy day. You can leave your hair without washing at up to to two days as the dry shampoo can take care of oily, sweaty, or dirty scalp. Dry shampoos made with toxin-free ingredients are really aboon for modern women. So, we have carefully a list of the 15 best dry shampoos that will get you ready in just minutes! Keep scrolling!
15 Best Powder Dry Shampoos
This dry shampoo from the Handmade Heroes removes excess oil, balances sebum production, and keeps your hair fresh and volumized. It is infused with geranium oil that helps elevate your emotional wellness, reduces fatigue, and uplifts your senses. The lavender oil in the formula keeps your hair smelling fresh, and the rice powder absorbs excess oil and eliminates hair odor. This dry shampoo also contains activated coconut charcoal that refreshes every strand. It deodorizes your hair and adds volume.
Key Ingredients: Geranium oil, Lavender oil, Rice powder, and Activated coconut charcoal
Pros
Long-lasting effects
Pleasant scent
Vegan
Cruelty-free
Paraben-free
Preservative-free
Synthetic fragrance-free
Cons
The Klorane Laboratories Dry Shampoo has an ultra-gentle formula that adds volume to your hair. It is enriched with organically harvested oat milk to soothe your scalp, corn and rice starch for deep cleansing, and natural absorbent microspheres and silica to eliminate the excess oil and dirt. The fine powder does not leave any white residue and extends the life of your hairstyle and color. This environmentally-friendly and aerosol-free dry shampoo is suitable for all hair types. Here is an informative video that tells you more about the product.
Key Ingredients: Rice starch, Kaolin clay, Oat kernel flour, and Aluminum starch
Pros
Nice fragrance
Safe for colored and chemically treated hair
Vegan
Paraben-free
Sulfate-free
Silicone-free
Triclosan-free
Preservative-free
Dermatologically tested
Cons
The Dry Shampoo & Volume Powder from Beauty By Earth is an excellent option for those who want to take a break from their regular shampoo routine and effortlessly tame frizzy hair. It quickly clears away all the grease, dirt, and oil without water. It refreshes your hair from the roots to the tips in seconds and adds extra volume even on days when your hair looks flat.
This dry shampoo contains kaolin clay that absorbs excess oil and corn starch that soothes irritation in the scalp. The antioxidant-rich lavender and baking soda infused in the product remove dirt from the scalp surface. The best part is that you can use this shampoo on the go, whenever you want.
Key Ingredients: Corn starch, Arrowroot powder, Kaolin clay, and Lavender oil
Pros
Blends well
Vegan
Organic
Travel-friendly
USDA certified
Non-GMO
Cruelty-free
Paraben-free
Gluten-free
Sulfate-free
Artificial dye-free
Artificial fragrance-free
Cons
The Acure Dry Shampoo has a natural formula designed to suit all hair types. It contains a refreshing blend of rosemary and peppermint that absorbs excess oil and removes dirt and impurities. It also improves the texture of your hair. This cruelty-free dry shampoo will leave your hair cleansed and volumized. For more information about the product, click this video.
Key Ingredients: Rosemary and Peppermint
Pros
Pleasant fragrance
Does not leave residue
100% vegan
Paraben-free
Sulfate-free
Mineral oil-free
Petroleum-free
Formaldehyde-free
Cons
The R+Co Skyline Dry Shampoo Powder provides much-needed freshness to unwashed hair. It dramatically refreshes your hair while adding grip and elevation to the strands. The formula contains jojoba seed oil that conditions your hair and adds shine without causing oiliness. It also balances the sebum levels and maintains scalp health.
This dry shampoo also contains diatomaceous earth, a mineral compound that absorbs dirt, oil, and impurities. It gives a subtle texture to your strands. The burdock root extract in the shampoo helps eliminate flakiness, and its antioxidant properties also promote scalp health. This non-aerosol dry powder shampoo is infused with a wonderful fragrance consisting of notes of bergamot, lotus flower, wild fig, cyclamen, tonka beans, and cedarwood.
Key Ingredients: Diatomaceous earth, Jojoba seed oil, and Burdock root extract
Pros
Light, clean fragrance
Vegan
Paraben-free
Sulfate-free
Gluten-free
Petrolatum-free
Mineral oil-free
Cruelty-free
Cons
If oily scalp and messy hair are bothering you, try the Briogeo Scalp Revival Charcoal+Biotin Dry Shampoo. The nourishing formula is enriched with clay and tapioca that absorb excess oil and alleviate impurities from your scalp and hair. It also contains binchotan charcoal that efficiently removes toxins, dirt, buildup, and bacteria from the scalp while making it healthy and refreshed.
This dry shampoo is also infused with biotin that adds volume and thickness to your hair. The witch hazel in the formula controls sebum production to keep the scalp oil-free. The shampoo comes in a travel-friendly bottle, and you can easily use it while on the go. Check this video to learn more about the product.
Key Ingredients: Rice starch, Corn starch, Kaolin clay, Tapioca root starch, and Witch hazel
Pros
Color-safe
Vegan
Cruelty-free
Gluten-free
Sulfate-free
Silicone-free
Paraben-free
Phthalate-free
Artificial dye-free
Cons
None
The Captain Blankenship Mermaid Dry Shampoo Powder refreshes your hair by absorbing oil, sweat, and dirt while increasing the time between washes. It is packed with a powerful combination of kaolin clay, organic arrowroot, and aluminum-free baking soda. These ingredients help mattify your oily hair while adding volume to it.
This aerosol-free instant dry shampoo provides fullness and body to thin and flat hair. It has a mild, fresh, and beachy rose fragrance derived from the essential oils of palmarosa and rose geranium essential oils and leaves your hair feeling fresh and clean.
Key Ingredients: Aluminum-free baking soda, Organic arrowroot powder, and Kaolin clay
Pros
Does not leave residue
Suits all hair types
Organic ingredients
Vegan
Paraben-free
Sulfate-free
Talc-free
Synthetic fragrance-free
Cruelty-free
Cons
Greasy
Overpowering scent
The Act+Acre Plant-Based Dry Shampoo has a potent formula that absorbs odor and oil, eliminates all the impurities, boosts hair volume, and improves the texture of your hair. It does not clog the hair follicles or cause scalp irritation. It refreshes your hair and detoxifies your scalp while nourishing it with 65+ minerals. The formula is enriched with rice powder that absorbs oil and odor and fulvic acid that unclogs the hair follicles and promotes healthy hair growth.
Key Ingredients: Rice powder and Fulvic acid
Pros
Vegan
Works on all hair types
Paraben-free
Gluten-free
Phthalate-free
Talc-free
Alcohol-free
Cruelty-free
Synthetic fragrance-free
Cons
The Verb Dry Shampoo has a powder-based formula that removes excess oil and refreshes your scalp. It boosts hair volume and prevents damage caused by too much washing and styling. The non-whitening formula is enriched with tapioca that instantly absorbs all the impurities and gives you a re-energized look. The shampoo also contains glycerin that locks in your hair's natural moisture and softens it. The superfruit antioxidant-infused in this dry shampoo combats free radicals to keep your hair fresh and healthy.
Key Ingredients: Tapioca starch, Aluminum starch, and Glycerin
Pros
Non-sticky
Vegan
Paraben-free
Sulfate-free
Gluten-free
Cruelty-free
Cons
Might leave a white residue
The Lulu Organics Rose Musk Hair Powder is suitable for dark and blonde hair. This cleansing formula gets its classic mild scent from the fusion of musky patchouli and Bulgarian rose. It also contains sandalwood and vetiver that eliminate odor and keep your hair smelling fresh for long. This quick-absorbing dry shampoo is travel-friendly and fits easily in your bag or purse. The bottle lasts for about 130 applications.
Key Ingredients: Organic corn starch, White clay, Baking soda, Organic horsetail powder, and Essential oils
Pros
Mild fragrance
Preserves hair color
Paraben-free
Talc-free
Cruelty-free
Cons
The Bumble And Bumble Pret-A-Powder Dry Shampoo offers extended washing time, adds volume, and gives more life to your hair. It comes with oil absorption and volume-boosting qualities. The potent dry cleanser works wonders on all hair textures.
Key Ingredients: Corn starch, Tapioca starch, and Kernel flour
Pros
Light scent
Light texture
Blends easily
Suits all hair types
Cons
The Keratin Complex Volumizing Dry Shampoo has a quick-absorbing formula that instantly cleanses your hair while adding volume and reducing odor and excess oil. It has a unique, built-in brush applicator that makes the application easy and mess-free. The dry shampoo leaves a subtle, citrus-like fragrance that rejuvenates your senses.
Key Ingredients: Zea mays starch, Tapioca starch, Aluminum starch octenyl succinate, and Hydrolyzed keratin
Pros
Soft and subtle fragrance
Inbuilt brush applicator
Does not weigh the hair down
Cons
None
Skip the greasy hair feeling with the John Frieda Volume Refresh Dry Shampoo. It instantly refreshes your scalp and keeps your hair volumized between washes. The luxurious formula absorbs all the excess oil without leaving any visible residue. It has a light and fresh scent that feels soothing on application. The dry shampoo offers heat protection from styling tools for up to 220°C/428°F.
Key Ingredients: Rice starch
Pros
Color-safe
Residue-free
Heat protectant
Cons
The Tigi Bed Head Oh Bee Hive Matte Dry Shampoo has a super fine, powdery formula. It is infused with cornstarch that absorbs excess oil and keeps your hair from becoming greasy and heavy. It refreshes your scalp and hair, lifts greasiness, and leaves the strands with a natural-looking, matte finish.
This dry shampoo also enhances the texture of your hair and gives it a light hold. The refractive index matching technology delivers a clear and sheer finish to your hair. This product has a subtle vanilla fragrance that makes your hair smell good.
Key Ingredients: Aluminum starch octenyl succinate
Pros
Pleasant fragrance
Suitable for all hair types and textures
No white residue
Cons
May make the hair feel stiff
The Thermafuse Mocha Cleansing Powder Dry Shampoo offers a clean and fresh look to your hair by eliminating oil, dirt, and toxins. It also neutralizes unpleasant odor. The formula is best suitable for dark hair colors like brown or black. It contains natural proteins and amino acids that provide strength and improve hair texture.
The dry shampoo is infused with natural zea mays starch that offers fullness to hair shafts and absorbs excess oil. It also makes hairstyling convenient by holding your hair well all day long. The product has a sweet berry fragrance, thanks to a fruity blend of jasmine, rose, vanilla, amber musk, violet leaves, blackberries, and green mandarin.
Key Ingredients: Corn starch, Silica, Tocopherol, Cocoa powder
Pros
Pleasant scent
Does not leave residue
Blends well
Vegan
Paraben-free
Sulfate-free
Sodium chloride-free
Cons
After you have picked up your favorite dry shampoo, depending on your hair type, you need to know the correct way of applying it to your hair. Follow these steps for best results after using a dry shampoo.
How To Use A Powder Dry Shampoo
Grab a comb or a hairbrush and comb your hair well to ensure that it is tangle-free. Divide your hair into manageable sections. You can work in subsections according to your convenience by moving horizontally up or down, depending on where you want to start.
The basic rule for applying powder dry shampoo is to aim at the roots of your hair and then apply. Put some powder on the bristles of your applicator brush. Keep the quantity in check and do not take too much of the product as it might leave a residue. Apply it in a dabbing motion in your scalp. Focus only on the oily parts of your hair and do not go overboard with the entire scalp. The amount of product needed will depend on how oily your scalp is.
After applying the dry shampoo to the oily areas, use your fingertips to spread it evenly all over your scalp. Tousle your hair with your fingers. Do it wherever you have applied the product until there are no visible powder spots on your scalp.
Use your hairbrush to brush and style your hair. Now that your hair has become refreshed, voluminous, and soft, leave it down and enjoy oil-free, non-greasy hair for the next few days. If you are curious about how it works, scroll down.
How Does A Powder Dry Shampoo Work?
Depending on your hair texture, dry shampoos make your strands look less oily between your wash days. They are not meant exclusively for cleansing your hair. They eliminate dirt and grease while removing excess oil. Dry shampoos are formulated with starch-based ingredients or alcohol to soak up all the sweat and oils from your scalp. Some dry shampoos also contain fragrances so that your hair feels fresh between washes.
Dry shampoo works differently for different types of hair.
If your hair is naturally dry with enhanced texture, get a dry shampoo that suits your hair type. If your hair is dark brown or black, dry shampoo might appear flaky or leave a visible residue. To solve this issue, you need to purchase a dry shampoo made specially for darker and natural hair.
Dry shampoo can also help remove impurities and freshen up curly hair. However, the application process has to be different from that of natural hair. You cannot use a brush or comb after applying dry shampoo on curly hair. This might make your curls look dry and frizzy instead of giving them a fresh and bouncy effect.
Dry shampoo works most effectively on oily scalps. If your scalp gets oily and sweaty even after a quick workout session or due to weather changes, a dry shampoo might come in handy for a quick fix. A greasy scalp often blocks the follicles and prevents average hair growth. Using a dry shampoo can help prevent this.
Powder dry shampoos offer an excellent and convenient way to keep your hair fresh, odor-free, and lively without the need to wash frequently. If you are in the middle of a busy schedule and do not have time to wash your hair, you can always grab a dry powder shampoo. The products mentioned above are made with organic ingredients and keep your hair feeling clean and fresh. Go ahead and pick your favorites and see the results for yourself!
Why Trust StyleCraze?
The author of this article, Shiboli Chakraborti, is a passionate and dedicated haircare enthusiast who constantly endeavors to provide the best products for her readers. She has gone through numerous customer testimonials online and assembled this list of the choicest dry powder shampoos out there. These shampoos are vegan, free of harsh chemicals, and soften your hair, making them a must-have in one's collection.
Frequently Asked Questions
What is a powder dry shampoo?
Powder dry shampoo is a product that absorbs excess oil and eliminates dirt from your hair without the need for water. It contains corn starch powder to eliminate greasiness and leave your hair fresh.
Is powder dry shampoo better for your hair?
The dry shampoo contains starch-based ingredients and alcohol that absorb the excess oil and grease from your scalp. However, its frequent use can cause itching in your scalp.
Is a dry powder shampoo better than a spray?
If you are looking for a solution to combat grease, powder dry shampoos are a better option. They also work well for fine hair and are easy to apply. On the other hand, sprays work well for thicker hair types.
Can you use baby powder as a dry shampoo?
Yes. A majority of dry shampoos uses talc and baby powder and other ingredients and fragrances to eliminate oil. You can use any baby powder as an alternative to dry shampoo. All you need to do is sprinkle some powder onto your scalp and keep combing until the powder is no longer visible.
Which is better –aerosol or dry powder shampoo?
Powdered dry shampoos are better than aerosol sprays because they are formulated with fewer and cleaner ingredients. Aerosol sprays may be user-friendly, but they contain alcohol and synthetic fragrances, which are not suitable for your hair.
Can dry shampoo cause baldness?
Overuse of dry shampoos can cause buildup, irritate your scalp, and weaken the hair follicles, which in turn might cause hair fall.
Is it OK to use dry shampoo every day?
No, one should not use dry shampoo regularly as it can make the hair prone to breakage and lead to scalp and hair issues.
What are the side effects of dry shampoo?
Excessive use of dry hair shampoo can cause itchiness, scalp redness, dull hair, stubborn dandruff, or scalp pimples.
Recommended Articles