The 15 Best Powder Foundations To Conceal Imperfections – 2023
Looking for buildable coverage without a greasy finish? These foundations will help you out!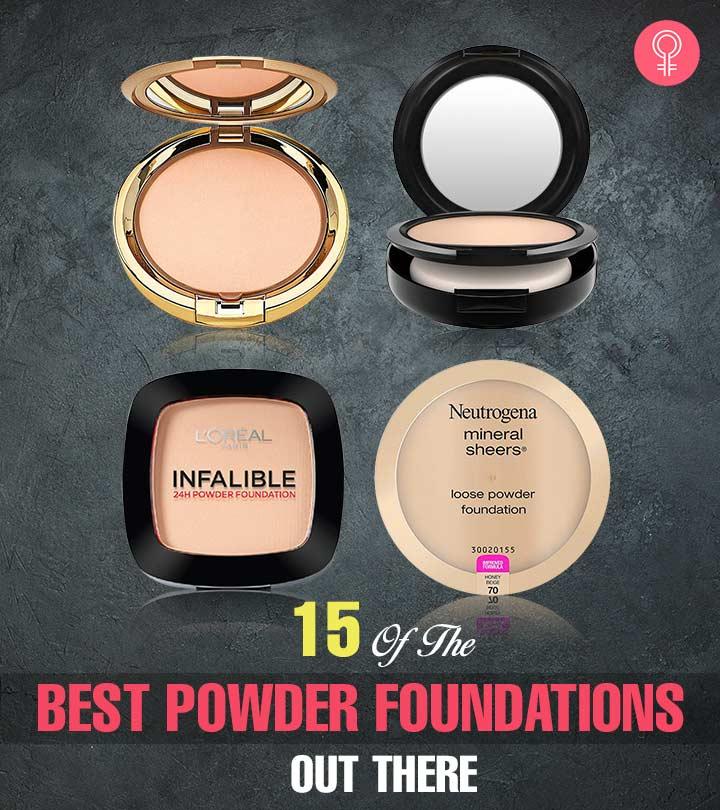 If you have oily, sensitive, or acne-prone skin and haven't been fortunate enough to find the right foundation formula, a powder foundation may just be the greatest thing you try for your base.
Kerrin Jackson, a 4-time Emmy-nominated film and television makeup artist, says, "While today's makeup trends seem to gravitate away from a heavy powder finish to a dewy, more natural look, there will always be a place for pressed powders in beauty. They are perfect for mattifying targetted shiny spots, like our noses or chins. And correcting redness or uneven areas with ease."
Powder foundations offer impeccable coverage without clogging your pores or leaving a greasy residue on your skin as they are made without oils and emollients. The bottom line? You'll say goodbye to that dreaded shine thanks to their excellent oil-absorbing properties. We have put together 15 of the best powder foundations available on the market right now that will leave you with a dreamy, air-brushed effect.
Did we mention that these are perfect for daily wear? Because they are.
Best Of The Best: Top 15 Powder Foundations
Review
This powder foundation from M.A.C's Studio Fix range gives you everything you will ever need from a powder-based foundation formula. Available in shades for every skin tone on the planet, it takes the prize for its convenient application and staying power. Use a kabuki brush or a damp beauty sponge to apply it and see what works best for you. It blends well and leaves your skin looking flawless. Its coverage is impressive, and you can use it over your moisturizer and sunscreen for an even-toned base that lasts for up to 8 hours.
Pros
Long-wearing
Controls oil
Buildable coverage
Transfer-resistant
Photo-friendly
Suitable for all skin types
Cons
Price at the time of publication: ₹29
Review
Maybelline's Fit Me Matte + Poreless Powder is one of the best drugstore powder foundations for oily skin. If you apply this using a damp beauty sponge, it leaves your skin with a beautiful, natural-looking matte effect. Pick a shade that perfectly matches your skin tone and be amazed by how it performs. Keep in mind that wearing a primer underneath this formula makes it last a lot longer.
Pros
Blends well
Natural finish
Keeps your face matte all day
Available in a wide range of shades
Buildable coverage
Affordable
Cons
Price at the time of publication: ₹6.94
Review
The trick with this product is to moisturize well and then use a primer before applying it. You can use a tinted moisturizer instead of a regular one if you want some extra coverage. Use a damp sponge or a kabuki brush to apply this powder and make sure you blend it out properly. It is a great powder foundation for aging skin, and it does not settle into fine lines or wrinkles. It also keeps your face looking matte all day.
Pros
Easy to apply
Light to medium coverage
Beautiful gold packaging
Cruelty-free
Affordable
Cons
Comes with a hard and dense sponge
Price at the time of publication: ₹26.61
Review
This powder foundation from NYX works well to minimize shine on your face. It goes on velvety, but once it sets, it creates a smooth and matte finish. You can apply this product with a sponge applicator. However, it also applies well with a brush. If you are looking for a very subtle and natural finish for a decent price, this is something you can try!
Pros
Easy to apply
Glides onto the skin easily
Soft, natural finish
Lightweight
Perfect for instant touch-ups through the day
Affordable
Cons
Price at the time of publication: ₹1709
Review
This pressed powder foundation from Bare Minerals gives you the full coverage of your dreams. It is a matte formula that stays right where you apply it for up to 12 hours. Formulated with 90% natural ingredients containing minerals and vitamins, it makes for an ideal option for sensitive and acne-prone skin. It is available in 30 true-to-you shades.
Pros
Medium-to-full coverage
Naturally matte finish
Ultra lightweight
Long-wearing
Value for money
Cons
Price at the time of publication: ₹64
Review
If you want to achieve a velvety finish, this powder foundation from L'Oreal does precisely that. It hides minor flaws and blemishes well and also blurs fine lines and wrinkles. If you have combination skin, this is an excellent formula for you. It is a tad bit pricey for a drugstore brand, but it is a one-of-a-kind formula.
Pros
Versatile
Easy to blend
Buildable coverage
Evens out skin tone
Sleek packaging
Cons
Does not control shine on hot days
Price at the time of publication: ₹14
Review
Bobbi Brown's Skin Weightless Powder Foundation will leave your skin looking matte for about 7-8 hours. It has a gorgeous, lightweight consistency, and it can be used alone or over a liquid foundation – it works beautifully both ways. We recommend using a little bit of concealer in case you have dark spots or pigmentation before applying this powder with a blending sponge for a flawless, skin-like finish.
Pros
Lightweight and easy to apply
Leaves your skin looking matte and natural
Does not sink into fine lines and wrinkles
Controls shine and oil
Sheer to medium coverage
Cons
Price at the time of publication: ₹25.66
Review
If you want a powder foundation that helps your face look fresher and more vibrant, this one by L'Oreal is a great option. You can use it either with a dry sponge or a slightly damp one to build coverage. Take note: it does not look streaky or melt away on hot days! For a drugstore powder foundation, this one is a blessing for oily skin.
Pros
Easy to use
Fragrance-free
Light to medium coverage
Absorbs excess oil
Decent staying power
Cons
Price at the time of publication: ₹27
Review
Smashbox Photo Filter Powder Foundation contains a whole bunch of beneficial ingredients and is formulated without any parabens. This powder goes on smoothly and evens out your skin tone, diminishing redness and the appearance of pores and fine lines with ease. The best part? It does not look cakey at all. It provides a flattering, skin-like finish.
Pros
Perfect for oily skin
Light to medium coverage
Natural finish
Available in a wide range of shades
Fragrance-free
Cons
Review
To all the dry-skinned beauties – if you are a fan of powder foundations and upset that it just won't work with your skin type, the NYX Hydra Touch Powder is for you. It offers smooth, even application and provides your skin with the right amount of glow. Use it with a damp beauty sponge to amp up its coverage. Also, say goodbye to those annoying dry patches getting highlighted by your foundation.
Pros
Lightweight
Buildable finish
Contains moisturizing botanical extracts
Can be applied dry or wet
Available in 20 shades
Cons
Price at the time of publication: ₹14
Review
If you fear flaking and cakiness, Tarte Amazonian Clay Full Coverage Airbrush Foundation is something that you've got to try! Buy a miniature kabuki brush to get the product out and apply it with a patting motion, slowly transitioning to gentle buffing. It has a unique texture that adapts beautifully to dry skin. Also, Amazonian Clay is enriched with light-reflecting gemstones that will make your complexion look radiant and youthful.
Pros
Long-staying
Vegan
Waterproof
Full coverage
Cons
Expensive
No applicator provided
Price at the time of publication: ₹69.89
12. The Body Shop Extra Virgin Minerals Loose Powder Foundation
Review
This featherlight powder base is ideal for sensitive skin as it is formulated with pure minerals. It covers imperfections and fine lines well and leaves you with a radiant, natural-looking finish. You also get the added benefit of SPF 25.
Pros
Buildable coverage
Non-comedogenic
Easy to blend
Dermatologist-tested
Cons
Review
For sensitive to combination to acne-prone skin, this powder from Elizabeth Arden is a blessing! Apply your regular moisturizer and go in with this foundation. It offers SPF 20, which is great for daytime use. It feels incredibly light on the skin and blends like a dream.
Pros
Non-drying
Blends well
Does not settle into fine lines
Has SPF 20, UVA and UVB filters
Cons
Its packaging involves a fixed grinder. Hence, you can't see the quantity of powder left in the case below.
Expensive
Review
The Neutrogena Mineral Sheers Compact Foundation is great for anyone who has acne or rosacea. It offers sheer coverage and adds a whole lot of radiance to your skin. It is great for daily wear when you don't want to go through a whole elaborate makeup routine. Also, it contains SPF 20, making it ideal for wearing during the day. If you have sensitive skin, definitely try this out!
Pros
Very smooth and finely-milled texture
Non-comedogenic
Keeps T-zone shine-free for 4 hours
No fallout
Non-chalky
Easy to blend
Cons
Price at the time of publication: ₹10.29
Review
If you are crazy about the "lit from within" look, Clinique's powder foundation effortlessly hands it to you. This formula goes on smoothly and evens out your complexion without looking fake or powdery. It is an ideal choice for daily wear as it is made with non-comedogenic ingredients.
Pros
Lightweight
Does not clog pores
Natural finish
Easy to blend
Cons
Price at the time of publication: ₹36
The best thing about a powder foundation formula is that it allows your skin to breathe, unlike your regular full-coverage liquid stuff. It also works as a great on-the-go foundation and can be your bathroom touch-up savior. If you have oily, acne-prone, and sensitive skin, you must definitely consider ditching your liquid formula for a mineral powder foundation as it changes the way your skin looks and feels. Kerrin Jackson, a 4-time Emmy-nominated film and television makeup artist, says, "High-pigmented powders such as MAC Studio Fix, can provide the coverage of a traditional foundation in literally half the time. AND with a built-in mirror and applicator!"
That was our round-up of the 15 best powder foundations for all skin types. Have you ever tried any of these products? What did you think of them? Let us know in the comments section below.
Why Trust StyleCraze?
Esha Saxena, the author, is a skincare and makeup enthusiast, who loves trying new products as per the skin type and concerns. She has carefully gone through several customer reviews and has tried some products herself before bringing to you this curation of the best powder foundations right here. She has also included the pros and cons of each to help you select the one best suitable for your need and concern. These foundations are perfect for oily skin beauties, giving you a poreless matte finish.
Frequently Asked Questions
Can you wear a powder foundation alone?
Yes, you can wear a powder foundation alone for oil control and coverage but you will require frequent reapplication throughout the day.
Do you put on concealer before or after powder foundation?
In the case of a powder foundation, it is better to apply the concealer first to get better coverage. It also prevents the makeup from looking cakey. However, with a liquid foundation, the foundation goes before the concealer.
Can you put a cream highlighter over a powder foundation?
Yes, you can use a highlighter according to the amount of shimmer you want.
What is the difference between compact powder and powder foundation?
Compact powders are used for touch up and to get rid of excess oil and sebum from the face, while foundations offer more coverage to provide a base for your makeup.
Do you set powder foundations with powder?
Yes, if you see oiliness after applying your powder foundation you can use a translucent powder to get rid of the excess shine and oil.
Does powder foundation make you look older?
No. Unless the powder foundation looks extra dry and settles in the fine lines on your face it does not make you look older.
Recommended Articles: