13 Best Powder Brushes For A Smooth And Radiant Look
Blend your makeup well and look absolutely flawless at important events and parties.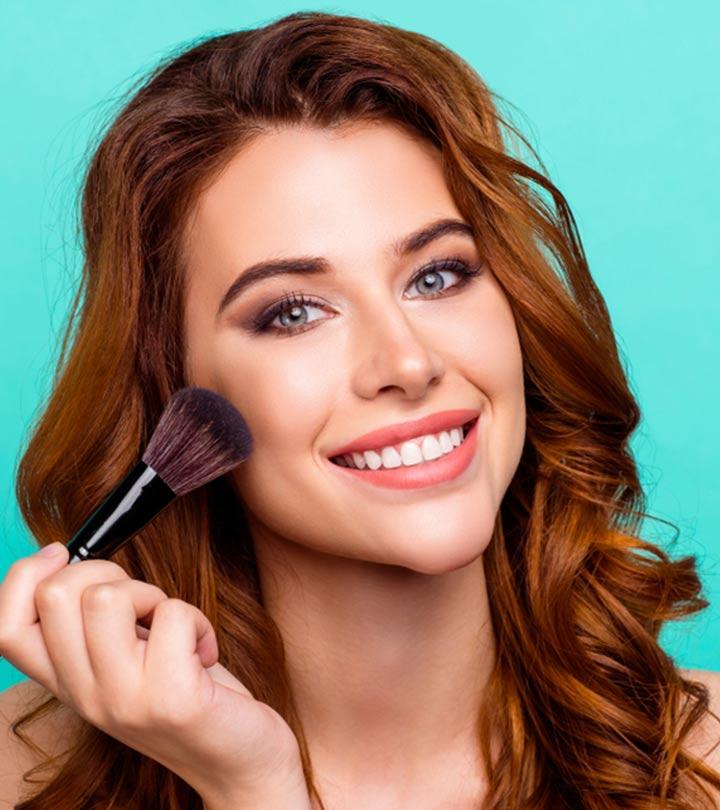 If you are new to makeup, owning the best powder brush will help you evolve into a pro pretty soon. Makeup has a lot to do with confidence, and once you know how to convert your flaws into your strength, nothing can hold you back. While everyone appreciates natural skin spotless skin, it is not only rare to have it every day. It is near impossible to survive the pollution, exposure, and chemicals and come out without a rash. Every person you admire with clear skin on the internet is covered tactfully on layers of makeup. A good quality brush is what gives you a professional finish. The professional brush is dense and fluffy and covers your face just enough to conceal the spots while keeping you from looking like a cake. Here is a list of 13 powder brushes crafted to give you a salon finish once you finish it. Go through the list to know which brush is ideal according to your everyday styling needs.
13 Best Powder Brushes To Get That Flawless Finish In 2023
Pros
Cruelty-free
Gluten-free
Vegan
Suitable for use as a contouring brush
Cons
May not be the best fit to blend heavy-duty foundation
Price at the time of publication: $3.49
Pros
Easy to clean
No shedding
Even and streak-free finish
Made from dense, synthetic fibers
For medium to full coverage
Cons
Some users felt that it isn't as dense as other kabuki brushes
Price at the time of publication: $10.0
Pros
Lightweight
Cruelty-free
Easy to clean
Made from ultra-plush synthetic bristles
Cons
The brush hair may shed if washed too many times.
Price at the time of publication: $10.99
Pros
100% vegan
Cruelty-free hair
Easy to clean
Soft and durable synthetic bristles
For an even, streak-free, and patch-free finish
Cons
Some may find the brush to be too dense
Price at the time of publication: $599.0
Pros
Does not shed
Can be used as a blending brush
Works with powders, liquids, and creams
Made from dense, synthetic bristles
Ergonomic handle
Cons
The bristles may fray with rough handling and cleaning
Price at the time of publication: $13.97
Ready to become awestruck? Simply watch this powder brush glide smoothly onto your skin with its soft round bristle head that is specially designed for extensive area coverage. You can use this foundation and powder brush combo to get that flawless coverage all over your face. The multifunctional flat kabuki brush is a fantastic choice to apply both liquid and powder foundations, while the round-top powder brush can be used to distribute or gradually build the coverage that you want evenly. You can rely on these brushes that are made from carefully selected raw materials and handcrafted by professional makeup artists to give you longer-lasting makeup.
Pros
Crafted by professional makeup artists
Made from plush synthetic bristles
For longer-lasting makeup
Extra-large powder brush
Cruelty-free
Cons
Some may find the handles relatively small
Price at the time of publication: $9.99
Pros
PETA-certified 100% cruelty-free
Blush and contour brush
Sustainable option
Vegan product
Soft, hand-cut bristles
Can be used a bronzing brush
Cons
Some users felt that it was too soft for foundation application
Price at the time of publication: $6.59
If you've been looking high and low to find that perfect large powder brush, which will easily cover a large surface area, you can rest assured that you've finally found it as the Daubigny Professional Powder Brush is your best bet! It is not only flexible enough to dust on blush or bronzer but can also be used to glide on translucent powder to give yourself a high-end professional look. The electroplating handle made from high-quality aluminum allows for comfortable makeup application. With a 360° grasp feature that enables one to evenly spread makeup in powder form along with flat-angled shaped bristles that are composed of tempered synthetic fibers, you can easily scoop up both loose and pressed powders with this angled brush.
Pros
Skin-friendly
360° grasp feature
Flat-angled shaped bristles
Made of tempered synthetic bristles
No shedding
Cons
It may absorb liquid makeup.
Price at the time of publication: $9.99
If you are looking for a good brush for powder foundation, this large mineral powder brush is a 100% vegan-friendly option with soft yet dense bristles. You can easily pick up powder and use it for applying and setting your face makeup. The large brush head allows you a larger coverage area with its high-quality synthetic fiber bristles. This odor-free fluffy powder brush is also easy to clean as it does not absorb any excess product. Add this brush to your makeup kit as an essential tool to help you deliver an even finish to your flawless look! And if you're a fan of colors the neon-colored bristles will add a fun pop of color to your vanity or makeup pouch.
Pros
Finishing powder brush
100% vegan
Soft bristles
Odor-free
Made from superior quality synthetic fiber
For smooth and consistent application
Cons
As the handle is narrow in the centre, it may not offer the best hold for contouring.
Price at the time of publication: $7.96
The Anne's Giverny Tapered Powder Brush is a large dome-shaped powder brush that makes way for a quick and lightweight powder application. For those of you who would love a cute pink makeup tool that isn't just stylish but can also be used for a professional finish, this professional brush has a hand-sculpted design. Made using the finest-quality materials, the 100% synthetic brush is crafted with high-end fiber technology for superior performance and durability. Whether you are looking for a brush to apply foundation powder, blush, or bronzer, this brush is ideal for giving you a controlled medium-to-full coverage with ease.
Pros
Cruelty-free
For medium-to-full coverage
Lightweight and easy to use
100% synthetic brush
Long-lasting quality
Cons
Some may find that it has a slightly overbearing scent.
Price at the time of publication: $7.98
Pros
Versatile
Easy to use
Cruelty-free
Vegan
Ergonomic design
Cons
The bristles may bend easily.
Price at the time of publication: $4.99
This loose and pressed powder brush is made of high-quality synthetic bristles attached to an ergonomic copper ferrule and delicate wooden handle. Feel the extra soft bristles against your skin as it gently and evenly delivers the powder to give you an enviable glow. The extra large-sized brush also has dense bristles, so you don't have to worry about constantly having to go back for more product. You can easily blend and evenly apply your foundation in an instant when you're armed with this kabuki brush that is ideal for powders, blushers, and bronzers.
Pros
High-quality synthetic bristles
Delicate wooden handle
For buildable coverage
Extra large size
Cons
Some may find the handle to be a bit flimsy.
Price at the time of publication: $12.98
Pros
Waterproof
Cruelty-free
Sleek and durable handle
For sheer coverage
Strong ferrules
Easy application
Cons
Bristles may fall off easily
Price at the time of publication: $24.95
Now that you have an idea of the best powder brushes available in the market, you can make the best choice for yourself. Take a look at our buying guide to narrow down your options and find one that best fits the bill!
How To Choose The Best Powder Brush In 2023
While some makeup brushes can break the bank, this is most likely because they are crafted using high-quality materials and can withstand the test of time. You will want to choose a brush based on the quality of its bristles, so that it is soft against your skin and durable. The bristles can also affect how long the brush lasts and the quality of your makeup. The best powder brushes should have a gentle texture and be dense enough to blend powder properly. You can also look for ergonomic designs that will allow you to control the brush handle easily.
Synthetic or natural bristles
While owning a fluffy brush made from the most delicate animal hair or fur can feel luxurious, it is not a cruelty-free choice. It is essential that you find out if a brand uses cruelty-free bristles. Synthetic brushes are a better alternative to natural bristles. They've come a long way, and there are plenty of environmentally-sustainable and cost-effective choices to consider. The majority of these brushes are also hypoallergenic and skin-friendly, which is a bonus.
You may want to keep in mind that not all brushes are the same. They are typically designed for particular purposes, and it's wise to use them as intended by the brand. Flat brushes are designed to give your edges a more highlighted look, and you can more easily use them to contour or highlight your features. Round brushes are apt for foundation, blush, bronzers, and other powder-based makeup as they cover a larger area.
Make-up brushes come in all types of shapes and sizes. Some are round, while others are flat or oval-shaped. Round-shaped brushes are by far the most effective if you want a large area coverage without having to go back to your product too many times. Flat and oval brushes are more commonly used to highlight, define, or contour your makeup look but can also be used to apply translucent powders or set powders.
Why Trust StyleCraze?
The author of this article, Srijani Roy Chowdhury, is a makeup enthusiast and loves to explore various makeup items. The best powder makeup brushes list is curated after thorough research and reading online reviews from various trusted platforms. She says that these brushes are a must-have and a great way to get a flawless look if you are a beginner in makeup.
Frequently Asked Questions
Can you wash powder makeup brushes?
Yes, you can wash powder makeup brushes. To avoid potential skin breakouts and clean any product buildup on your brushes, clean them at least once a week. The cleaner your brushes are, the smoother the application will be and the longer they will last!
How to clean a powder makeup brush?
To deep clean the makeup brushes, you can use antibacterial bar soap with a few drops of olive oil to help condition and soften them. For best results, you can also use a trusted makeup brush cleaner that you can easily find on the market. Regardless of the method you use, make sure to thoroughly wash brushes until the water runs clear under the brush.
What is a powder brush used for in makeup?
Powder brushes can be used for various purposes in makeup. For example, while a dense flat top kabuki brush helps blend the foundation, fluffy brushes are for applying blush, bronzer, and setting powder.
What type of brush is best for powder?
A brush with soft and fluffy bristles is best for applying powder.
Is a brush or sponge better for powder?
Brushes work best for applying powder. Sponges are difficult to work with powder.
What describes a powder brush?
A powder brush is a beauty tool with thick and soft bristles suitable for applying dry, matte makeup. They feature synthetic or natural fibers for a precise application.
Can I use a powder brush for liquid foundation?
Yes. You can use a dense kabuki powder brush to blend liquid foundation.
Can I use powder brush for blush?
Yes, you can use powder brush to apply blush.
Can I use loose powder alone?
No. A loose powder can be applied with the help of a powder brush.