The 13 Best Pregnancy Books to Suit Your Lifestyle and Needs – 2023
Prepare to welcome your baby into a happy and healthy environment with the right tools.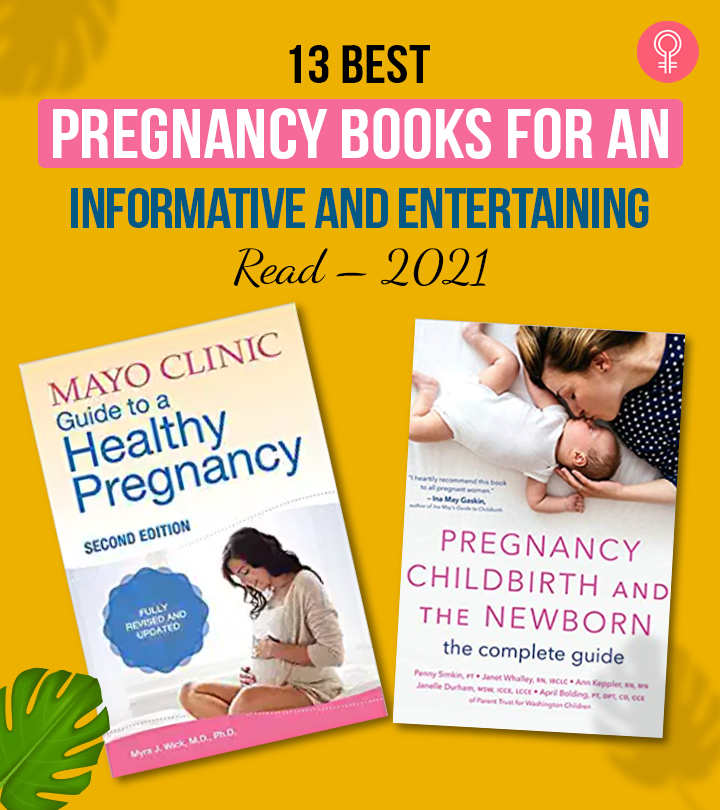 Pregnancy is thrilling. But it is also the time when you should be preparing yourself well for the upcoming days. So, you will need the best pregnancy books that provide you with the most valuable information collected from the most trustable sources. These books prep you for your beautiful nine months journey and the next few months as well.
They say no two pregnancies are the same, and it is the same for pregnancy books as well. Each book has its special style, and they help you incorporate the changes in your lifestyle. To make your pregnancy journey fun and informative, here we have listed the 13 best pregnancy books. Scroll down and pick the ones you like the most!
What Are The Things To Consider Before Buying A Pregnancy Book?
1. Informative: Any pregnancy book that you buy should be backed by accurate scientific and medical information. The details should be through reputable sources and verified by someone with experience in the field.
2. Need: Choose a book that suits your needs. There are books available for twin birth, nutrition during pregnancy, prenatal information, and many more. It is always interesting to read a book with which you can connect.
With that in mind, let's take a look at the best pregnancy books to invest in.
13 Best Pregnancy Books That Are Worth Buying
What to Expect When You're Expecting by Heidi Murkoff contains resourceful information about your pregnant body, pregnancy, and the post-partum period. This New York Times Bestseller has been helping women navigate through pregnancy for over 25 years. The question-answer format covers all your queries and offers realistic and practical advice on multiple topics with easy-to-use tips.
This book starts when a woman suspects her pregnancy and delivers nine-month information step-by-step until the postpartum period. Each chapter deals with common emotional and physical changes. The beginning of each chapter displays a picture of the changing female anatomy along with the fetus so that the mom feels connected. In addition, it also lists nutritional information. You can check out this YouTuber's review of the product if you require more convincing.
Price at the time of publication: $11.99
Pregnancy is an important period in a man's life as well, and this book tries to prep the would-be-father for the same. We're Pregnant! The First Time Dad's Pregnancy Handbook by Adrian Kulp is an insightful and easy-to-read book that presents information in a weekly format to track the essential pregnancy milestones easily.
From dizziness to birth and breastfeeding, it features action-oriented pregnancy advice from the author, a three-time dad. The book focuses on the right balance of clinical information and ways to support expecting moms.
Expecting Better: Why the Conventional Pregnancy Wisdom Is Wrong – and What You Really Need to Know by Emily Oster is a groundbreaking book that deals with common myths surrounding pregnancy. The author debunks these popular myths and presents real-life statistics and facts surrounding pregnancy to empower the moms-to-be.
The book raises questions on why to avoid alcohol, sushi, caffeine, and many preconceived notions. Going through her own pregnancy experience, the author researched pregnancy facts using tools of economics. The book offers real-world advice that one could never get at the doctor's clinic. If you want to find out more about this product and its usage, make sure to check out this review on YouTube.
Price at the time of publication: $13.99
The Mama Natural Week-by-Week Guide To Pregnancy and Childbirth by Cynthia Mason and Maura Winkler is funny and informative. The book sets up a guide for you to deal with pregnancy, labor, and beyond.
Along with a perfect pregnancy diet, the book offers natural remedies for common pregnancy-related symptoms like bloating or acid reflux. You also get answers to common questions related to sex during pregnancy or creating a perfect birth plan that suits your needs. This book simplifies your nine-month approach and helps you ease through this magical phase of your life.
Price at the time of publication: $11.99
Real Food For Pregnancy: The Science and Wisdom of Optimal Prenatal Nutrition is written by certified nutritionist Lily Nicholas. This book deals with prenatal nutrition and offers an easy-to-follow guide to make the best food choices during pregnancy. A mother's diet always reflects on the baby's development, and this book tries to answer to all your queries with a research-based recommendation. The author will guide you throughout with the healthiest choices for food to support your pregnancy.
Price at the time of publication: $9.99
Mayo Clinic Guide to a Healthy Pregnancy, 2nd edition by Myra. J. Wick is written with a very practical approach towards dealing with pregnancy and childbirth. The comprehensive guide includes information from healthy lifestyle habits to the latest technologies in prenatal to postnatal care.
The book features week-by-week updates on the baby's growth as well as month-by-month changes that a mom can expect. It also provides a 40-week pregnancy calendar that deals with common pregnancy symptoms, safe medicines to use, ways to track your baby's progress, and general caregiving advice. The guided information will help moms and dads give a healthy start to their journey with the baby.
Price at the time of publication: $13.08
Proper nutrition during pregnancy has been linked to brain development and proper birth weight in the child. The Whole 9 Months, A Week-By-Week Pregnancy Nutrition Guide with Recipes for a Healthy Start by Jeniffer Lang introduces health-boosting foods for a mother-to-be. This book makes the readers walk through all nine months, guiding them with the health-boosting benefits of the foods that need to be incorporated into your daily diet throughout pregnancy. It is the best for mother and the child, with more than 100 dishes and new recipes, including vegetarian, gluten-free, and vegan options.
Price at the time of publication: $6.99
Pregnancy, Childbirth, and the Newborn: The Complete Guide is the ultimate guide for moms-to-be. The book, written by a group of authors with a medical background, offers detailed information with suggestions and advice for a healthy and safe pregnancy.
The authors present a practical approach towards pregnancy and prenatal care without alarming new parents. Their method of writing heavily relies on the latest medical research and recommendations from reputed health organizations to offer sensible nutritional advice and techniques and help you manage challenging pregnancies. The book has an all-inclusive approach and deals with all aspects of family configuration like single parents, surrogacy, gay and lesbian parents, and adoption. The simple language is easy to interpret.
Price at the time of publication: $12.99
The Shit No One Tells You About Pregnancy, A Guide to Surviving Pregnancy, Childbirth, and Beyond by Dawn Dais is a must-have guide for parents looking for some comedy-backed counseling. The readers will laugh out loud at the author's eccentric advice and strong opinions on serious pregnancy-related questions.
The book does not deal with scientific data. It is more of a pregnancy memoir with some helpful insights that can help a mother during pregnancy. This book is perfect for first-time parents as it introduces everything in an engaging and lighthearted way for a smooth nine-month journey to the parents-to-be.
Price at the time of publication: $10.99
Pregnancy Day By Day is an informative read for expecting parents who want to know about the step-by-step growth of their developing baby. It provides a daily countdown of your pregnancy process until the date of delivery.
The book deals with first-time moms as they get to learn about their body and the baby's development. The author also discusses several options regarding labor and childbirth, enabling the reader to make more informed choices. The illustrations and photos make this book engaging and fascinating to look through.
Bumpin', The Modern Guide to Pregnancy is written by Leslie Shrock, who spent years in the healthcare industry. If you are overwhelmed and confused with the amount of advice you are bombarded with during pregnancy, this book will streamline your nine-month journey with optimism and confidence.
It guides you right from conception through the postpartum period until you get back to everyday life. This pregnancy book also covers information regarding the truth between age and fertility and the science behind your physical changes and pregnancy symptoms. The author also focuses on vaccination, breastfeeding, and exercise in detail to help you sail comfortably through your pregnancy.
Price at the time of publication: $13.99
The Pregnancy Encyclopedia, All Your Questions Answered is a query-based book with tons of information and illustrated diagrams. It is an easy read for all the ladies who want to prepare their bodies and minds before the event happens.
If you are already pregnant, it will help you learn and understand what is going on with your body and what is best for your baby. The book uses well-explained scientific terminology with graphs, timelines, and anatomy to explain different stages of your baby's growth. Each section deals with well-presented questions and answers.
Price at the time of publication: $38.94
Your Best Pregnancy Ever is written by Jen Torborg, a passionate pelvic floor physical therapist. The book empowers a pregnant woman to understand her mind and body better. As a therapist, the author helps you deal with concerns during pregnancy and postpartum.
This book is an easy read for all pregnant mommies with guided information about developing healthy habits. The author emphasizes listening to your body and shares researched pregnancy tips with insights from clinical experience. The book also focuses on some breathing and pelvic floor exercises that help you during labor. It is a complete self-care book that prepares you from birth to recovery.
Why Trust StyleCraze?
We have compiled this list of the best pregnancy books after conducting thorough research. We checked online discussion forums and review to understand the contents of the book and topics that they cover. The list includes books that are informative, can act as a handy guide for pregnant women, and cover all pregnancy-related information.
Frequently Asked Questions
Do I need to read pregnancy books?
A woman is both excited and nervous during pregnancy. Reading a pregnancy book will guide you through the process and help you learn more about your body and the changes ahead.
When should you start reading to your baby in the womb?
Babies start responding to sound between weeks 23 and 27. So, reading valuable stuff to your baby helps in stimulating their emotions. It is said that a baby in the womb can hear your thoughts. Hence, a good book will always be beneficial for their growth.
Does reading books during pregnancy make the child smart?
Yes, reading to your child in the womb stimulates brain function and can enhance linguistic and early literacy.
What books should I read when trying to conceive?
You can read books that cover niches such as fertility, ovulation, and pregnancy.
Recommended Articles: