11 Best Pregnancy Pillows For Back Pain – Top Picks Of 2023
When pregnant, alleviate your ligament aches by keeping your back in the right place.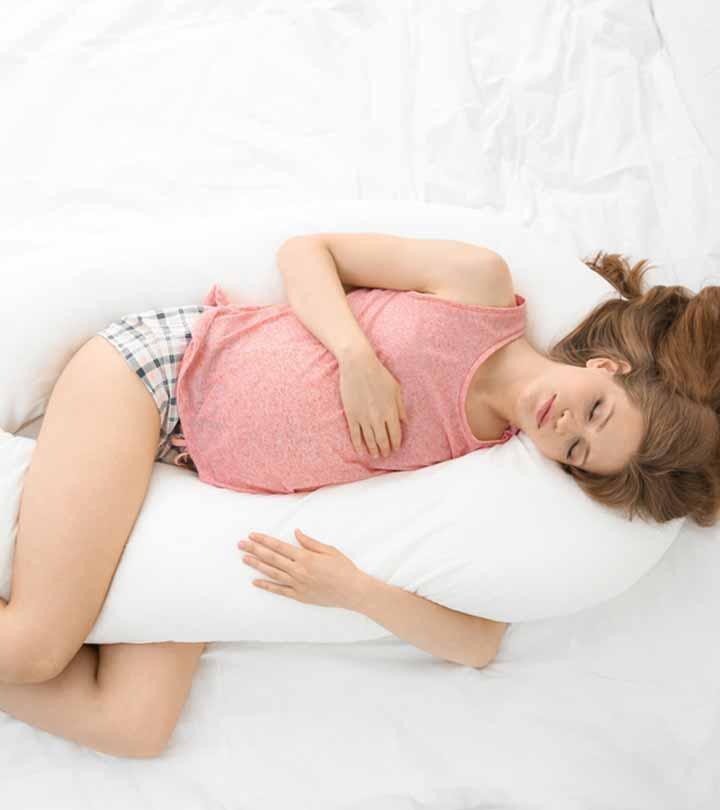 Growing a baby is not easy. And it comes with its own joys and pain, especially back pain! As your body prepares for labor, the ligaments in your body naturally become softer and stretch. This can put a strain on the joints of your lower back and pelvis which leads to common complaints of back pain during the early stages of pregnancy. While it is common, it is also quite painful and there are different ways to alleviate this pain. Pregnancy pillows makes you fall asleep in a much easier way and helps in relieving aches and pains.
Pregnancy pillows are a great blessing for back pain management. There are different kinds of such pillows available, and they come with different features, sizes, and colors. If you are confused about making the right choice, don't worry! We have created a special list of the 10 best pregnancy pillows for back pain for you.
11 Best Pregnancy Pillow For Back Pain In 2023 
This light gray U-shaped pregnancy pillow by Meiz offers complete support for expectant mothers or anyone looking for a comfortable night's sleep. It comes with 7D polyester filling, which is extra soft, adjustable, and odorless. The high-quality filling makes the pillow durable and fluffy despite prolonged use. The brushed floral fabric will look elegant with your furniture, and the outer cover has soft cooling to help you stay relaxed. Its extra long size has been specially crafted using customer feedback, and it provides a complete 360° body support. The pillow helps relieve joint pain, leg swelling, back pain, and stabilizes the body during sleep. It holds your hip and spine in a neutral position to prevent any malposition. This maternity pillow for back pain is hypoallergenic, anti-bacterial, and can be washed in the machine.
Pros
Polyester filling
Extra soft
Adjustable
Odorless
Features double zippers
Hypoallergenic
Anti-bacterial
Machine washable
Complete body support
U-shaped
Cons
Price at the time of publication: $66.19
This velvet pregnancy support pillow by Chilling Home offers full-body support for pregnant women. It comes as a C-shaped pregnancy body pillow, and its extreme comfort and supportive features make it perfect for even those who are not pregnant. It is extra soft, is of high density, and provides cooling. It comes with zippers on both sides, and the cover can be easily removed and washed. The inner curves perfectly contour for the right shape for expectant mothers. It aligns hips for neutral joint positioning. It is hypoallergenic and provides great hip and belly support.  Watch this YouTuber's honest review to get a better idea about the pillow.
Pros
C-shaped
Full body support
Multipurpose
High density
Durable construction
Durable
Double zipper
Machine washable
Stretchy
Helps in neutral joint positioning
Cons
Price at the time of publication: $34.99
This pillow by Moon Pine comes with air circulation fabric and mesh holes to keep you cool and relaxed. It is soft and is filled with high-quality 7D PP cotton to make it fluffy and firm. The velour pillowcase is zippered for easy removal and washing. The U-shape design carefully embraces your body to give you the perfect comfortable support and sleep. It provides exceptional back pain relief and support for your head, neck, shoulder, belly, and more. The ergonomic design reduces any tossing or turning to let you rest in peace and comfort. It is multifunctional as it can be used by everyone for additional support.
Pros
Air permeable top layer
Moisture wicking
Woven knitted
Skin friendly
Breathable
High quality 7D PP cotton filling
Firm
Easily washable
Ergonomic
U shaped

Cons
The Everlasting Comfort Body Pillow is designed with 100% freshly manufactured green tea minced memory foam that keeps your body feeling fresh and maintains sleep-time hygiene. The pillow utilizes heat-resistant technology that offers customized support to your body and retains its original shape. It promotes proper spinal alignment, reduces stress, and alleviates muscle tension caused by pregnancy. The pillow supports lumbar region, relieves back, hip, and knee pains and offers optimum support to would-be mothers. It comes with a pillowcase made from bamboo-derived rayon that naturally wicks away heat and moisture. Additionally, the pillowcase is infused with Comfort Japanese Icy Cool Fibers that keep the pillow cool. The pillow also is equipped with high-quality zippers that do not accumulate dirt and debris inside it.
Pros
Promotes a hygienic sleep
Aligns spine
Retains shape
Wicks moisture
High-quality zippers
Machine-washable cover
Prevents overheating
Easy to use
Fluffy
Fragrance-free
Cons
None
Price at the time of publication: $49.99
Battop's maternity pillow comes with a unique design that adjusts to the shape of the body. It is long enough to allow you to stretch out completely and support both sides of your body. It is super soft and eliminates the requirement for using multiple pillows through the night. It provides gentle cradling to the body and keeps your neck, shoulders, back, and hips aligned through the night. It is versatile and can be turned into different positions for use on various occasions. This soft multi-position use machine pillow cover comes with a 7D PP fiber filling that is scent-free and adjustable. It has an ergonomic design to provide full-body support and can be easily washed in the machine.
Pros
Suitable for all
Provides comfortable sleep
Features a soft pillow cover
7D PP fiber filling
Ergonomic design
Machine washable cover
High density material
Extra soft filler
BPA free
Cons
Price at the time of publication: $39.99
While a good night's rest might feel like a distant dream for pregnant women facing severe back pain, Momcozy's full body maternity pillow makes all such dreams come true. Made carefully with an ergonomic design, the pillow hugs your body and adapts to both sides. It offers perfect support for your head, back, belly, sides, knees, hip, and feet. Made with velvet, it helps improve blood circulation and provides exceptional pain relief and comfort. It is filled with long silk cotton to give you a relaxed night's sleep. It is durable and retains its shape even after prolonged use. The pillow is flexible and can be changed into different positions as per the activity you are doing. Besides sleeping, it can be used while watching TV, reading, or nursing. This video offers a deeper insight into the qualities of the product.
Pros
Ergonomic design
Made from silk cotton
Retains its shape
Durable
Flexible
Ideal for both side and back sleepers
U shaped
Cons
This multifunctional pillow by Elover is not only soft and comfortable but also provides contoured support to fit your body needs. It is made with premium quality, non-allergenic 7D PP cotton. The pillow is extra soft, high density, easily adjustable. The inner cover is crafted with a delicate fabric. In contrast, the outer removable cover is made with washable crystal velvet and a double-stitched seam. This makes the pillow durable and gives it remarkable elastic recovery. This U-shaped body pillow design gives you full support and relieves any pain in the spine, helps with sleeping on the side, and helps you fight acid reflux, restlessness, or heartburn. This budget-friendly pillow is versatile and can be used for nursing, by those who need post-surgery care, and by expectant mothers.
Pros
Gives comfortable position
Offers full body support
High grade filler
Non allergenic
7D PP cotton
Extra soft
Adjustable
Washable
Double stitch seam
Ergonomic
U-shaped
Cons
May only offer limited cushioning
Price at the time of publication: $36.99
Say goodbye to needing multiple pillows; this pregnancy pillow by the Downcool store has high density, soft fiber that adapts to your belly and back. It contours to your natural body shape, and this allows the pillow to be highly supportive and comfortable. It is soft and has premium fiber filling. The cover is made with hypoallergenic pregnancy-safe material, is breathable, and is easy to clean. It improves blood circulation by releasing body pressure and helps with back soreness or any leg swelling. The full body pillow provides full support to anyone who needs it and can be used in a wide variety of ways.
Pros
Ergonomic design
Supports back, knees, hips, neck and head
Soft
Premium fiber filling
High-density soft fiber
Firm and fluffy
Machine washable cover
Smooth zipper
Cons
This light grey pillow by CDEN is carefully designed to reduce any pain or discomfort experienced during the joyful but challenging months of baby growing. The ergonomic design contours to the shape of your body and helps to align your spine to support your head, neck, and belly. The U-shaped pillow prevents any sleep-related problems, stiffness, aches, and pains. It helps you minimize tossing and turning through the night and improves sleep quality. The filling can be adjusted as per the level of support required. The cover comes with a zipper so that it can be easily washed and kept clean. Beyond pregnant women and new mothers, this pillow can replace your standard pillow and support everyone.
Pros
Supportive
Helps prevents sleep problems
Industrial-grade material
Adjustable filling
Soft velvet construction
Durable
Easy to wash
Cons
Price at the time of publication: $35.99
This Kaybaby C-shaped pillow provides complete support and lets you get cozy and restful sleep without any pain or interruptions. The cotton pillow is hypoallergenic and free of any dust mines. It dries rapidly, is suitable for all, and it keeps all expectant mothers and newborn babies safe and bacteria-free. The quilted cotton cover is made of premium quality material that is flexible, soft, breathable, and can be easily removed and cleaned. It can be washed in the machine for convenience. The pillow comes with memory foam for additional support. It improves blood circulation in the body and has a cooling effect that lets you unwind and relax.
Pros
Offers full body support
Hypoallergenic
Polyester fabric
Machine washable
Rapid drying
Soft
Flexible
Breathable
Enhances blood circulation
Cons
Glebany's premium-quality pillows are infused with a cooling gel to help you relax and be comfortable. The U-shaped pillow envelops your body in the most supportive manner so you can get the best sleep. The U-shaped cooling pregnancy pillow has 60-80% more cooling gel and memory foam than others. This customizable shape pillow keeps you from sweating and provides you with any additional support that you might need. It can be used for your thighs, post surgeries, muscular relaxation, and pressure relief from pain points. It does this no matter what shape or size the individual who uses it is. It is adjustable to help you get a customizable fit, and it stays firm and supportive. It also has additional stitching along the seams, and its extra strength zipper makes it more durable.
Pros
Comfortable and supportive
U-shaped
Cooling gel and memory foam
Suitable for all
Premium quality
For all shapes and sizes
Cons
Now that you have looked at different options available when it comes to pregnancy pillows, let us look at some of the things you must keep in mind before you make the purchase.
How To Choose The Best Pregnancy Pillow For Back Pain
You must choose between a U-shaped or a C-shaped pregnancy pillow. Both have their pros and cons and you can make the decision based on your personal preference.
Maternity pillows come in different sizes and you can make the decision based on your requirements. Pick the one that fits your body the best to give you as much support and comfort as possible.
Different pillows are made of different types of materials. While some are made of polyester, others are made using velvet. You can decide the perfect pillow for yourself based on the type of material you prefer using.
The Bottom Line
Why Trust StyleCraze?
Shreya Vishwanathan has expertise in reviewing fitness and health products. She understands that pregnancy can be tough on the body, and a good pregnancy pillow can help relieve lower back pain. She conducted extensive research to pick the best pregnancy pillows for back pain management. Before shortlisting the products, she considered parameters like quality, comfort, size, and other related factors.
Frequently Asked Questions
Is a C-shaped or U-shaped pregnancy pillow better?
Both types have their own features and advantages. A U-shaped pillow will provide more support for your front and back while taking up a lot of space on your bed. Meanwhile, a C-shaped pillow might take up less space on your bed but might also not provide as much full body support as you might need.
How can a pillow help with back pain during pregnancy?
Finding a comfortable sleeping position while pregnant can be really tough. Pregnancy pillows offer that much needed support for your back, belly, and body.
What position should I sleep in during pregnancy?
It is recommended to sleep on your side rather than on your back when you are pregnant. This is important for blood flow to your uterus.
What can you do with a pregnancy pillow after pregnancy?
A pregnancy pillow is great for even those who are not pregnant. It is great for providing support and pregnancy comfort to help you get a good night's sleep. You can also use it for help for nursing postpartum.
When should I start using a pregnancy pillow?
Start using a pregnancy pillow when you face difficulty changing your sleeping positions due to your growing belly size.
Which shape pregnancy pillow is the best for back pain?
U-shaped pregnancy pillows are the best for back pain. The pillow's inner contours hug your natural curves, align your hips, and reduce back strain.
Are the pregnancy pillows machine-washable?
Yes. The Meiz Full Body Pregnancy Pillow and the CDEN U-Shaped Full Body Pillow are machine-washable.
Does it get hot sleeping with a pregnancy pillow?
Yes. Pregnancy pillows made of memory foam or polyester get hot. So, invest in a pillow with a cotton exterior to eliminate unnecessary warmth.