13 Best Pregnancy Pillows That Provide Much-Needed Support – 2022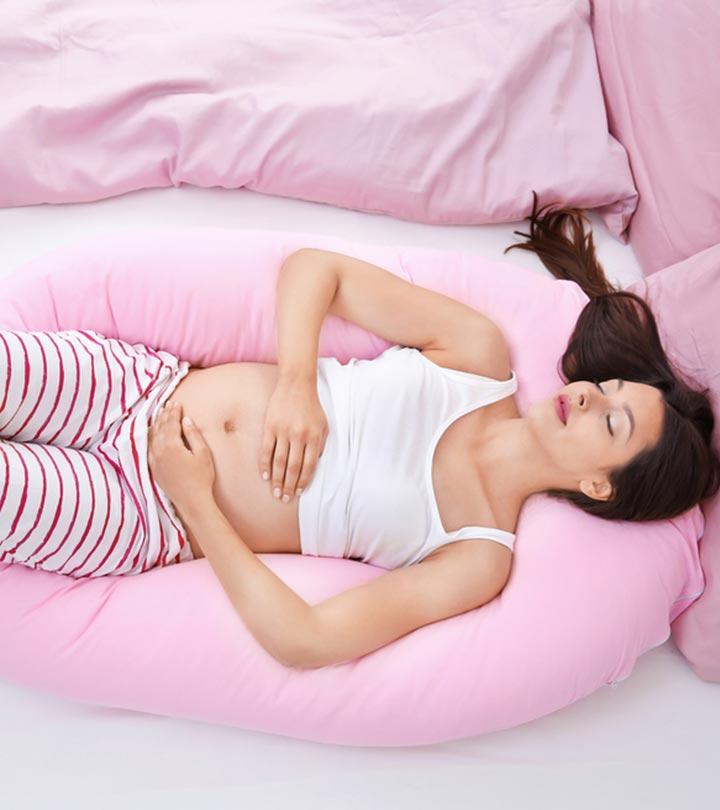 As your growing belly gets more prominent with months passing by, it becomes challenging to find a comfortable position to sleep. While you can use several pillows to support and cushion your belly, it hardly serves as a solution as they don't stay still through the night, leading to backaches and other strains in the body. To help you get a good night's sleep without constant interruptions, you need to get your hands on the best pregnancy pillow in the market!
Ideal for all your trimesters, these pillows support the ever-changing contours of your body, allowing you to sleep peacefully. It not only keeps your neck, back, and hips aligned while you sleep, but it also drastically reduces the pressure around your hips and pubic area by keeping your legs parallel to one another. If you can't wait to get your hands on the perfect pregnancy pillow, read on, as we've listed our top favorites below!
13 Best Pregnancy Pillows Of 2022 That Are Too Cozy To Be Missed!
This nesting C-shaped pregnancy pillow will make nights less painful and more comfortable for your bump, back, hips, and legs. With the outer cover made of cotton jersey, the PharMeDoc Pregnancy Pillow contains a polyfill blend with increased support density that will not deform after frequent use. Super-soft on the outside to feel cozy while you sleep, rest, or lounge, the material has a double-stitch seam for high durability. Creating a comfy nest around you to support your back and bump as you lay in, the pillow is a fantastic choice to use while nursing a baby too.
Pros:
Breathable
Highly versatile
Alleviates backaches
Machine washable cover
Cons:
If you tend to turn sides frequently, this huggable U-shaped pillow is a must-try. It will create optimal support at the back and cradle your bump on the front. Adding to this, it's super flexible too! And if you are worried the cushion might lose its shape with time, then worry not. With bionic filling and high density, the pillow retains its shape to look as good as new! A fantastic choice to alleviate neck pain, backaches, hip aches, poor posture, sciatica, fibromyalgia, and more, this ultra-cozy pillow is comparatively lightweight too.
Pros:
Odorless
Touchable soft
Machine washable
Available in 5 sizes and different colors
Cons:
May not be breathable
Not suitable for summer use
We don't know about sleep, but this maternity pillow is so soft you will be obsessed! With a C shape design to create a nestling circle around you, the cover is velvety, and it contains fiber fillings that'll contour to your back and bump with fluff and coziness. Use it for sleeping, lounging in, back support, or nursing the baby; the cushion is super-versatile and bump-friendly. The pillow also has a double zipper design for high durability and has a zipper cover to prevent accidental scratches. Thoughtful, right? And besides all the fluff, this C-shaped pregnancy body pillow will alleviate backaches, hip pain, lower back cramps, and more.
Pros:
Machine washable
Easy maintenance
Optimal body support
Increased support density
Cons:
Fabric may not be breathable
Not ideal if you need a firm pillow
If you are going to pamper yourself with a maternity pillow, why not go king size?! This U-shaped and extra-long bolster by Meiz will provide 360-degree support to your body and relieve all pregnancy woes. Adjustable and flexible, the bolster contains ultra-fluff polyester-fiber fillings that are high performance and will not deform. Plus, the outer fabric is breathable to keep you cool and cozy and has double zippers for long-lasting durability. Designed using technology from Denmark, the bolster is smooth, soft, and therapeutic for the mothers to feel at ease no matter how they use it. More on design, the contouring benefits of this oversized pregnancy pillow will also relieve backaches, improve posture, and reduce counter sciatica and hypertension.
Pros:
Odorless
Hypoallergenic
Anti-bacterial
Non-scratchy
Machine washable
Available in 7 colors
Cons:
If you are looking for something lighter and non-bulky to cozy up your naps, this body pillow for pregnancy may suit your liking. With a velvet outer cover for an ultra-soft experience, it has polyester fillings that'll adapt to the shape of your body when you take support. Comparatively slimmer than other pillows in the market, the cushion offers great leg and toe support too. And besides being a great backrest during pregnancy, this pillow is suitable for those with swollen ankles, chronic backaches, or who have undergone knee or spinal surgery too.
Pros:
Ultra-comfy
Multi-purpose
Customizable
Wedge support for belly
Cons:
Fillings may feel uneven at times
If you (or probably your partner) are not a fan of bulky and space-consuming pillows, try this compact wedge cushion instead. Great for side sleepers, it delivers holistic support and comfort to the bump so you can sleep on your sides without feeling uncomfortable. Filled with 100% polyurethane foam, the outer cover is spandex and cotton, which is breathable. And unlike other bolsters and pregnancy pillows, this wedge pregnancy pillow is firm for maximum support to the bump. You can use it prenatally and also postpartum for lower back and knee support.
Pros:
Small
Travel-friendly
Easy maintenance
Machine washable cover
Cons:
Some may find it too firm.
Side sleepers, all eyes on this one! With two small pillows on either side for double support, you don't have to compromise on comfort anymore while sleeping. The pillows will brace your back and belly as you sleep, and they require no adjusting whatsoever throughout the night. Compact and space-saving, so even your partner will like it, these pregnancy pillows contain virgin filler, and both the cushions and cover are also machine washable.
Pros:
Stays in place
Travel-friendly
Easy to maintain
Unique stretch panel
Doctor-recommended
Cons:
Here's another space-saving option that won't eat up room on your bed! This C-shaped pillow is lightweight, non-bulky, and huggable. A great option for summer or if you tend to get hot quickly, the Snoogle Pregnancy Pillow has cotton and polyester fillings, and the outer cover is also cotton for high breathability. Comparatively slimmer than other pregnancy pillows out there, it ensures optimal support to your back, bump, hips, and legs with every use.
Pros:
Durable
Ultra-soft
Portable
Multi-purpose
Machine washable cover
Cons:
Some may find it slightly flat.
With multiple benefits, this pregnancy pillow is a must-try for all (even non-pregnant folks). Besides supporting the back and belly-abdomen areas, it aligns the spine, comforts arms and legs, and relieves swollen ankles, backaches, and sciatica. With 360-degree coverage from head to toe, the ergonomic design is flexible too. The pillow contains non-allergic and high-quality 7D PP cotton filling for the desirable fluff, and the outer cover is 100% velvet for an ultra-cozy experience. Worried about the thickness and density? The pillow is customizable, which means you can increase and decrease the fillers, and the cover has double zippers for easy maintenance.
Pros:
Skin-friendly
Eco-friendly
Easy to remove
Machine washable cover
Cons:
Some may find slightly small.
Don't want to give up on your favorite head pillow? Try this wedge-bolster combo instead. With memory foam filling, this pregnancy bump pillow will always retain its original shape and deliver the ideal combo of firmness and comfort that one needs for a goodnight's sleep. Some of its benefits— it reduces sleepless nights, aligns neck and spine areas, alleviates backaches, improves sleeping posture, comforts legs, and works best as support under knees and ankles while sitting. The pillow also has a 100% cotton jersey outer cover that is skin-friendly and machine washable.
Pros:
Soft
Ultra-cozy
Breathable fabric
Travel-friendly
Easy to remove
Cons:
Some may find it too firm.
And you thought you could never sleep on your tummy again for the next 9 months! A boon for those with chronic backaches, this inflatable pregnancy pillow will be your ultimate savior on land and water. Use it while lounging at home, in the pool, or at the beach for sunbathing; the raft is SGS-tested and has an open belly area with a raised rim to support the hip, pelvis, and spine optimally. It also has a raised head and neck chamber which you can deflate at your convenience. Besides this, the leg area is ribbed and smooth, and the pillow has two air safety chambers for extra protection on the water. Bonus, this pillow can also aid in getting the baby in the right position before birth. Need we say more?
Pros:
Travel-friendly
ACPWH-approved
Skin-friendly
Easy to maintain
Available in 4 bright colors
Cons:
More like a memory foam cradle for your bump, this pregnancy wedge pillow will not only keep you from rolling over but also comfort your belly and hip areas. A compact and ultra-cozy option, the memory foam is firm, soft, and will retain its shape after every use. You can also use this wedge pillow for knee and back support as it stimulates blood circulation, relieves back aches and swollen legs. No more sleepless nights with this one!
Pros:
Breathable
Travel-friendly
Optimal support
Hypoallergenic
Child-safe zipper
Machine washable cover
Cons:
Some may find it too firm.
One pillow, multiple uses! Here's an option great for prenatal and postpartum support. You can convert and use it as a bolster, u-shaped pillow, backrest, bump rest, leg rest, couch, baby lounger, baby support pillow, and so much more. And if you like to hug while sleeping, you will love this ultra-cozy and cotton-filled pillow even more because of how soft and huggable it is! And did you notice the cute print on the cover? A fantastic choice for you, your bump, and your baby when it arrives, this cushion will also counter all your pregnancy woes like swollen ankles, backaches, and more.
Pros:
Breathable
Baby-safe
Easy to maintain
Machine washable cover
Cons:
Can't wait to snuggle up with one, can you? We don't blame you! Turn those sleepless nights into cozy and peaceful ones with one of the 13 best pregnancy pillows of 2022. If you are still wondering how to choose the best pregnancy pillow for yourself, we have some tips for you in our buying guide below.
How To Choose The Best Pregnancy Pillow?
Do not get swayed by how cozy and snugly the pillow looks, as some of them are bulky enough to eat up all the room on your bed. Check the size and whether it is suitable to fit on your bed without bothering your partner. You can also check the comments and reviews to figure if the pillow is too bulky or flat for your needs.
There are multiple types of pregnancy pillows. The u-shaped pillow is great for a huggable experience as it cradles the bump in the front and provides support at the back. However, if you are looking for maximum support and comfort, c-shaped pillows offer 360-degree coverage. Not a fan of bulky options? You can choose a wedge pillow, which is compact, space-saving, and travel-friendly, but it may not provide optimal back support.
Know your pillow inside out! After all, it's going to be close to you and your baby for a long, long time. Ideally, you must choose a cushion with cotton filling and cover for a breathable and cool experience compared to velvety and polyester material. And before buying, check if the pillow is hypoallergenic and skin-friendly for the best experience.
How To Use A Pregnancy Pillow?
Although there are no hard and fast rules on how to use a pregnancy pillow, here are some if you are looking for maximum benefits. In the case of a C-shaped pillow, wrap it around like a hug from the back with one curve bracing your head and neck areas and the other in between your feet for optimal comfort. If you are using a U-shaped pillow, use the curve to brace your neck and head areas while the remaining bolster area to support your belly or for feet support.
Pregnancy has its set of challenges, yes, but having a goodnight's sleep should not be a problem anymore! Wake up feeling snugged and rested with these super cozy and comfortable pregnancy support pillows. With multiple shapes and sizes available on the market, they have one thing in common— they'll make you and your bump feel loved! Do you still want to skip them now? Add some beautiful memories to your pregnancy journey with good sleep topping the list, all thanks to these pregnancy pillows. Now, whether you need a compact cushion or want to pamper yourself with a king-sized bolster, you can find them all on our list. Hurry, pick the best pregnancy pillow today!
Frequently Asked Questions
Is it worth buying a pregnancy pillow?
Absolutely! A good pregnancy pillow will provide much-needed relief to sleep-deprived pregnant women. Besides belly and back support, the cushion will alleviate strain, improve circulation, relieve backaches, and reduce discomfort while sleeping during pregnancy.
Can I sleep on my back during pregnancy?
Sleeping on your back during the first trimester may not be a problem, but later it is advised to sleep on the sides as it improves circulation to you and baby. Sleeping on sides is also recommended to prevent back issues during pregnancy and in the future.
Are pregnancy pillows good for back pain?
Pregnancy pillows are a fantastic choice for alleviating back pain. Since these pillows are ergonomically-designed to support your back and bump, it improves circulation of blood and fluids in the body, thus reducing backaches.
Do pregnancy pillows help you sleep on your side?
Yes, they do! Pregnancy pillows will comfort and support your bump, so you don't feel uneasy while sleeping on your sides. They also support the back, neck, and knee areas to prevent cramps, aches, or spinal problems.
Which is better, a U-shaped or C-shaped pregnancy pillow?
Both are great in their ways. U-shaped pillows are an excellent choice if you need optimal back and bump support while sleeping on the sides. However, they are bulky and may eat up too much space on your bed. C-shaped pillows may offer maximum coverage, but it depends on how you use the pillow. It may either support your back optimally and semi-support your bump or the other way round.
Why Trust Stylecraze?
Shreya Viswanathan, our author, is a beauty and health enthusiast who is always on the lookout for new products that can help you with your health, style, comfort, and convenience. She has scoured through several health and beauty forums and done an in-depth review before recommending these top pregnancy pillows. These pillows are ergonomically designed to provide the right support for your growing belly in the third trimester of your pregnancy, helping you sleep comfortably.
Recommended Articles