10 Best Pregnancy Pillows That You Are Absolutely Going To Love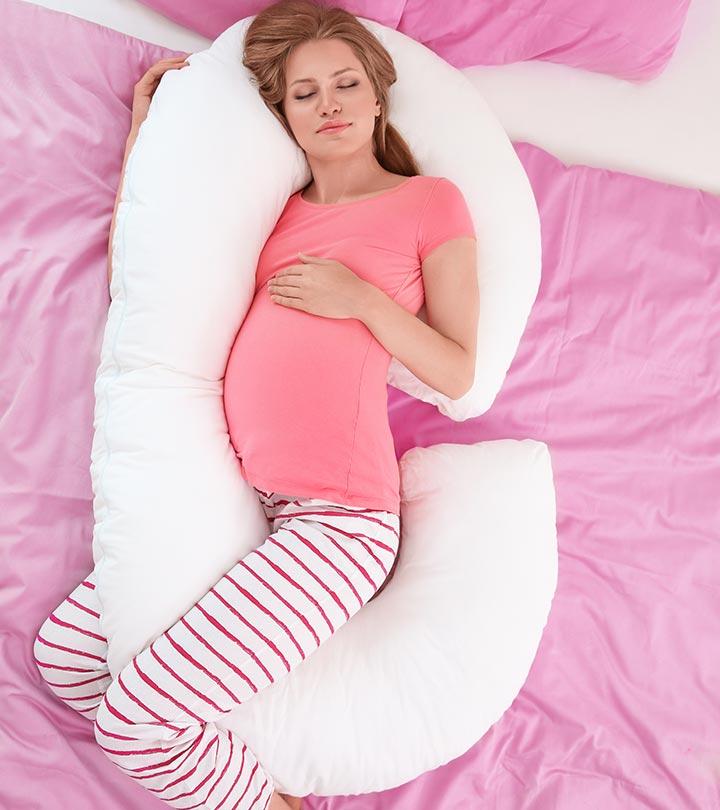 Welcoming a little one into your world is as exciting as it is challenging. Your sleep patterns and food habits change. Both your physical and mental health takes a toll. One of the most important requirements during this stage is comfortable and uninterrupted sleep. Here's where pregnancy pillows can help.
In this post, we have covered everything you need to know about body pillows during pregnancy, including a list of the top pillows you can pick. Keep reading.
What Is A Pregnancy Pillow?
A pregnancy or maternity pillow is designed to support a pregnant woman's body and hold it in place while sleeping. A pregnant woman requires additional care and support, and a pregnancy pillow offers this. It caters to a pregnant woman's needs through the different stages of pregnancy.
Pregnancy pillows are available in different types, sizes, and styles. In the following section, we will take a brief look at them.
Types Of Pregnancy Pillows
Different types of pregnancy pillows offer comfort to different kinds of sleepers. They are specifically designed based on a woman's needs and body type.
These pillows are shaped like wedges and are small. They are usually round or triangular. These pillows are narrow on one side and high on the other, and you can wedge them under your belly while sleeping on your side. These pillows are firm and offer good support to your abdomen, back, and lower back. They occupy little space on your bed.
These pillows are typically 4 to 5 feet long. They are straight and flexible, providing enough support to the entire body. Instead of using multiple pillows to support the back, legs, and stomach, you can use one single full-length pillow. These pillows are made of styrofoam, microbeads, or polyester.
Total body pillows are 5 to 6 feet long and give wrap-around support to your body. Though they take a lot of room on your bed, total body pillows offer support in the later stages of pregnancy and post-childbirth. They allow you to sleep on your side. They can also be wedged between your legs for supporting your back and stomach.
Total body pillows are available as C-shaped and U-shaped. They help relieve the pressure on your stomach, spine, legs, and the head.
What Are The Benefits Of Owning A Maternity Pillow?
Maternity pillows make pregnant women feel comfortable in their sleep. Other benefits of these pillows are:
They help the woman deal with snoring. Although not a permanent solution, these pillows can help pregnant women snore less.
Since side-sleeping is the recommended sleeping position for pregnant women, maternity pillows cater to this need.
These pillows enhance blood circulation and hold the belly in a comfortable position. This further helps pregnant women have an undisturbed sleep.
These are the ways a pregnancy pillow can benefit you. In the following section, we will look into the top pregnancy pillows available on the market.
Top 10 Pregnancy Pillows
The Leachco Snoogle Total Body Pillow is filled with poly fiber and is overlaid in a cotton cover. The natural contours of this C-shaped pillow hug your body from all sides and make you feel comfortable.
You can rest your head and legs at the head and base of this C-shaped pillow while resting the belly at its mouth. This pillow allows enough ventilation and provides adequate support to your spine, belly, and lower back.
It is free of lead and latex and is hence ideal for both you and your baby. The Leachco Snoogle Total Body Pillow is available in various sizes and colors, catering to the needs of different users. It can be used for elevating both the upper and lower body and comes with a lifetime warranty.
Pros
Cuddle comfort and support
The single unit replaces multiple pillows
Can be customized
Removable covers
Washable in a washing machine
Cons
This pregnancy wedge pillow helps relieve the stress and tension from your back. It eases nerve pain and reduces edema in the hands, legs, and feet. It is made of deluxe soft memory foam on one side and firmer foam on the other.
Its unique airflow ventilation technology (in the form of small perforations on the pillow) reduces the build-up of moisture and keeps the pillow cool. This helps regulate your body temperature.
The pillow is free of harmful chemicals, and its case is made of plush velboa fabric. It is compact and can be your perfect travel companion too.
Pros
Travel-friendly
Airflow ventilation technology
Washable covers
Reduces swelling and relieves stress
Tested for performance, durability, and emissions
Cons
Not as comfortable as a total body pillow
PharMeDoc's pregnancy pillow has been applauded for its comfort and user maneuverability. It focuses on the body comfort and spinal alignment of pregnant women. PharMeDoc specializes in the manufacturing of orthopedic bed pillows. It is the best pregnancy sleep pillow.
This C-shaped pillow is 61.8 inches long and 39.1 inches wide. It is filled with poly fiber and covered with 100% jersey cotton (double-stitched).
It serves multiple purposes and can be positioned anywhere, including the bed, sofa, couch, and floor. It replaces multiple pillows and supports your head, neck, back, hips, tummy, spine, and legs, all at the same time.
Pros
Eliminates the need for multiple pillows
Serves multiple purposes
Customizable
Relieves neck, back, and leg pain
Cons
If you can spend a little more for added comfort and versatility, the Meiz's pregnancy pillow is a perfect choice. It is made using 7D hollow fiber and high-density polyethylene filling (that is super soft and adjustable). This U-shaped body pillow is suitable and comfortable for pregnant women and everyone else. It is the best pregnancy pillow for hip pain.
The pillow is enveloped in velvety covers and comes with double zippers. It offers relief from sciatica, back pain, edema, hypertension syndrome, and excessive tossing and turning.
It provides adequate support to your head, neck, back, hips, belly, sides, knees, legs, and feet. Be it a back sleeper, side sleeper, or a stomach sleeper, and anyone can use it in any manner and for any activity.
Pros
Ergonomic design
Made using premium material
Multifunctional
Suitable for everyone
Great for reading too
Cons
Can be oversized for people with a short stature
These pregnancy back pillows are a savior for all back sleepers who struggle to sleep on their sides. It was invented by a mother in 1989 and is a good choice for the growing baby bump and postpartum recovery. These are believed to be the best maternity pillows.
The two connecting pillows help you sleep on your side (which is highly recommended during pregnancy) and provide support to both the mother and the baby.
Pros
Lightweight
Compact
Versatile
Easy to maintain
Provides pre- & post-natal support
Cons
Not a wise option if you are looking for more advanced features
This perfectly-sized pregnancy support pillow is stuffed with 100% polyester virgin fiber. It provides the right kind of support to your belly, head, neck, hips, and legs.
This pillow offers support not only in bed but also on a chair, couch, or sofa. It has a simple design and is easy to maintain.
Pros
Saves space
Has multiple uses
Easy to maintain
Affordable
Removable and washable covers
Cons
Doesn't have advanced features
Milliard's U Shaped Pregnancy Pillow is stuffed with thick, cushioned memory foam that helps adjust the level of softness. This pregnancy u pillow is ergonomically designed and allows you to customize the support you need for any part of your body.
It helps relieve stress and tension in your muscles and joints. It also allows you to sleep comfortably in multiple positions throughout the night.
Pros
Ergonomic design
Customizable
Suitable for multiple sleeping positions
Cool
Breathable
Provides all-night support
Cons
None
The Coop Home Goods' full body pregnancy pillow is handcrafted in the USA. It is filled with adjustable memory foam and enveloped in a soft cover made of a bamboo-driven blend of viscose rayon and polyester.
This body pillow can be used by anyone and can be customized according to one's support needs. Its hypoallergenic, breathable, and cozy fabric makes you feel relaxed and comfortable, making it your best cuddle partner.
This pillow is available with a five-year warranty and offers a full refund policy if you are not satisfied with the product within 100 nights. It is also safe and environment-friendly. It does not emit CFCs and has the lowest emissions of VOCs (volatile organic compounds).
Pros
Adjustable support
Hypoallergenic
Dust mite-resistant
Breathable
Tested for performance, durability, and content
Safe and environment-friendly
Cons
Not a good choice for back sleepers
Awesling Full Body Pillow provides adequate support and comfort to pregnant women in all stages of their pregnancy. It wraps the mother and baby in a velvety comfort, making it an ideal gift for expecting mothers.
This fully adjustable pillow enables one to adopt multiple sleep positions without compromising on comfort. Its detachable side pillow and the additional ergonomic pillow can transform the entire setup into a J, C, or U shape.
This full body pillow is suitable for adults of all ages and sizes and for all kinds of sleepers.
Pros
Adjustable
Easy to maintain
Provides full-body support
Can be used by both women and men
Cons
Maybe oversized for people with a short stature
This C-shaped pregnancy pillow has a T-shirt-soft jersey knit cover that is a blend of 60% cotton and 40% polyester. The pillow is designed by a registered nurse and mother and allows for adequate ventilation.
It provides proper support to your head, tummy, spine, and lower back. Though it takes more space on your bed, it sure allows you to snuggle in it comfortably.
Pros
T-shirt-soft jersey knit cover
Washable and easy zip-off
Provides adequate support and comfort
Replaces multiple pillows
Cons
Enjoy better quality sleep with these pregnancy pillows. But before purchasing one, check out the buying guide below.
Best Pregnancy Pillow – Buying Guide
Among the many varieties of pregnancy pillows available on the market, it is essential to know what exactly caters to your needs. This will help you make a wise choice.
1. Size
The size of the pregnancy pillow should be one of the top things in your checklist. A larger pillow occupies more space in bed but provides maximum support. A smaller pillow takes less space, but it may (or may not) give the needed support.
2. Filling
The material used to make the pregnancy pillow is another important factor to consider. You can go for a pillow that is lighter, firmer, cushy, noiseless, or has better ventilation or is hypoallergenic. The pillows could be filled with styrofoam balls, microbeads, memory foams, polyester fibers, cotton, or wool.
3. Removable Covers
Since most of the pregnancy pillows are huge and unique in shape, cleaning them can get difficult. This challenge can be overcome by picking pillows with removable covers. The covers offer an effective and simple way to keep undesirable odors at bay.
4. Price
Pregnancy pillows are usually used only during pregnancy and after childbirth. So, you need to be mindful of the cost. Try to pick the best quality pillow at a reasonable price.
In addition to these tips, you also need to keep certain other considerations in mind.
Important Considerations When Shopping For A Pregnancy Pillow
The changes in a woman's body during the gestation period will affect the choice of the pillow. The requirements and specifications differ for side sleepers, back sleepers, and stomach sleepers.
The weather changes must also be noted while choosing a pregnancy pillow. Conditions like humidity or heat may make one feel uncomfortable.
Apart from offering comfort, certain pregnancy pillows also serve other purposes. It is better to check for pillows that have versatile functions.
Pregnancy pillows are an important buy during pregnancy. They offer comfort and provide the much-needed support a woman needs during this period. Do not compromise. Make the right choice.
Pick the pillow that meets your requirements and let us know how you love it. Do share your experiences with us by leaving a comment in the box below.
Recommended Articles
The following two tabs change content below.

Latest posts by Pooja Karkala (see all)

Pooja Karkala
Pooja is a Mass Communications and Psychology graduate. Her education has helped her develop the perfect balance between what the reader wants to know and what the reader has to know. As a classical dancer, she has long, black hair, and she knows the struggle that goes into maintaining it. She believes in home remedies and grandma's secrets for achieving beautiful, luscious hair. When she is not writing, she learns Kuchipudi, practices yoga, and creates doodles.