9 Best Pregnancy-Safe Deodorants On The Market – 2023
Smell rejuvenating without tolerating overpowering fragrances of toxic deodorants.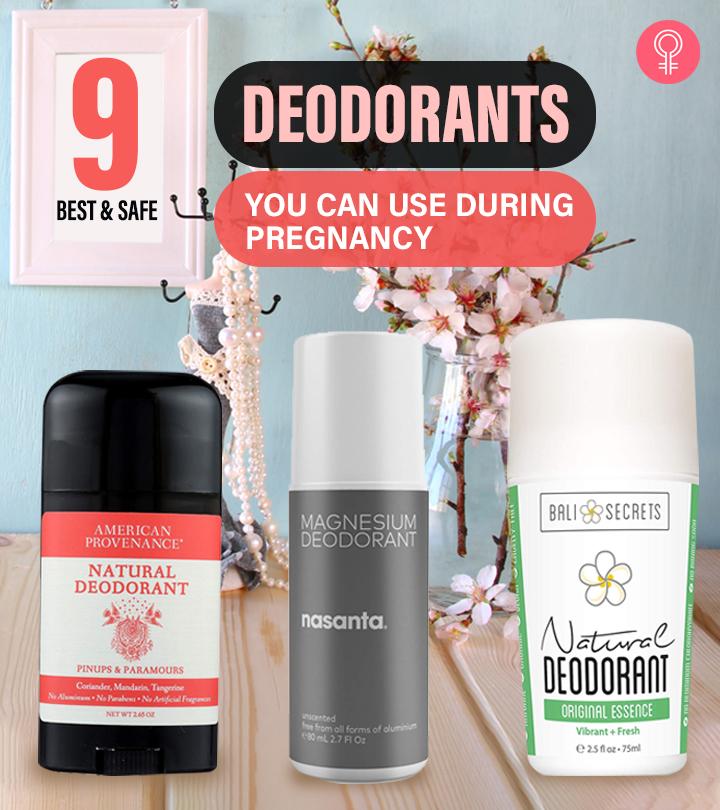 Pregnancy brings with it excessive sweating and body odor, and only the best pregnancy-safe deodorants can help tackle these concerns since regular deodorants may bring harm to your little one. Using a product free from harsh and toxic chemicals is highly recommended. Deodorants formulated with natural ingredients will help you stay fresh all day while keeping the unpleasant odors at bay. Below is a list of some of the bestselling pregnancy-safe deodorants that you can find online with just a click. So, choose the one that suits you best!
Dr. Enrizza Factor, MD, states, "While Native deodorant is a little more expensive than conventional deodorants, Native is the safest deodorant for pregnant women. It is my #1 deodorant recommendation for expectant mothers. Native deodorant comes with various scents, including a fragrance-free scent."
9 Bestselling Pregnancy-Safe Deodorants Of 2023
Pros
Smells good
Gentle
Suits sensitive skin
Clinically tested
Dermatologist tested
Certified organic
Propylene glycol-free
Aluminum-free
Paraben-free
Cons
Sticky texture
Leaves residue in creases.
Price at the time of publication: $9.99
This super effective mineral stick is long-lasting and blocks and eliminates foul odor. Due to its non-aluminum formulation, it does not leave a chalky residue on your skin or clothes.
This powerful deodorant stick forms an invisible yet protective barrier over your skin and provides an odor-free solution that lasts up to 24 hours. The potassium alum salt fights against odor-causing bacteria and leaves you feeling super fresh. It does not leave your skin oily or sticky and settles in comfortably. This deodorant is free of toxic add-ons and safe to use on sensitive skin.
Key Ingredients: Potassium alum
Pros
Dermatologist-tested
Reasonably priced
24-hour long-lasting protection
Vegan
Cruelty-free
Paraben-free
Phthalate-free
Aluminum chloride-free
Color-free
Artificial fragrance-free
Zirconium-free
Cons
Price at the time of publication: $15.51
Pros
Long-lasting
Non-toxic
Does not leave residue
Organic formula
Phthalate-free
Triclosan-free
Synthetic fragrance-free
Cruelty-free
Aluminum-free
Paraben-free
SLS-free
Cons
May leave a sticky feeling.
May cause irritation.
Price at the time of publication: $23.99
This magnesium-infused natural body deodorant is super gentle on the skin and fights odor-causing bacteria. It also increases the natural magnesium levels in your body to preventing body aches and pain. The aluminum-free formula ensures zero stains on your skin and clothes.
This deodorant also contains aloe vera and green tea that are rich in antioxidants, have inflammatory properties, and leave a cool feeling after application. The arrowroot powder in this deodorant prevents heavy sweating, while the organic coconut oil and fair-trade shea butter prevent foul odor. This everyday antiperspirant glides easily on your skin and imparts a freshness that lasts all day.
Key Ingredients: Organic coconut oil, Shea butter, Castor oil, and Arrowroot powder
Pros
Vegan
Easy to apply
Alcohol-free
Sulfate-free
Cruelty-free
Synthetic fragrance-free
Gluten-free
Aluminum-free
Baking soda-free
Cons
Price at the time of publication: $18.5
Pros
Suitable for sensitive skin
Long-lasting
Palm oil-free
Talc-free
GMO-free
Propylene glycol-free
Triclosan-free
Gluten-free
Aluminum-free
Baking soda-free
Paraben-free
Fragrance-free
Cons
Price at the time of publication: $14.9
Pros
Vegan
Non-sticky
No residue
Sulfate-free
Gluten-free
Cruelty-free
Aluminum-free
Paraben-free
Baking soda-free
Silicone-free
Phthalate-free
Cons
Price at the time of publication: $11.9
Pros
Smells nice
Non-sticky
Vegan
Triclosan-free
GMO-free
Baking soda-free
Aluminum-free
Phthalate-free
Gluten-free
Paraben-free
Synthetic preservative-free
Synthetic fragrance-free
Cons
Price at the time of publication: $14.99
This mild and gentle deodorant is made with sustainably sourced and natural ingredients that are super effective. It contains coconut oil that has antioxidant and inflammatory properties that soothe and protect the skin. The arrowroot powder prevents heavy sweating, while the shea butter prevents foul odor. The essential oils like tangerine, coriander, and mandarin impart a refreshing scent that lasts all day.
Key Ingredients: Coconut oil, Arrowroot powder, Beeswax, Baking soda, and Shea butter
Pros
No residue
Smells good
Aluminum-free
Paraben-free
Sulfate-free
Phthalate-free
Artificial fragrance-free
Artificial color-free
Artificial preservative-free
Cons
Price at the time of publication: $13.99
This prebiotic deodorant provides long-lasting odor protection for up to 48 hours. The formula contains coconut yogurt, which leaves the skin in your underarms balanced and healthy. It also aids in good bacterial growth, preventing foul body odor due to excessive sweat. This deodorant stick comes in three different fragrance variations to choose from Soft Rose, Fresh Apple, and Clean Coast.
Key Ingredients: Kernel oil, Coconut yogurt extract
Pros
Long-lasting odor protection
Dye-free
Paraben-free
Artificial preservatives-free
Artificial fragrance-free
DEA-free
Formaldehyde-free
Aluminum-free
Talc-free
SLES-free
PEG-free
Phthalate-free
Mineral oil-free
Cons
Price at the time of publication: $11.99
Choosing the right kind of deodorant when you are pregnant is crucial. Here are a few things to keep in mind while buying one.
What To Look For In A Deodorant When Pregnant
Paraben-Free Formula: Parabens tend to mimic estrogen, and using a deodorant containing parabens can affect the birth outcome. Hence, avoid deos containing parabens while you are pregnant.
No Aluminum: Aluminum-infused deodorants can increase the risk of breast cancer (1). Hence, make sure your deodorant does not contain aluminum.
Avoid Synthetic Fragrances: The main reason for using a deodorant is to keep you smelling sweet and prevent sweat odors. Synthetic fragrances usually contain phthalates, which may cause potential harm during pregnancy.
Alcohol-Free: While alcohol can kill the odor-causing bacteria, it also dries out the skin and causes irritation. Hence, it is best to pick an alcohol-free formula.
Type Of Deodorant: Deodorants come in all forms and sizes: sticks, sprays, and roll-ons. When you are pregnant, keep in mind that every chemical you inhale is also inhaled by your baby. Spray deodorants let out a lot of fumes. Sticks and roll-ons are safer, effective, and last much longer.
Choosing a healthy, all-natural alternative instead of synthetic ingredients, which are effective and get the job done, is key. Here are a few natural ingredients in deodorants that work wonders when you are pregnant.
Which Ingredients Need To Be Present In Deodorants For Pregnant Women?
Baking Soda: Baking soda helps prevent excess sweat and body odors and keeps your armpits dry.
Shea Butter: Shea butter is packed with essential fatty acids and possesses antibacterial properties. It provides a long-lasting solution for body odor.
Essential Oils: Essential oils like lavender, rose, and citrus oils can kill the odor-causing bacteria and impart a rejuvenating and calming scent. Choosing an essential oil-based deodorant instead of one with artificial fragrance is better.
Why Trust StyleCraze?
The author of this article, Baishali Bhattacharya, is a certified image consultant and she is also certified in makeup artistry. Baishali has done extensive research on issues associated with pregnancy like excessive sweating and body odor. After spending hours and visiting the brand website she compiled the list of the best and safe deodorants one can use during pregnancy. These products are formulated with natural ingredients and keep you fresh all day.
Frequently Asked Questions
Is deodorant safe during pregnancy?
Yes, it is! But you must choose a deodorant that has natural ingredients and does not contain any toxic formulations.
Why do my armpits smell during pregnancy?
When you are pregnant, your body temperature increases. This causes you to sweat more, especially in areas with more sweat glands, like your groin and armpits. This is why your armpits have a pungent smell during pregnancy.
Articles on StyleCraze are backed by verified information from peer-reviewed and academic research papers, reputed organizations, research institutions, and medical associations to ensure accuracy and relevance. Read our editorial policy to learn more.

Use of Underarm Cosmetic Products in Relation to Risk of Breast Cancer: A Case-Control Study
https://www.ncbi.nlm.nih.gov/pmc/articles/PMC5514401/