9 Best Pregnancy-Safe Nail Polishes For Absolutely Stunning Nails
Polish your nails without harming the little one by opting for these nail paints.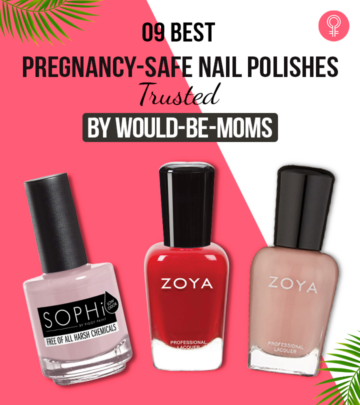 Using nail polish during pregnancy is generally not recommended by your OBGYN. However, if you still want to look fashionable, you need to get the best pregnancy-safe nail polish. While most brands may mark their nail color as 3, 6, and 16-free, these are not essentially safe. To help you pick the best pregnancy-safe nail polish and look absolutely stunning, we've got you covered. Check our list below to know which are the top nail colors you can use during pregnancy.
Is Nail Polish Safe To Use During Pregnancy?
Yes, it is safe to use nail polish during pregnancy. However, there are some precautions you should take to ensure your and your child's safety. Firstly, make sure the salon is well-ventilated, with clean and sanitized workstations. Also, ensure they use a nail polish free of harmful chemicals, such as toluene, formaldehyde, and DBP.
Fortunately, there are several brands offering products that do not contain any of these.
9 Best Pregnancy-Safe Nail Polishes
The scented nail polish set from Piggy Paint Natural is a four-pack kit with 7 mL mini-size bottles of nail enamels in fun shades like pink, green, purple, and blue. The quick-drying, water-based formula is odorless and non-toxic, making it safe for mothers-to-be and kids. It does not contain toluene, DBP, formaldehyde resin, ethyl acetate, camphor, or bisphenol A. Pick this kit for your home mani-pedi routine or bring these fun colors to your manicurist on your next trip to the salon. Click here to check out a detailed review along with a tester's experience of using this product.
Pros
Non-toxic
Quick-drying
Scented
Paraben-free
Vegan
Cruelty-free
Cons
The hypoallergenic Sophi By Piggy Paint Non-Toxic Nail Polish has a water-based formula that heals brittle or yellow nails, making them healthy and strong. It is infused with neem oil that has antibacterial properties to prevent infection around the nails while softening the cuticles. The color lasts long without leaving behind stains on the nails. It is safe for sensitive skin and pregnant and nursing moms and is completely odorless and without unpleasant fumes.
Pros
Odorless
Hypoallergenic
Toluene-free
DBP-free
Formaldehyde-free
Vegan
Cruelty-free
Cons
Yes, it says kids nail polish, but that doesn't mean mommies cannot have fun with them! The easy-to-apply nail polish set from Tomicca includes a variety of shades like yellow, pink, sky blue, dark, blue, and many more in glittery and opaque finishes. The chemical-free, kid-safe formula is non-toxic and virtually odorless. The quick-drying nail polish does not transfer onto other surfaces.  This water-based, peel-off nail polish can be easily removed.
Pros
Easy to apply
Easy to remove
Quick-drying
Vibrant and fun colors
Odorless
Formaldehyde-free
Benzophenone-free
Heavy metal-free
Cruelty-free
Vegan
Cons
The luxurious creamy Zoya Professional Lacquer has a 10-free, breathable formula that prevents the nails from turning yellow or brittle. This long-wearing, glossy finish nail polish offers a perfect balance of color saturation and hydration for an even finish. It comes with an exchangeable bottle cap for ease in application. Carmen is a true red shade that delivers a glossy crème finish that is bright and uplifts the mood. Here's a review video to help you get a better understanding of the tester's experience of using the product.
Pros
10-free
Long-lasting
Vibrant
Breathable formula
Vegan
Cruelty-free
Lead-free
Cons
None

The premium, creamy Zoya Nail Polish Quad is a full-sized set of four shades in a stylish black box with a window. Under The Mistletoe includes four shades – Caresse, Zana, Jill, and Lauren – that are subtle and neutral, yet they deliver a rich tone and glossy finish to the nails. . The big 10-free formula ensures they are free of harsh ingredients like formaldehyde and toluene, making them safe for pregnant women. The breathable texture of the polish prevents the nails from becoming brittle and yellow. Reviews on various online forums assert that the product has a rich color and makes the perfect summer nail shade!
Pros
Long-lasting
Easy to remove
10-free
Chip-resistant
Cons
The Karma Hues Organic Nail Polish is a gentle nail polish suitable for sensitive nails. It is formulated with calcium and coffee extracts packed with vitamins that strengthen and nourish the nails. This natural nail polish has an innovative blend of plant-derived ingredients that is free of harmful chemicals and odor-free to take care of sensitivities during pregnancy. The strengthening nail polish is long-lasting and chip-resistant. The packaging in a glass bottle printed with soy-based ink makes it an eco-friendly option.
Pros
Vitamin-enriched
7-free
Odor-free
Plant-based
Chip-resistant
Vegan
Cruelty-free
Eco-friendly
Gluten-free
Cons
The built-in nail growth serum in the 10+ Free Chemistry Clean Nail Color makes your nails strong and healthy. It is fortified with plant extracts, peptides, vitamins, and ceramides that hydrate the nails and restore their health. The breathable formula is enriched with sodium hyaluronate and minerals that repair damaged nails and reduce visible ridges. This nail polish has a gel-like consistency that promotes smooth and even application. Ethically conscious consumers are obsessed with this product, as it does not undergo any animal testing!
Pros
Breathable
Repairs damaged nails
Soft-touch finish
Chip-resistant
High gloss
Long-lasting
Vegan
Cruelty-free
Cons
The rich holographic nail polish from the ILNP offers long-lasting sparkle and full coverage with two to three top coats. It is made of high-quality ingredients that make it safe for pregnant women. It is long-wearing, chip-resistant, and can withstand repeated washing. Unlike other glitter nail polishes, it is easy to remove and causes no discoloration to the nails. Need more information? Watch this video to learn about the reviewer's experience of using the product.
Pros
7-free
Non-toxic
Chip-resistant
Easy to remove
100% vegan
Cruelty-free
Cons
Uneven thickness
Takes some time to dry
The quick-drying Mow Nail Lacquer is designed to deliver high coverage and a glossy finish. This cruelty-free, vegan formula is free of toxic ingredients to make it completely safe and healthy for moms-to-be and nursing mothers. The Black Slate shade is an elegant shade of lavender gray that offers an understated yet statement-making look and can be paired with dark colors for a dramatic effect. The smooth texture of the nail polish makes it easy to apply.
Pros
7-free
Long-lasting
Easy to apply
Shiny finish
Quick-drying
Vegan
Cruelty-free
Cons
The terms 5-free, 7-free, and 10-free indicate the number of chemicals that the nail polish is free of. Below is a list of chemicals in nail polishes you need to avoid during your pregnancy.
Which Chemicals To Avoid In A Nail Polish?
Formaldehyde
Toluene
Dibutyl phthalate (DBP)
Formaldehyde resin
Camphor
Xylene
Ethyl tosylamide
Lead
Triphenyl phosphate
Parabens
Fragrance
Inorganic pigments
Now that you know about the safe nail polishes available for you while you are pregnant, the next thought that will cross your mind is how to remove the color from your nails safely.
Is It Safe To Use Nail Polish Remover While Pregnant?
Yes, it is safe to use a nail polish remover during pregnancy. Many celebrity-endorsed brands have come up with pregnancy-safe removers for expectant mothers. These products have non-toxic formulas and are free of harmful chemicals.
Pregnancy is a beautiful journey. While it is crucial to follow a healthy diet during pregnancy, it is also important to feel good and stay happy. Take some time off from your regular routine and indulge in a relaxing mani-pedi routine with pregnancy-safe nail care polishes.
Why Trust StyleCraze?
The author, Baishali Bhattacharya, is certified in makeup artistry. Using nail polish during pregnancy is generally not recommended by the OBGYN. However, if you still want to look fashionable, you need to get the best pregnancy-safe nail polish. The author, therefore, went through hundreds of online reviews, checked brand websites, and conducted thorough research to compile this list of the best pregnancy-safe nail polishes. The products mentioned here are non-toxic, long-lasting, vegan, and cruelty-free.
Frequently Asked Questions
Can you go to a nail salon when pregnant?
Yes. It is totally safe to go to a nail salon when you are pregnant as long as the salon is well-ventilated and follows all sanitization requirements.
Is it safe to get acrylic nails while pregnant?
Yes, it is safe to get acrylic nails during pregnancy, provided the room is ventilated and has open windows or air conditioning. Dao Huyen Nhu, Nail Artist, adds, "It is best to remove any nail products a month before your due date for medical reasons."
Can acrylic nails cause birth defects?
Acrylic nails will not cause birth defects if you ensure to get your nails done in a well-ventilated room and prefer those made of ethyl methacrylate polymers over methyl methacrylate monomer.
Is soaking nails in acetone safe during pregnancy?
Soaking your nails in acetone occasionally is not going to cause any harm to you or your baby. As long as you are not exposed to large quantities of acetone over a long period, there is no risk of any developmental problems.
Can I use regular nail polish while pregnant?
Yes, it is safe to use regular nail polish while expecting but avoid coming in contact with harmful substances like toluene and phthalates to prevent labor complications.
Is gel polish OK during pregnancy?
Yes. It is safe for pregnant women to use gel nail polish, but avoid using excessive acetone found in the nail-paint remover.
Is the UV light for gel nails safe while pregnant?
No. There are not enough studies to conclude that UV light-based gel nails harm pregnant women. However, you should avoid taking risks and go for nail polishes with UV protection.
What kind of nail polish can you use while pregnant?
Nail polishes based on natural ingredients like the 10+ Free Chemistry Clean Nail Color are the best for painting your nails while pregnant. Avoid nail paints with toxic chemicals and allergens.