15 Best Pregnancy Skin Care Products That Are Totally Safe – 2022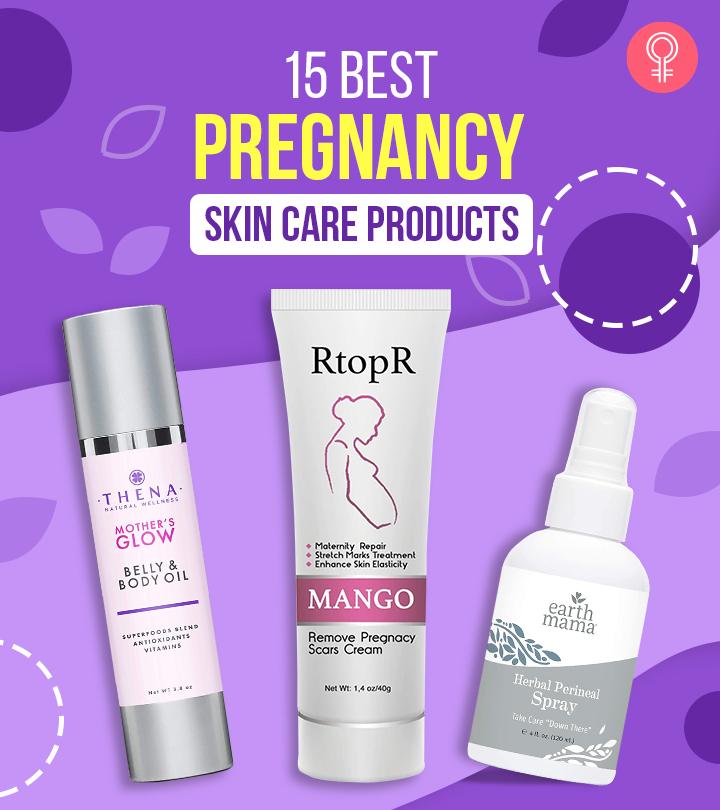 Breakouts, stretch marks, dark spots, and irritation are common skin issues during pregnancy. Luckily, you can pick from the best pregnancy skin care products to manage these issues. However, it is also crucial to be extra careful and pick only pregnancy-safe products. If you want to look into some worthwhile possibilities, have a look at our list of the 15 best pregnancy skin care products you can buy online. Scroll down to check them out.
15 Best Pregnancy Skin Care Products
The Herbal Perineal Spray from earth mama is formulated to offer relief from perineal discomfort. The formula is infused with lavender, witch hazel, peppermint, and cucumber essential oils to provide soothing effects before and after childbirth. The touch-free spray easily reaches hard-to-reach areas due to its upside-down working capability. This travel-friendly spray is free of harsh additives and has a cooling breeze effect. 
Pros 
Mild fragrance
Butane-free
Paraben-free
Artificial scent-free
Propellant-free
Touch-free use 
Cons 
This kit from PALMER'S makes an ideal choice to improve skin tone and elasticity during and after pregnancy. Its effective formula is suitable for stretch marks and scars. This kit includes a massaging lotion, massage cream, skin therapy oil, and tummy butter balm.
It is formulated with shea butter and cocoa butter to smoothen and soften the skin while protecting your belly area's moisture barrier. The naturally derived vitamin E, rich in antioxidants, retains moisture and fades the appearance of scars and marks. It also contains lutein, a natural antioxidant that improves hydration and maintains stretched skin. The blend of coconut, almond, and argan oils diminishes scars, softens, and moisturizes your skin. 
Pros 
Hypoallergenic
Non-greasy
Lightweight
Dermatologically approved
Paraben-free
Mineral oil-free
Phthalate-free
Preservative-free 
Cons 
This cream from TriLASTIN prevents the occurrence of stretch marks in pregnancy. The hydrating cream improves the skin's elasticity and resilience while relieving itchiness and preventing tearing. It contains a natural blend of additives, such as antioxidants and fatty acid-rich botanicals, to keep the skin problem-free. This cream works by balancing the skin's optimum pH to 6.0 to offer smoothness, nourishment, and protection. 
Pros 
Hypoallergenic
Non-greasySuits all skin types
Unscented
Paraben-free
Cruelty-free 
Cons 
The pinkStork Pregnancy Flakes provide an easy way to get instant relief from pain, aches, cramps, headache, and morning sickness. The potent formula is safe for mothers and babies and supports relaxation in pregnancy and postpartum. This magnesium-based bath soak is absorbed entirely into the skin and works from within. It contains 100% Dead Sea salt flakes that enhance blood circulation to soothe you naturally.
Pros 
Safe formula
Complete absorption
Wheat-free
Gluten-free
Soy-free
No genetically modified additives 
Cons 
The Stretch Mark Butter from Body Boost prevents and repairs stretch marks by relieving itching and healing the skin. The safe formula is made from natural ingredients like gotu kola to strengthen the connective tissues, improve resilience, and offer rejuvenation. It also repairs scars and heals damaged skin. The rosehip, jojoba, grapeseed, and borage oils in the butter stimulate collagen production to tone and repair the skin and improve its elasticity. The cream also contains shea butter, rich in vitamins E, D, and A, that supplies nutrition to the skin to strengthen it and prevent stretch marks. 
Pros 
Non-sticky
Clinically tested
Pleasant fragrance
Paraben-free
Phthalate-free
Mineral oil-free
Allergen-free 
Cons 
The BURT'S BEE Mama Bee Gift Set comes with a foot and leg cream with soothing benefits, belly butter for smoothening the skin, and a lip balm to nourish the lips. This gift set is exceptionally crafted, keeping mothers-to-be in mind. The calming foot and leg cream offer immediate pain relief by relaxing the tired muscles. The belly butter is blended with shea butter, jojoba, and cocoa butters to deliver intense hydration and moisture. The beeswax-made lip balm contains vitamin E and a touch of peppermint to nourish dry and cracked lips.
Pros 
Absorbed quickly
Natural ingredients
Non-greasy
Cruelty-free 
Cons 
None
This tinted cream helps prevent acne and breakouts and reveal healthy and clear skin. The non-drying formula fights acne-causing bacteria while preventing the growth of new acne. This effective adult treatment for acne and blemishes is formulated without benzoyl peroxide and contains powerful yet gentle ingredients that enhance the skin's texture.
Pros 
Dermatologically tested
Gentle
Non-drying
Tinted 
Cons 
This pregnancy scar removal cream from RtopR has a natural active formula to improve skin appearance and fade stretch marks in pregnancy. It diminishes old and new scars, burns, spots, and marks. Its potent ingredients reduce itchiness and reveal smooth and radiant skin with improved texture. This scar removal cream contains mild antiseptics to heal the skin without clogging pores while offering anti-aging benefits. It has Centella asiatica that improves collagen synthesis, glycerin that moisturizes the skin and strengthens its barrier, and mango extracts that reduce aging signs like wrinkles and fine lines.     
Pros 
Dermatologist-tested
Hypoallergenic
Lightweight
Absorbed quickly
Paraben-free
Dye-free
Non-sticky
Odor-free
Long-lasting
Suits all skin types 
Cons 
None
This belly and body oil from THENA is safe during pregnancy and provides relief from itchiness and dryness. Its nourishing formula hydrates, smoothens, and comforts the skin without irritating it.
The oil contains vitamin E, elasticity boosting ingredients, and plant collagen to fade stretch marks and restore the skin's resilience and firmness. The mildly scented formula is enriched with lavender oil to rejuvenate the senses by promoting balance and relaxation. The 100% natural jojoba, coconut, rosehip seed oils, along with witch hazel extract, arnica extract, and hyaluronic acid, moisturize the skin and impart glow.
Pros 
Non-greasy
Lightweight
Vegan
Absorbed quickly
Mild fragrance 
Cons 
Less quantity for the price.
The Simply Non-Scents Deodorant from earth mama contains a blend of organic lavender, coconut oil, and calendula to suit sensitive skin. It is dermatologically tested and is safe formula to use during pregnancy and breastfeeding. It is formulated without irritation causing additives like parabens, aluminum, artificial scents, and propylene glycol. 
Pros
Clinically tested
Paraben-free
Aluminum-free
Artificial scent-free
Propylene glycol free 
Cons 
This pregnancy-safe body wash from The Moms Co. is the ideal product for moms-to-be. It prevents dryness and itchy skin during and after pregnancy. This toxin-free wash contains natural moisturizers and coconut-based cleansers to restore the skin's texture. The ginger essential oil allows you to start fresh every day by easing morning sickness and nausea. The essential oils of orange revive the senses. It also contains pro-vitamin B5 to enhance skin elasticity and prevent dryness. 
Pros 
Dermatologist-tested
Sulfate-free
Mineral oil-free
Paraben-free
DEA/TEA-free
PEG-free
Phenoxyethanol-free 
Cons 
The Body Boost Raw Sugar Scrub improves the skin by strengthening it and preventing discoloration. Its damage repairing formula prevents dryness and itchiness by increasing the skin's elasticity. It is absorbed quickly into the skin and helps reduce stretch marks during pregnancy.
This scrub is formulated with natural raw sugar to buff away dryness gently. It also contains whipped shea butter and sweet almond and coconut oils to nourish and moisturize the skin. Vitamin E offers conditioning, while chamomile extracts soothe and repair the stressed skin.
Pros 
Clinically tested
Non-drying
Absorbed quickly
Allergen-free
Paraben-free
Mineral oil-free
Phthalate-free
Sulfate-free
Artificial color-free
Cruelty-free 
Cons
This is a thick and luscious body cream with a moisture-rich formula packed with natural emollients like wheat germ oil, jojoba oil, and olive oil. It is fortified with healing and soothing shea butter, cocoa butter, honey, silk, and mango for a delicious, subtle, and flowery fragrance. This lasting skin moisturizer is intensely moisturizing and offers softness to the skin. 
Pros 
Hypoallergenic
Non-sticky
Paraben-free
Pleasant fragrance
Preservative-free
Lanolin-free
Petroleum-free
Cons
This pack includes three 18″ x 13″ cotton sheet masks equipped with stretch marks serum to be applied on the belly to reduce the appearance of stretch marks. The gentle and worry-free formula is made from nourishing ingredients rich in antioxidants and anti-inflammatory properties to improve the skin texture and impart a glow. 
Pros 
Gentle
Dermatologically tested
Fragrance-free
Cruelty-free
Phthalate-free
Paraben-free 
Cons 
Doesn't stick well to the belly.
The All-Natural Belly Balm from Munchkin Milkmakers contains complete pure, natural ingredients to calm, soothe, and nourish the skin. Its easy-to-twist design makes it convenient to use anytime and anywhere you want. It is safe for regular use, prevents dryness, and reduces itching. The non-sticky and mild formula glides smoothly to spread well and quickly absorb into the skin. It is formulated with coconut oil, rosehip oil, and shea butter to nourish and hydrate the skin.
Pros
All-natural ingredients
Mild
Non-sticky
Cruelty-free
Paraben-free
BPA-free
Petroleum-free 
Cons 
Why Trust Stylecraze
Shiboli Chakraborti, a certified skin care coach, has reviewed the best pregnancy skin care products for this article. To compile this list, she has closely and exhaustively looked at products available on the market and considered user reviews of the same. The recommended options on this list are designed with safe and effective ingredients and do not include harsh chemicals or strong odors.
Frequently Asked Questions
Is it safe to use skin care products while pregnant?
It's not considered safe to use skin care products containing vitamin A derivatives or retinoids during pregnancy as they can harm the baby's development. Also, products containing salicylic acid are to be avoided.
Can I use Vitamin C serum while pregnant?
Yes, vitamin C-based products are safe to be used during pregnancy.
Why is my skin so bad while pregnant?
Your body undergoes hormonal changes during pregnancy, which, in turn, degrades the appearance of the skin.
Is acne a good sign in pregnancy?
Acne is common during pregnancy due to the overproduction of androgen hormone. It leads to more sebum production and causes acne.
Is Vaseline bad for pregnancy?
It is recommended to avoid petroleum-based products during pregnancy as they contain potentially harmful components.
Recommended Articles