5 Best Pressureless Tennis Balls Of 2023
Sweat it out and practice for hours with sturdy and durable sports equipment.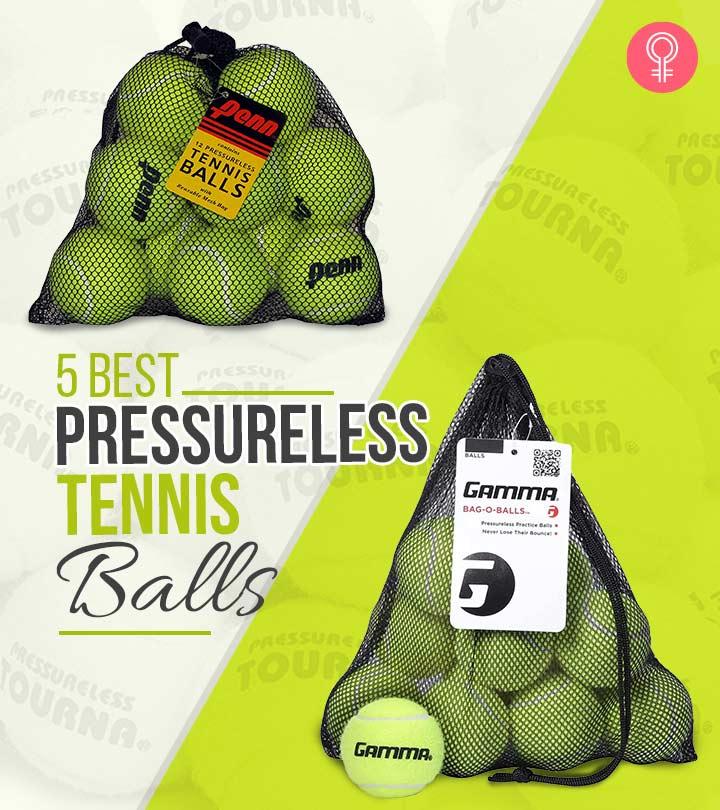 A regular tennis ball has a center filled with pressurized air and loses its bounce and shape with time. But, a pressureless tennis ball is solid, which means no air in the core. This helps it to retain its shape and bounce over a long period of time. Although pressureless tennis balls feel a little 'dead' at the beginning, over time, it gets softer. These also have a longer lifespan and are perfect for ball machines and practice sessions.
To help you select the best for your next session on the court, we have made a compilation of the best pressureless tennis balls of this year. There's also a quick buying guide at the end of the article to help you select the best pressureless tennis balls by yourself.
5 Best Pressureless Tennis Balls
This bag of 12 Gamma Pressureless Tennis Balls ensures long-lasting performance for all your practice sessions. Unlike other pressurized tennis balls, these high-quality tennis balls do not lose their bounce or shape over time. They are highly versatile and can be used on both hard and soft courts by amateurs and pros alike.
Pros
Durable
Versatile
Mesh bag
Value for money
Cons
None

Did You Know?

Tennis balls used to be white before becoming yellow. Yellow tennis balls were used in Wimbledon in 1986. A yellow ball, according to officials, would be simpler for viewers to follow on television.

Price at the time of publication: $30.58
For all you tennis lovers out there, these 12 pressureless tennis balls by Penn are fit for all your practice sessions. Whether practicing with a ball machine or training with a coach, these long-lasting balls have a solid core that makes them perfect for casual training sessions. The durable felt outer covering on these balls ensures that you get the most out of your money. These balls also offer longer bounce and spin control for a better game experience.
Pros
Long-lasting
Longer bounce
Great spin control
Value for money
Cons
None
Price at the time of publication: $95
Finger Ten Kids Tennis Ball comprises a premium quality 55% of synthetic fur leather and 45% pure woolen. It consists of natural rubber as an internal filling. This wear-resisting ball gives a smooth feel while holding it and is perfect for high cross-force. It has 50% less decompression compared to adult tennis balls to avoid hurting while playing. The balls measure 2.4 inches in diameter and weigh around 55 grams. This pressureless tennis ball is lined with thick sealing for long-lasting airtight. It can be used on hard and soft surfaces without any crack or breakage, as the deep elastic seams are stitched tight. It has a slow speed, which is perfect for beginners. This 12-ball pack is ideal for kids, beginners of tennis, beach cricket, playing with pets, and tennis ball machines.
Pros
Wear-resistant
Feels soft
Pressureless
Long-lasting
Premium quality
Best for beginners
Cons
None
Price at the time of publication: $23.99
Wilson is a renowned brand offering the best pressureless tennis balls for your practice sessions. The superior-quality rubber shells of the balls are perfect for ball machines and designed to withstand heavy use. These long-lasting balls are built with Dura-weave Technology and do not lose shape or bounce over time.
Pros
Suitable for ball machines
Superior quality
Long-lasting
Reusable mesh bag
Cons
Price at the time of publication: $27.56
These Teloon tennis balls are excellent for beginners who want to practice with pressureless balls. The extra durable felt outer covering on these balls makes them long-lasting and high impact resistant. These water-resistant balls are excellent for practice on courts, with ball machines, or to play with your pets. These have excellent bounce height and can be used for professional training sessions.
Pros
Durable
Water-resistant
High-impact resistant
Versatile
Good bounce height
Cons
None

Did You Know?

Before the invention of tennis rackets, players would knock the ball back and forth over the net with the palms of their hands. Jeu de paume, which translates to "game of the palm," was a game that caused swollen and red hands in the 12th C. Racquets were used from after the 16th C.

Price at the time of publication: $18.79
Pressureless balls have more mass and weight in comparison to pressurized balls, and they have a rubber shell covered with fuzzy fabric materials. Find out more about selecting the best pressureless tennis balls in the following section.
How To Select The Best Pressureless Tennis Balls
Tiers are manufacturer ratings that indicate the ball's quality. Professional tournaments are played with Tier 1 balls which are very expensive. However, for practice sessions, choose the beginner and intermediate tier balls.
It is only practical to invest in durable balls that can withstand hard practice sessions. Pressureless balls are well-known for their durability and their ability to resist intense training sessions.
In the tennis world, the bounce of a ball is referred to as its Altitude. Too much bounce comes in the way of your ball control. It is suitable to play with balls with minimum bounce but not too little.
Regular duty balls are best suited for slower, softer courts, like clay, and have less felt than an extra duty ball. Extra duty balls are designed for hard surfaces such as concrete and other outdoor hard courts. Also, extra-duty balls are more durable because of their thick felt.
Tennis is a high-intensity sport that needs strength, agility, and hard training. Your preparation in the training sessions will ensure your performance on the courts. Pressureless tennis balls have higher durability and long-lasting bounce that assist you in your best performances. When selecting pressureless balls, check for factors like durability, bounce, and tier for long-lasting quality. The balls listed in this article are all good-quality ones, and some even come in sets in a mesh bag for easy portability.
Why Trust StyleCraze
The author of this article, Aditi Naskar, has a diploma in Health& Wellness and is a fitness enthusiast. She recommends any type of sports or physical activity to stay fit and healthy. This list of the best pressureless tennis balls was curated after much research and reading through multiple user reviews and feedback on various online forums. All these products are made of good-quality materials, have good bounce height, and are built to last for a long time.
Frequently Asked Questions
How long do pressureless balls last?
Pressureless tennis balls last for at least a year.
What is the difference between pressureless and pressurized tennis balls?
Pressurized tennis balls have a hollow center filled with pressurized air. These lose their bounce over time as the air escapes. On the other hand, pressureless balls are solid and do not lose their bounce over time.
Who should you use pressureless tennis balls?
You can use pressureless tennis balls if you play casually, with a ball machine, or practice tennis sessions.
Recommended Articles