13 Best Primers For Oily Skin That Absorb The Excess Sebum
Get rid of the excess oil and shine on your face and make your makeup last all day long.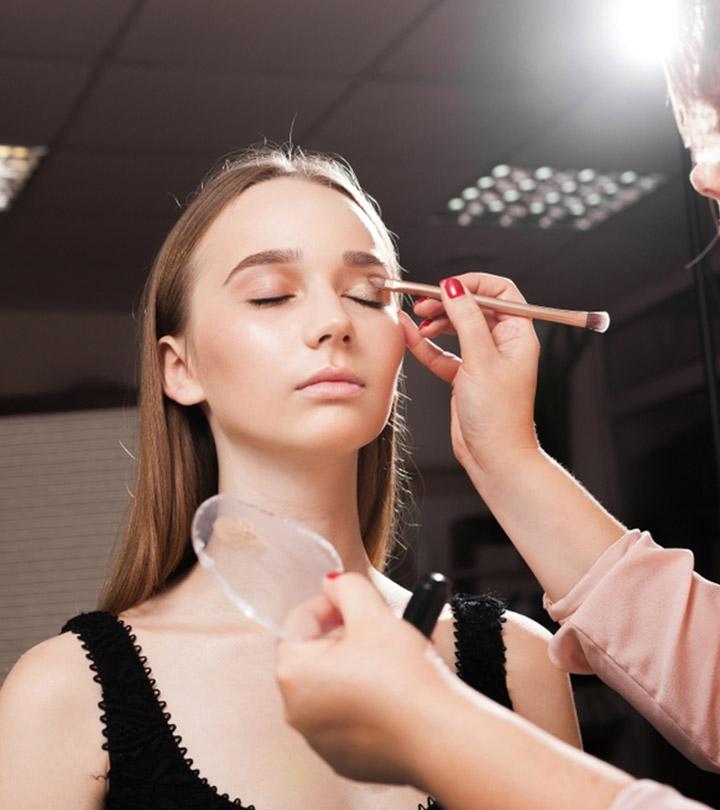 Oily skin and full-face makeup – sounds risky, doesn't it? This is why we suggest investing in the best primer for oily skin.
Primers are essential for enhancing the longevity of your makeup. They are generally applied after the moisturizer and create a smooth canvass for the application of successive makeup products. Primers for oily skin have a mattifying effect that controls shine and absorbs excess oil from the face. For oily skin, you may specifically consider oil-free primers. These absorb the excess sebum secreted and also control its secretion to a certain duration. They make sure your makeup does not melt in the middle of the day or the party, and keep you looking fresh. Primers today are enriched with natural ingredients that do not weigh down on your face or make your skin feel heavy. Some even have nourishing ingredients like green tea extracts and aloe. Check out the best primers for oily skin available on the market right now.
Top 13 Best Primers For Oily Skin This 2022
Bid goodbye to pores with this mattifying primer. The matte primer for oily skin can make a face look smooth, brightens the skin, and balances the skin tone. The oil-controlling primer lasts for a long and has a lightweight texture. The product is cruelty-free; it also ensures to keep the foundation in its place for long hours. The primer is waterproof and non- greasy. The formula provides that the highlighter is the only thing that shines and hence prevents oil generation. It is the best primer for oily skin. Here's an honest review of the product.
Pros
Oil-control
Balances complexion
Brightens the skin
Cons
Instantly minimizes the appearance of pores, this product promises to offer a smooth base for your skin. The product has the goodness of vitamin E that protects the skin and complements all skin types. The lightweight primer balm can be applied both under or over the makeup. All it takes is a thin layer to give a mattifying look to get a flawless face. Here's a video featuring a detailed review of the product.
Pros
Little is more
Conceals pores
Blends easily
Works well on acne-prone skin
Cons
The makeup primer for oily skin quickly diminishes pores and imperfections. It creates liquid silk canvas skin with a matte look. The primer is ideal for oily skin as it minimizes T-clog pores and absorbs excess oil. It is best to use the product in the morning after moisturizing the face. This primer is Dr. Brandt's quick fix for flawless and photo-ready skin.
Pros
Resistant to sweat and humidity
Minimizes pores
Blurs fine lines
Absorbs excess oil
Cons
Prepare your skin for bronzer, powder, other makeup, or nothing at all with the Too Faced Primer is a multi-tasker that erases pores and imperfections. It is a good primer for large pores and oily skin and has the essence of Mulberry extract and Arctostaphylos, which protect, lighten, and brighten the skin for a renewed, fresh and soothing effect. The product has anti-wrinkle and youth-enhancing ingredients such as cyclodextrin and retinyl palmitate.
In addition to these ingredients, it also has Camellia oil and vitamin A essence of the white tea plant. The antioxidants help fight against the free radical and make the skin look firmer, brighter, and more resilient. This product is the most hydrating primer for oily skin.
Pros
Detoxifies skin
Skin stays hydrated
Color stays true
Long-lasting
Cons
No products found.
The oil control primer is your key to let go of pores and embrace baby skin. The pores blurring primer also acts like a moisturizer which gives a smooth silk canvas-like look to the face preparing it for a flawless and smooth-looking skin. The product offered by Maybelline gives you a look you've always wished for and can be a part of your everyday makeup routine.
Pros
Blurs pores
Smoothens the skin
For all skin types
Cons
The size of the product might be small.
The oil-absorbing and shine control primer is the best foundation primer for oily skin. The top primer for oily skin has the goodness of rice protein that absorbs excess oil and leaves the skin with a mattifying effect. The primer helps prep the skin before makeup application hence giving it a skin matte look. This primer can be used alone as a mattifying serum to keep the face shine-free and fresh-looking. The skin-boosting serum and primer hybrid bridges the gap between makeup and skincare. Its nourishing formula enables the skin to remain fresh and flawless.
Pros
Non- greasy
Blurs pores
Has rice protein
Soaks excess oil
Cons
The texture might be a bit grainy
This travel-sized matte poreless primer is all you need to get a flawless look instantly. The product can absorb excess oil for about 12 hours. The primer helps mattify the skin, control the oil, and blurs pores. It can be worn alone or with the foundation to get a smooth and poreless canvas. Since the product lasts for long, it only requires a minimal amount for application. Becca Ever-Matte Poreless Primer is said to be the best oily skin primer.
Pros
Requires a small amount
Long-lasting
Blurs pores
Ideal for oily skin
Cons
Might leave a white filmy look
The Hourglass Veil Mineral Primer is the best foundation primer for oily skin. The Viel Mineral Primer offers a silky and smooth skin with a perfect complexion that lasts for long. The formula works well with creamy, powdery, and liquid foundations. The product is cruelty-free and is 100% vegan. It is paraben-free, sulfates, and phthalates- free as well. It has no nano particles, oil, synthetic fragrance, gluten, or synthetic dyes added to it.
Pros
Ideal for oily skin
Works on all types of foundation
Reduces pores
Lightweight
Cons
The Honest Beauty Everything Primer is a 2019 CEW Beauty Awards Finalist and hence is an excellent primer for oily skin. The pore filling primer for oily skin provides a matte finish to the skin. The primer lasts for long, with full coverage and oil-free formula. The silicone-free primer for oily skin helps control shine, blurs imperfections, and can be worn alone or with foundation. The primer is cruelty-free, dermatologically tested, and makes pores and oil invisible. There are no harmful ingredients added to the product; hence it is safe to use. Therefore it is the best professional primer for oily skin.
Pros
Non- paraben
Blurs imperfections
No synthetic fragrance
Infused with micronized bamboo powder
Cons
Have a happy makeup look with the 12-hour control primer that is the most long-lasting primer for oily skin and shine control. The primer is infused with healthy ingredients such as zinc, salicylic acid, and witch hazel. The skin is left to be silky with a cloud-like matte finish that allows the makeup to stay for long. The product is cruelty-free, non- greasy, and has a weightless gel. It is paraben-free, phthalate-free, and sulfate-free. The Smashbox Photo Finish Oil and the amp are subtle but highly effective.
Pros
Absorbs excess oil
Smoothens the skin
Cruelty-free
Weightless gel
Cons
Estee Lauder, The Mattifier Shine Control Perfecting Primer, is the most glowing primer for oily skin. It helps in reducing shine to give the skin a healthy look. The mattifying primer creates a smooth canvas for the application of makeup. It removes excess oil from the skin and evens out the skin tone. The product enables you to hold makeup all day at work, making a face look fresh and glowy. It is the best face primer for oily skin.
Pros
Oil controller
Moisturizes the skin
Amazing for aging skin
Cons
Might have a little shine
The Pores Be Gone Matte Primer is an illuminating primer for oily skin. The product is nutrient-rich as it has fig extract that provides antibacterial properties. The salicylic acid content helps to minimize pores and make skin flawless for makeup or no makeup days. The primer can make the skin soft and provide it with a matte finish. It is said to be a natural primer for oily skin as it has no artificial colors, fragrance, alcohol, or any other harmful chemicals added to it. The product is gluten, oil, nut, and nano-free. It is suitable for oily and sensitive skin and is 100% vegan.
Pros
Allergy-tested
Long-lasting wear
Blurs pores
Reduces acne/ blemishes
Cons
The City Color Oil Control Face Primer Spray has a citrus scent and is a facial primer for oily skin. The primer spray is used before applying makeup and hence helps in preventing oil generation and uneven makeup. The primer is cruelty-free and has no paraben added to it. The product lasts for long and has been enhanced with aloe vera, making the skin smooth and soft. With City Color Primer, it is super easy to get a flawless face to outshine!
Pros
Weightless
Reduces shine
Controls oil
Helps makeup stay put
Cons
The spray nozzle might not work well.
The best high-end primers for oily skin have the goodness of vitamins and minerals that make the skin oil-free while also moisturizing and making it soft. The SPF primer for oily skin helps in protecting skin from sun exposure.
Buying Guide For The Best Primers For Oily Skin
We now have a way to benefit from the face primer for oily skin to get an oil-free makeup. Here are some of the essential tips one should consider before purchasing a primer for very oily skin.
Choosing A Makeup Primer For Oily Skin
Different types of skin have other primer options that best suit the skin. A mattifying primer is the best option for oily skin:
It helps to reduce excess oil and shine.
It helps in reducing sebum production.
Such products help in reducing pores hence reducing shine as well.
The pore minimizing primer helps in providing a base for the concealer and foundation.
How To Use Primer For Oily Skin
Step 1: Once the cleanser, toner, and moisturizer have been used, it prepares the skin for primer application.
Step 2: The primer should first be applied to the eyelids and face, followed by concealing all the blemishes.
Step 3: Concealers can also cover dark circles and other marks, and finally, the foundation can be applied.
Note: The primer should be selected, keeping the skin type in mind.
Frequently Asked Questions
Does primer work for oily skin?
Primers are meant to fight against oily skin; it removes excess oil without clogging the pores or drying the skin. The best primers for oily skin help the makeup stay on the face and reduce the generation of oil.
What is the best primer for oily acne-prone skin?
The best primer for oily acne-prone skin is those that absorb excess oil and keep the face clean all day. The primer should maintain the look hydrated and not have any ingredients that can cause blemishes or acne.
What is the best affordable primer for oily skin?
Maybelline, L'Oreal, Revlon, Boots, and COVERGIRL are some of the perfect skin primers. These are worth every penny and provide the quality it promises.
How do you control oily skin?
Oily skin can be controlled by using a cleanser, toner, and moisturizer twice a day. Cleaners that have tea tree oil or salicylic acid help to dissolve sebum from the skin. After using the cleanser, it is advisable to use a cleanser to remove impurities with a final application of a light oil-free moisturizer. Facial masks and exfoliators should be applied once a week. There are several primers for redness and oily skin and promise to offer flawless and shine-controlled skin.
Is MAC primer good for oily skin?
It is a good primer for oily skin as its lightweight and keeps the skin balanced by evening it out. The MAC primer helps in making the foundation sit on the face and reduce oil production.
Is a baby skin primer good for oily skin?
Baby skin primer is good for use as it's not only suitable for oily skin but works well for all types of skin. It helps to make skin smooth and poreless.
Recommended Articles