10 Best Primers For Powder Foundation To Enjoy Long-Lasting Makeup
You can blindly trust these primers to give you the smoothest finish ever.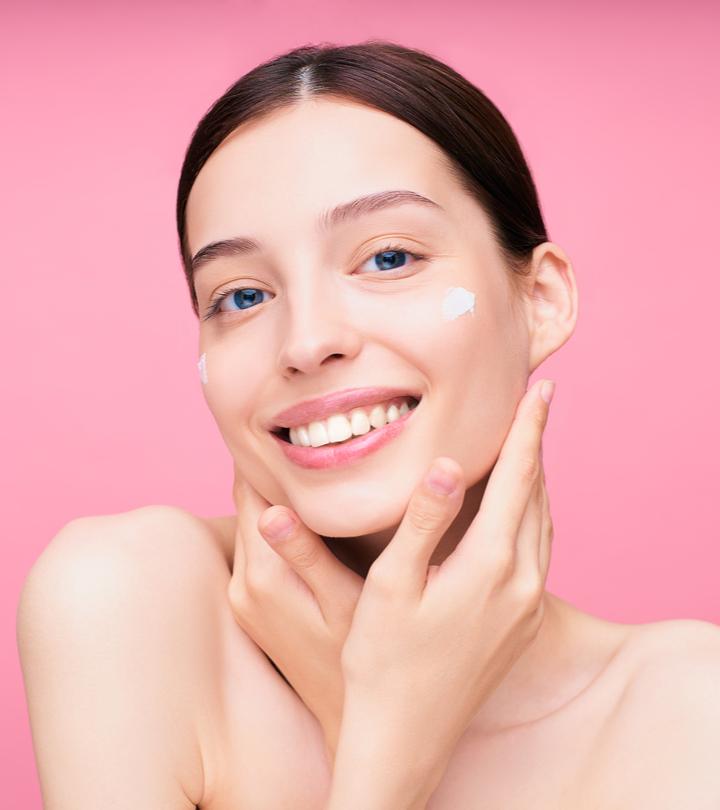 Primers are heaven-sent, especially when you are into a powder foundation. But all primers are not made equal and so it is essential to know how to pick the best primer for powder foundation before you get to invest in one! The primary task of a primer is to prepare as well as polish your skin, paving the path for the layers of makeup that follow. And only the very best ones do the task as effectively as it needs to be done. That is to say, only a handful of primers fit well with powder foundations. Others can leave your makeup patchy, clumpy, or faded over the course of the day.
As neither skipping a primer before makeup nor using a bad one sounds good to us, we have carefully collected a list of the top 10 primers designed especially for powder foundation right here. We have got options for all skin types and tones, this list can be the answer to your quest. So, dive right in.
Top Picks
10 Best Primers For Powder Foundation That Are Must-Try In 2023!
Pros
Lightweight
Instant pore minimizer
Non-comedogenic
All-day moisturizing
Fragrance-free
Suitable for dry skin
Cons
T-zone may turn slightly greasy
Price at the time of publication: $6.98
It's no secret that mineral powder makeup is great for sensitive, aging, and acne-prone skin, so why not use it with a mineral-based primer? Mineral makeup primers form a shield between your skin and the foundation and do a better job at protecting your skin from free radicals than others. This primer, for instance, will smoothen your complexion with a matte finish, and it contains silica to improve skin's elasticity and reduces acne and acne-causing inflammation. So, while your makeup routine helps your skin look flawless on the top, the primer will work on the inside to fight acne and anti-aging conditions. Watch this video to get a detailed review of the product.
Pros
Vegan
Lightweight
Cruelty-free
Silky formula
Extends makeup wear
Available in 3 shades
Cons
Price at the time of publication: $12
This one will make your skin glow through the makeup! Wet N Wild's Photo Focus Primer contains micro pearl pigments to deliver a stunning dewy skin effect, so you can put your best face forward in all the close-ups. A must-try for normal, dry, and combination skin, this photo-prepping primer creates a luminous layer that moisturizes the skin too. The formula contains vitamin E to nourish and protect the skin from UV damage and free radicals and hydrogenated castor oil to soften and moisturize the skin. Besides, the infused silica produces collagen to fight aging signs, control greasiness and acne too in this primer that doubles as a tinted moisturizer. Here's a video to help you know more about this product.
Pros
Vegan
Cruelty-free
Gluten-free
Paraben-free
Fragrance-free
Lightweight formula
Cons
Some may find it slightly shiny
Price at the time of publication: $5.28
If you are looking for a high-end primer, the Hourglass Veil Mineral Primer goes beyond the traditional priming benefits to deliver a picture-perfect canvas. With a premium formula, it preps the skin for makeup while concealing blemishes, reducing redness (rosacea), and minimizing the appearance of pores, wrinkles, and fine lines. A high-performing and sleek primer for oily skin and powder foundation, its cloudy-airy texture is ideal for blemish-prone, sensitive, and acne-prone skin too. Besides priming and caring, it also protects the skin from harmful sun rays with broad-spectrum SPF 15. And if you are wondering if it is safe, the primer is vegan and free from harsh chemicals such as parabens, sulfates, fragrances, gluten, phthalates, synthetic dyes, and more.
Pros
Oil-free
Cruelty-free
Silky and luminous finish
Non-greasy
Water-resistant
Extends makeup wear
Works with cream and liquid foundation too
Cons
Price at the time of publication: $46
This anti-aging primer is a  boon for mature skin with its priming, caring, and blurring benefits. If your powder foundation is settling into creases and fine lines, you must try this Age Perfect Blurring Face Primer for its radiant, natural-looking, and soft-focus natural finish. It claims to show a visible difference in your skin's texture after the first use and blurs pores and lines instantly. The primer contains a universal rosy formula and a caring serum with eperua falcata bark extract to increase elasticity, lentil seed extract to reduce enlarged pores, and salicylic acid to tackle acne and inflammation.
Pros
Softens skin
Comfortable wear
Can be worn alone
Improves skin quality
Cons
May not be best suited for those with extremely sensitive skin
Price at the time of publication: $8.97
Here's a primer that your skin and makeup will love! Give a flawless start to makeup by creating an ultra-smooth canvas for it to stay on and look fresh all day. This primer uses triple blurring complex and light-diffusing technology to blur imperfections, pores, aging lines, and evens-out skin's texture to enhance your overall makeup look. And it doesn't stop there; it works overtime to provide skin-caring benefits with silica beads and time-release skin balancing technology that absorbs excess oil, maintains moisture, and controls shine. With 95% of women claiming their skin texture improved after using this primer, the blend also contains long-wear polymers that increase makeup and powder foundation longevity.
Pros
Oil-free
Lightweight
Silky texture
Blends seamlessly
Non-comedogenic
Suitable for all skin tone and types
Cons
Price at the time of publication: $43
Oily skin can be unforgiving when it comes to makeup, which is why it's imperative to deal with it pre-makeup. This dermatologist-tested face primer for powder foundation has a weightless gel texture that mattifies the skin without drying. It reduces shine and greasiness, while minimizing the appearance of pores to leave your skin ultra-soft and smooth. And the best takeaway— it is sensitive skin-tested, allergy-tested, and it increases makeup longevity for up to 24 hours! Just the primer you need to control your skin's tantrums, the formula is also free of toxic chemicals such as parabens, fragrances, triclosan, phthalates, and SLS.
Pros
Vegan
Cruelty-free
Irresistibly soft skin
Lightweight formula
Non-comedogenic
Suitable for all skin tones and tones
Semi-matte to matte finish
Cons
Price at the time of publication: $33
Greasy T-zones can be a nightmare to deal with, which is why we have this natural mattifier and primer on the list. Ideal for combination skin, the primer uses cornstarch instead of toxic silicones to mattify your skin and control the excess sebum (especially on the T-zones!). Plus, it also reduces shine and blurs pores and aging lines to leave a smooth and picture-perfect canvas to extend your makeup's longevity. Now, whether you want to use this primer alone or with powder foundation, it ensures one thing – no more greasiness!
Pros
Matte finish
Absorbs quickly
Glides smoothly
Lightweight texture
Mattifies without drying
Cons
May not be suitable for very oily skin
Price at the time of publication: $20
Pros
Non-drying
Silky-soft finish
Translucent texture
Ideal for all skin tones
Suitable for dry, normal, combination, and oily skin
Cons
May not be suitable for very oily skin
Price at the time of publication: $36
This primer's velvety blend is not to be underestimated. It forms a stunning matte coat on the skin with its powder-gel texture and blurs conspicuous aging lines, pores, and imperfections effortlessly. Packed with antioxidant-rich ingredients to pamper your skin while creating a smooth canvas, the formula contains silica to control and absorb the excess shine, oil, and sweat. Besides this, the primer also protects from daily environmental stressors with the infused olive oil.
Pros
Long-wear
Clear texture
Weightless formula
Fragrance-free
Colorant-free
Wear alone or with makeup
Suitable for all skin tones and types
Cons
Price at the time of publication: $16.7
Get, set, prime with the best for a long-lasting makeup experience! There you go, those were the 10 best primers for a powder foundation that you must try. And if you still need assistance while shopping for the right one, we have some tips for you in the buying guide below:
How To Choose The Best Primer For Powder Foundation?
Here are some features you must look out for in the product before buying:
Besides choosing a suitable product for your skin type, look out for beneficial active ingredients in the product too. After all, what goes on the skin; shows on the skin, right? So, why not choose something healthy? If your skin is oily, pick an oil-free or gel-based primer with non-comedogenic moisturizers, silica beads, sandalwood, etc., for a mattifying and non-drying experience. Silica beads (oil-absorbers) or mineral-based primers are also great for sensitive, blemish and acne-prone skin. Also, primers with vitamin C and E are ideal for reducing sun damages or for spot treatment.
Primers offer umpteen benefits than just creating a smooth base for the makeup. They not only smoothen your skin but also blurs out pores, blemishes, redness, acne scars, and aging lines. And, since these skin troubles always show up unannounced, it's ideal to choose a product that will be able to tackle your skin tantrums when needed.
A multi-purpose primer will act as a skin-protecting shield and a smooth canvas for the makeup all at once. So, naturally, this shield should be free of toxic chemicals. Look out for ingredients such as parabens, phthalates, sulfates, gluten, and more that can be harmful to your skin.
The longer the primer stays on, so will your makeup! As a matter of fact, an efficient primer increases a makeup's longevity. So, before choosing one, check the staying power and finish it delivers to the skin to determine whether it's suitable for the power foundation you use.
A good primer can make a massive difference to your makeup. So, rather than skipping it because of one bad experience, choose one that suits your skin and your foundation type for the best experience. Nowadays, primers are versatile and provide skin benefits, making them even more essential to use pre-makeup, especially when it comes to powder foundations. The reason being, with a powder-based foundation, there's a high risk of clogged pores, creasing, or makeup fading within a few hours, but a good primer can prevent it all effortlessly. So, what are you waiting for? Pick the best primer for powder foundation today!
Why Trust StyleCraze?
Chaitra Krishnan is a makeup enthusiast who has compiled this list of the best primers for powder foundation after thorough research. The products were chosen by analyzing user reviews and considering factors such as ingredients and quality. She has also prepared a buying guide and offered tips on choosing the right product. These primers will help your powder foundation blend well and last longer.
Frequently Asked Questions
Does a primer work with a powder foundation?
Yes, primers are used to even out the skin's texture and provide a smooth base that works with all kinds of foundations.
Is primer necessary for powder foundation?
No, there is no necessity to use a primer for powder foundation. But, using a primer helps get a smooth, even skin texture for your makeup products.
What do you put on before a powder foundation?
To get the best look, apply a concealer and a moisturizer before applying a powder foundation.
Can I only wear a powder foundation?
Yes, you can wear a powder foundation alone without any other products. However, it does not last very long and the skin may look textured and unsmooth .
How do you make powder foundation not look cakey?
Keep your skin moisturized, apply a good primer, and then apply foundation powder with medium coverage. At last, you can use a setting spray to bind the makeup in place.
Recommended Articles