10 Best Primers With SPF You Can Always Rely On – 2023
Use these primers meant for your skin type and flaunt your sunkissed makeup look.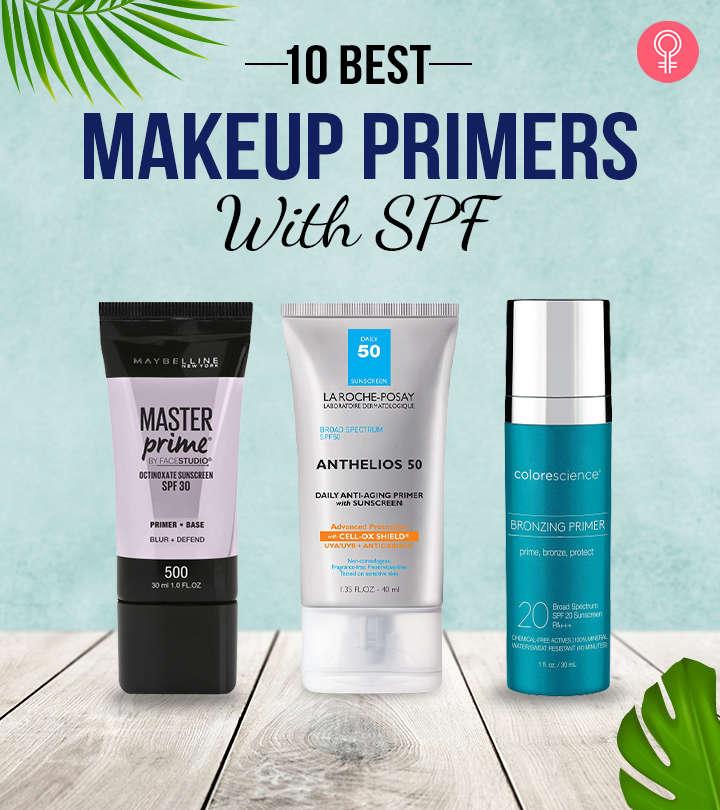 Makeup primers are smooth gel, cream, or liquid formulae that cover your large pores, bump textures, and tiny creases, creating a smooth surface for easy makeup application. Those formulae with SPF protect your face from sun rays. You can use the best primer with SPF beneath your foundation and minimize imperfections and aging signs. It will also help to even out skin tone by providing sun protection. In this article, we have curated a list of the 10 best makeup primers with SPF to prep your skin. Keep scrolling to learn all about them
Are Primers With SPF Effective?
A primer prepares your face for makeup application by concealing lines, patches, blemishes, and other skin concerns. Sunscreen protects your skin from the sun and UV ray damage. Both protection and preparation are vital for your skin to remain youthful and well-rested. Hence, investing in a primer with SPF is a wise choice. Plus, it is effective on most skin types.
If you have decided to add this versatile beauty product to your vanity, browse the next section to pick a suitable option.
Top 10 Makeup Primers With SPF You Will Love
The Almay CC Luminous Primer contains a complexion-correcting formula to brighten and smoothen dull and tanned skin. This all-natural primer has broad-spectrum SPF 15 to prevent photodamage and cover signs of photoaging. Its oil-free formula has hydrators that nourish your skin and hold your makeup in place all day. This tinted primer comes with tones of pink and pearl that neutralize and conceal uneven pigmentation to prepare all skin types for any makeup look.
Pros
 Hypoallergenic
 Long-lasting
 Lightweight
 Dermatologist-tested
 Fragrance-free
 Cruelty-free
Cons
Price at the time of publication: $15
The Dermatologica Skinperfect Primer SPF30 works as a priming formula, sunscreen, and anti-aging treatment. This 3-in-1 primer conceals fine lines, preps your skin for makeup application, and leaves a soft-focus finish. Its silky formula contains soy protein, pearl powder, and natural earth minerals that polish your skin to add subtle radiance. They help even out the skin tone and texture, support skin firmness, and protect against sun damage. You can wear this illuminating SPF primer alone, over your moisturizer, or under foundation to hold your makeup better and for longer. This video helps you know more about the product.
Pros
 Lightweight
 Goes on smooth
 Non-comedogenic
 Non-greasy
 Mildly scented
 Gluten-free
 Cruelty-free
 Paraben-free
Cons
None

Price at the time of publication: $55.0
The Elizabeth Mott Thank Me Later Blurring Face Primer is formulated with silica to blur the appearance of fine lines, wrinkles, and pores, creating a smooth and even base for makeup application. It is also formulated with SPF 30 to provide sun protection and help prevent sun damage and premature aging of the skin. The vitamin E, shea butter, cucumber, green tea, and linseed in the formula help to nourish and protect the skin. The formula is so lightweight and blends so seamlessly that it feels like naked skin, even with the primer on. It gives a demi-matte finish – ideal for wearing alone or under makeup.
Pros
Lightweight
Demi-matte finish
No white cast
Minimizes pores and fine lines
Blurs the skin
Cons
None
Price at the time of publication: $25
The La Roche-Posay Anthelios 50 Daily Anti-Aging Primer has a lightweight mousse texture that suits oily skin. Its broad-spectrum SPF 50 prevents photodamage and provides daily UVA/UVB protection to your skin. The allergen-free formula visibly blur signs of aging, blemishes, and uneven pigmentation to give a poreless, matte finish. This oil-absorbing primer suits all skin types, including sensitive skin, and can be worn every day with or without makeup. Its moisturizing ingredients will leave your skin soft and silky under makeup, without feeling sticky or greasy. Before buying, have a look at this video for more details.
Pros
 Dermatologist-tested
 Lightweight
 Absorbs quickly
 Hypoallergenic
 Non-comedogenic
 Fragrance-free
 Paraben-free
Cons
None
Price at the time of publication: $39.99
The Colorscience Bronzing Primer SPF 20 has a water- and sweat-resistant formula that improves your skin's tone, texture, and firmness. It contains rice proteins and oat peptides that even out the skin tone, extend makeup wear, and provide a healthy sun-kissed look. Other all-natural and nourishing ingredients in the primer like aloe leaf juice, jojoba seed oil, and green tea leaf extract brighten your skin from within. This tinted primer doesn't clog the skin pores and preps your face for a long-lasting makeup look with its light coverage.
Pros
 Mildly scented
 Non-comedogenic
 Water-resistant
 Hypoallergenic
 Vegan
 Paraben-free
 Sulfate-free
 Phthalate-free
Cons
None
Price at the time of publication: $49.0
The Hourglass Veil Mineral Primer creates a poreless, smooth, and even canvas for makeup to stay on all day. It spreads effortlessly to conceal redness and minimize the appearance of fine lines and wrinkles. The mineral-based components – titanium and zinc oxide – provide broad-spectrum SPF 15 protection. The silky, non-greasy, and weightless formula works well with cream, liquid, and powder-based makeup and is the best primer with SPF that can be worn under any foundation.
Pros
 Lightweight
 Oil-free
 Paraben-free
 Fragrance-free
 Sulfate-free
 Phthalate-free
 Gluten-free
 Synthetic dye-free
 Vegan-friendly
 Cruelty-free
Cons
None
Price at the time of publication: $56
The Glo Tinted Primer SPF 30 has an oil-free formula that offers broad-spectrum, pure mineral sun protection. Its weightless texture spreads easily on your skin to conceal areas of concern and provide sheer to medium coverage. The mineral sunscreen with titanium and zinc oxides blocks UVA and UVB rays from causing gradual photodamage. This primer preps your face with a semi-matte finish and can be worn alone or under mineral makeup for an even-toned look. It is formulated to suit all skin types, including sensitive skin, without leaving a greasy and sticky film.
Pros
 Lightweight
 Spreads well
 Oil-free
 Natural coverage
 Absorbed quickly
 Long-lasting
Cons
Price at the time of publication: $42
The IPKN Radiant Cream Primer SPF 15 preps your skin with natural radiance and offers an even tone. It features a blend of nourishing orange, blueberries, pomegranate extracts, and shimmery pearl powder. This weightless, creamy primer spreads uniformly over your skin to minimize visible signs of stress, sun damage, and large open pores. The pearl powder and rose extract in this primer form an invisible barrier to repair and restore your skin's pH balance. This primer is formulated to suit all skin types and can be worn alone or under a foundation.
Pros
 Lightweight
 Long-lasting
 Mildly scented
 Easy application
 Doesn't clog pores
Cons
 Not suitable for deeper skin tones
Price at the time of publication: $24
The NYX Bare With Me Sunscreen Daily Moisturizing Primer has a hydrating formula infused with hemp seed oil and Asian pennywort extract. It also contains SPF 30 sunscreen to protect your skin from harmful UVA and UVB rays and sunburns. This moisturizing primer with SPF can be worn alone for a brightening, nourishing, and sheer glow that lasts for 24 hours. In addition, it primes your face by concealing signs of concern and extends the life of the look.
Pros
 Long-lasting
 Quick-drying
 Non-sticky
 Weightless
 Cruelty-free
 Vegan
 Dye-free
Cons
Price at the time of publication: $16
The Smashbox Photo Finish Protect SPF 20 Primer has anti-aging, sun-protecting, and soothing effects on your skin. It contains active natural antioxidants like vitamin E, grape seed extract, and green tea leaf extracts that soften fine lines and wrinkles, lighten hyperpigmentation, and improve your skin tone. This primer with SPF is ideal for mature skin as it is clinically proven to reduce the signs of aging and dullness. It spreads easily to create a smooth canvas for flawless and long-lasting makeup application.
Pros
 Absorbed quickly
 Ideal for daily use
 Long-lasting
 Non-greasy
 Easy application
 Cruelty-free
Cons
Price at the time of publication: $21.74
These 10 primers with SPF are designed to suit most skin types and cater to various needs. But to pick a primer that suits you best, here's what you should look for while buying.
What To Look For In A Primer With SPF
1. Finish: A primer's finish is how it ultimately looks on your skin. Although it is mainly worn under makeup, a primer is the first product in contact with your skin. If you have oily skin, pick a primer with SPF and a matte or oil-absorbing finish. It will not make your skin look and feel oily when you wear makeup. A creamy, hydrating primer would best suit dry, normal, or combination skin types.
2. Ingredients: Whether you have sensitive skin or not, it is best to stick to SPF primers that are free of chemicals and irritants. Give preference to natural emollients, hydrants, and antioxidants over synthetic ones. Choose a primer with pure mineral-based sunscreens like titanium or zinc oxide for long-lasting and safe sun protection.
3. Value For Money: Today, you can find primers that perform more than one function in makeup lines. SPF in primers is one of the varieties. Look out for primers that can work as a foundation, color-correctors, moisturizers, anti-aging treatment, acne treatment, etc. You can make the most of a multipurpose primer's worth by wearing it alone, under makeup, and/or for protection in specific environments.
Why Trust StyleCraze?
The author Baishali Bhattacharya is a certified makeup expert. She also has a keen interest in various products used in makeup and loves to research about them, which always brings out the best products for the readers. The list of best makeup primers with SPF has been curated carefully after extensive research and after reading many customer reviews from trusted platforms. She says that one should invest in a good primer for easy makeup, and these primers with SPF benefit you doubly as they offer sun protection and an even base.
Frequently Asked Questions
Can you wear sunscreen under primer?
Yes. Start with sun protection first and apply sunscreen. Let it dry before starting your makeup look with a face primer. You can wear any makeup product under a primer. But, since sunscreen can't go over makeup, it is best to follow the order of moisturizer, sunblock, primer, and makeup.
Are primers with SPF good for dry skin?
Yes, hydrating primers with SPF are suitable for dry skin. They block UV rays from penetrating the skin and nourish flaky skin.
Can I use a primer with SPF instead of sunscreen?
Yes. Use a primer with high SPF instead of sunscreen. The SPF in the primer will prevent sun damage and create flawless skin.
How often should I use a primer with SPF?
Wear a primer with SPF whenever you are out in the sun. There is no harm in using the primer with SPF daily.
Should you apply primer before or after sunscreen?
Apply sunscreen first on your moisturized skin to protect it from sun damage. Then, apply the primer as the first step of makeup.
Recommended Articles