13 Best Bike Racks For Prius For Your Cycling Escapade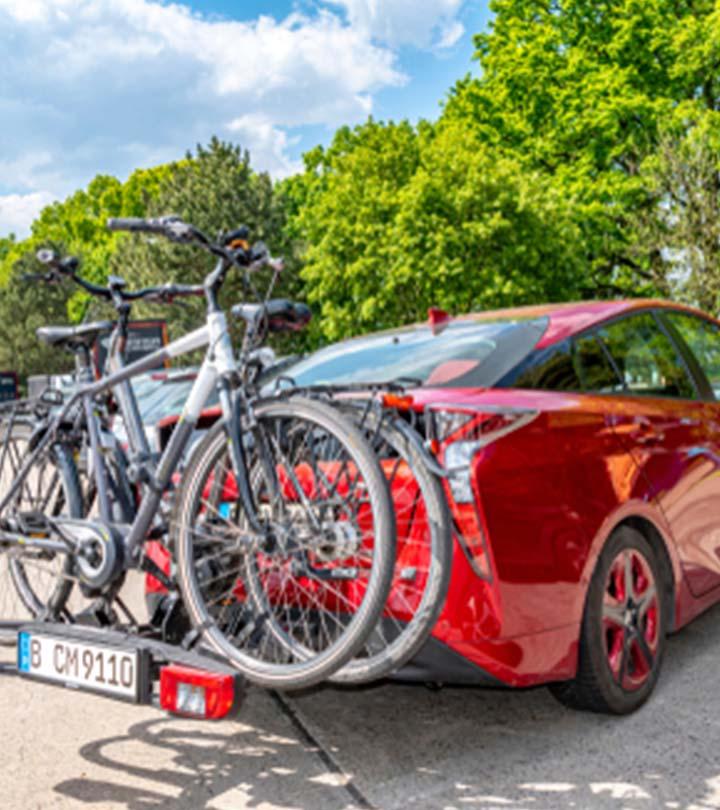 If you own a Toyota Prius, the first fully hybrid electric-gas automobile, we know you care about the environment. That is why it is no surprise that you want to take your bicycle along on a leisure trip. But the trunk space in a Prius is not enough to carry bikes. Mounting the bikes on a bike rack saves space and ensures safe transit. This post lists the 13 best bike racks for your Prius that you can buy online. Take a look to check and compare.
13 Bike Racks For Your Toyota Prius – Reviews
The Allen Sports Hitch Rack features easy assembly, quick lift-gate access, folding carry arms, and a dual compound Spine Shield. This bike rack can carry up to 4 bicycles (up to 140 lbs) and installed onto most standard Class III & IV 2-inch receiver hitches. You can uninstall the bike rack by simply squeezing two red release buttons on the carrier. The rack is equipped with durable, UV-resistant rubber cradle straps that quickly secure the bicycle(s) in place. 
It is compatible with a wide range of tube sizes. The tie-downs include a soft cradle bed that protects the bicycle(s) during transport. It also features a rugged internal mechanism that keeps the rack secured during use – at the same time allowing for a single-handed tilt-away when you need access to the inside of your vehicle.
Pros
Quick lift-gate access
Easy assembly
Folding carry arms
Easy to uninstall
Durable, UV-resistant rubber cradle straps
Compatible with several tube sizes
Rapid tilt-away mast
Integrated locking loop 
Cons
Not suitable for heavy bikes
The BV Bicycle Hitch Mount Rack Carrier is a folding bike rack with a backward tilt design. It enables users to open the rear gates without detaching the hitch rack. It can carry a total of 2 bikes. The tray-style loops and padded arms firmly hold the bike(s) in place. The padded arms protect your bike from scratches.
You can secure the bikes by the three-point connection system – two tray-style arms on the bottom and one vertical arm on top. This prevents the bike from wobbling while in transit. The rear safety reflector enhances visibility and ensures safe night driving.
Pros
Smart tilt design
Foldable design
Easy to install
Anti-wobble
Protects bikes from scratches
Safety reflector
Reasonably priced 
Cons
Not suitable for bikes with wider tyres
Not suitable for heavy bikes
The YAKIMA TubeTop Hitch Mounted Bike Rack is a handy adapter that installs quickly and securely. It is compatible with most mast-style hitch racks and can mount one bike weighing up to 45 lbs. The single or dual-arm keeps the bike wobble-free. The oversized diameter tubing and anti-rotation inserts ensure greater stability. The large molded collars are gentle and keep the bike stem and seat post scratch-free.
Pros
Easy to install
Compatible with most mast-style hitch racks
Keeps the bike stable
Wobble-free
Anti-rotation inserts for greater stability
Keeps the bike scratch-free
Affordable 
Cons
The Saris Bones Bike Trunk Rack is built with 100% recyclable, non-rusting material. It can carry 2 bikes, each weighing about 35 lbs. The arch-based design fits most bikes. The injection-molded arms and legs are strong and sturdy. The rubberized feet protect the car, and the coated straps protect the bikes from scratches. The ratcheting hold downs are easy to adjust. This bike rack is convenient and durable. 
Pros
100% recyclable material
Non-rusting
Fits over most bikes
Protects the bike and car from scratches
Durable
Cons
You cannot lift the rear door with the rack on
The Kuat Racks Sherpa Bike Rack can carry 2-4 bikes, with each weighing about 40 lbs. It features an easy, no-tool installation with a hand-tight hitch cam system. The hitch size is 1.25". The rack comes with a semi-integrated bike lock. It features a rear tire cradle co-molded strap to protect the bike wheels. It can be tilted to open the car trunk. It is wobble-free and looks elegant.
Pros
Easy installation
Comes with semi-integrated bike lock
Can be tilted to open car trunk
Wobble-free 
Cons
Contains no assembly manual
The Retrospec Lenox Car Hitch Mount Bike Rack can mount 4 bikes and fits a 2-inch trailer hitch. This bike rack features a sturdy steel construction with a weight limit of up to 80 lbs. The carry arm spacing is designed to accommodate an array of frame styles and sizes. The tie-down cradles and straps help secure your bicycles and protect them from damage. This rack needs only minor assembly and comes with the required set of tools.
Pros
Sturdy steel construction
Can accommodate various frame styles and sizes
Secures bicycles
Protects from damage
Easy assembly
Affordable.
Cons
The Swagman Hitch Mount Bike Rack easily carries 2 bikes. It is compatible with a 2″ Class 3 hitch receiver or mounts to a 4.5″ continuous steel welded RV Bumper Adapter. This bike rack also comes with a 2″ bumper adapter. Its lightweight yet sturdy construction keeps your bikes wobble-free. It takes only a few minutes to assemble. The upright arm with push-button and ratcheting hooks provide a quick bike loading and unloading feature. When not in use, this bike rack can be folded. A black powder coat finish makes it rust- and corrosion-resistant. It is reliable and safe. 
Pros
Comes with a 2″ bumper adapter
Lightweight
Sturdy
Wobble-free
Easy to assemble
Can be folded when not in use
Allows quick bike loading and unloading
Rust- and corrosion-resistant 
Cons
No assembly manual included
The SeaSucker Talon Single Bike Rack is a fork-mount-style 1-bike carrier with three powerful (210 lbs pull-strength each) vacuum cups that hold it on to the car roof, trunk, or back glass. You have to pump to attach this bike rack. A power indicator tells you when to repump. The rack is made of stainles steel and is rust-resistant. A rear wheel strap secures the back tyre. The rack is small and lightweight and can fit into a bike bag or carry-on luggage. It is easy to install and can be removed in a few seconds. A powerful UV inhibitor keeps the plastic and rubber from drying or breaking in the hot sun. 
Pros
Made of stainles steel
Rust-resistant
Small and lightweight
Can fit into a bike bag
Easy to install and remove
UV inhibitor prevents sun damage
Cons
None
The Hollywood Racks Express Trunk Mounted Bike Rack is an economical three-bike trunk rack. It fits most vehicles with easy-to-use adjustment tubs and six attachment straps. The soft rubber bike cradles help protect the bike's finish. It comes fully pre-assembled and folds for easy storage. It comes with limited lifetime warranty. 
Pros
Easy-to-use adjustment tubs
Fully pre-assembled
Folds for easy storage
Affordable 
Cons
Does not protect car from scratches
The Tyger Auto Deluxe Black Bicycle Carrier Rack is a fuss-free, 100% assembled bike rack. The sturdy construction allows one to carry one bike without any wobbling or scratches. The padded lower frame with safety straps keep bicycles in place and away from the vehicle. The individual soft cradles protect the bike frame and secure your bike with ratchet buckles. The standard black E-Coating makes this bike rack rust-resistant. It is foldable and easy to store when not in use. It is easy to install and has limited lifetime warranty.
Pros
100% assembled
Sturdy construction
Wobble-free
Scratch-free
Protects the bike
Rust-resistant
Foldable
Easy to store when not in use
Easy to install
Cons
The Venzo 3 Bike Car Universal Carrier Rack uses special design to attach to your Prius. It has six different sides of holding straps and can be attached to the car for a wobble-free transit. An extremely strong buckle, which has gone through a 300-hour rust testing, keeps the bike wobble-free. A rubber-coated hook protects your car from scratches. A durable adapter, an oversized diameter tubing, and anti-rotation inserts ensure stability. The maximum loading capacity is 55 lbs. This bike rack is constructed of rust-resistant, sturdy steel with a black powder coat finish. It also comes with a lifetime warranty. 
Pros
Sturdy steel construction
Wobble-free
No scratches
Stable bike rack
Rust-resistant
Cons
May leave scratches with three bikes
The BUZZRACK Entourage 3-Bike Platform Hitch Rack features an outdoor powder coated steel construction. This 3-bike rack tilts down to allow vehicle access. It can also be folded flat when not in use. The low platform reduces the risk of overhead lifting. You can load up to three bikes of almost any frame design or wheel size without having to remove their wheels. Any kind of bike, including that of women's, kids', road, mountain, or full suspension can be loaded quickly. The no-fuss ratchet straps and padded frame clamps lock the bikes down. The rack looks stylish as well.
Pros
Foldable
Easy to store
Allows vehicle access
No-fuss ratchet straps
Low platform
Compatible with any kind of bike
Cons
The Thule Passage Trunk Mount Carrier can carry 2 bikes with a maximum weight capacity of 35 lbs per bike. The patented FitDial provides the perfect fit to your Prius. The soft rubber cradles protect the bike frame while holding it securely. The anti-sway cages prevent bike to bike or bike to vehicle contact and keep them scratch-free.
The arms can be folded and stored easily when not in use. The SoftCushion leg pads protect the trunk and the hatch. A frame adapter is required to load a woman's, child's, or full-suspension bike. 
Pros
Patented FitDial provides perfect fit
Cradles protect and secure the bike
No scratches
Foldable
Easy to store
Leg pads protect trunk and hatch 
Cons
These are the 13 best bike racks for your Prius that you can buy online. But before you make your purchase, take a look at this checklist.
How To Choose A Good Bike Rack For Your Prius? 
Frame: Durable and rust-resistant stainless steel construction is your best bet
Rubber Padding: A rubber padding helps prevent scratches on the bikes or the car. Check for it.
Stability: The rack and the bike lock should be stable for a wobble-free transit. Stability will also depend on the construction and design of the bike rack.
Number Of Bikes: Ask yourself how many bikes you would want to carry at a time. Make your purchase accordingly.
Bike Size: Kids'and women's bikes are usually lighter. Fat bikes need more space and the rack must have a higher weight capacity. Purchase accordingly.
Conclusion
Be it for leisure, fitness, or adventure sports, biking gives immense pleasure. Also, you will be doing the environment more harm than good. Get a good bike rack, attach it to your Prius, and bid adieu to the mundane life.
Expert's Answers for Readers Questions
How easy is it to install a bike rack on a Prius?
It is quite easy if you have a user manual. For extra security, you may also add some Scotchgard.
Can a bike rack damage my car?
Yes, if there is not enough space between the bike rack and your vehicle. You can pick a bike rack accordingly. The BUZZRACK Entourage 3-Bike Platform Hitch Rack could be ideal.
Recommended Articles
The following two tabs change content below.

Latest posts by Charushila B (see all)