8 Best Probiotics For Acne That You Can Try In 2022
Add the good bacteria to your skin to minimize inflammation and prevent acne issues.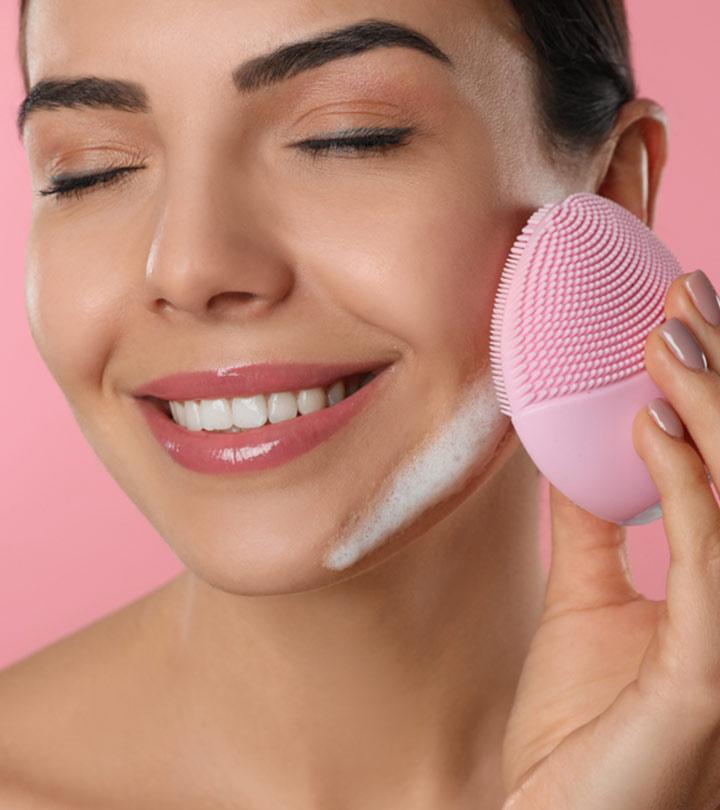 Acne is a skin condition that can be annoying, painful, and irritating. You must have already tried several ways to get rid of them, but have you tried using bacteria or probiotics? Yes, some best probiotics for acne are available on the market that helps manage and heal acne. Are you wondering how to use bacteria to eliminate another bacteria-caused issue? Can probiotics be used on your skin? How to choose the best probiotic for your skin? Let us take you through this one by one.
As you know, acne can also be caused by inflammation or the imbalance between bad and good bacteria on the skin. To tackle this, we increase the healthy bacteria in the body with the help of probiotics. Probiotics normalize the healthy bacteria ratio, which minimizes skin inflammation. When your skin is free of inflammation, your acne issues will also start to bid goodbye, leading to clean and clear skin. So, if you have not tried probiotic skin care products yet, it is time you give them a try. Wondering how to choose the product? We can help you. This article has everything you need to know about using probiotics for acne. We have also listed the best 8 probiotics for acne. Scroll down to check them out.
Dr. Rosmy Barrios, MD and medical advisor for the Health Reporter, says, "Bacteria, fungi, and viruses in the skin form an invisible ecosystem called the skin microbiome, which can become disrupted if not taken care of, resulting in acne breakouts. One effective way to rebalance the microbiome is to use good bacteria, otherwise known as probiotics."
Acne as a skin condition can sometimes be caused by inflammation, or the excessive imbalance of bad bacteria over good ones. One of the best ways to get rid of this is to increase healthy bacteria in the body. This is where probiotics come into play. Probiotics help normalize the bacteria ratio in the gut, which reduces inflammation in the body, and specifically in the skin. Once the inflammation is dealt with, you can wave goodbye to acne and say hello to clear and healthy skin to develop the ideal skin health. If you are looking to get rid of acne, probiotics is what you have been looking for, and this article gives you just the right information you need. Here are the 8 best probiotics for acne.
8 Best Probiotics For Acne In 2022 For Radiant Skin
Formulated with salicylic and azelaic acid, this probiotic acne skin care product solution helps to effectively clear acne and acne-related problems while also preventing breakouts. While the salicylic acid unclogs pores and exfoliates the skin, the azelaic acid gets rid of bacteria from the pores. As dry and dehydrated skin is prone to acne-induced inflammation, this cleaning and correcting gel helps to prevent dryness by keeping the skin moisturized and hydrated, while fading dark spots and pigmentation. Just a few spritzes of this probiotic gel regularly can help you achieve smooth, clear, and healthy skin.
Pros
Contains salicylic acid
Fades dark spots
Reduces dryness
Hydrates the skin
Helps to make the skin smooth
Cons
Salicylic acid may irritate extremely sensitive skin.
Price at the time of publication: $36.0
If you are looking for a cleanser that deeply purifies the skin, you need not look further than this one. This cleanser helps eliminate acne by removing the extra layer of dead skin cells and excessive oils and is suitable for all skin types. When inflammations occur, they increase the size of pores on the skin, which ultimately causes a breakout. This cleanser unclogs pores and also shrinks them to restore your skin natural texture. The cucumber scent is refreshing and the willow bark extract in the formula calms and soothes the skin. If you want to know more about this product, check out this video on YouTube.
Pros
Revitalizes and restores skin
Soothing qualities
Suitable for all skin types
Purifies the skin
Cons
It may take a long time for results to show.
Price at the time of publication: $32.34
This probiotic treatment for acne works in a unique way to fight skin inflammation. Sometimes acne is caused by residues found on the skin's surface, other times, by the imbalance of bad bacteria over good bacteria. Whatever the case may be, this probiotic aids in getting rid of the problem. The cleanser gently removes residues without leaving the skin dehydrated. Blending menthol and eucalyptus, this treatment cleanser comes as a breath of relief for acne-prone skin. It also helps to deal with other underlying skin issues, leaving your skin glowing, as the name suggests.
Pros
Hydrating qualities
Suitable for teens
Refreshing minty fragrance
Contains eucalyptus oil
Cons
It may not be easy to rinse off.
Price at the time of publication: $36
This acne spray treatment helps in getting rid of acne breakouts by strengthening the skin and protecting it from harmful agencies trying to penetrate into the skin. This topical probiotic spray does just that. It provides all the good bacteria your skin needs to remain healthy and eliminates bad bacteria that cause skin issues like acne. This product is also great because it is mindful of sensitive skin. When 50 million probiotics in a single ml come in contact with the body, they help to successfully return the skin to its natural state. Hypoallergenic and dermatologist-tested, this spray also helps to reduce inflammation.
Pros
Suitable for eczema and rosacea
Hypoallergenic
Suitable for all skin types
Anti-inflammatory
Suitable for daily use
Cons
It may take a long time to show results.
Price at the time of publication: $9.95
It is important to always be mindful of what we put on our skin, because the skin absorbs almost 60% of what we put on it. Chemicals, sulfates, and parabens can be harmful to the skin in the long run. Lucky for you, this product does not contain any harmful ingredients and helps you fight acne with natural ingredients. Key ingredients like gotu kola possess fatty and amino acids proven to protect the skin against harmful toxins and environmental aggressors. It also contains apple fruit extracts that help improve the appearance of skin, while vitamin B helps to restore your skin's health. These ingredients make this probiotic toner remarkable, and distinct from the others.
Pros
Natural ingredients
Alcohol and chemical-free
Anti-aging benefits
Unclogs pores
Contains witch hazel and green tea extracts
Helps regulate sebum production
Cons
It may not be best suited for dry skin.
Price at the time of publication: $14.5
This moisturizer helps fight acne by repairing broken and affected skin. The moisturizer also prevents further breakouts. This acne moisturizer is lightweight, and the skin absorbs it all without leaving a residue that can cause further damage to the skin cells. It is oil-free, and so when applied, you do not need to worry about your skin feeling greasy and sticky. The combination of both watermelon and the aloe in its formula help to ensure that the skin receives ample hydration.
Pros
Lightweight
Absorbs quickly
Oil-free
Contains salicylic acid
Soothing properties
Cons
Some may find the scent overpowering.
Price at the time of publication: $52
These facial toner pads contain probiotics that combat acne like a pro. The product combines both modern and natural constituents to eliminate acne and brightens and freshens up the skin. It is suitable for teens going through an unrelenting acne period, and also adults facing severe acne issues. Once the pads are used to cleanse the face, the solution goes straight in to reinvigorate the skin cells and tissues that have been broken down by acne.
Pros
Reinvigorates skin
Helps to stabilize the pH of the skin
Organic
Paraben-free
Phthalate-free
Soothing pads
Cons
It may not wipe off waterproof makeup effectively.
Price at the time of publication: $29
This miracle solution contains potent ingredients that fight acne-causing bacteria and destroys them. It helps not only to combat acne, it also helps to restore the texture of the skin. The restorative probiotics it contains strengthen the skin and helps to restore radiance. Its active ingredients combine to form a powerful solution that makes the skin glow from within. With this probiotic, skin problems caused by acne are totally fought off, restoring a better and brighter skin texture.
Pros
Non-drying formula
Contains eucalyptus oil
Phthalate-free
Unclogs pores
Cons
Price at the time of publication: $72
How Does A Probiotic Work For Acne?
Probiotics are good microorganisms that benefit us. They can either be bacteria or acne. Acne can occur when there is an imbalance. That is, when the bad bacteria are more than good bacteria. Because probiotics contain good bacteria, they help to return balance and subsequently, help to halt acne and serve as a skin protective shield.
How To Choose The Best Probiotics For Acne?
In choosing the best probiotics, you have to understand probiotic strains and how they work whilst also understanding how different they are in terms of uses and functionality. For certain conditions, learn about the best probiotics that apply to that particular condition.
To prevent eczema
Research has shown that the most effective probiotic strain to prevent eczema is the L. Rhamnosus. It was shown that the children of women who were supplemented with the L. Rhamnosus during childbirth is less likely to develop atopic eczema.
To control Inflammation
Studies indicate that the L. plantarum strain helps control inflammation and regulates immunity. Based on a study, results indicated that L. Plantarum provided effective relief to abdominal pain.
To reduce acne
L. acidophilus is one of the most widely used and researched probiotics strains. A clinical study was carried out with about 300 patients and it was documented that about 80% of the patients observed a degree of clinical improvement, particularly effective in inflammatory acne.
How To Use Probiotics For Acne
The most popular way probiotics are being taken is through oral consumption. However, this can lead to some inflammation within the digestive tract depending on the individual. A direct way of using probiotics is to incorporate it into your daily skin care routines as a skin product. Creams, oils, serums, and moisturisers are several channels through which probiotics can be infused directly into the skin.
Benefits Of Probiotics For Acne
It protects the skin from environmental damage by creating holes in bad bacteria, thereby killing them.
Probiotics calm internal inflammation by reducing it and balancing healthy bacteria on the skin. Bacteria that cause acne breakouts promote inflammation on the skin but probiotics counters this by keeping the lining of your digestive tract smooth and robust.
It helps the skin's barrier function whilst limiting the growth of bad bacteria
Reduces redness and irritation.
Why Trust StyleCraze?
Vaishnavi Kothuri, the author of this article, is a skin care enthusiast who loves to review products and recommend them to her readers. Her top picks are mostly based on studying the products in detail and reviewing the user feedback. The best probiotics for acne-prone skin mentioned in this article are the perfect solution to your acne issues. They help heal and manage acne.
Frequently Asked Questions
Do probiotics help with acne?
Yes, probiotics help to get rid of acne. They effectively suffocate acne, and help to restore radiance.
Is probiotic cream good for acne?
Probiotics can be administered orally and externally on the skin. When administered externally, it can be in the form of sprays, and lightweight moisturizers and they can help. So, yes, probiotic acne creams like other forms of probiotic application can be good for acne.
Can probiotics worsen acne?
Probiotics are usually used to get rid of acne, they help to clear breakouts, and the inflammation that causes acne. Users of various probiotic products have testified to the efficacy of probiotics. However, there are instances where the side effects of probiotics have led to causing more acne. For instance, many probiotics are not designed to survive stomach acid and digestion, this can cause some complications and result in more acne. Also, most probiotics do not state the strain used in the particular probiotic, and using different strains can over stimulate the immune system and cause acne.
Do probiotics help clear skin?
Yes. Effective use of probiotics have proven to help clear skin of acne and to eliminate the breakout and inflammation that cause skin problems.
How long does it take for probiotics to work?
Getting rid of acne depends on the skin type. There is no specific time. It can take a couple of weeks for some people, for others, it might take a couple of months. It really just depends on the skin.
Recommended Articles: