The 9 Best Hair Products To Help Hold Curls All Day Long
Let your curls flow freely with long-lasting, non-sticky and easy-to-use products.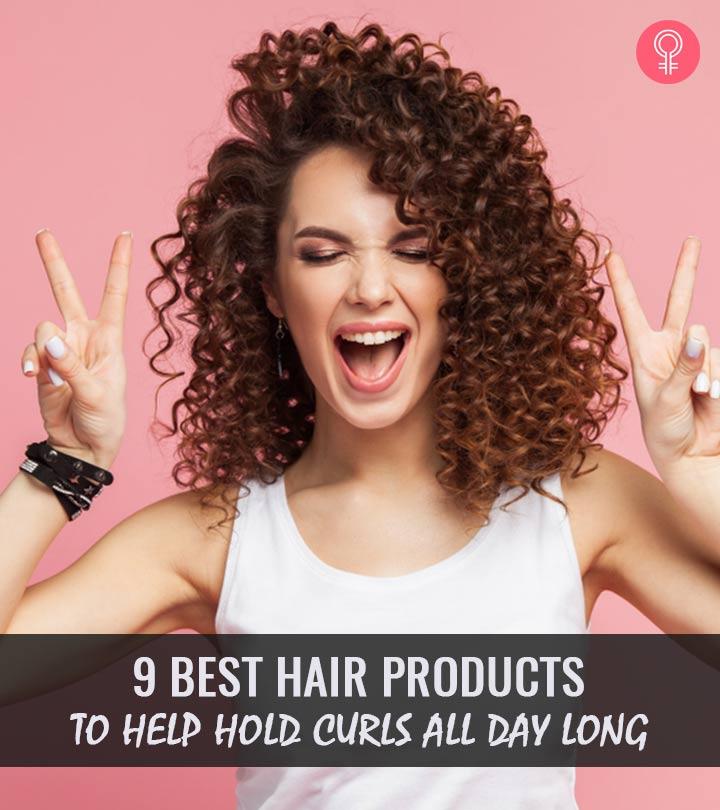 Curly hair is hard to maintain as the ringlets keep getting loose time and again due to loss of moisture, wrong products, or improper care. That's why you need to discover the best products to hold your curls and maintain the same texture throughout.
Curl-holding products contain nourishing ingredients that impart moisture and strength to the hair. Moreover, they give a long-lasting hold to retain your curls without weighing them down or making the tresses stiff. These are also essential in styling curls, keeping them frizz-free and smooth. They cause no damage while making your hair manageable and lustrous.
In this article, I have rounded up the best products to hold your curls and consulted Lina Buk, a hair care expert, to approve the products and share some master hair care tips. So, why wait for more? Take a look to make your pick!
9 Best Hair Products To Help Hold Curls All Day Long
Curly hairstyles are delightful, but making it last is an ordeal. That's why Devacurl Flexfactor Curl Protection Retention Primer brings you an all-in-1 formula that is all it takes to do the job. The product will help you achieve the perfect curls in no time. All you need to do is spray its fast-acting spray on wet or dry curls of any type to prevent tresses from damage caused by brushing, friction, or manipulation. Providing heat protection up to 450º, it also gives UV protection and enhances curl elasticity for more defined coils that has everyone's eye.
Pros
Instant results
Ideal for wet or dry hair
Offers UV protection
Cons
Conair's Compact Multi-Size Hot Rollers let you achieve smooth and bouncy curls and big waves with ease. The starter grip design firmly secures the hair and lets you style it in a variety of ways. The amazing curling product is ideal for even the most stubborn hair and can help you attain bouncy curls effortlessly. This compact hot roller set is made of plastic and contains 20 tangle-free rollers of different sizes and 20 color-coded stainless steel clips to fix the curlers in your hair. The portable case has a Ready signal light that lights up when the hot roller set is ready to be used. To learn more about how to use this product, have a look at this YouTube reviewer's experience video.
Pros
Suitable for any hair length
Includes holding pins
Quick heating
Imparts shine
Prevents frizz
Cons
The BESTOPE Curling Iron will help you create shiny and smooth waves or curls in no time. It is equipped with quick heating technology that heats the wand in just a minute. This professional-grade and high-quality curling iron comes with a tourmaline ceramic bucket with an easy-to-change base and five interchangeable wands that provide various curling options to style your hair.
The auto turnoff feature automatically switches off the device if it is not used for more than 60 minutes to prevent any accident or overheating. The device has dual voltage, and when used with a compatible adapter, it automatically adjusts the appropriate voltage. All these excellent features will help you effortlessly attain the perfect curls. In this YouTube video, you will learn a step-by-step process of how to use the BESTOPE Curling Iron. So, go ahead and test it out today!
Pros
Quick heating
Auto switch off
5 interchangeable wands
Easy operation
Comes with heat-resistant gloves
1-year warranty
Cons
The Tresemme Compressed Micro Mist is formulated with a superfine micro-mist that delivers a long-lasting hold. It provides deep coverage with invisible hold without making your hair stiff and helps in achieving fresh curls. In addition, it gives a natural finish and is suitable for all types of curls from 2A to 3C curls. If you still need further convincing, check out the excellent product on Amazon and read the numerous positive reviews that will help you decide!
Pros
Non-crunchy
Long-lasting
Non-sticky
Cons
None
The Curly Hair Solutions Curl Keeper is made with high-quality ingredients that keep your beautiful curls intact and frizz-free. This curl definition solution prevents dryness to keep your locks looking gorgeous and shiny. The anti-frizz product reactivates with water with no buildup, offering lasting and great hair styling.
This must-have product can be used in all weather conditions, including humidity, without letting your perfect curls lose their bounce. It is made with safe and biodegradable ingredients that are gentle on your hair and scalp. The mild formula prevents stickiness and does not weigh your hair down. If you want to know more about Curly Hair Solutions Curl Keeper Original, have a look at this tester's experience video.
Pros
No buildup
Non-sticky
Silicone-free
Not tested on animals
Biodegradable and safe ingredients
For all weather conditions
Cons
The Oribe Curl Gloss Hydration & Hold not only hydrates and holds your curls but also adds lift and natural volume to your hair. This glossy gel makes your hair radiant and keeps it smooth all day long. It is suitable for medium curls. This hair gel contains a specialty styling resin that provides long-lasting curl retention and control, even in high humidity. It offers UV protection to prevent hair damage.
This gel is formulated with a rich blend of ingredients like watermelon, lychee, and edelweiss flower extracts that protect the hair from oxidative damage and photoaging, which cause dryness and color depletion. The passionflower extract and cupuacu deeply hydrate the strands as they are rich in fatty acids and vitamins. Smoothening and softening additives like Brazilian nut extracts and Brazilian Jicama impart gloss and shine to your curls. This gel also aloe gel, conditioning polymers, pro-vitamin B5, and protein complex to moisturize the hair, prevent breakage, and make it manageable.
Pros
Provides high hold
Offers UV protection
Safe for color and keratin-treated hair
Paraben-free
Sodium chloride-free
Lightweight
Fights humidity
Cons
The Verb Curl Foaming Gel offers excellent frizz control for every curl type from 2A to 4C. The lightweight formula is enriched with nourishing ingredients like sunflower curl complex and golden jojoba oil to lock in moisture and nourish the hair. Hydrolyzed corn starch offers hold and frizz control, while polyquaternium-10 offers a crunch-free, smooth finish. This gel tames flyaways and offers a medium hold that lasts 72 hours. It is also not tested on animals, and is a good cruelty-free option for ethically conscious users.
Pros
Lightweight
Strengthens the hair
Color-safe
Paraben-free
Sulfate-free
Cruelty-free
Vegan
Cons
None
The OGX Locking + Coconut Curls Finishing Mist leaves you with smooth, soft, and shiny curls that look fresh even on the second day. It contains nourishing additives like coconut oil, shea butter, and jasmine extracts. These ingredients smooth your curls and help them stay bouncy and defined, while also creating a protective barrier if you wish to use any styling appliances. The frizz-free formula is inspired by nature and does not contain sulfates that strip off the natural hair oils. This finishing mist works well for all hair types and hair textures.
Pros
Pleasant smell
Prevents frizz
Adds shine
Sulfate-free
Cons
The Tifara Beauty Curling Rods give you irresistibly natural curls without causing any heat damage. These flexible curling rods are made of lightweight foam and can create curls easily on any type of hair, irrespective of the hair texture. They are best suitable for medium to long hair to create defined and stunning curls. These rods are effective in securing your locks to transform them into stunning curls that last throughout the day.
Pros
7 different sizes
Lightweight
Easy to use
No damage
Can be used on dry and damp hair
Cons
May not suit thin and brittle hair
*The prices provided in this article are based on the latest available information. However, they may vary due to changes in pricing by the seller and/or promotional offers.
We understand that making your curls stay well-defined all day long isn't a joke. While there are multiple expert-recommended products that help to hold curls all day, it is important to pick the ones which work best for you. Here are a few things to consider before buying hair products that hold curls.
Things To Consider While Buying Hair Products To Help Hold Curls
There are many cream-based products or heat/heatless styling curl holding products that give you bouncy and long-lasting curls. Rollers and curling rods are great options for heatless styling. For those who don't mind heat styling, go for a heat protectant + curl holding products which do not cause any damage to your hair. Protein-rich, moisturizing mousse or leave-in curl creams are also great for long-lasting curls.
Look for ingredients like coconut oil, shea butter, polymers, pro-vitamin, or protein complex which help to prevent moisture loss, breakage, and make your hair manageable.
When it comes to heat and heatless styling products, make sure they are made of high-quality plastic, foam, or ceramic. Low-grade plastic can cause a lot of static in your hair and lead to breakage and damage.
When it comes to curl holding products, make sure that the cream/mousse or mist you pick is free from parabens, sulfates, silicone, mineral oils, and alcohol. Also avoid synthetic dyes, starch or synthetic fragrance as these can damage your hair and make them dry. Similarly, for other styling products, make sure they are BPA-free and have a moisture retaining coating.
Apart from the obvious curl holding ability, make sure the hair products are lightweight and offer protection against humidity to prevent frizz. Also, look for no-residue formulas that do not leave your hair crunchy, sticky, dull, or limp. Look for color-safe or keratin-treated hair products according to your specific needs and as for the heat or heatless products, look for quick heating features that are easy to use.
Why Trust StyleCraze?
The author of this article, Shiboli Chakraborti, has a keen interest in hair care and styling. She understands hair needs and has an in-depth knowledge of various hair care products. This list of best hair products to hold curls is a compilation based on extensive research and customer reviews from many trusted platforms. These products are a perfect fit in your hair care regime as they help hold your curls, maintaining the same texture throughout while keeping them frizz-free and smooth.
Frequently Asked Questions
Why does my hair not hold a curl?
Your hair generally stops holding curls when you use extreme amounts of heat to curl it. This makes the hair cuticles flat, and they refuse to bend, turn, or twist.
Hence, use a curling iron at low temperatures to create long-lasting curls. If you have straight hair and use a curling device, such as a curling iron or non-heat curling rods, use a curl protecting spray or serum to hold the curls for an extended period.
Polina Bukozva, a US based hair and makeup artist says, "There could be several reasons why your hair isn't holding a curl. It could be that your strands are too fine or too slick with natural oils. If you're using heat styling tools, make sure you're using the right temperature and not overdoing it.
It's also important to use a good quality curling iron or wand, and to properly prep your hair with products that will help it hold onto the curl. Finally, try curling your hair in smaller sections for tighter, longer-lasting curls.
Why do my natural curls fall out so fast?
If your curls fall out fast, it may be due to either the thick texture of your hair or gravity. In such cases, using a lightweight hair product to hold your curls is recommended. Another possibility is that your hair is too dry. Curly hair tends to be drier than straight hair, so it's important to use a good conditioner or leave-in conditioner. You should also make sure you're not using any products that contain alcohol, which can dry out the hair. Regular trims will also help to get rid of split ends and keep your curls looking healthy and bouncy. Finally, if you're using heat styling tools, make sure you're not overdoing it as this can also lead to frizzy strands, unruly curls, and damaged hair.
What should I spray on my hair before curling it?
Apply a suitable heat-protectant spray to not only hold the curls firmly in place but also protect your hair from heat damage.
Does a sea salt spray help hold curls?
Yes, a sea salt spray helps in holding the curls and enhancing their appearance. It adds texture and body to the hair and tames frizz. If you have thick hair, it adds definition to curls, and for thin or flat hair, it works as a long-lasting volume booster.
Do curls hold better in unwashed hair?
Yes, curls hold better if you have unwashed hair as the greasiness or slight amount of oil helps them stay longer and defined. Clean and fresh hair is smooth and soft, which makes the curls disappear with time. Conditioning also impacts the stay and definition of curls by weighing down your hair. Hence, try curling your hair when unwashed for a more extended stay. You can consider using a dry shampoo in this case.
Does a dry shampoo help hold curls?
A dry shampoo prevents your curled hair from clumping together. Clumping can make your curls look imperfect.
Why do my natural curls not stay?
Many factors can cause your natural curls to fall out, such as excessive conditioning, gravity, and using smoothening products that weigh your hair down. Hence, use suitable curl enhancing or curl defining products to lift and keep your natural curls or waves in place.
What are the best eco-friendly hair products to help hold curls?
Eco-friendly hair products like the Tresemme Compressed Micro Mist and Redken Stay High 18 Gel To Mousse help reduce heat damage and will help define the curls to hold longer than usual.
Recommended Articles